Over three days in mid-May, more than 3,700 industry professionals and 130 exhibiting companies came together under the ornate glass roof of Olympia London for Railtex / Infrarail 2022. The event showcased a wide variety of new products and innovative technologies, and gave attendees the opportunity to catch up with colleagues and make new industry connections.
Running from the 10-12 of the month, the event also boasted a rich supporting programme, including keynote speakers from leading industry names, technical seminars, project updates and Q&A sessions covering current topics for the railway industry. The programme included two conference streams: The Future Focus Conference and Unlocking Innovation, two recurring features organised by the exhibition's main show partner the Railway Industry Association (RIA).
The focus for this year was clear: greener and sustainable product solutions, decarbonisation, and digitalisation.
Uniting the industry
Opening the event, Nicola Hamann (pictured left), managing director of Mack-Brooks Exhibitions part of RX, welcomed all attendees and expressed her gratitude to those joining Railtex / Infrarail 2022 and making the exhibition a success.
"We are happy to unite the entire railway supply sector again to discuss, promote and support the rail industry to progress in the modern post pandemic world," she said. "The event provides a showcase of the many fantastic products and services essential to the efficient, safe and greener operation of the railway and public transport systems."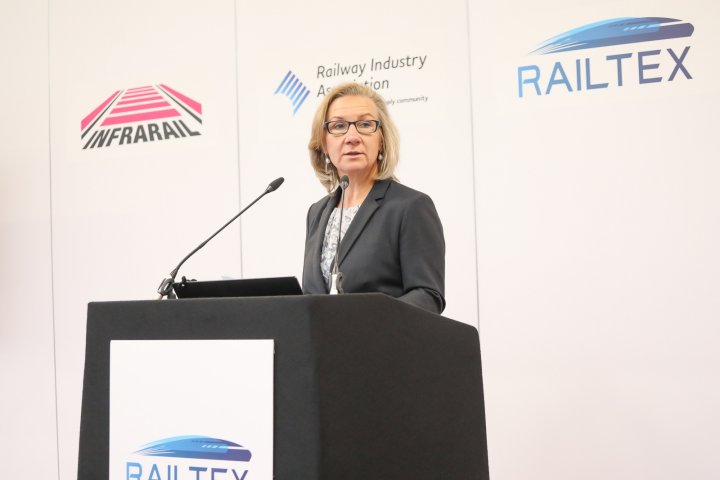 Hamann went on to reiterate the importance of such events to the growth and development of the industry. "There's nothing like face-to-face events," she said, "enabling people to forge lasting relationships, meet colleagues, and renew acquaintances to continue to support the industry in its recovery journey in a post pandemic world.
"The UK rail industry is something you should be immensely proud of and events like this are an opportunity to gather everyone together under one roof to create knowledge and thinking from across the industry as we face new challenges, whether economic, environmental, or technological."
A pivotal moment
The opening ceremony continued with a message from Darren Caplan, chief executive at the Railway Industry Association (RIA), expressing his views on the future of the industry. He struck an encouraging tone.
"Now is a particularly pivotal time for the industry," he said. "The past two years have clearly been a difficult time for the sector, as the industry worked through various lockdowns and restrictions. However, Coronavirus also showed the UK rail industry at its best – helping support the national effort to get key workers and resources around the country.
"The good news is that contrary to what some predicted, people are returning to rail, with passenger numbers consistently around 80% of pre-COVID levels. In April they even reached 84%. Freight has returned to 100% of pre-pandemic levels too."
Caplan went on to say that the industry was ready to test the establishment of GBR and laid out the five 'tests' that RIA had proposed in March this year, namely: no hiatus in current work; transparency with rail suppliers; partnership with the private sector; financial sustainability; and the ambition to leave a lasting legacy, particularly in safety, decarbonisation, exports and the economy.
With the event formally opened, attendees were free to wander exhibition floor where companies large and small showcased their latest products and services, but beyond the main exhibition, was a rich supporting programme packed with keynote speakers, technical seminars, project updates and Q&A sessions. Once again, the programme included two conferences streams: The Future Focus Conference and Unlocking Innovation Zone, both organised by RIA.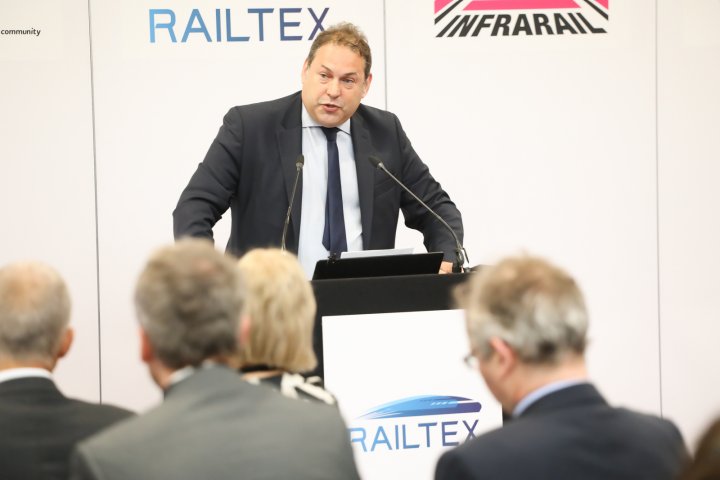 Future focus
RIA's Future Focus conference covered some of the key challenges and opportunities facing the rail industry in the years to come. It offered insights and discussions around four main themes: Growth; Geography; Green; and Global.
Simon Blanchflower, former chief executive officer of East West Rail, kicked off proceedings with a keynote speech focused on customer care and how the customer experience has changed in the past 40 years, and how the days of British Rail weren't as golden as people might remember.
"When I joined British Rail back in 1982, passenger numbers were at a low point, having been dropping steadily for several years. They certainly weren't the halcyon days that some people look back to."
"There wasn't a particular focus on the customer," he said. "There was a very much transactional relationship between the railways at that time and the passengers who were travelling. And to be honest, the safety performance of railways was particularly woeful at that stage, with regular workforce fatalities."
Interestingly, Blanchflower did not mention that after 1982, British Rail was reorganised to focus on the needs of customers in different business sectors. This, and the introduction of the Inter City 125 high-speed train saw passenger numbers increase by 23% between 1982 and privatisation in 1993.
Removing barriers
Emerging from the pandemic, he said, the industry is again in a period of recovery and must use this time as an opportunity to grow towards something better.
"The frontier of customer experience is changing and progressing all the time," he said, "and if we stand still, we go backwards in terms of our relationship with a customer.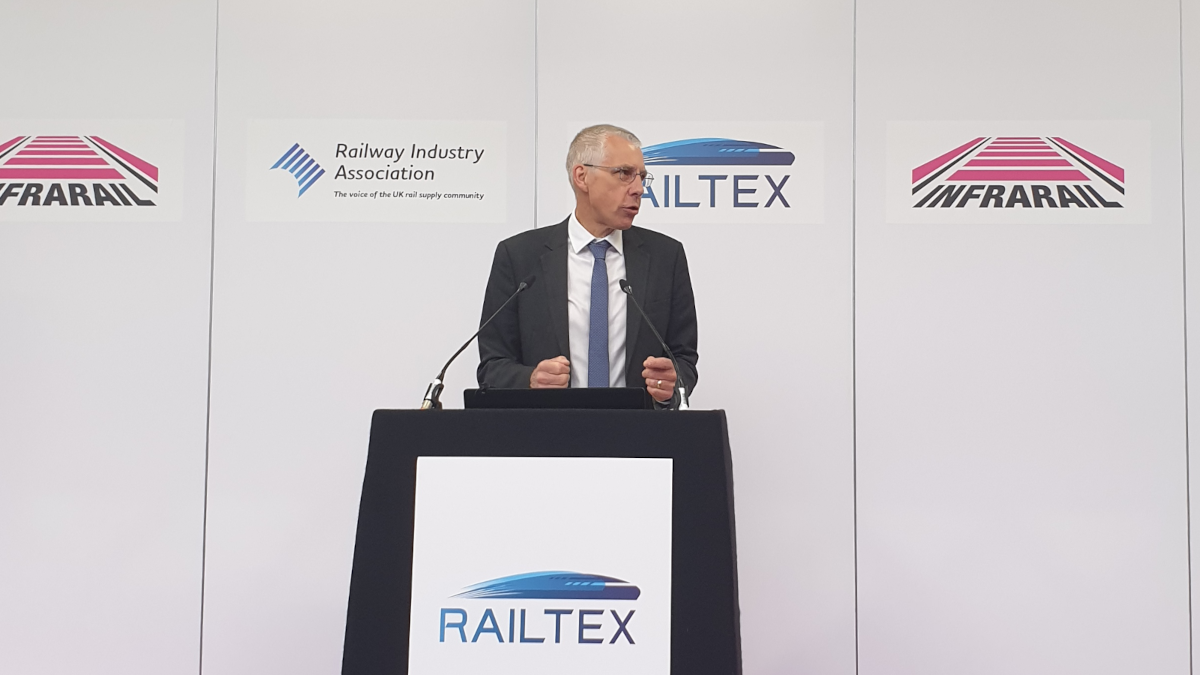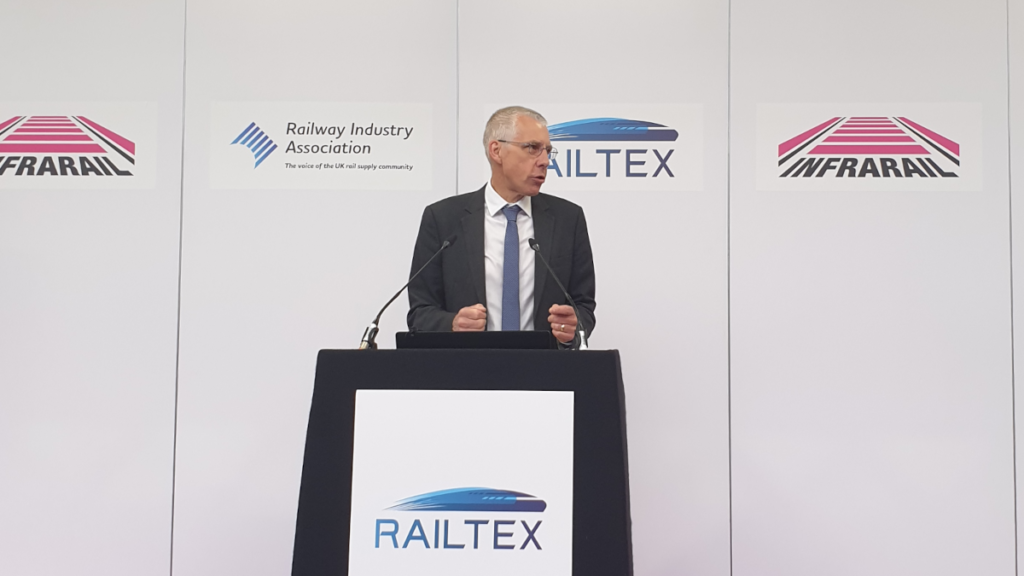 "We need to make sure the barriers to travel are removed. There are still too many physical and psychological barriers that put people off travelling by rail."
Blanchflower also called for the removal of barriers that may prevent some groups from entering the rail industry. "We need to harness the talent we need for today and the future. We need to make our rail industry open and accessible to people of all backgrounds, to make use of the diversity of skills that we will need to deliver in this next phase of the rail industry."
It's a time for optimism, he concluded, but it is important that today's organisational change does not "deflect us from addressing the challenges of today."
Tackling emissions
James Wright, air quality lead at RSSB gave a presentation on the Sustainable Rail Strategy (SRS), which aims to provide the comprehensive environmental plan called for in Williams-Shapps plan for rail. The SRS is a whole industry strategic plan currently in its early stages and sees RSSB working closely with the Great British Railway (GBR) transition team to deliver it.
"Williams-Shapps calls for a comprehensive environmental plan to establish rail as the backbone of a cleaner future transport system," said Wright. "The document goes on to talk about the ambition to have clear commitments on carbon emissions, air pollution, biodiversity, wastes, water usage, noise, and vibration. The SRS is that environmental plan.
"This is a comprehensive sustainability strategy and is what we believe to be a first for the rail industry. Importantly, this has been co created by industry sustainability experts, so it isn't just something that RSSB has developed in isolation."
Focusing on the aspect of air quality, Wright discussed the initiatives coming out of the SRS which include projects focussed on reducing the idling emissions of diesel trains at stations, improving rolling stock standards for air quality, and measuring air pollution at stations.
"We're not just about producing documents," said Wright. "There is real activity within the industry… a lot of ongoing work and planned work in the future in the area of air quality."
Surprisingly, James' presentation made little mention of electrification. The same can be said of the SRS which requires phasing out the purchase of diesel-only passenger trains by 2025 as a sign of industry leadership, yet does not mention the large-scale electrification programme that Network Rail's Traction Network Decarbonisation Strategy concluded was required if diesel traction is to be eliminated.
On the closing day of the exhibition, Shadow Business and Industry Minister, Bill Esterson, gave the keynote speech, highlighting the importance of continued investment in Britain's UK rail network and used the opportunity to emphasise the importance of improved rail links to the Port of Liverpool.
"Further investment in UK rail network infrastructure is essential and will play a leading role in our country's economic success," he said. "We have to invest in the network and increase capacity for passengers and freight. That includes a rail link from the Port of Liverpool and support for an ambitious programme from Liverpool to Hull as proposed by Rail for the North."
Unlocking Innovation
Unlocking Innovation is RIA's award-winning innovation accelerator programme, consisting of a series of events, seminars and exhibitions hosted around the country. As part of the programme, RIA once again hosted its seminar series at Railtex / Infrarail, inviting key rail innovators to present their solutions and products.
The seminar series covered many subjects including the transition to low-carbon propulsion; safety standards for fire-resistive cables; unlocking innovation for SMEs; supply chain optimisation; and integrating innovation into the rail industry.
Ken Kyle, business development manager for rail at Telent, gave an overview of the company's work and its importance to the rail industry. The UKs increasingly busy rail networks are becoming more reliant on innovative digital technologies to keep services running smoothly, he said, especially with technology developing at a rapid rate.
Kyle looked at telecommunications systems in development to keep stations open, build efficiency into timetables, and improve the passenger experience. One such initiative involves installing 'request to stop' systems at remote stations, using the existing RETB radio signalling system. Using the new system, drivers will be notified on approaching the station if there are passengers waiting to board, and trains will be able to maintain line speed if no passengers are alighting or boarding at the station.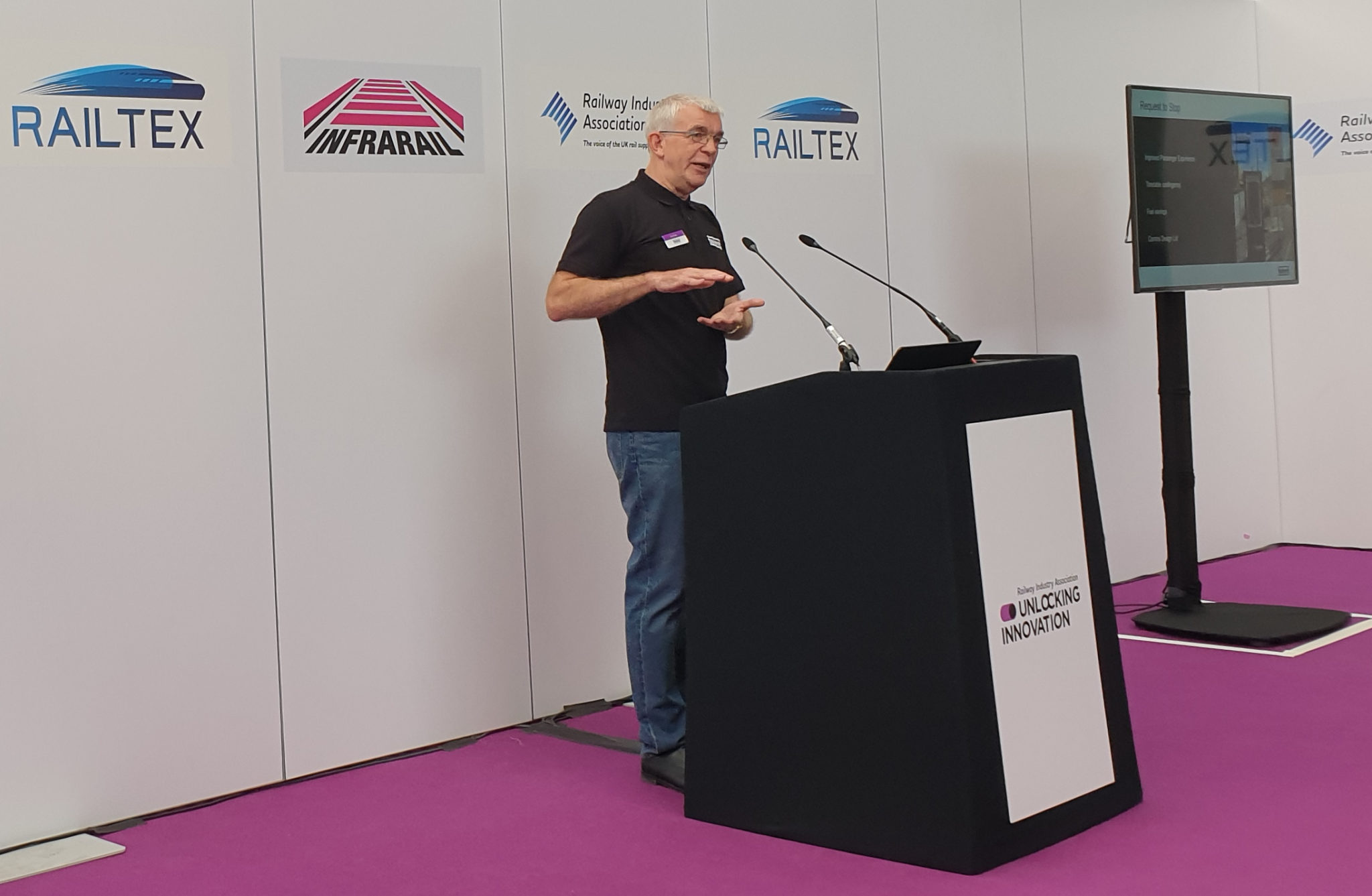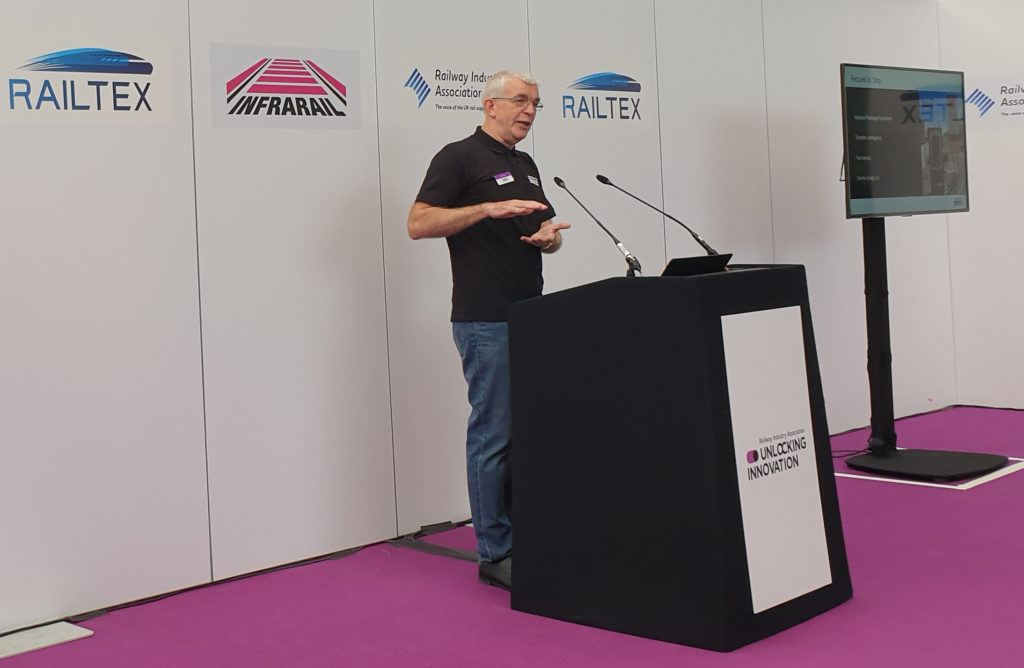 Kyle also covered solutions to prevent line-trespass, particularly in tunnels. He cited the work Telent is doing at Birmingham New Street station, where it is trialling laser scanning technology to detect intruders and alert station managers.
Intelligent industry
Andrew Hawthorn, chief solution architect – high-integrity systems at Capgemini, gave a presentation on 'Intelligent industry', discussing how cross sector fertilisation will deliver faster digitalisation for the railway industry. He pondered how artificial intelligence (AI) can be utilised on the railway, particularly by aiding signalling.
"In a normal scenario, everything is automated and usually runs fine according to the timetable. But when that timetable can no longer be followed, because there's been a late departure for example, then humans need to take control again. And when the timetable does get out of kilter, then getting it back, is very, very difficult. So we see a role for AI there, where the AI systems give the signallers greater awareness of how to get back to the schedule."
Hawthorn also touched upon the issue of cybersecurity, which is becoming an increasingly critical concern.
"Cybersecurity is something that the railway industry is starting to get to grips with now. At the moment, we're still following standard industrial cybersecurity standards, but we're writing our own railway standard which will help a lot, fundamentally the technologies to make sure our systems are secure. What complicates things is when we knit together lots of different types of systems in ways that perhaps weren't foreseen when they were originally designed for single and original designs, but through strong systems engineering and cybersecurity, you can manage that."
On the floor
The light streaming through Olympia London's stunning barrel-shaped roof made walking the exhibition floor an extremely pleasant experience, and one could find many major suppliers, as well as a whole host of SMEs and start-ups, eager to showcase their services.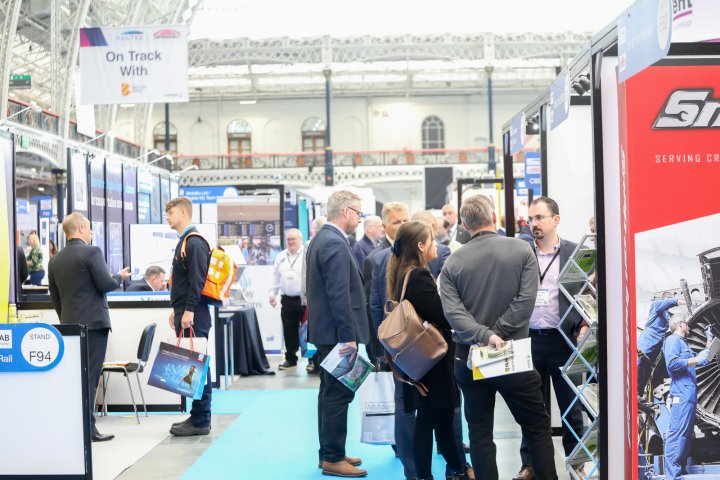 After appearing at Railtex/Infrarail 2021, British Steel returned with its 'On Track' installation – 18 metres of track which allowed exhibitors the chance to demonstrate their tools and equipment in an authentic rail setting. The company also demonstrated some of its own award-winning products and services, including Zinoco coated rail for extending life in corrosive environments; weathering steel for exposed structures; and HP335 for improved wear and rolling contact fatigue resistance.
Aqua Fabrications Ltd, showed off its range of advanced drainage systems for permanent way, and its staff were keen to discuss its latest techniques in training and fabrication. Anderton Concrete showcased its latest advancements in lightweight and sustainable concrete technologies, including its extensive product range including its precast cable troughing and retaining wall systems. Also on display was its low-carbon, Eco-Troughing technology. Concrete Canvas was also flying the flag for construction materials, displaying its Geosynthetic Cementitious Composite Mats (GCCMs), which offer a lower carbon, eco-sensitive solution for erosion control and weed suppression. GCCMs have been widely used by Network Rail for over 10 years.
Traffic management, signs, and lighting manufacturer Mallatite Rail boasted a large, central stand and representatives were on hand to discuss its signalling products. The company also offered attendees the chance to win a foldable electric bike, perfect for commuting and taking on public transport.
On the workforce supply front, the team from Advance Resource Managers (ARM) were present to remind the industry they could supply talented professionals for any number of diverse and complex projects. The firm works with some of the biggest consultancies and contractors in the UK and abroad, helping to keep the railway running. Ganymede Solutions was also in attendance. Specialising in recruiting technical and engineering talent, the firm provides complete workforce solutions for infrastructure and transportation projects.
Track worker safety and level crossings specialist, Schweizer Electronics, was promoting its Flex MSL crossings and Lynx Automatic Track Warning Systems and discussing how these products can become the safety systems of the future. Sella Controls showcased a range of solutions that demonstrate its capabilities in the Control and Safety spaces, including its Traction Power Control, Depot Control ASDO and Level Crossing Control products. Zonegreen was also a presence, exhibiting its Depot Personnel Protection System (DPPS), which is designed to provide the safest and most efficient method of controlling depot train movements, providing enhanced protection to depot workers.
In the advanced technologies space, Thales provided demonstrations of a wide range of its solutions from across its mainline rail, urban rail, and digital services portfolio. Prior to the exhibition, the company has announced the launch of its enhanced Train Protection and Warning System (TPWS) Mk4 Single Cab Control Unit. Complete Cyber, a specialist in cybersecurity, was also on hand to promote its services evaluating and integrating systems to harden them against cyber-attack.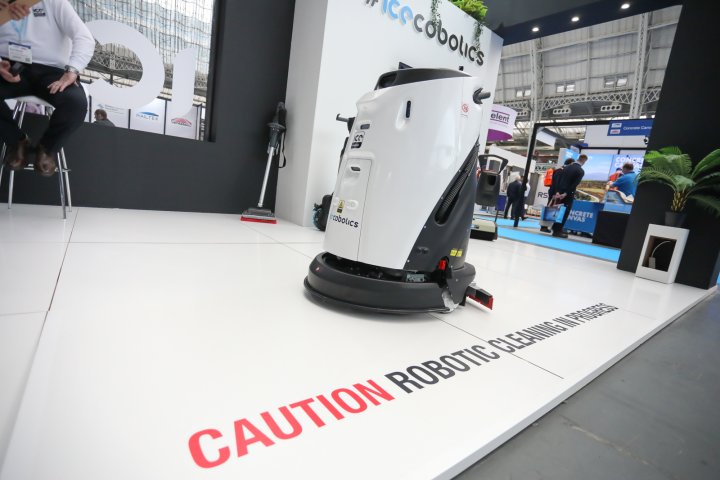 Industrial Cleaning Equipment Ltd (ICE) presented it's Eco Bot 50 – an easy to operate robotic scrubber dryer which takes just 30 minutes to map a 2,000 m² area and can be operated remotely. The company's stand featured one of these units, proudly cleaning as the day went on.
China's CRRC dominated the rolling stock space and promoted its extensive product lines, which include its 'Fuxing' High-Speed EMU, 'Cetrovo' Next Generation Metro, Intercity EMU, and Hydrogen powered trams.
Summing up
The exhibition showcased many inventive solutions and products, and RIA's seminar series presented much food for thought. The take home message was that the industry continues to embrace self-reflection, improvement, and innovation; critical qualities in an operating environment that is rapidly evolving. The next edition of Railtex will take place from 9-11 May 2023 at the NEC, in Birmingham. Rail Engineer looks forward to it.
Image credit: Mack-Brooks / Matt Atkins