The continuous regeneration and development work carried out over the last 30 years in Bristol is now focusing on the city's Temple Meads Station and its surrounding area. The station itself is a primary transport hub for the whole of the south-west and by regenerating the area around and including the station, the commercial opportunities become significant, with new housing and jobs. This programme could attract a considerable injection of additional funding, estimated at £1.6 billion per annum. It's an appealing opportunity for the whole city.
So let's focus on the Bristol Temple Meads Station area itself. There are three specific packages of work that are all currently in progress:
Remodelling of the crucial Bristol East Junction, between the four Filton Bank lines leading to South Wales, Bristol Parkway and the Midlands, and the main lines to Bath Spa and London Paddington
Refurbishment of the station's Grade I-listed train shed roof, built in 1871-4 and the most visible improvement for passengers
Construction of a new access route from the station to an under-utilised area to its east side, with great economic potential just waiting to be tapped.
Gantry installation
I spoke to Molly Evans, Network Rail's Senior Project Engineer, who is responsible for the remodelling work on Bristol East Junction. She explained that work on site has been in progress for some time, with one of the crucial developments taking place on 27 December 2020, when AmcoGiffen delivered a 20-tonne 33.6-metre gantry span by road to Network Rail's Queen Ann Road Depot in three sections. It was then constructed into a single structure beside the Filton Down Main during the week before Christmas.

Fabrication and installation work for this gantry was carried out by Loughborough-based Adey Steel, working to a design by FJD Consulting Ltd, based in Birmingham.
During an extended Christmas possession, a Kirow crane was used to lift the gantry span onto two rail trailers which were then towed by a road/rail excavator to site, where the Kirow lifted it onto two towers that had been erected in the autumn, using normal possession arrangements.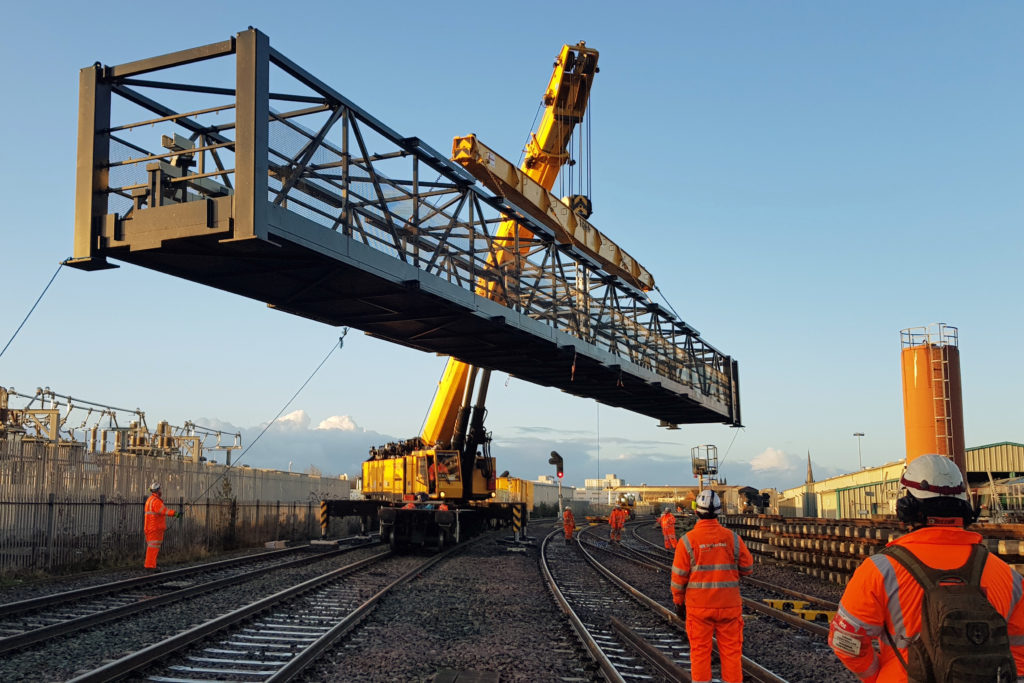 This new gantry – now spanning seven tracks – remains alongside the existing structure whilst this summer's trackwork is completed. New signalling equipment will subsequently be installed on it, prior to commissioning and being brought into service. The existing gantry will then be removed.
Junction remodelling
Equally important, although less visible to those travelling by train, is the remodelling of the Bristol East Junction. Alongside many other supporting engineering activities, it is valued in the region of £130 million.
The junction is located just to the east of Temple Meads Station and is mainly surrounded by industrial units and rail depots. When complete, it will improve capacity, flexibility and reliability, making more efficient use of platforms at the station and therefore significantly improving the potential for operators to reduce train delays. An extra line is also being introduced to support additional suburban services being planned for the future as part of Bristol City's MetroWest Project.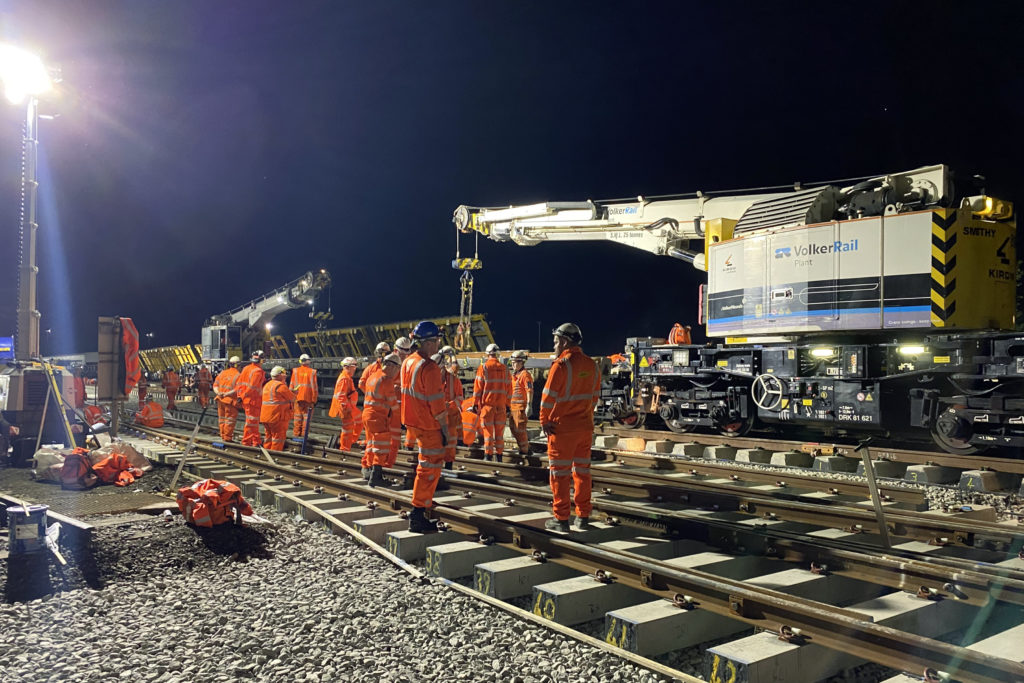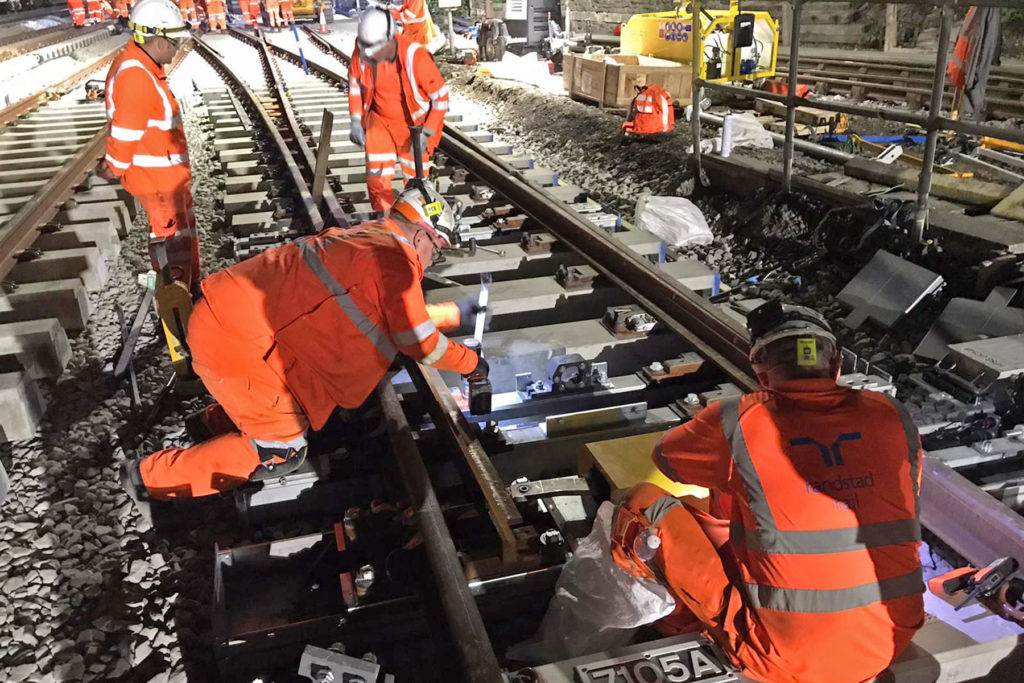 The renewal and improvement of the 50 point-ends at Bristol East Junction began in March 2020. AECOM, design partner in the South Rail Systems Alliance with contractor Colas and client Network Rail, designed the new track layout, with the components delivered loose to Network Rail's Kingsland Road Depot where they were built up into panels ready for installation using various S&C renewal techniques to suit the local circumstances.
However, during a possession from 25-28 December 2020, the Alliance replaced five S&C units at Bristol East Junction and a further six on the Up and Down London lines and the Down Filton Main Line.
The new panels were transported and placed using a combination of a Kirow crane and Geismar PEM-LEM sets, followed by electrical works to switch heating and signalling works. More than 1,200 tonnes of old ballast, rails and sleepers were removed by road-rail excavators and loaded onto engineering trains for off-site recycling.
The main blockade started in July 2021. It was focussed on Bristol East Junction and included the replacement of 58 S&C units with 50 new units to form the improved track layout. This intensive period of work will be completed by late autumn 2021. The improvements have been translated by Network Rail into passenger seating, indicating that there will be an additional 4,000 daily seats available on completion. This is undoubtedly an important development which will help the city to achieve its objectives linked with the MetroWest initiative to dramatically improve transport within Bristol.
Innovative thinking
Molly explained that there was an original construction plan of 12 weeks; however, this presented substantial disruption for passengers. The team was challenged to reduce this to eight weeks using an innovative approach. The process of building up S&C units with loose components on the available ground was reviewed and it was instead decided to refine the process with an easier construction and delivery methodology.
This was done by developing the S&C Modular Plus design whereby smaller panels are prefabricated and transported to site, then the longitudinal bearers that tie the unit together are delivered separately and installed on site. It is a relatively straight-forward adjustment, but this revised approach has delivered enormous savings, offering a satisfying outcome for all concerned.
Care has had to be taken to ensure that all contaminated ballast is removed safely and additional precautions introduced to ensure the River Avon – which skirts round the station complex – is not affected by any changes to ground conditions. Of course, we cannot ignore the impact of the Coronavirus pandemic and the teams' use of Covid Marshalls to monitor plans and personal behaviour on site.
Temporary depot
There was another substantial problem that had to be addressed to ensure that all railway activities could carry on as normal throughout this work. For many years, Cross Country trains have used Barton Hill Depot for cleaning, refuelling and day-to-day maintenance. Access is via East Junction and was therefore denied throughout the blockade. To overcome this difficulty, a scheme was developed to relocate activity to a temporary depot in sidings near North Somerset Junction. New cleaning equipment, walkways, lighting and fuel tanks have been installed ensuring that the effect on Cross Country trains has been kept to a minimum.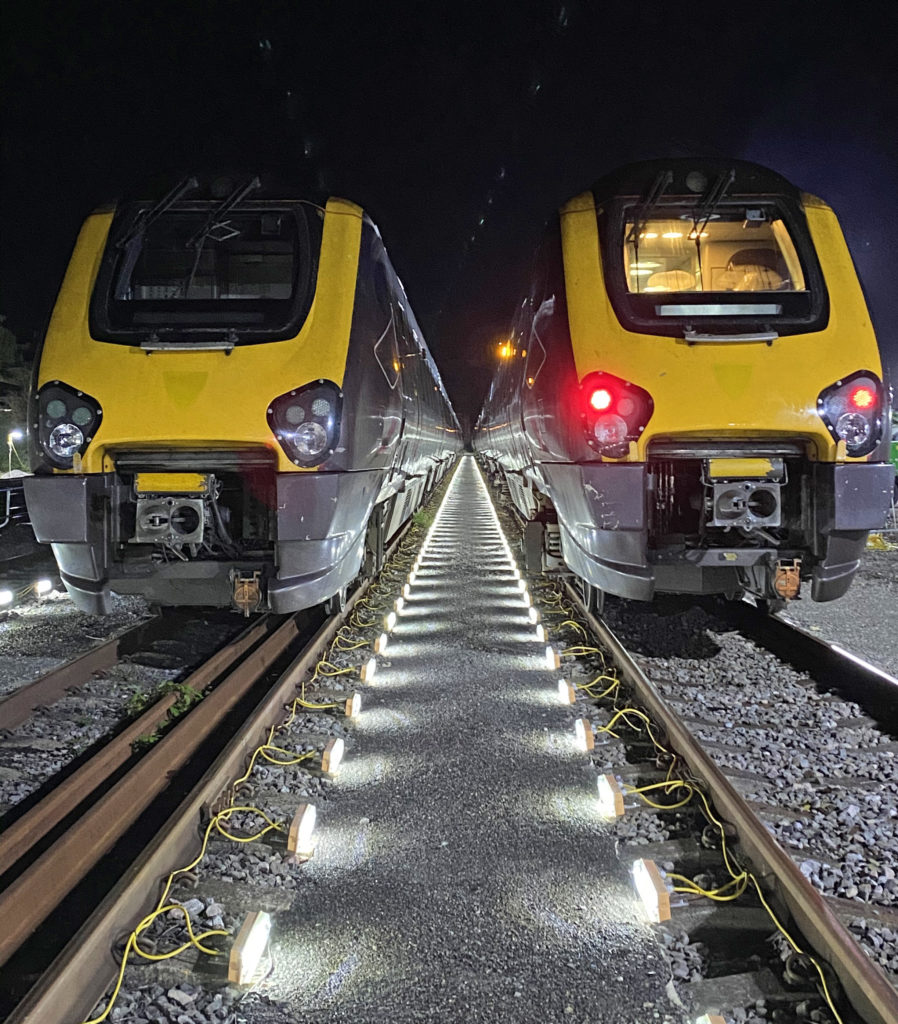 There is a strong possibility that this temporary facility – known as Bristol East Depot – might be used as a lay down area for MetroWest, with the track layout to the depot kept in place. It will also remain a strategic freight site.
As Molly pointed out, the opportunities for both Network Rail and MetroWest are significant, with the current freight-only Parson Street-Pill route being converted for passenger services alongside reopening for the Pill-Portishead line. These schemes will help to boost Bristol's transport and economy, together with the remodelling of Bristol East Junction providing an immediate step forward.
The station roof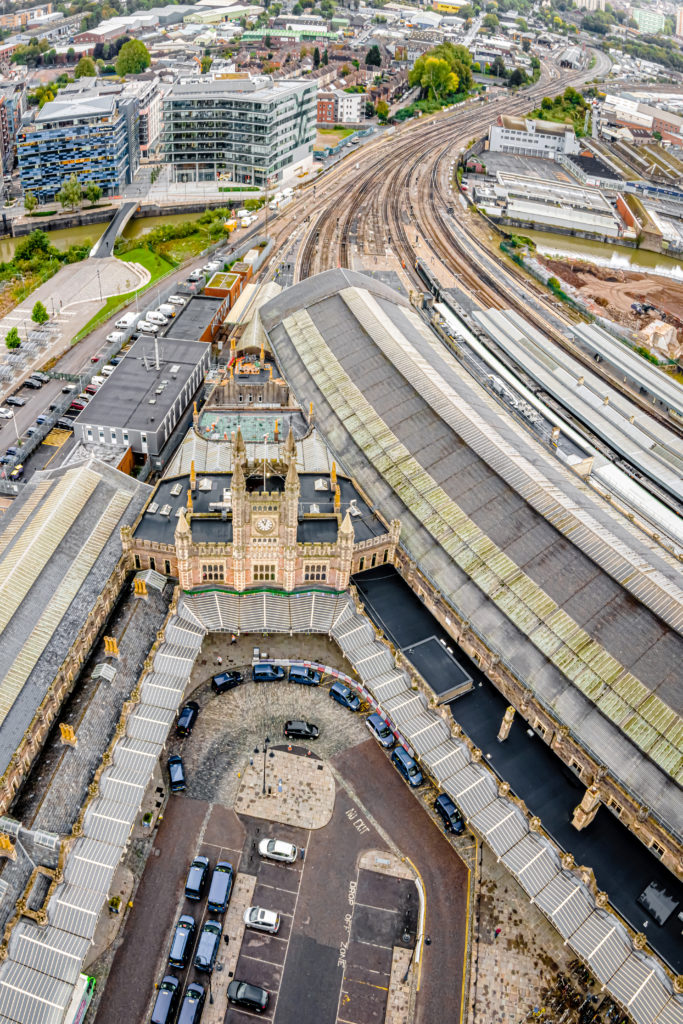 Whilst the development of the new track layout is underway, Network Rail has been developing detailed plans to restore the Grade I-listed station roof which was designed by Francis Fox and constructed in 1874. So it is approaching 150 years old!
The programme also incorporates full refurbishment of the 1930s Culverhouse platform canopies and structures, including the large glazed area between the booking hall and restaurant on Platform 3 – known locally as 'Bonaparte's Alley' due to the company name of a previous business occupying the site. The original 1874 forecourt canopies will also be refurbished.
In addition to this substantial work on the historic areas of the station, a new eastern entrance is being created to provide access to a new Bristol University campus complex (and beyond) which is being developed in conjunction with WECA and Bristol City Council as part of the Temple Quarter Enterprise Zone. This work involves some major engineering challenges including piling the foundations of the new passenger subway extension, temporarily removing the canopy on Platform 15 and punching through the original 1930s railway retaining wall.
Two years to complete
The refurbishment of 153-metre long 38-metre span Grade I-listed train shed roof and canopies is expected to take more than two years and is valued at approximately £24 million. Taziker, the principal contractor, is working to Network Rail's brief to repair and strengthen the structures, replace the glazing and completely repaint all steel/ironwork to a new colour scheme agreed with Historic England.
There is little doubt that the element with most impact on passengers and visitors will be the restoration of the main train shed roof. It is more than 30 years since it was last refurbished and, understandably, the existing paintwork, timber boarding and glazing have become dirty and discoloured over time.
As a consequence, natural light entering the station is limited and what should be one of the showpieces of railway architecture has badly deteriorated, becoming a somewhat gloomy and dull environment for passengers and not the 'cathedral for railways' that the city of Bristol deserves. There is no doubt that this work is timely and will have a hugely positive impact.
The restoration work to the train shed and canopies will be closely monitored and approved by local conservation officers and Historic England at every stage.
Maintain a safe environment
To ensure the programme is carried out safely for both workers and passengers, Network Rail will install scaffolding and a crash deck beneath the train shed between Platforms 3-5, thus providing a huge safety screen over the associated tracks and platform areas.
The 5,800m2 access scaffold structure has been designed by RDG Engineering, with foundations and back-propping designed by FJD Consulting. Temple Meads Station lies between two watercourses and there are challenging geotechnical conditions beneath the platforms, as well as a network of historic structures, cellars and other voids.
To support the vast temporary works structure, each of the scaffold towers' foundation bases have been designed individually. Some locations were found to have voids beneath the platforms which have had to be filled with injection grouting to stabilise the ground, whilst others have required innovative structures to spread and transfer the loads safely to the original Victorian foundations beneath without damaging the historic building fabric.
The temporary scaffold will be fully decked out to ensure passengers and station staff are protected from the work progressing directly overhead. The worksite will also be encapsulated, sealed and wrapped to prevent dust and other materials from escaping into the operational station environment below.
Paint design
The plan is to strip all the paintwork back to bare metal and recover with a carefully designed and approved series of paint coatings. The colour scheme has been chosen to approximately 'bookend' the recently restored train shed roofs at Paddington, although, as the structures here are unique, the final paint colours will also be bespoke to Temple Meads. With a palette of white, light/dark grey and with architectural detailing picked out in copper and dark red, the station will look completely refreshed and remain clean, light and airy for years to come.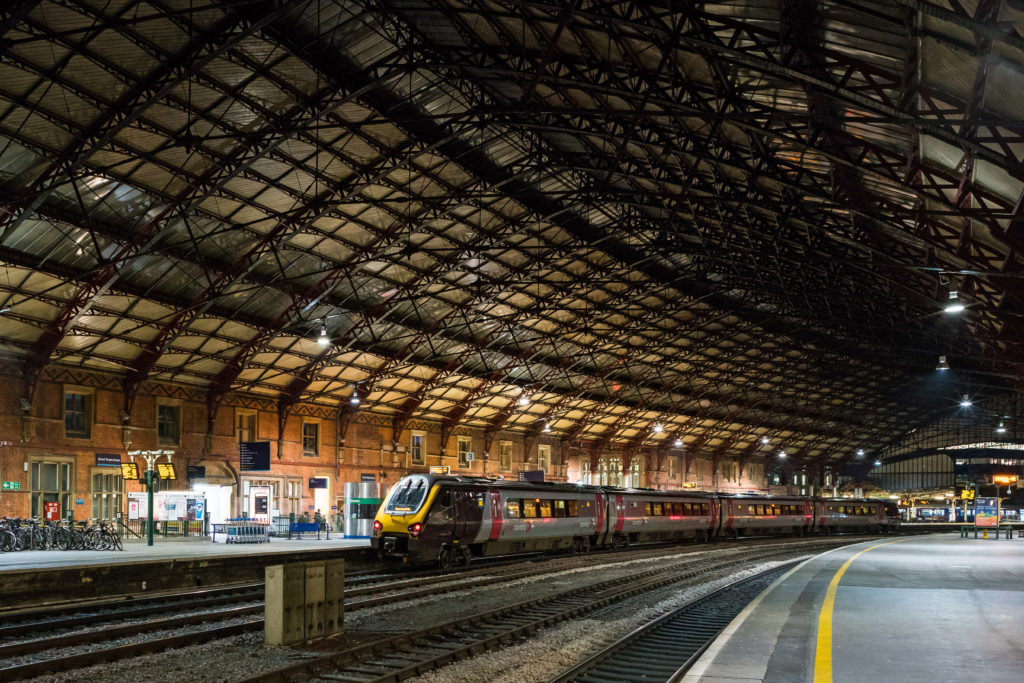 In addition to refurbishment of the roof and canopy structures, the improvement programme will also include the complete rewiring of the station's electrical system to bring it up to modern standards. Designed by Arup Consulting, the work will improve the stability of the power supply at the station and allow for future expansion. Heating, ventilation and mechanical cooling will also be replaced and all lighting will be upgraded to energy efficient LEDs.
The roof renovations at Bristol Temple Meads are due for completion in 2023. I would imagine that the city would want to celebrate completion of this work and the additional gateway into an expanding commercial area of opportunity.