Eiffage Kier Ferrovial Bam joint venture (EKFB) is delivering civil engineering works across an 80km section of HS2, between the Chiltern Tunnel and Long Itchington Wood. In June last year, EKFB and its French engineering specialist, Matière, began the construction of an innovative 2.5km-long green tunnel at Chipping Warden in Northamptonshire.
Over half of the route between London and the West Midlands will be in tunnels or cuttings, helping to reduce negative impacts on the environment and local communities. Some of the deeper tunnels under construction are using Tunnel Boring Machines (TBMs). Others will be green tunnels, which are rare in the UK. These are cut-and-cover structures, backfilled above with restored or enhanced vegetation. They shield the local environment and neighbours from the noise and visual impacts of passing rail traffic.
On the first phase of HS2, there will be five green tunnels between London and West Midlands. Three are being built by EKFB, at Wendover in Buckinghamshire (1,185 metres long), Chipping Warden (2,500 metres) and Greatworth (2,500 metres) both in Northamptonshire. Two more green tunnels will also be built, to different designs, at Copthall in Hillingdon by Skanska Costain STRABAG (SCS JV), and at Burton Green in the West Midlands by Balfour Beatty and Vinci (BBV).
The construction of the TBM-bored Chiltern Tunnel was described in Rail Engineer issue 192 (Sept/Oct 2021).
Alasdair Hassan, HS2's head of engineering and environment, briefed Rail Engineer on the design and construction method of the EKFB tunnels.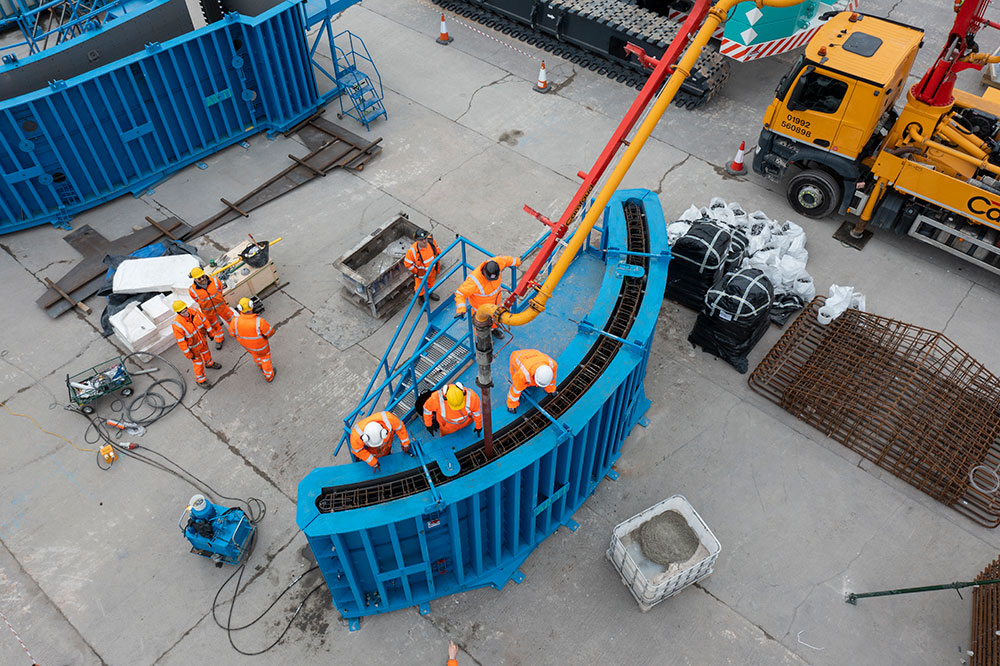 Design
The design of the tunnel by the Arcadis, SETEC, and COWI joint venture, is inspired by similar structures on France's new high-speed lines. Eiffage constructed a very similar structure on the LGV Bretagne-Pays de la Loire high-speed project in France.
It features an m-shaped double arch, separating northbound and southbound trains into their own 8.4-metre-high tubes. Each 20.4-metre-wide, m-shaped double arch consists of five pre-cast elements: a central pier, two walls, and two roof slabs, each just 350mm in thickness.
HS2 aims to reduce the carbon impacts of its construction. Concrete and steel are some of the biggest sources of carbon emissions and EKFB's lighter-weight modular approach will more than halve the embedded carbon in these structures. The other significant benefit of the offsite precast approach is that far fewer people are required on site. This too has carbon reduction advantages and reduces impacts on the environment and disruption to neighbours in these relatively rural construction sites. Labour is instead located in the precasting works, in a controlled environment with quality and production benefits.
Designed for 120 years to first major maintenance, the tunnel segments are of standard design throughout all three tunnels, designed for the maximum depth of fill. The varying depth of cover reflects local topography. The deepest section, at Chipping Warden, has 18 metres of backfill above the tunnel, whilst a section of tunnel at Wendover will be partly above ground with only one metre of protective backfill. Fire door openings in the centre wall will be provided every 300 metres for train evacuation in the event of an in-tunnel emergency. In common with the TBM tunnels, these will have 100-metre-long, progressively porous portals that will reduce noise nuisance by releasing the pressure waves that build up through the tunnel as trains pass at 360km/h.
Manufacture
EKFB appointed Stanton Precast Ltd to manufacture all of the segments required for the three green tunnels. They have invested heavily in a major expansion of their factory at Ilkeston, in Derbyshire with a new production shed, casting, and storage areas. Their investment has created up to 100 local long-term jobs. In total, Stanton Precast will produce more than 13,290 tunnel segments, weighing between 19 and 44 tonnes. These high-quality finish units are being cast on their sides within steel formwork, using factory batched concrete.
As the installation on site is rapid, the production of the units began in advance of EKFB's site start, allowing for a maximum stock of over 1,000 units to be established during the peak construction of all three tunnels. The factory's production rates have increased consistently, more than keeping pace with the construction team's requirements.
Units are delivered by road, with lorries carrying a single centre wall, or two wall/roof sections. All three sites are close to motorways and A-roads, minimising nuisance to neighbours and normal road traffic. At Chipping Warden, a new 1km section of the A361 was built to bypass the village to reduce traffic impact on the local community.
Initially, units were to be transported on their sides, but this would have resulted in wide, escorted loads. They are instead being transported upright, supported in cradles.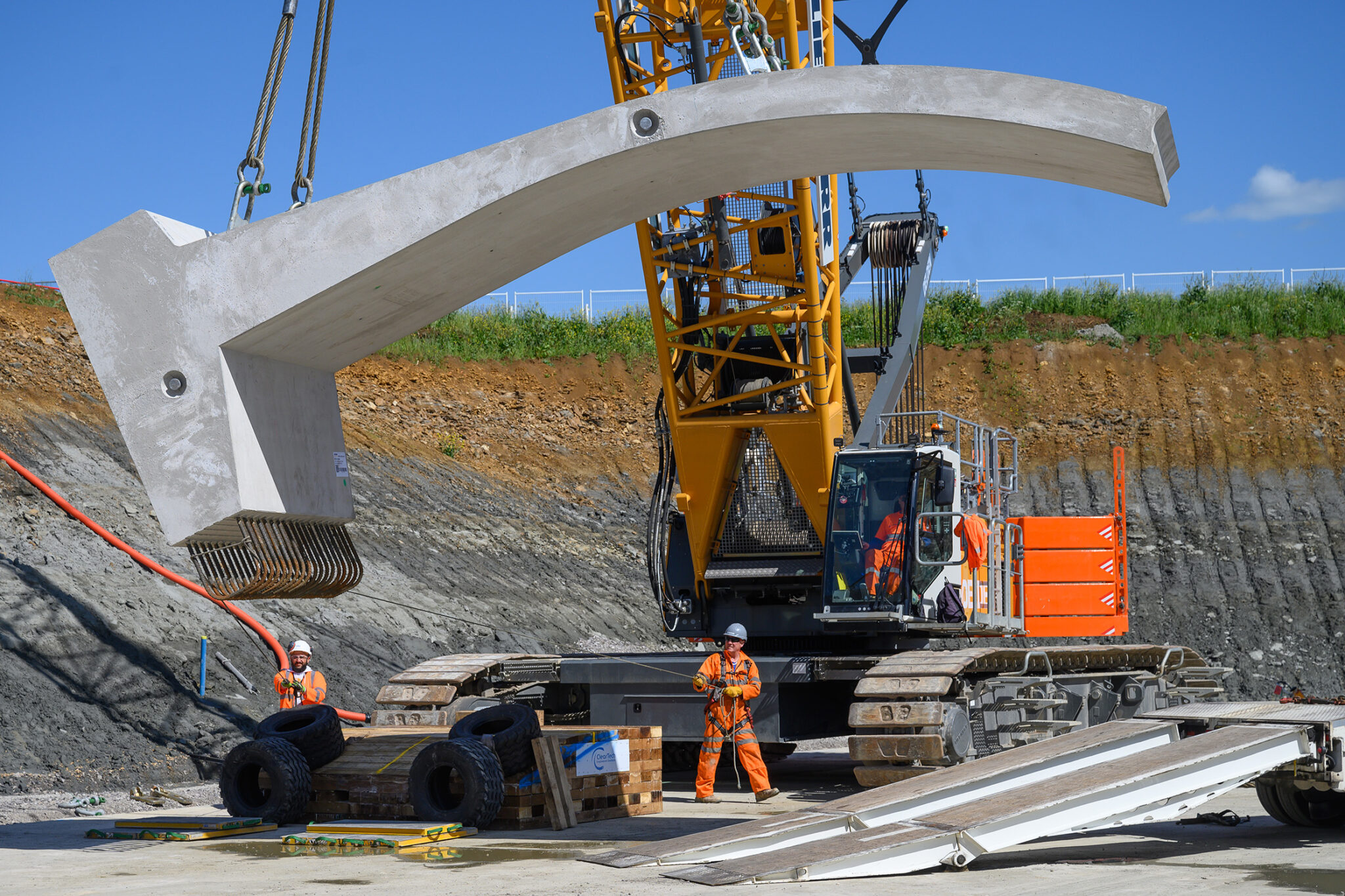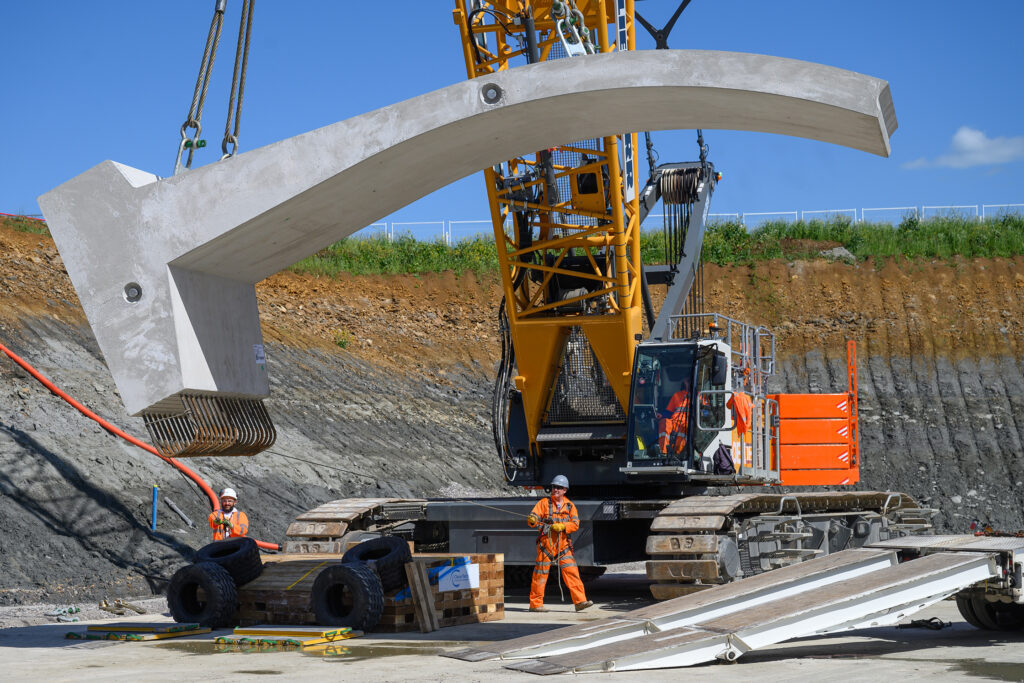 Construction
The programme for the completion of Chipping Warden tunnel is Summer 2025, with Greatworth following in Autumn 2025, and Wendover in Winter 2026. At the peak of construction next year, all three tunnels will be under construction at the same time.
Each will be constructed in the same sequence, progressing from the furthest end and working back towards the site access. First, a 65-metre-wide cutting is excavated through the Oxford Clay, with the arisings stockpiled close by for reuse as backfill, or in noise bunds. This is followed by a 300mm reinforced concrete base slab cast on the formation, supplied by the on-site batching plant.
The erection of the tunnel begins with the placement, by a 160-tonne crawler crane, of the centre wall on a sand bed on the base slab. One of these sidewalls is erected followed by the roof slab, the connections between the three units are pin joints with a nib on the edges of the roof section and sockets in the wall sections. These remain as dry joints providing limited flexibility until locked into place by the invert slab. The opposite side of the tunnel is then installed too. Once 50 metres of tunnel has been erected, a 500mm thick reinforced concrete invert slab is cast. This bonds to the wall's starter bars, joins all three wall sections, and provides continuity between the 10nr rings in the 25 metre section. One hundred metres of construction is being achieved every month, nearly twice as fast as conventional construction would have taken.
The tunnel is then waterproofed using a double layer, compartmentalised membrane system, placed using a bespoke gantry system. A central drain in the valley above the centre wall runs along the length of the tunnel, discharging at each end.
Backfilling to each side and above the tunnel is carried out to a tightly controlled sequence, including a 'permit to backfill' process. This avoids possible unequal loading which could deform or damage the structure. Backfill material is placed and compacted in 250mm layers using selected arisings from the tunnel excavation or from nearby. Topsoil is returned, using location specific arisings.
The construction site currently has all stages of construction in progress simultaneously along the length of the tunnel – base slab, precast erection, invert slab, waterproofing, and backfilling.
Planting
The locations of these tunnels are typically within agricultural land, and so the landscaping plans for each include the reinstatement of hedgerows or trees, and the re-seeding of meadows and verges. New woodland areas will be created above the portals, using trees and shrubs typical to the local area, such as Silver Birch, Oak, Beech, and Willow.
Image credit: HS2