Downing Street's decision to scale back the scope of the HS2 has disturbed the industry and its suppliers, but the project had its fair share of detractors from the off, including those who'd welcome its scrapping on ecological grounds. It is true that HS2, like all infrastructure projects, comes with an unavoidable environmental cost as it is built, but to cheer the abandonment of a game-changer for green transport is as myopic as the current thinking at the top level of UK politics.
A key facet of HS2's mission has been to minimise disruption to the natural environment, reduce carbon emissions in both the short and long term, and invest in any required natural recovery along its route. The past months have brought a number of developments which have boosted HS2's environmental credentials, if that's any consolation for recent developments.
High speed trains win accreditation
Such has been HS2's success in pursuing its environmental targets, in 2020 it was awarded PAS 2080 global accreditation, recognising its plans to reduce carbon through the design, construction and operation of the project. It was the first client organisation in the UK transport sector, and the second in the world, to achieve the standard.
PAS 2080 is a global specification for managing whole-life carbon in infrastructure. Developed by the Construction Leadership Council's Green Construction Board with the British Standards Institute (BSI), it provides a consistent framework for evaluating and managing carbon across the whole infrastructure value chain. The standard recognises organisations that have strategies in place to reduce carbon and develop more collaborative ways of working to promote innovation, delivering benefit to society and communities, and making an important contribution to tackling climate change.
Three years later, in September this year, the trains due to start running on the HS2 rail network were awarded PAS 2080 accreditation. Designed and made in the UK by a Hitachi and Alstom joint venture, HS2 has stressed that the trains will be less carbon intensive throughout their lifecycle than any other high-speed train in design, production or operation today. This accreditation, authored to meet World Trade Organisation standards, backs up this claim.
The newly-designed trains are based on the successful Frecciarossa very high speed train now operating in Italy and Spain, has become the first train in the world to achieve the British Standards Institute's PAS 2080 global accreditation.
Great effort is going into reducing the train's energy consumption, including improvements in its aerodynamics. It is, according to HS2, the first high speed train in the world to have a smooth, dynamically efficient underside, cutting its drag coefficient.
Work during the train's detailed design will optimise the weight of its carbody, wheelsets, and cabling; and see more of the train built with recycled and recyclable material. Finally, the train's traction system and electric motors will be highly energy efficient – reducing energy demand for a train that will reach speeds of up to 225mph and is designed to run for 18,500 miles between servicing.
Jim Brewin, chief director of Hitachi Rail UK & Ireland, said: "HS2 challenged us to meet this certification as part of our competitive pitch, and we're proud to be achieving it. HS2 trains have gone through a design process of unparalleled rigour – becoming more aerodynamic, more energy-efficient, lighter, leaner, and greener."
The circa £2 billion contract to design, build, and maintain 54 very high speed trains was given to Hitachi Rail and Alstom in December 2021, and they are due to start rolling off the production line around 2027.
Further information on the accreditation can be found here.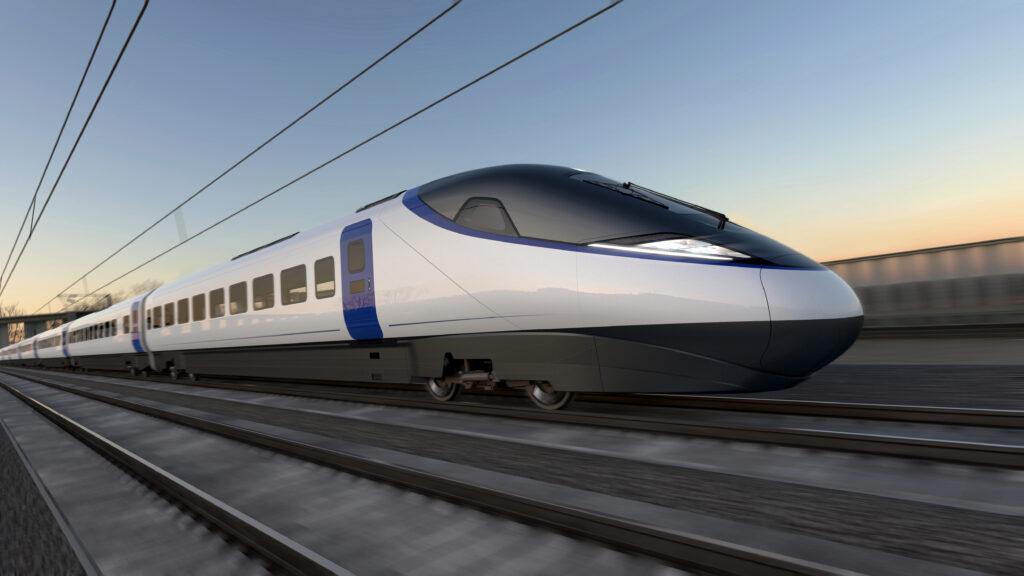 Work begins on longest 'green tunnel'
In May this year, Rail Engineer reported on the construction of HS2's 'green tunnels', which are designed to blend the high-speed railway into the rural landscape and reduce disruption for neighbouring communities. Bob Wright provides an in-depth report on the design and construction of the tunnels, along with their environmental benefits. His article can be viewed here:
In September, work began on the 2.7km tunnel around Greatworth in West Northamptonshire. Like its counterparts being built by EKFB (a team made up of Eiffage, Kier, Ferrovial Construction and BAM Nuttall) in Wendover, Buckinghamshire and Chipping Warden, Northamptonshire, the 2.7km tunnel is being built using the 'cut and cover' process, which involves excavating a cutting, building the tunnel and then burying it, with trees, shrubs and hedgerows planted on top to blend in with the surrounding countryside.
The tunnel structure is also being made from more than five thousand giant concrete segments, made at a specialist pre-cast factory in Derbyshire, and assembled on site by EKFB.
Applying lessons from the construction of the latest French high-speed lines, EKFB opted for this modular approach – instead of a traditional process of pouring the concrete on site – to boost efficiency and cut the amount of embedded carbon in the structure.
Greatworth is one of five 'green tunnels' that are being built on phase one of the HS2 project – three of these are being built by EKFB and two more, to different designs, at Copthall in Hillingdon by Skanska Costain STRABAG (SCS JV), and at Burton Green in the West Midlands by Balfour Beatty and Vinci (BBV).
HS2 Ltd's Project Client Neil Winterburn, said: "Greatworth is one of five green tunnels between London and Birmingham designed to protect the natural environment and reduce disruption for local communities – and it's great to see the first arches in position.
"Our trains will be powered by zero carbon electricity but it's also important to reduce the amount of carbon embedded in construction. The off-site manufacturing techniques being used will help cutting the overall amount of carbon-intensive concrete and steel in the tunnel and help spread the supply chain benefits of the project across the UK."
Designed as an m-shaped double arch, the tunnel will have separate halves for southbound and northbound trains. Five different concrete precast segments will be slotted together to achieve the double arch which is the height of two double-decker buses – one central pier, two side walls and two roof slabs.
The tunnel segments are being made by Stanton Precast in Ilkeston, Derbyshire, as part of a contract which is hoped will create up to 100 local jobs. All 5,410 segments will be steel reinforced, with the largest weighing up to 43 tonnes.
By reducing the amount concrete and steel needed for the tunnel, this lighter-weight modular approach is expected to more than halve the amount of carbon embedded in the structure. It also requires fewer people and less equipment on site, improving safety and reducing disruption for residents.
EKFB's programme director Emmanuel Rossignol, said: "To see the construction start on HS2's second cut and cover tunnel in Northamptonshire is a proud milestone for the team. The design and construction approach of this tunnel is unique to the UK, and there are many benefits associated with this methodology, including a reduction in our carbon footprint, but it's not been without its challenges along the way. Our expert teams are to thank for their dedication as we continue to advance the construction programme across the Chipping Warden and Greatworth green tunnels."
The tunnel will be built in sections, with construction of the main structure expected to take around two years. Local roads such as the B4525, Sulgrave Road, Helmsdon Road and access for Greatworth Park will be realigned to cross the tunnel, as well as local footpaths.
Tailored landscaping design plans are also being developed, with thousands of native trees and shrubs typical to the local area – such as Silver Birch, Oak, Beech and Willow – planted to create new woodland areas around the portals and recreate the hedgerows and field boundaries on top of the tunnel.
Lessons learned during the construction of EKFB's green tunnel at Chipping Warden are being applied to the delivery of Greatworth. These include changes to quality control and the delivery and installation of the segments.
Timelapse video of the tunnel's construction can be found here.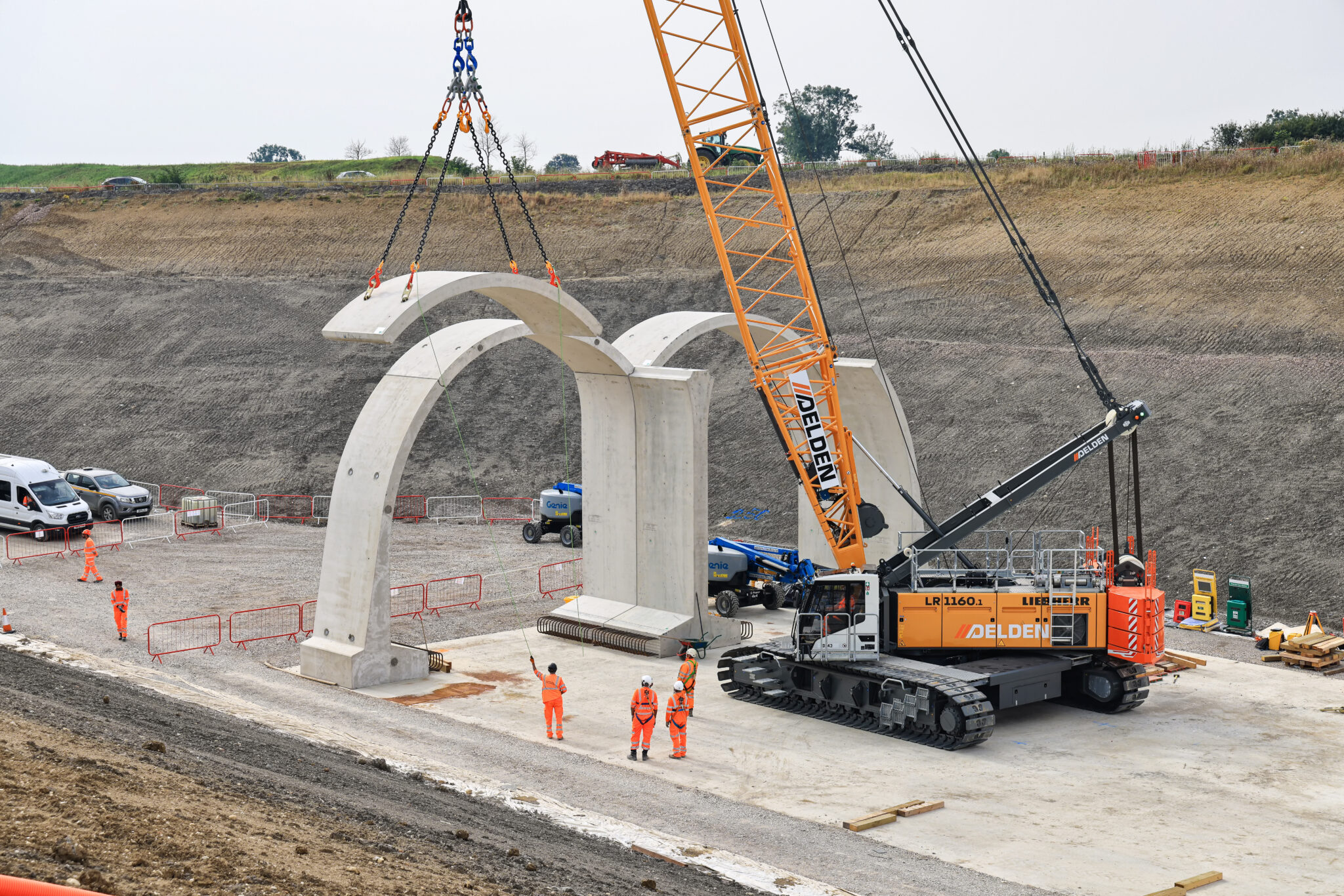 Viaduct planning gets go ahead
Moving from travelling below the ground to travelling over it, HS2 was pleased to learn in early September that Solihull Metropolitan Borough Council had approved its plans for the Balsall Common Viaduct. The plans incorporate local feedback focusing on environmental sustainability, landscape integration, visual connectivity, and public access.
The project is being led by HS2's main works contractor, Balfour Beatty VINCI (BBV), supported by a Design Joint Venture of Mott MacDonald and SYSTRA together with architects Weston Williamson + Partners. They have engaged with people in the local area over the last couple of years to gather feedback on the 425-metre viaduct.
Understanding the landscape context was a key focus of the design, and plans include wet woodland planting using native species to the local area, woodland edge planting to provide screening, and hedgerow planting to improve wildlife connections.
"We're very pleased to receive planning approval from Solihull Council for the design of the Balsall Common Viaduct," said HS2 Ltd's senior project manager for Balsall Common, Alan Payne. "We've engaged with the community and local councillors over the last couple of years to incorporate their feedback as much as possible.
"We're confident that our plans respect and enhance the local history and natural environment of the area and will provide new green areas for people and wildlife to enjoy."
HS2's Independent Design Panel had described the viaduct as "a significant and elegant structure which responds sensitively to its context and delivers a high-quality landscape" in its final pre-Schedule 17 report.
The Design Joint Venture's Landscape Director Shaun Ruffles said: "The whole design team, encompassing architects, town planners, engineers and environmentalists are delighted with this outcome, which is the result of five years of careful planning and hard work. We now look forward to working with the local community and developers on the Balsall Common Masterplan which aims to integrate a number of local developments into a wider masterplan for Balsall Common."
A realignment of Bayleys Brook will increase habitat for fish, aquatic invertebrates and potentially water vole. The approved design sees a reduction in the size of the railway embankment running parallel to Bayleys Brook by 75 metres, improving the resiliency of the area to flooding, and enhancing views through the viaduct to the wider landscape.
To improve connections, the Kenilworth Greenway will be extended to Station Road on the south-eastern side of the existing railway line and a further extension towards Lavender Hall is currently under consideration. Options for cycling and bridleway extensions are also being considered.
BBV will construct a total of 16 piers to carry the viaduct 10 metres above ground, crossing over Station Road, Bayleys Brook, Heart of England Way Walk, and the local floodplain. Construction refinements have reduced the size of each pier by as much as 17% for single piers and 28% for double piers, giving the structure a lighter appearance. Responding to feedback about the look of the viaduct, a section at Station Road will be finished with a bespoke pattern, referencing the local history of the area.
The approval comes with conditions that there will be further engagement and more work will be undertaken on the colour and finishes of the concrete and the type of tree planting around the viaduct.
CGI images of the viaduct can be found here.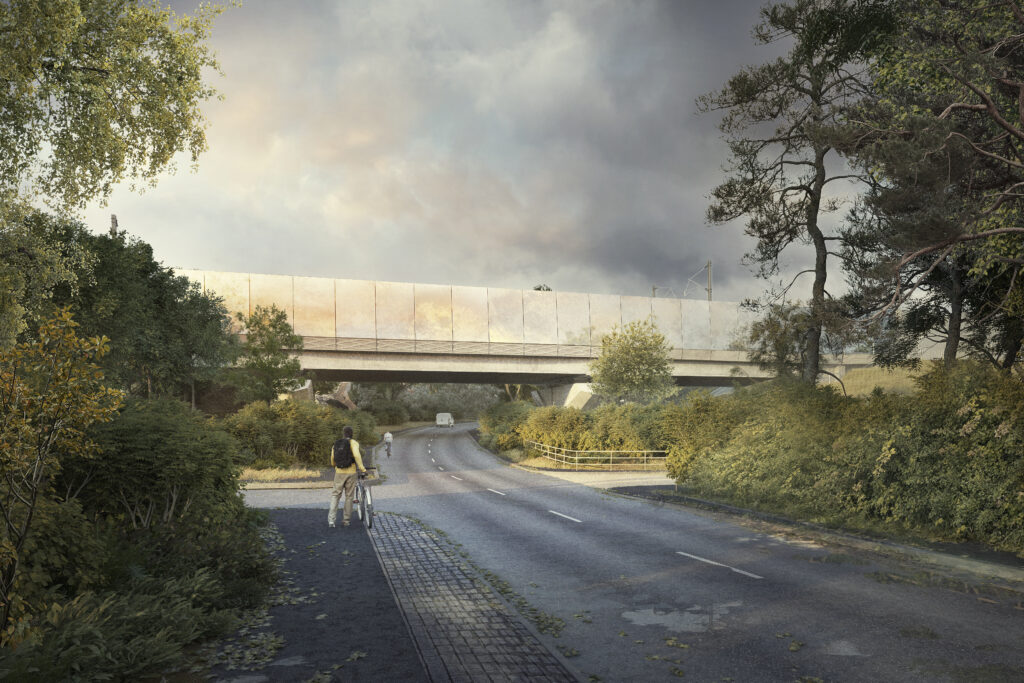 Overbridge approved
Sticking with the theme of planning approvals, at the beginning of September, HS2 received Schedule 17 planning approval for the eco-friendly Aston Church Road Overbridge, north-east of Birmingham city centre. New designs ensure that the structure, which will span the line connecting Saltley, Washwood Heath and Nechells, blends sympathetically with the local environment.
Initial designs for the bridge were shared with the public in 2021, with local feedback inspiring changes to provide a wider walkway, creating enough space for cyclists, and an improved lighting strategy. As well as increasing lighting levels for pedestrians and cyclists, the new LED lighting design will also protect wildlife, particularly bats that may forage underneath the bridge, by decreasing overall light pollution.
Public feedback also resulted in the stainless steel finish being replaced with weathered steel panels incorporating a perforated pattern to maximise light and views, making the bridge feel warmer and improving the pedestrian experience.
HS2's designers, consisting of a Design Joint Venture of Mott MacDonald and Systra working for BBV, have also introduced green spaces by creating new woodland planting in the area around the bridge. This includes silver birch, hazel and hawthorn, and wildflowers and grasses which will provide new wildlife havens and connectivity in the city's industrial heartland.
Nick McGough, director at Weston Williamson + Partners, and lead architect for the Balfour Beatty VINCI Design Joint Venture, which is constructing the line in the West Midlands, said:
"Our designs balance challenging technical constraints in developing a robust but elegant bridge, whilst seeking every opportunity to both enhance the user experience and increase biodiversity through our adjoining landscape proposals.
"The integrated bridge lighting is particularly innovative and reduces urban light pollution in a way which is sympathetic to local wildlife whilst providing enhanced light levels that will help make the bridge attractive to both pedestrians and cyclists."
Aston Church Road Overbridge is located two miles north-east of Birmingham city centre. The original bridge will be demolished to create extra space for the HS2 line to pass through, and once built, the new bridge will connect to the existing road network.
Preparatory works, ready for the new bridge, began last year. Main civil works will now commence, and the bridge and associated highway works are due to be finished in summer 2025.
HS2 has released CGI images of the bridge.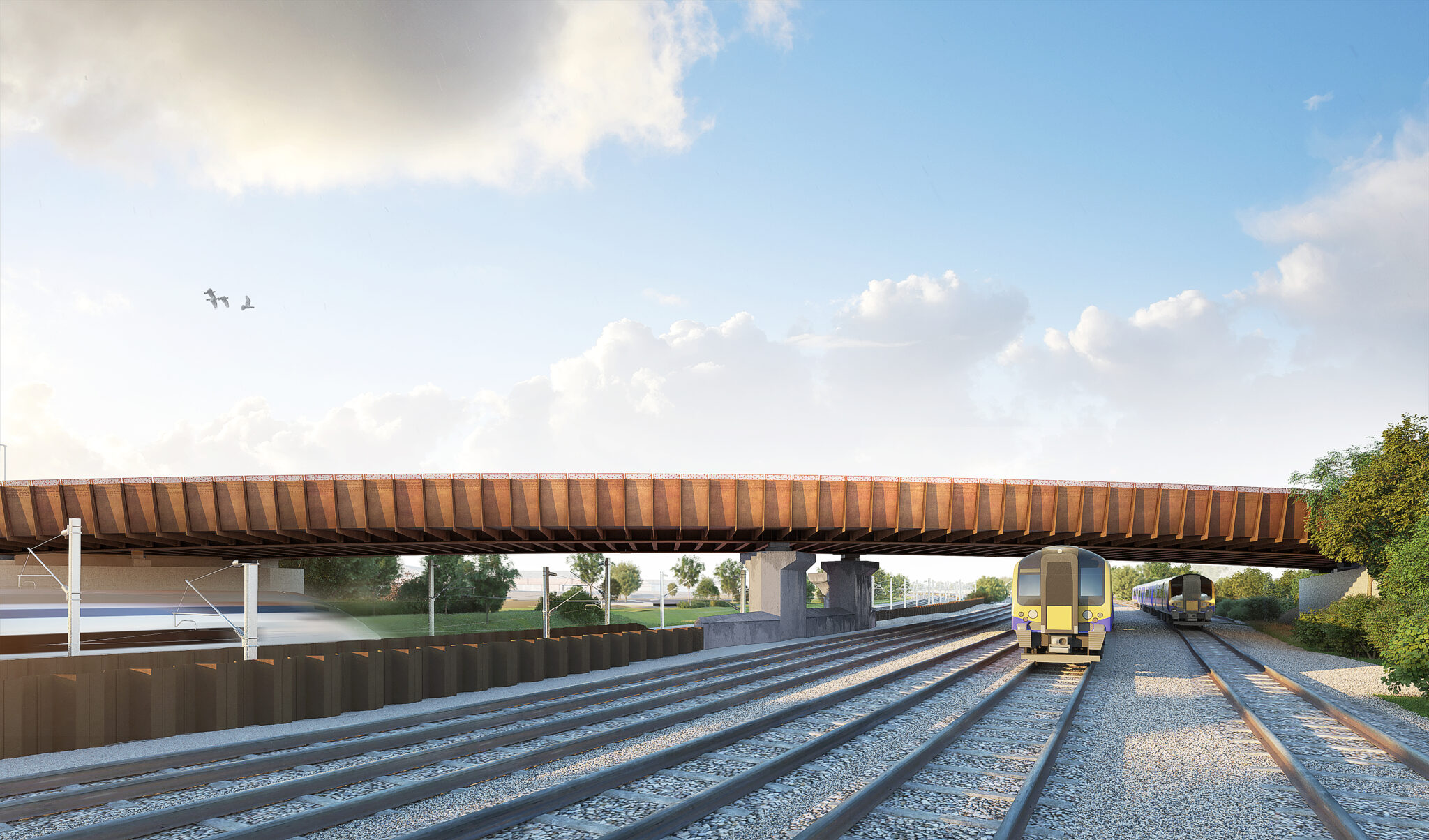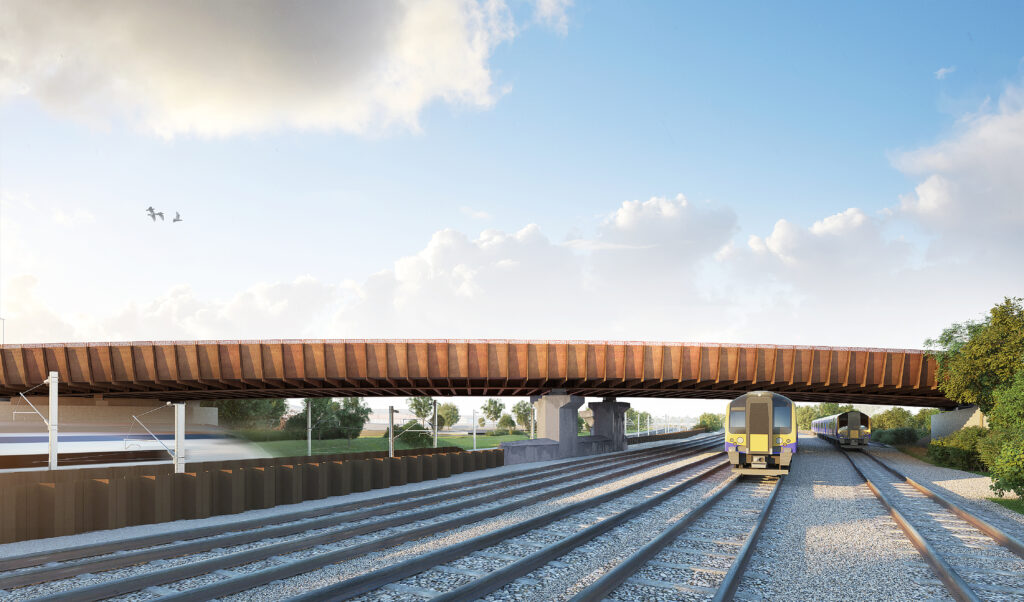 A wasted opportunity
The developments outlined in this article are a testament to the value that HS2 has placed on delivering a low-carbon, cutting-edge railway while minimising the impact of its build phase on local ecosystems and the environment as a whole. This could not come at a more pertinent time.
We live at a point in human history where environmental change is bringing unprecedented challenges and the actions we take today will have a profound impact, not only on our lives but on those of future generations to come. The way we travel and the way we build our transport networks are critical to our response to the climate emergency.
A key aspect of HS2's mission is to provide zero carbon rail travel for a greener future. The huge amount of additional rail capacity it could have provided would have significantly reduced UK carbon emissions by enabling rail to accommodate significant modal shift of passengers and freight from roads and planes. It could have been the most sustainable railway of its type as well as a catalyst for economic growth up and down the country. Instead, Government has squandered the opportunity to make HS2 a reality for all regions of the UK, and green transport a way of life.
Image credit: HS2