In a major boost for the UK rail supply chain, Hitachi has announced it will test new British-built trains, battery technology, and digital solutions at the Global Centre of Rail Excellence (GCRE) – the purpose-built rail innovation centre being constructed in south Wales.
Once the GCRE is complete, Hitachi will use the £400 million facility to test future rolling stock and battery technology. The organisations also see an opportunity to make the site a hub for digital rail technology by testing both digital signalling and infrastructure monitoring solutions.
Hitachi has developed digital solutions that can automate track, overhead lines and vegetation monitoring, to pinpoint faults and reduce costs. GCRE can support next stages of development, which include using Artificial Intelligence (AI) to predict areas at risk of a fault and worthy of preventative maintenance.
Hitachi has 187 intercity trains in passenger service with European Train Control System (ETCS), this creates an opportunity to test future upgrades of ETCS to ensure a seamless transition in digital signalling.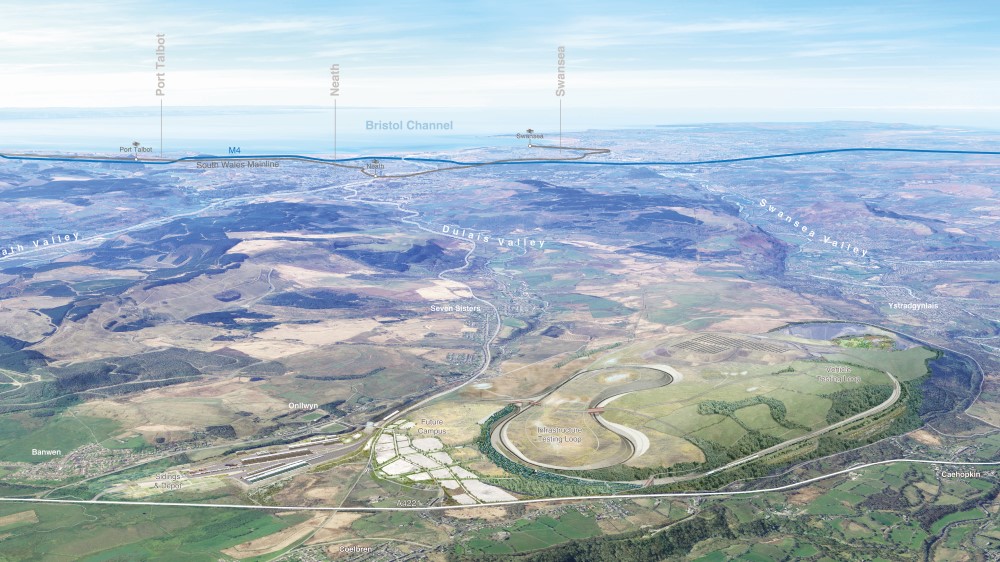 Currently, testing new technology takes place on the existing UK rail network. Understandably, track access and testing time is restricted so passengers are not affected. The GCRE facility will increase flexibility and opportunities to conduct testing, shortening the timeline to improve and validate new innovations. GCRE will help modernise the railway by closing the gap between development and adoption.
Furthermore, testing Hitachi's rail technology will help create a new digital skills-base at the Welsh site, and support jobs in the wider supply chain.
The site will provide services for a UK and European market. Currently, there is no dedicated, purpose-built facility for rail infrastructure testing in Europe, nor is there a railway test loop of this scale anywhere in the UK.
"This partnership reinforces Hitachi's commitment to UK innovation and supply chain, which has already seen us spend over £2.6 billion in the UK since 2015," said Jim Brewin, head of UK & Ireland at Hitachi Rail.
"Through this initial agreement, we're proud to help GCRE realise its potential and ambition to become a global hub for rail innovation. Being able to test British trains and technology at the test loop in Wales will ultimately benefit both rail passengers and the UK economy."
Simon Jones, chief executive of the GCRE, added: "Agreeing this deal with Hitachi is a big moment for the Global Centre of Rail Excellence. To secure such an important and globally significant partner to undertake their testing and research on site clearly demonstrates the calibre and the quality of clients that we will be working with at our facility. What is particularly pleasing is the message that this sends to the whole industry about the credibility and attractiveness of the GCRE offer."
Image credit: Hitachi / GCRE