All aboard for Railtex 2023, calling at Birmingham's NEC on 9-11 May. Now running for over 25 years, Railtex is the industry's showcase event bringing together stakeholders and key players including rail operators, vehicle builders, suppliers, policymakers, and planners.
As ever, visitors can expect an impressive array of technologies and innovations on display, with exhibits covering rolling stock technology, track and infrastructure, signalling and communications, vehicle maintenance equipment, rolling stock leasing, electronics, and many other specialised products. So far, 50 new companies are among the exhibitors, all serving the future development of the UK railway industry with their products and services.
This year's programme includes keynotes, Q&A sessions, and panel discussions with an incredible line-up of speakers, including leading figures from politics and industry. The conference programme is again sponsored by the Railway Industry Association, and all sessions are free to attend and CPD certified.
The show's popular On-Track Display area, sponsored by British Steel, returns to demonstrate tools and equipment in an authentic rail setting, and attendees can expect live demonstrations of new machines and systems and technical in-person discussions.
In addition to all of this, the Careers, Talent, and Skills Hub – hosted by RailwayPeople.com (part of Rail Media) will provide a dedicated networking area for employers, job seekers and those at the start of their journey into the rail industry.
The hub will provide a space for visitors and job seekers at any stage of their career to drop by and meet employers from leading organisations in the rail industry. Experts will be on hand to give helpful advice on graduate/apprenticeship opportunities, CV writing, and general rail career pathway advice.
Attendees, visitors, and rail professionals are encouraged to visit the Careers Hub where they can network with like-minded individuals, and learn from and engage with some of the industry's leading companies.
With public interest in greener and more sustainable travel solutions at an all-time high, Railtex is a fantastic opportunity for industry professionals to discover the latest innovations and learn more about the technologies moving the industry from decarbonisation to digitalisation.
"These are exciting times for the rail industry," says Olaf Freier, Portfolio Director Transport at RX Global. "The sector will not only continue to benefit from new opportunities, such as the ongoing rail projects from North to South and East to West in the United Kingdom, but also continue to grow amongst the challenges the rail sector has been confronted with."
For more information, including the latest list of Exhibitors please visit www.railtex.co.uk.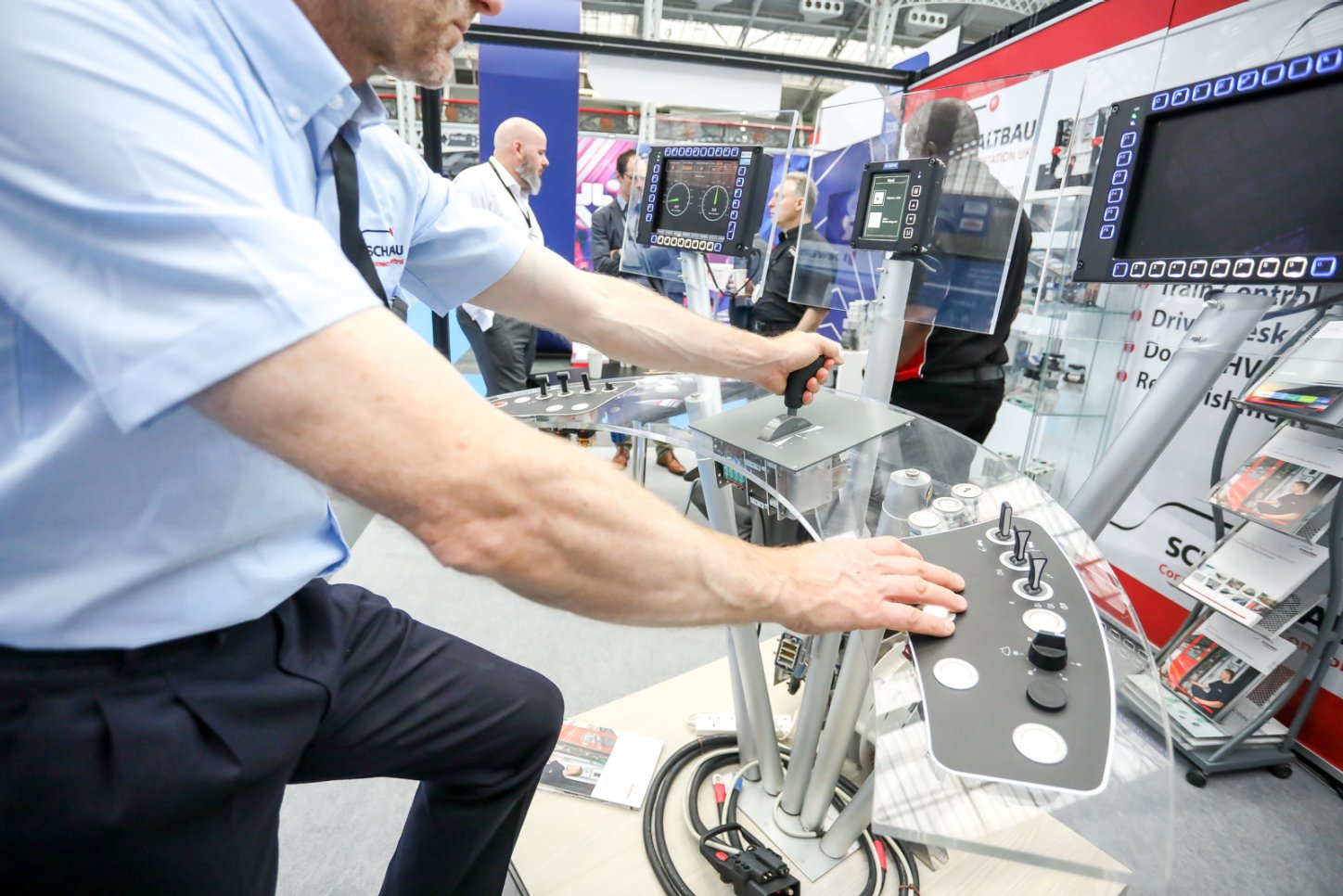 ---
Atco Trade EOOD
J31
Atco Trade EOOD's Rope Safety Device (RSD) is an innovative concept for platform safety using high-strength steel rope elastic barriers with a large span vertical opening.
The system can be installed on any type of passenger platform to prevent accidents and unauthorised access to rail track and promises quick installation without the need to interfere with train operation schedules. It is a tailor-made robust solution requiring very low power consumption.
Applicable on conventional rail and metro lines, high speed, or light railways, the RSD system offers unrivalled efficiency at various train length and door configurations. The RSD meets the requirements of SIL 4; offers aesthetic integration in any architectural environment; is applicable for both automated and non-automated train operations; makes maximum use of natural lighting and ventilation; and allows for the passing of high-speed trains. It improves the passenger experience and makes the choice of rail transport an easy and attractive one.
---
Concrete Canvas
J52
Typically, rail projects can pose significant challenges for clients. The access issues associated with rail projects can often mean there is restricted or no plant access available, making use of traditional concreting solutions impossible.
Concrete Canvas is a flexible, concrete-filled geosynthetic, that hardens on hydration to form a thin, durable, and waterproof concrete layer. Essentially, it's concrete on a roll: you just add water.
Concrete Canvas can be specified in man-portable batched rolls, eliminating the requirement for heavy plant equipment, allowing installations to be carried out on sites which would otherwise be inaccessible, and allowing contractors to minimise or avoid line possession entirely.
The speed and ease of installation means Concrete Canvas is well suited to time-critical track-side work, reducing line possession and improving safety. It has been widely used by Network Rail across the UK for over 10 years and is an industry-accepted alternative to conventional concrete. The geosynthetic has been specified by Route Directors, Senior Asset Engineers (Drainage), and minor works teams across the five Network Rail regions and their 13 routes.
Manufactured entirely in Wales, Concrete Canvas offers a lower carbon, environmentally sensitive solution for erosion control and weed suppression applications when compared to traditional concrete solutions.
---
EAO
K41
Rail passengers use their phones intensively whilst travelling and surveys show that customers would like more charging points. They feel that their experience is enhanced if they can charge their phones and other portable devices on their journey.
With the long service life of a train, installing and maintaining a rail industry-approved charging service that is reliable, future proof and available to all passengers, requires innovative hardware, careful planning, and a complete charging system approach.
The way phones are charged is evolving towards wireless charging. Nearly all new phones now have wireless charging receivers and a charging port, but will USB sockets become extinct? Engineers refurbishing and designing trains need to think of today's passenger needs through USB sockets and consider that wireless may well be the future of portable device charging.
EAO is an expert partner for the design of railway device charging systems and incorporates both wireless and USB fast charging into its Passenger Interface range which includes seatback mounted chargers and a range of table mounted chargers. When combined with the latest rail approved power supplies, custom connection cables and a full installation design service – EAO offers a complete charging solution.
The EAOtag electronic gateway connects passengers to the charging systems and enables train operators to monetise their phone chargers through the possibility of marketing messages from sponsors and by encouraging app downloads.
To find out more call 01444 236000 or visit: eao.com/passenger interface.
---
Electro-Wind Ltd
A31
Established in 1979, Electro-wind is an independent, family owned and operated company, offering a strong commitment and continuous passion for its work.
Electro-Wind Limited has over 40 years of experience in the manufacture of transformers for signalling power supplies. At our manufacturing facility we carry out the design and production processes and adhere to strict quality control guidelines. The design and production management team ensure we maintain our high standards and manage our systems in accordance with our ISO 9001:2015 accreditation.
We regularly deal with a wide range of nationally recognised companies including, but not limited to, Network Rail.
Growth of our range of railway equipment is ongoing. The design and manufacture of trackside service pillars have been a prominent feature in several recent new railway maintenance depot upgrades.
Electro-Wind pursues everything it does with enthusiasm and a commitment to delivering the highest quality solution and great results, no matter how big the project or how small the request.
---
Lubcon Lubricants
A41
Lubcon Lubricants UK LTD is the UK subsidiary of Lubricant Consult GmbH, a worldwide operating German lubricant manufacturer of high-grade greases, oils, pastes, and lube systems for nearly all industrial applications and manufacturing sectors.
The company was founded in 1980 and has since established a wide network of subsidiaries and sales representatives around the globe. It offers an extensive range of specialty lubricants and services as well as its long-time expertise for all applications related to rail, train, and wheel.
Lubcon offers a versatile product portfolio of tested and approved lubricants for the railway industry, such as biodegradable greases and friction modifiers to reduce wear and noise-intensive friction between wheel and rail. Its focus is to provide sustainable cost saving solutions by using the right products and methods, leading to reduced consumption, extended lifetime, reduced downtimes and a minimised number of different stock items.
---
HR Kilns Ltd / HR Fibreglass
L30
HR Kilns Ltd, trading as HR Fibreglass, was established in 2005. Based in Skelmersdale, Lancashire, the company specialises in GRP/FRP (Glass Reinforced Plastic).
HR Kilns / HR Fibreglass is one of the UK's leading manufacturers and suppliers of GRP Gratings, Walkways, Embankment Steps & Landings, GRP Handrails, Anti-Trespass Panels, GRP Pultruded Profiles, Risers and GRP Troughs. It offers 3D cad design to manufacture and installation, and provides a bespoke GRP service to suit all of its customer's requirements.
Any hand-layed products can be manufactured in the company's workshop from tanks, water collection units, troughs, and any special shapes required. HR Kilns / HR Fibreglass offers cost effective solutions for all new and existing composite requirements from, design, manufacture, fabrication and installation. It offers installation teams nationwide.
HR Kilns / HR Fibreglass offers a free cutting service on all materials with its Vertical Wall Panel Saw and bench saws. It's production department can fabricate GRP products to suit any requirements.
---
Rail Media
M50
Rail Media, the UK's leading media group dedicated to the rail industry, gives companies the chance to connect.
We want to help – whether it's keeping you informed about industry news, introducing you to like-minded professionals or finding that ideal candidate for a role within your company.
We publish two industry-leading magazines, RailStaff and Rail Engineer.
As well as all the latest news, RailStaff carries articles on training and skills, has regular features on wellbeing, health and safety, freight, and covers major industry events, while being the home of recruitment and careers.
Rail Engineer is the leading independent, free, quality monthly magazine for rail engineers, project managers, directors and executive decision-makers. It is essential reading for everyone involved or interested in the engineering side of railways.
Besides publishing the latest up-to-date railway engineering news, our writing team of experienced engineers reports on the engineering and technical aspects of many of the major projects being undertaken day in – day out, above and below ground, and across the globe.
We also run the largest rail job site RailwayPeople.com and organise conferences and awards events such as the 'Rail Safety Summit' and 'The RailStaff Awards'.
Connecting the UK rail industry for over 26 years.
---
Careers, Talent and Skills Hub (hosted by RailwayPeople.com)
Recruitment and retention are key concerns for companies throughout the rail industry supply chain. The existing skills shortage, coupled with demands for experienced staff from other industries, will put more emphasis than ever on the challenges of finding – and retaining – the skills that companies rely on to deliver projects on time and on budget.
Hosted by RailwayPeople.com, the rail industry's leading online job board, the Railtex Careers, Talent and Skills Hub gives exhibitors the chance to promote their vacancies to the wider Rail Industry and provides a central focus for those looking for new career opportunities with market-leading employers.
Whether you are a candidate, a recruiter, an employment agency, involved in labour supply or just want to see what's out there, check out the Careers, Talent and Skills Hub on stand L51.
Launched in 2001, RailwayPeople.com provides the perfect platform to fill your vacancies.
We know that attracting the right candidates to your career opportunities is important so we offer a range of products and services to help you achieve this.
Alongside its growing database and long-term relationships, RailwayPeople.com offers a wealth of advertising options helping to ensure you maximise your reach to the wider rail industry.
The RailwayPeople.com platform which provides a fully responsive site along with improved search capabilities and search engine optimisation will soon launch an all new site with new features that will help recruiters and candidates get a much improved service.
As all great recruiters are aware, it is attracting the right candidate for your role that is important so we offer a range of helpful facilities to help you do just that.
Contact us to find out more about the options and solutions available. Please visit: www.RailwayPeople.com.
—-
Sekisui Chemical GmbH
F14
Sekisui's fibre-reinforced foamed urethane (FFU) synthetic wood products have been successfully used in continuous operation on global rail networks for over 41 years.
The construction of Sekisui's FFU glass fibre strands guarantees the highest level of safety and reliability in daily use on railway tracks. In many countries across over the world, FFU synthetic wood has set the standard for synthetic railway sleepers on bridges and S&C.
The material has the weight of natural wood and many of the same properties. Its close resemblance to traditional timber means that the visual appearance of structures remains intact. It is also easy to repair and, most importantly, has an extremely long life.
FFU is not affected by UV light and retains its technical properties after many years of exposure. Where FFU is not painted, long-term UV irradiation only leads to discolouration of the surface. Not only does this increase the material's longevity but also has environmental implications as FFU products do not need to be treated with harmful chemicals to protect them from UV exposure.
Since the company's foundation, Sekisui has dedicated itself to social and environmental contribution and is now an internationally recognised leader in sustainability and environmental initiatives, having recently been selected as one of the Global 100 most sustainable companies.
—-
Samuel Taylor Ltd
D03
Samuel Taylor Limited (STL) manufactures precision stamped components and metal assemblies typically used in electro-mechanical switches, as well as sophisticated bonding of base and precious metals.
The company has over 120 years of manufacturing history, and over the past 70 years has developed an in-depth understanding of precious and semi-precious metal stamping for rail focused projects. STL has been involved in the Rail sector since the 1950s, supplying small order contacts and items for refurbishment of existing rolling stock. In many cases this would be where the historical supplier has gone out of business or no longer supplies the market, but increasingly this is also for new designs.
STL's accumulated know-how can save the rail subcontractor thousands of pounds on refurbishment projects. Many of the relays and mechanical switches are still in use but few of the original supply chain manufacturers are still around.
STL's tool storage racks run through the era of British Rail to the modern day, which helps save a significant amount of time and money for rail subcontractors tasked with refurbishing power switches as well as sourcing associated metal contacts and components. Typical refurbishment projects can require only a couple of hundred parts, but if a new design is required, STL can assist in the development of that too.
For more information or to discuss your requirements email: [email protected].
—-
Sealed Air Corporation
C46
Sealed Air Corporation's Whisper® Acoustic Panels offer a sustainable and durable alternative to traditional acoustic materials indoors or out, absorbing noise while being resistant to water, impact, and dirt, eliminating the need for costly protective covers.
Whisper enables durable noise reduction using a network of closed cells in a matrix of honeycomb-like cavities to efficiently absorb noise for at least 50 years. Applications include: noise barrier walls; rail workshops; train washes; rolling stock interiors; train stations; wheel lathes; tunnels; spoil sheds; bridges; and substations.
Whisper NB is a new range of sustainable absorption materials for noise barrier wall applications. Parallel slots boost acoustic performance at critical rail frequencies, providing the material with category A3 absorption and 5dB of reflection whether inside a cassette, or installed as a cladding to existing walls. The Whisper NB range is formulated for compatibility with existing post-industrial recycling systems for low density polyethylene (RIC 4) and has an Environmental Product Declaration (EPD) for open and transparent reporting of sustainability metrics and carbon emissions.
---