Between 9-11 May, the rail industry came together at Birmingham's NEC to showcase the full potential of the market at RailTex 2023.
Over those three days, Railtex, the International Exhibition of Railway Equipment, Systems and Services, saw 2,600 trade visitors explore the latest innovations, products, and services from all areas of railway technology.
The 2023 event welcomed 160 exhibitors from 19 countries representing the complete spectrum of the railway industry and, as a sign that Rail is well on the road to recovery in the post-Covid-19 world, visitor numbers were 17% higher compared to the previous event in 2022.
"It was a very good and valuable three-day event filled with innovative product showcases, learning opportunities and plenty of business conversations," commented Nicola Hamann, managing director of event organiser RX Global. "We were delighted to see such a positive turnout for the show. Both exhibitors and visitors were highly satisfied, as they either reconnected with existing contacts or established new business relations."
As in previous years, the supporting programme was sponsored by the Rail Industry Association (RIA). The Future Focus forum explored the subjects which currently move and shape the industry. A series of impressive presentations and panel discussions delivered exciting insights into the successes and challenges of today's industry, including decarbonisation, international growth, innovation, and sustainability.
Future Focus
The Future Focus event was opened by RIA's chief executive Darren Caplan, who praised Rail's continued recovery since the pandemic in the face of continuing pressures:
"Back in February of 2022, passenger numbers were at 50% of pre-covid levels but by February 2023, within a year of covid restrictions being relaxed, they were up to 103%. Revenues are up to around 90%. When you consider that during this period we've had industrial action, we've had poor service levels, and there's been lot of reputation damage to the railway industry, and yet those passenger numbers are getting back to where they used to be. That's a phenomenal performance."
However, Darren emphasised that the industry continued to face many challenges, not least the lack of clarity with regard to Great British Railways (GBR) and the industry's future direction. Darren noted that on the same day of RailTex's opening, industry leaders were delivering a letter to Prime Minister Rishi Sunak, urging him not to delay in bringing forward legislation to enact rail reform plans published in 2021 in this parliamentary year.
"Some of the biggest names in the rail supply sector have signed this letter to the Prime Minister, to urge him to ensure the required legislation is passed," said Darren. "We ask Rishi Sunak to take note of the letter, if he wants to have a world-class rail system in the UK, which connects the country and delivers on his own agendas to level-up, decarbonise, and encourage industries which can give a major boost to economic growth."
After highlighting some of the more pressing issues facing the industry, including a lack of movement on the Rail Enhancement Pipeline, the slow progress of network electrification, and the pressing requirement for increased numbers of rolling stock, Darren handed the mic over to Iain Stewart MP Chair of the Transport Select Committee.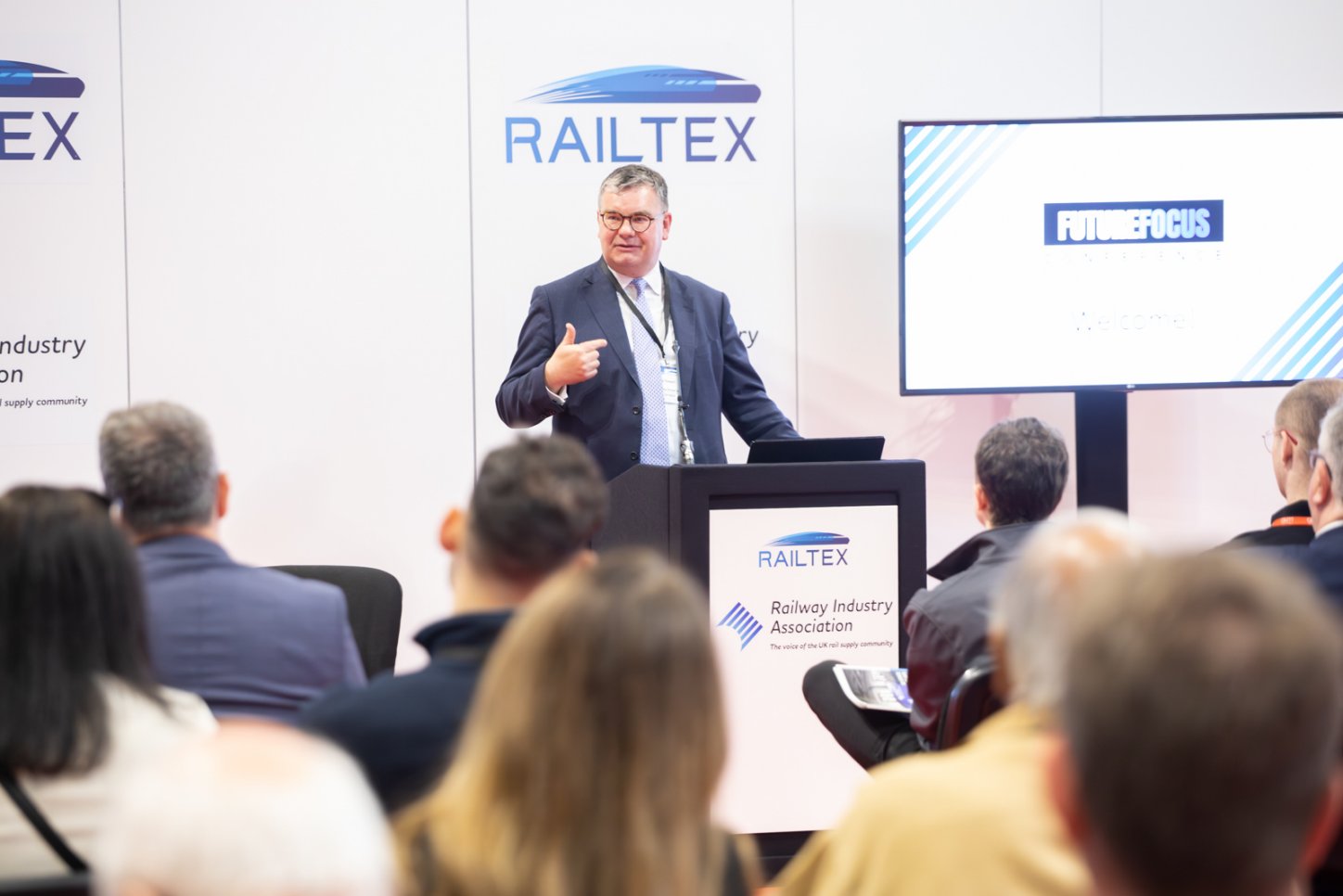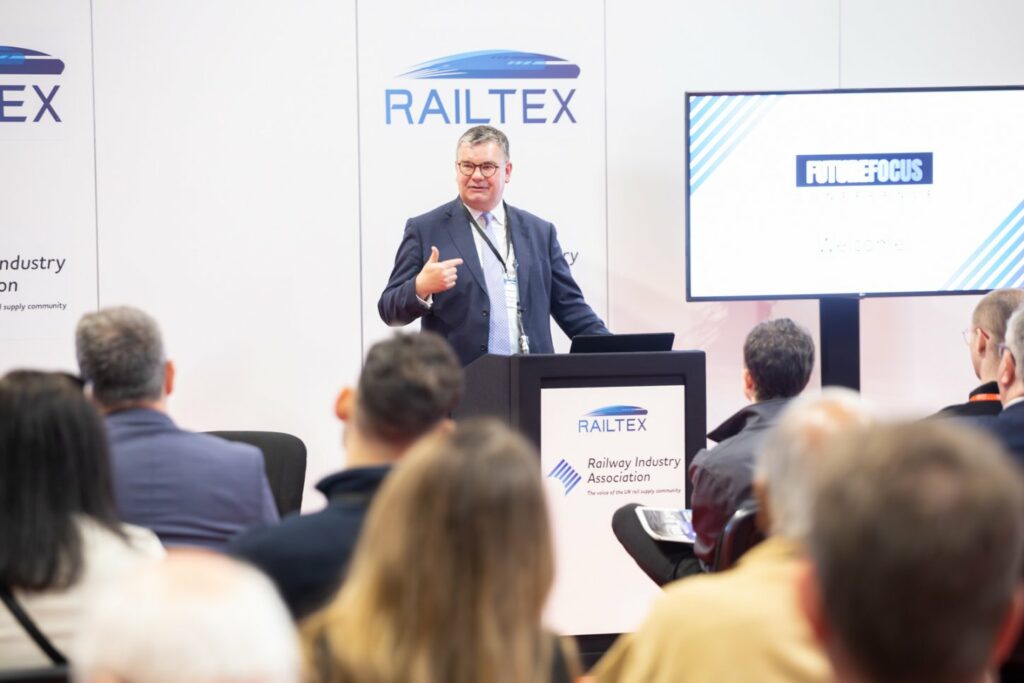 Iain explained the Transport Select Committee's role is to scrutinise the Department for Transport, hold Ministers and Departments to account, and to investigate matters of public concern where there is a need for accountability to the public through Parliament.
He explained that part of the Committee's remit is to look ahead for potential disrupters to the industry, predict what might be coming in the next 15-20 years, and spoke about his ambition to build long term projections of certainty, which will give suppliers the confidence to invest in the industry.
Iain spoke of his frustration about "how many transport questions lead back to the Treasury" and how the DfT's work is so dependent on Treasury policy. He also emphasised the need to take a whole-system approach when considering investment in transport and reminded the audience that "modes of transport do not exist in isolation."
He used his closing remarks to urge audience members to use "any means of lobbying you have to take up the case for the Transport Bill" which has been delayed to the next session of Parliament, with detrimental consequences for the industry.
Future technology
In the first keynote speech, Gareth Evans, head of rail technology at Network Rail, discussed the Railway of the Future, what it looks like, and how we get there. He emphasised that the future railway is being built right now and that the assets built today will be in place for at least the next 50 years. However, he expects that some assets may require upgrading or replacing as new materials become available and as climate change further impacts the environment.
Gareth discussed the need to develop more cost-effective solutions for more resilient assets in light of climate change and also argued that the development of the future railway hinges on the ability of the industry to attract talent.
The industry's green credentials are under threat from the boom in electric vehicles, Gareth said, and the industry must focus on the end-to-end journey if it's to maintain its reputation as the most sustainable form of transport. Robotics, automated monitoring, and the exploitation of big data are the key to enabling a greener railway and economy, but technology should augment and support the future workforce – not replace it.
Decarbonising Rail
The first Panel Q&A of the event saw industry leaders debate the pressures that rail is under to reduce its emissions and meet global government sustainability targets, and the initiatives in place helping it to achieve this.
Richard Fisher, head of Strategic Planning at GBRTT, considered the need to see decarbonisation of the railway within the broader context. An isolated, siloed strategy of decarbonisation would not achieve its aims, he argued, and the industry must consider the end-to-end journey as well as rail's place among other transport modes.
He also reasoned that decarbonisation was reliant on the investment available and, while full electrification would be the gold standard, we must recognise it may not be economically feasible. Richard made the similar point that the industry needs to accept the limitations of today's technology and work with what it currently has, rather than wait for future capabilities which may never come.
It is essential to consider the circular economy, stressed Jo Lewington, Chief Environment and Sustainability Officer at Network Rail, and engagement and collaboration is key to meeting environmental goals. Simon Green, engineering director at GWR stated that there is no real alternative to electrification, but all options must be tried where they are required and where practical.
All of the panellists agreed that rail is at risk of losing its green credentials as other sectors are rapidly catching up. Rail must adapt to this new reality and push harder to ensure it remains the most sustainable form of transport.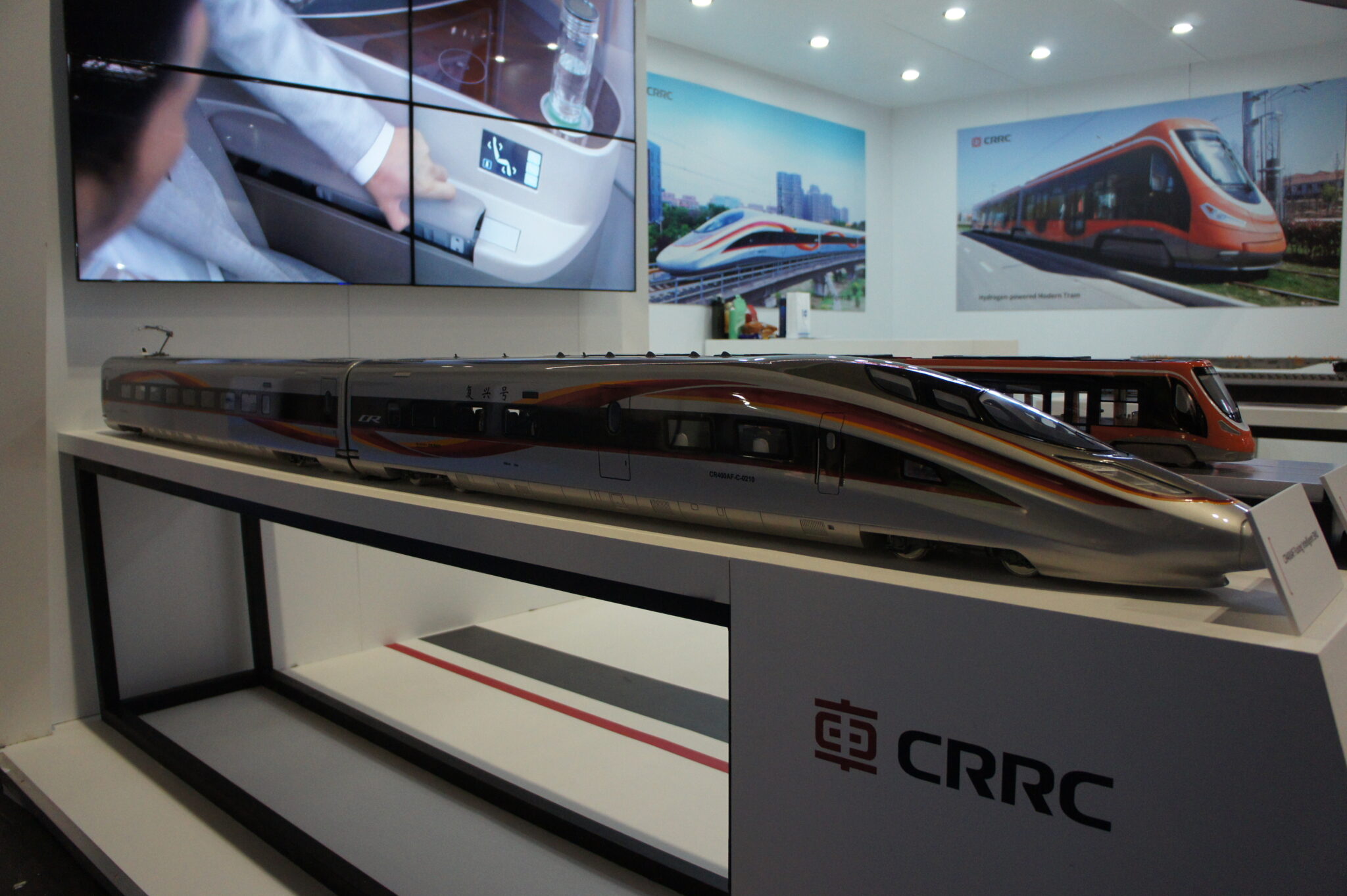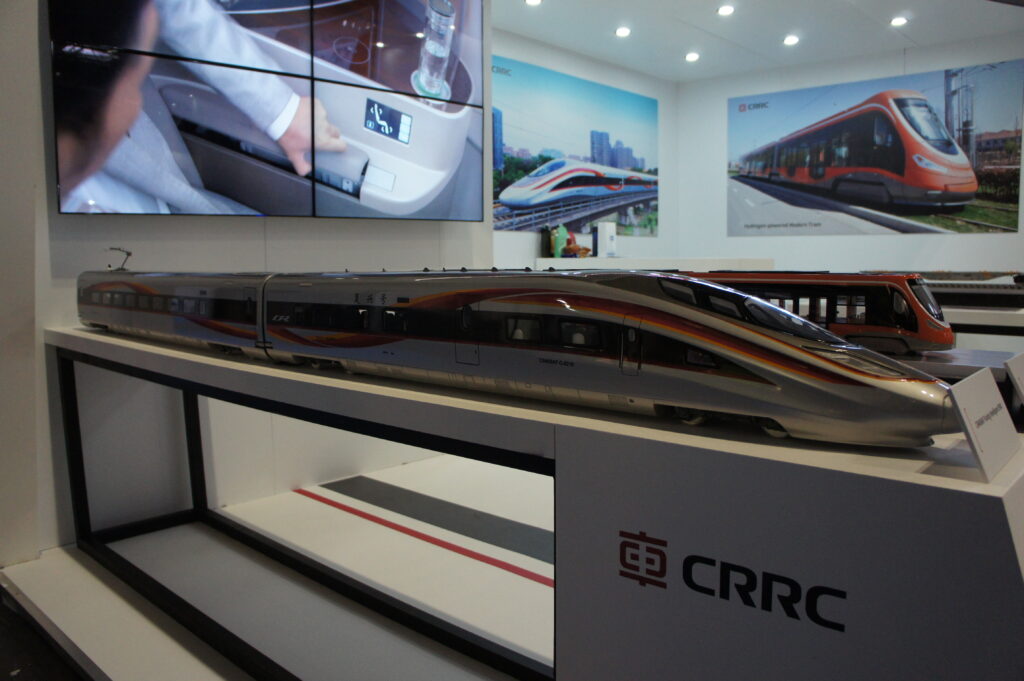 Closer relationships
Shadow Exports Minister Dame Nia Griffith opened the second day of the Future Forum, touching on Labour's priorities for Government and the exciting opportunities and challenges for exports. She was eager to hear from experts in the industry about the challenges in the sector and how best rail can be supported.
Dame Griffith described a recent parliamentary visit to India where she had the chance to meet the Minister for railways, communications, electronics, and information technology. She described the real feeling that India is investing for growth and applauded the scale of the development of its rail industry.
"Their ambition is to run 90% of its network on renewables by 2050, they're rebuilding thousands of stations, they're developing a hydrogen chain designed and made in India and also a double-decker goods train which will carry 360 containers."
She made the point that India is looking toward external companies to bolster these developments but warned that the UK cannot rely on its historical ties with the country to boost business opportunities. The UK faces fierce competition from other countries, including France, and must fight for every contract.
Talking about the EU, NIA reminded the audience that the Trade and Cooperation agreement is up for renewal in 2026 and expressed her appreciation that the Prime Minister has taken a more positive approach to the EU in recent times and hopes this heralds more positive ties in the future.
"It's time for us to move forward as a country and build a more constructive relationship with our neighbours, all while recognising that we are now in a position outside the single market and customs union."
International outlook
A panel discussion on international opportunities complemented Dame Griffith's speech, giving an insight into the activities of rail networks overseas, the challenges they face and, the investment opportunities available.
Brazil's railway network, the ninth-largest in the world is in desperate need of investment and expansion, said Vanessa Barbalat, head of Infrastructure, Department of Business and Trade at the British Embassy, Brazil. Road transport dominates in Brazil, accounting for 61% of freight and 95% of passenger transport. However, even this is of very low quality with less than 30% being paved, highlighting a dire lack of investment across the country's transport networks.
David Fisken, investment director at Austrade was keen to talk up Australia's plans for its rail. He discussed the expansion of the country's freight network and plans for a high-speed rail link between Melbourne, Sydney, and Brisbane. He laid out A$155 billion rail investment pipeline over the next 15 years, and encouraged British business to get involved.
Mark O'Donnell, consultant signalling & control engineer at ERG International talked about the Ankara-Izmir high speed rail project in Turkey. The €2.1 billion project will see the construction of around 530km of double track high speed rail comprising 503.2km of mainline tracks and 29km of connecting lines. The electrified railway, which will reach speeds of up to 250km/h, has guaranteed funding from UK Export Finance and will help the Turkish government meet its COP26 climate commitments.
Embracing failure
Rounding off the exhibition's Future Focus program was Imran Anwar, CEO and Founder of Alt Labs, a delivery partner for Transport for Wales. His Keynote speech discussed the factors that make a project or technology 'innovative'. He pointed to three main pillars, all of which are required: Desirability, Feasibility, and Viability. The Rail Industry needed to embrace the idea of failure, he said, pointing to tech companies which regularly see major setbacks but push onwards to achieve their aims. His speech came a week after SpaceX launched its Starship which ultimately suffered a 'Rapid Unscheduled Separation'. Staff at the company celebrated the positives of the test flight, rather than focusing on the ultimate fate of the vehicle. But is embracing failure an option in rail, where investment is not so forthcoming, and where the safety of staff and passengers is paramount? It is not difficult to argue otherwise.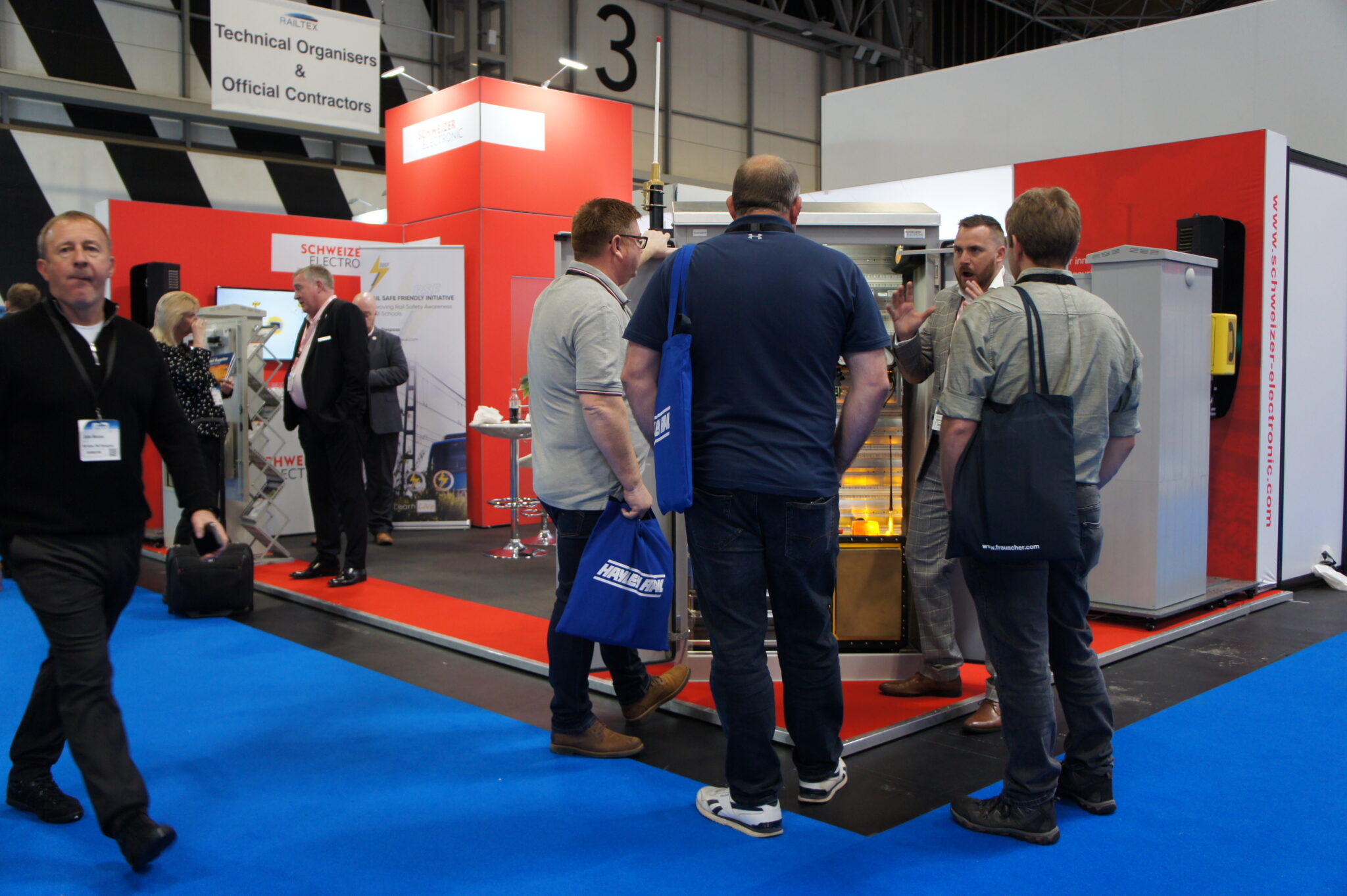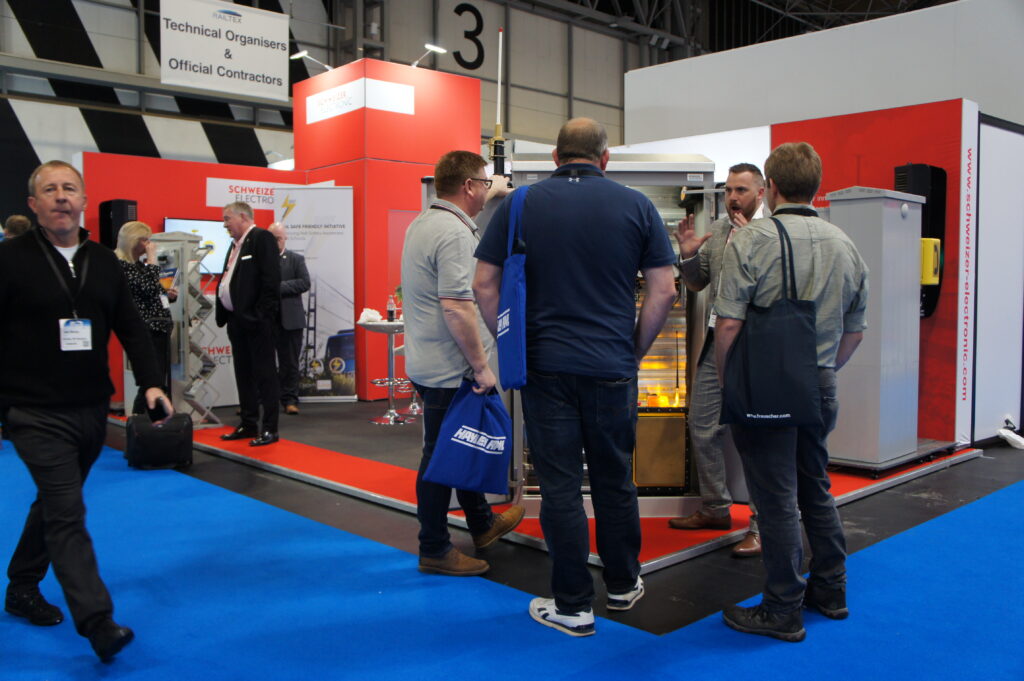 Wandering the stalls
Beyond the keynote speeches, presentations, and Q&As, the event was host to a vast array of major suppliers, SMEs, and start-ups eager to demonstrate their latest innovations, designs, and services.
British Steel returned once again with its 'On Track' installation – 15 metres of track which allowed exhibitors the chance to demonstrate their tools and equipment in an authentic rail setting. The company also demonstrated some of its own award-winning products and services, including Zinoco coated rail for extending life in corrosive environments; HP335 for improved wear and rolling contact fatigue resistance; and steel sleepers which help reduce track construction and renewal costs through lower ballast requirements, quicker installation times and ease of transportation.
Anderton Concrete maintained a presence this year, keen to discuss the latest advancements in lightweight and sustainable concrete technologies, its precast cable troughing and retaining wall systems. Concrete Canvas was also flying the flag for construction materials, displaying its Geosynthetic Cementitious Composite Mats (GCCMs), which offer a lower carbon, eco-sensitive solution for erosion control and weed suppression.
Camera solutions manufacturer Seyses was on hand, promoting its rapid-deployment cameras and thermal radar for facility security. It was also keen to discuss its Lineside Thermal Remote Conditioning equipment which Network Rail employs to identify potential issues with rolling stock.
In the networks, data, and software space, cyber security specialist Complete Cyber was on hand to promote its services evaluating and integrating systems to harden them against cyber-attack. Data solution firm Predge was keen to promote its support for industries in predicting failures and boosting decision-making with the aid of big data.
Track worker safety and level crossings specialist, Schweizer Electronics, was promoting its Flex MSL crossings and Lynx Automatic Track Warning Systems and discussed how these products can become the safety systems of the future. Training simulator manufacturer EDM Ltd showcased its NX Digital Signalling Simulator, and staff were on hand to answer any questions about the product, which they believe is the future of rail signalling training. Zonegreen was also there, exhibiting its Depot Personnel Protection System (DPPS), which is designed to provide the safest and most efficient method of controlling depot train movements, providing enhanced protection to depot workers.
In rolling stock, China's CRRC was again present to promote extensive products, which include its 'Fuxing' High-Speed EMU, 'Cetrovo' Next Generation Metro, Intercity EMU, and Hydrogen powered trams. Stadler, which did not appear at last year's event, returned in 2023, keen to talk about its tri-mode Class 93, due to be delivered this year. The manufacturer was also promoting Citylink Tram-trains, expected to come into use on the South Wales Metro next year.
Final thoughts
Once again, Railtex showcased countless inventive solutions and products, and RIA's Future Focus forum did a superb job in covering the most pressing issues facing today's rail industry. It is clear that Rail continues to embrace change in a landscape that is rapidly developing, but it must work hard and smart to counter the many challenges on the horizon. Railtex is great opportunity for industry players, offering the space for self-reflection, the exchange of ideas, and critical thinking. Here's looking forward to the next event.