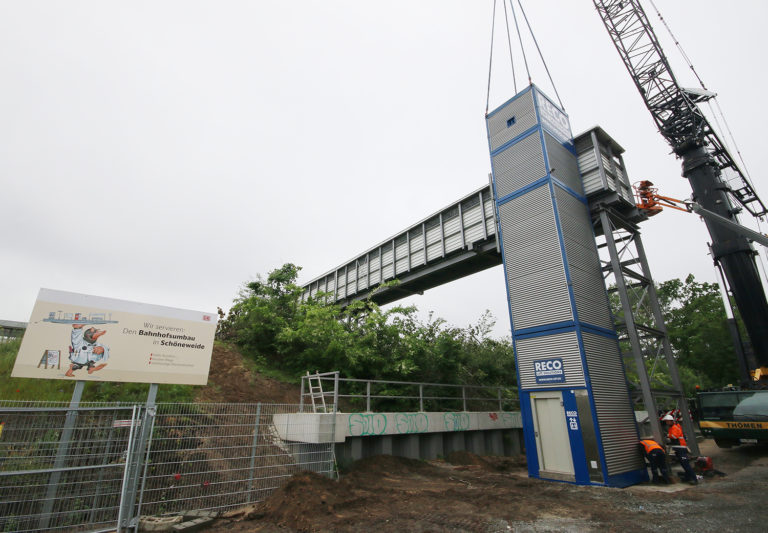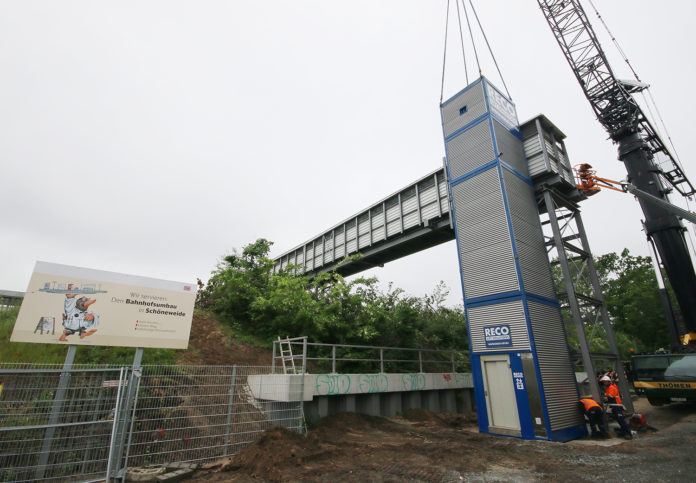 Across the country, simple footbridges at stations, which cross the tracks from one platform to another, are being replaced as part of the 'Access for All' scheme. Typically, the new bridges have a passenger lift for each platform, so that the disabled, passengers with heavy luggage, families with prams and pushchairs and anyone else with mobility difficulties can access all of the platforms and the trains.
However, when a temporary footbridge is needed, this can be a problem. Traditional styles made from scaffolding don't have lifts, so those with mobility problems can be disadvantaged.
When Deutsche Bahn had this problem in Germany, it turned to RECO Lift Solutions, which supplied three type PP passenger lifts for a temporary pedestrian bridge crossing the tracks in Berlin.
PP stands for Plug & Play, which means that the lift shaft can be installed with just one crane lift and is then ready to be used. All that is needed is a foundation and a power supply, then the temporary RECO passenger lifts provide a step-free and safe access for railway passengers using the temporary passenger bridge.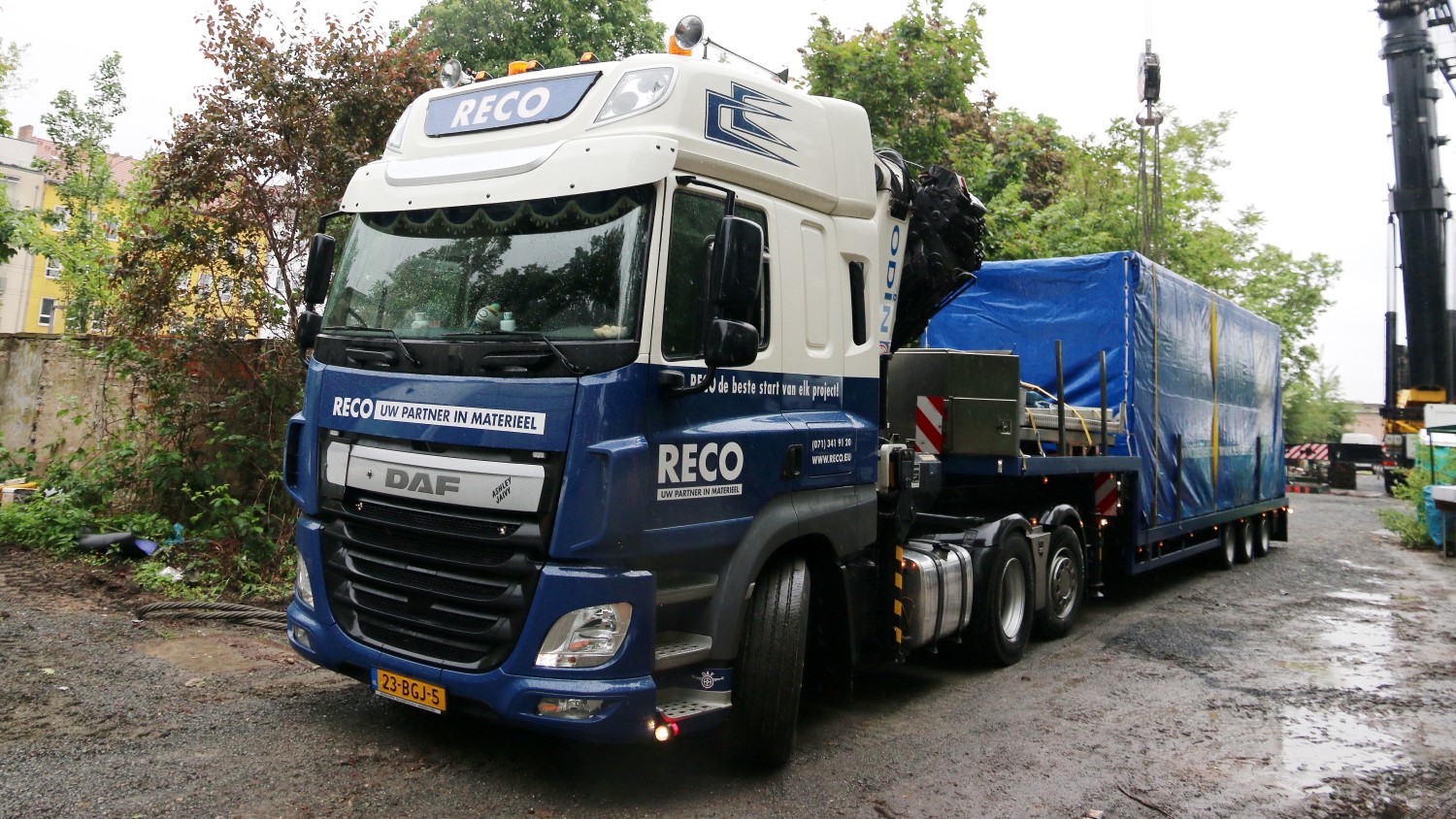 Safe and step-free
Based in the Netherlands, RECO Lift Solutions specialises in renting out temporary passenger lifts all over Europe.
"In the international infrastructure market, we work a lot for the railway companies," explained Jakob Ebbens, RECO's international accounts manager. "All over Europe, we see a trend that customer-oriented railway companies want to maintain full step-free track access for their passengers in all circumstances.
"This is also the case for temporary structures like temporary pedestrian bridges. Due to overhead line equipment, these temporary pedestrian bridges need a minimum height of 7.5 to 8 metres. For passengers with prams, bikes or disabled people in wheelchairs, the stairs leading up to such a bridge are an impregnable barrier.
"With the use of a temporary RECO passenger lift, we offer railway passengers the comfort of a passenger lift with an enclosed lift shaft."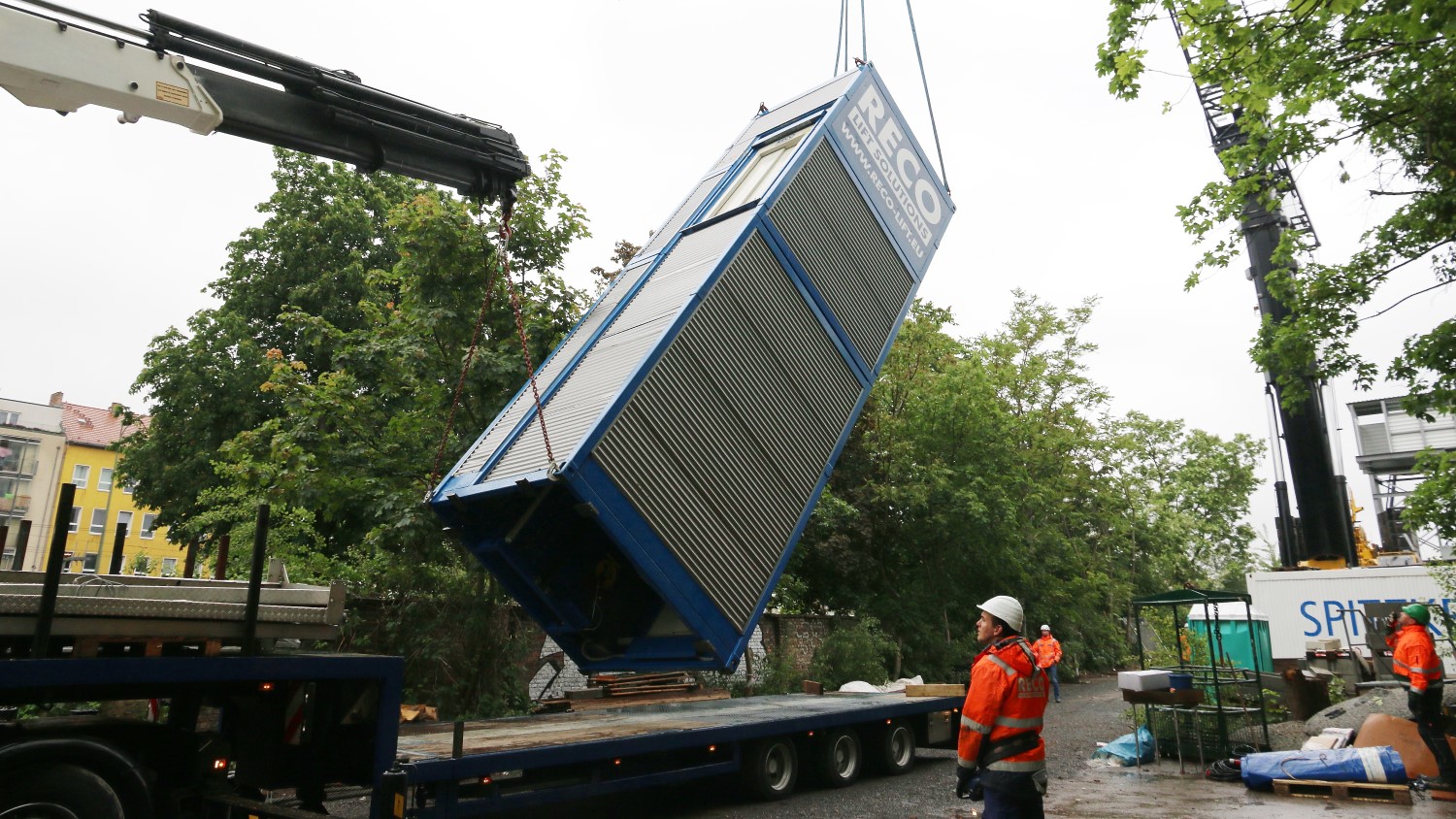 Railway station Berlin Schöneweide
Having been part of the Deutsche Bahn network for more than 100 years, Berlin Schöneweide railway station no longer meets contemporary standards. As a consequence, DB is modernising the station to make it more appealing and comfortable for passengers.
The station features a passenger tunnel with lifts for those that need them. As these lifts would be out of service throughout the modernisation works, Deutsche Bahn decided to install a temporary footbridge, courtesy of engineering contractor Spitzke, which has its eastern regional headquarters at Großbeeren, just south of Berlin.
Spitzke cast concrete foundations for three temporary lift shafts. Directly after lifting in the temporary footbridge, a 500-tonne crane, on hire from another Berlin company, Thömen, lifted in the three temporary RECO PP passenger lifts. The lift shafts were anchored to the concrete foundation using Hilti chemical-glue anchors.
RECO temporary lift shafts that are under 12 metres high can be free standing, However, one of these three was 14.6 metres high, so it needed to be tied into the bridge structure for added stability.
"Using temporary RECO type PP passenger lifts, all customers will be able to use the temporary footbridge," said Mr. Springer from infrastructure owner DB Netz. "In only 24 hours, RECO installed three temporary passenger lifts without disturbing train traffic. The temporary lifts use the same lift technology and operation as our existing lifts at the railway station, adding to the comfort and user friendliness for our users."
"Engineering firms and specification writers that operate in Germany's infrastructure sector are increasingly seeking us out for temporary lift solutions," commented Jakob Ebbens. "To make travelling by train more appealing, railway operators are not only improving rolling stock and timetables, but stations as well."
Research has shown that the station experience contributes a hefty 25 per cent towards overall passenger satisfaction. Given that safe and step-free access to trains is a basic passenger need, its influence on passenger satisfaction is considerable.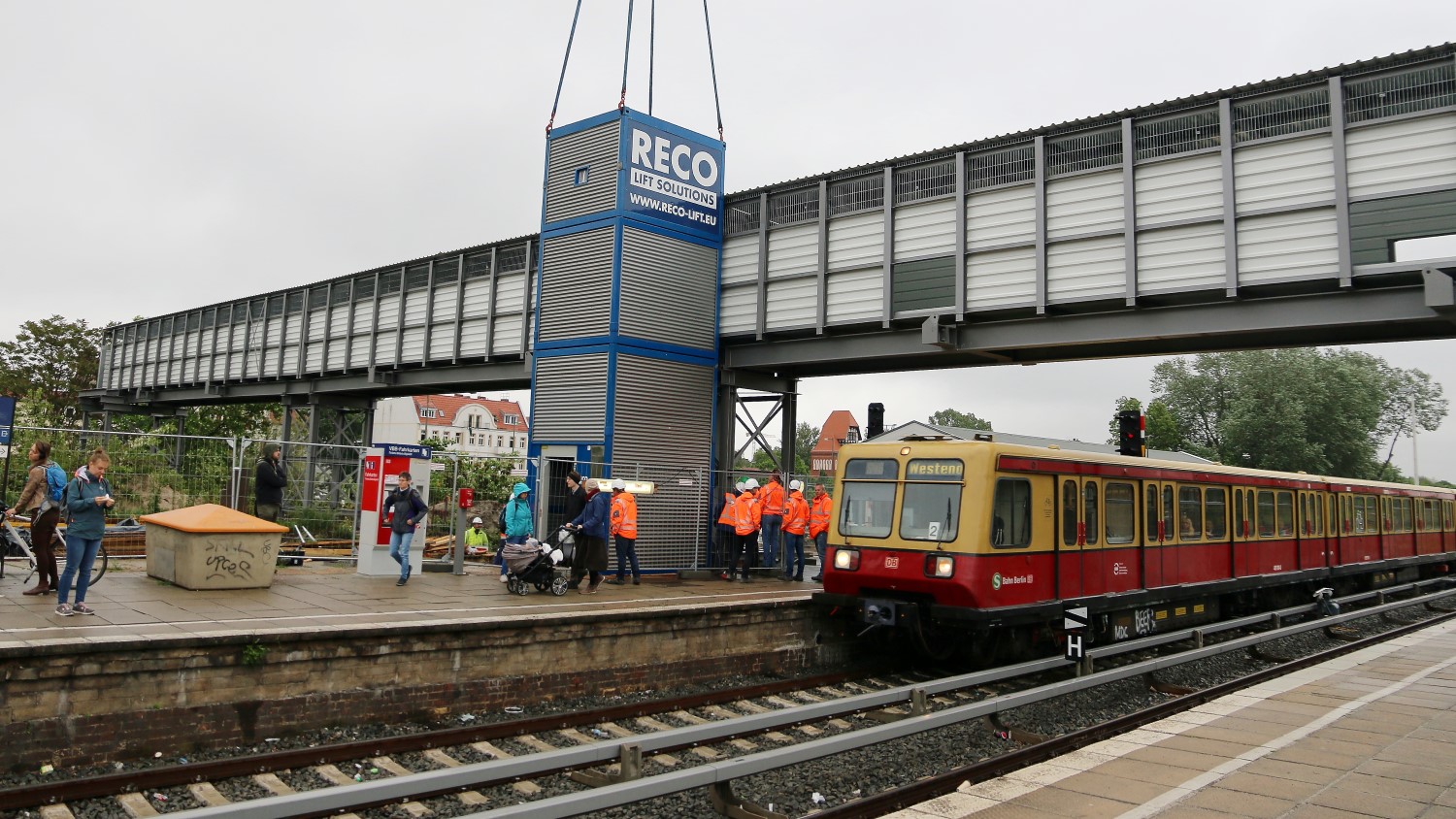 Modular set up
RECO's PP passenger lifts are modular in concept. Jakob Ebbens explained: "Depending on the needs of our clients in number of stops or travel height for the cabin, we can simply adjust the height of the lift shaft. For this project, for example, we have installed two nine-metre-high lift shafts and one at 14.6 metres.
"We also have flexibility in the cabin configuration. For this project, Deutsche Bahn preferred a walk-through cabin for a better traffic flow."
RECO is using standard lift technology for its passenger lifts. "Since we work all over Europe, and our engineers are based in the Netherlands, we always want to make sure that a local elevator service company is familiar with the lift technology that we are using. This enables us to provide prompt customer service in case there is a technical problem," Jakob Ebbens stated.
For the project in Berlin, elevator service company Schmitt & Sohn is both assisting RECO with technical support and taking care of maintenance.
With safety being paramount, all RECO temporary passenger lifts are commissioned by a local notified body before use. In the UK, Bureau Veritas UK is undertaking this service.
All of the lift cabins are fitted with an emergency call button in the lift cabin. While RECO offers clients use of its emergency call system, station owners and operators often want to build in their own, which are fully compatible with the systems they are already using.
In the UK, RECO has supplied projects such as Crossrail, Docklands Light Railway and Manchester Airport, and is working on several projects for Network Rail. When needed, additional support can be provided by sister company RECO Hoist Ltd of St Ives, Cambridgeshire.