With more and more work being undertaken 'adjacent line open', Network Rail and its contractors have had to become more inventive in finding ways to protect the workforce from passing trains while still having room to carry out the necessary work.
Rail Engineer has reported on various initiatives. From magnetic fencing that can be erected quickly and safely to complete mobile maintenance trains, complete with workshops and a car with no floor and extending sides that track maintenance teams can shelter in while working.
But none of those solve the problem of stations. With an open edge, passing trains, and a drop of about one metre onto the track, platforms can be risky places for maintenance workers.
Standing a fence right on the platform edge doesn't work. They either fall off the edge or become displaced so they could be struck by passing trains. Pulling them in a few metres doesn't work either as that can mean much of the platform surface can't be worked on. What it needed was a new solution.
Novel design
Having worked together in the UK rail industry for a number of years, close friends Mark Swanepoel, Mike East and Jurgens Fourie got together and formed Platform Edge Protection, dedicated to protecting railway staff from the dangers of platform edges.
The trick was to develop a clamping system that was quick and easy to install, and that didn't need special tools or, even worse, holes drilling.
What they came up with was simplicity itself. A plate on top of the platform, from which extends a vertical post, is connected to a metal tube, drilled with equally spaced holes, that hangs down over the edge of the platform coper. A bar, which retains the bottom half of the clamp, slides up the tube and into position, and is then pinned in place through one of the holes, with the drilled tube allowing plenty of variety in coper thickness. The whole clamp is then tightened by manually turning the clamp's T-bar. Rubber pads top and bottom of the clamp account for any unevenness in the surface.
Installing these clamps is the only time workers are at risk. They have to access the track under a safe system of work to attach the clamps, two metres apart along the platform edge.
Once the clamps are safely in place, horizontal poles can now be clipped to the row of vertical posts. As the poles cross the posts on the side away from the track, they can't be forced out of the clips and allow anyone to access the track.
A row of kickboards is now placed along the bottom of the poles and the fence is complete.
The posts, poles and kickboards are made from pultruded glass reinforced plastic (GRP), so they are lightweight, have no problem with corrosion, and are electric insulators so can be used on an electrified railway without the need for any additional bonding.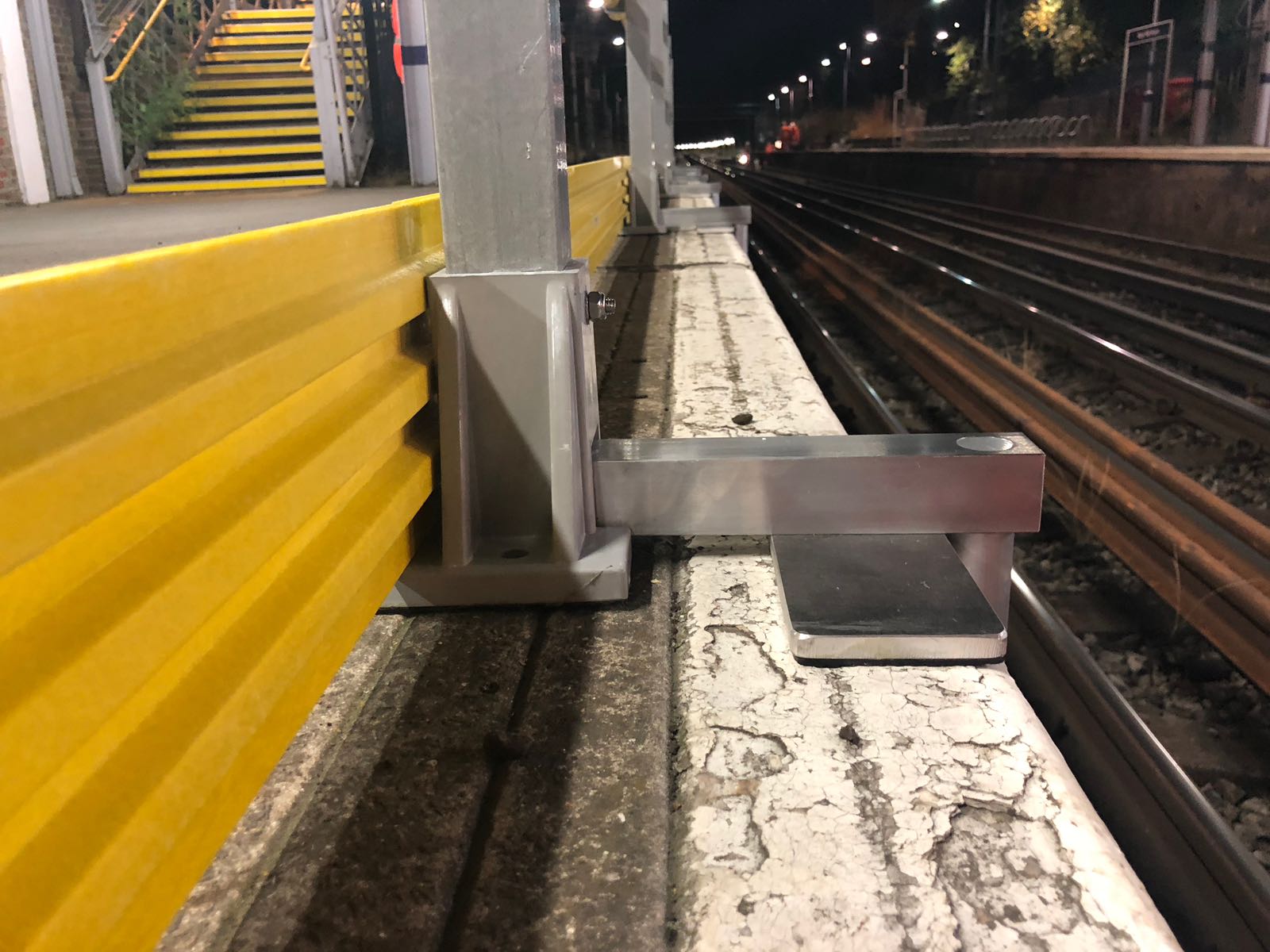 Testing and application
The new Platform Edge Protection fencing system has been assessed for track gauging and has been tested to BS EN 13374
Installations have taken place at West Drayton, Slough, Guildford, Riddlesdown and Romford stations, where reports say that the PEP system will revolutionise safety when working on station platforms.
James Malin, construction manager for Amey on Crossrail, said: "Having worked in the railway industry almost all my life, I've never seen a more complete safety product than the PEP. Edge protection on platforms has always been a problem and there was nothing on the market that could be used that ticks all the boxes as PEP. It's quick and easy to install and, most importantly, it protects my workers by eliminating two of the biggest risks in our industry."
Alex Wason Jnr, foreman for Volker Fitzpatrick: "My team and I have never felt safer when working on a station platform. I always had concerns about falling off the platform or coming into contact with a road-rail vehicle passing through a worksite, but PEP eliminates those risks, ensuring we can go home safe each day. It's a fantastic system and should be used everywhere."
With Network Rail having a healthy budget to both refurbish stations and improve them under the Access for All scheme, as well as build complete new stations on existing lines – Horden Peterlee, Warrington West, Reading Green Park, Bow Street, Portway Parkway – there will be many teams working on platforms next to a live railway. This new development from PEP should keep them safe.