Aiming to achieve net zero carbon from 2035, and with a target of achieving diesel-free construction sites by 2029, HS2 is collaborating with the industry and its supply chain to accelerate innovation in low carbon technologies, such as fully electric machinery, alternative fuels, and renewable energy solutions. Rail Engineer has kept a close eye on the green technologies in use on the HS2 project and here we give you an update on developments in the past six months.
Hydrogen power
In Issue 197 (July/August 2022) the article 'HS2 Going Green' touched upon the trial of two GeoPura 250kVA hydrogen power units (HPUs) as a replacement for diesel generators at HS2's Victoria Road Crossover Box in Ealing.
The power units were being used to provide 100% renewable and emission free power derived from a hydrogen fuel cell, with power capabilities ranging from 20kW through to 2MW. They used 100% green hydrogen produced from renewable energy provided by a hydrogen tube trailer and hydrogen cannisters. Data from the trial showed that running the units for 400 hours eliminated around 51 tonnes of carbon compared to using standard diesel generators. They were also quieter than standard diesel generators.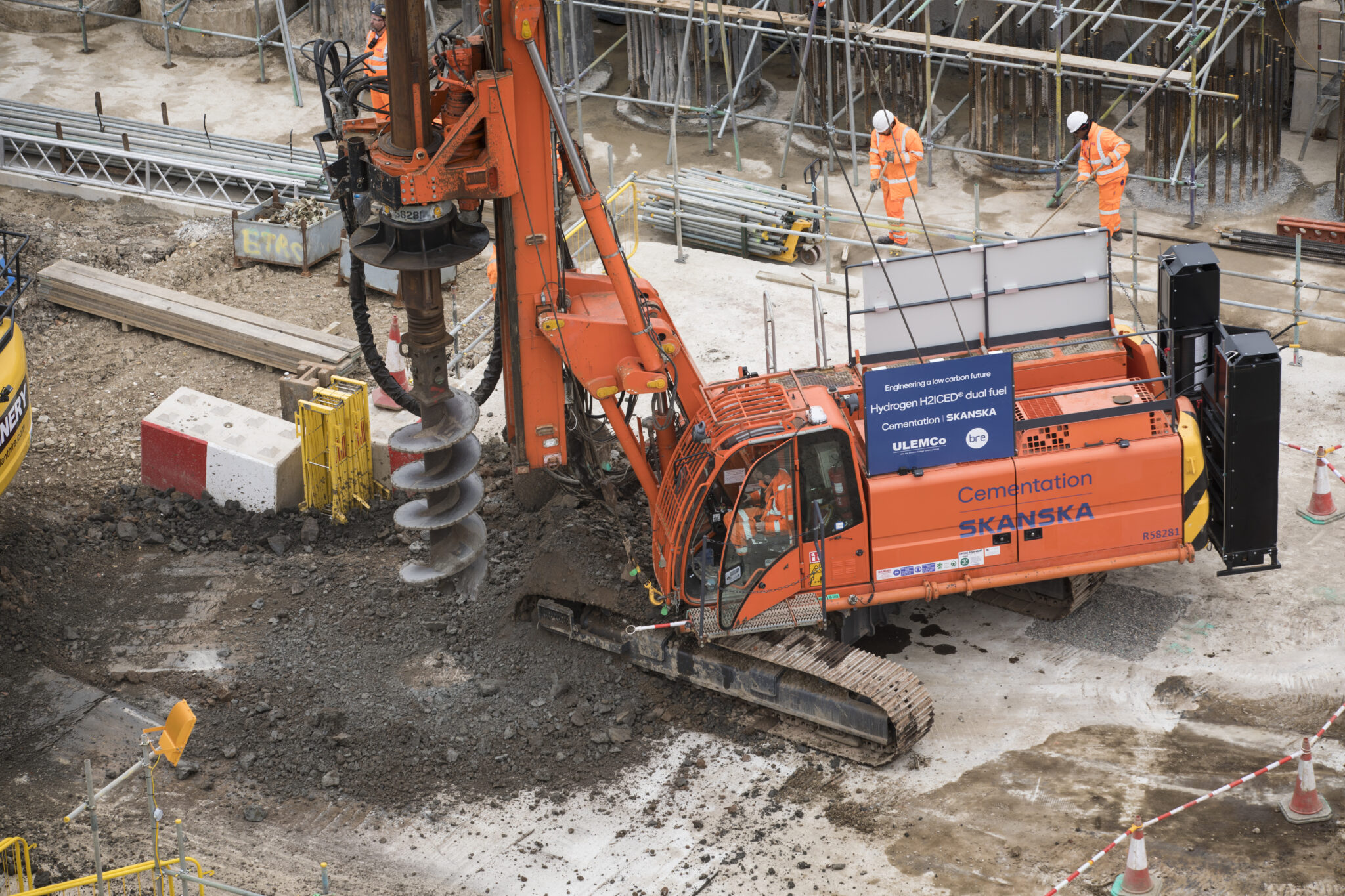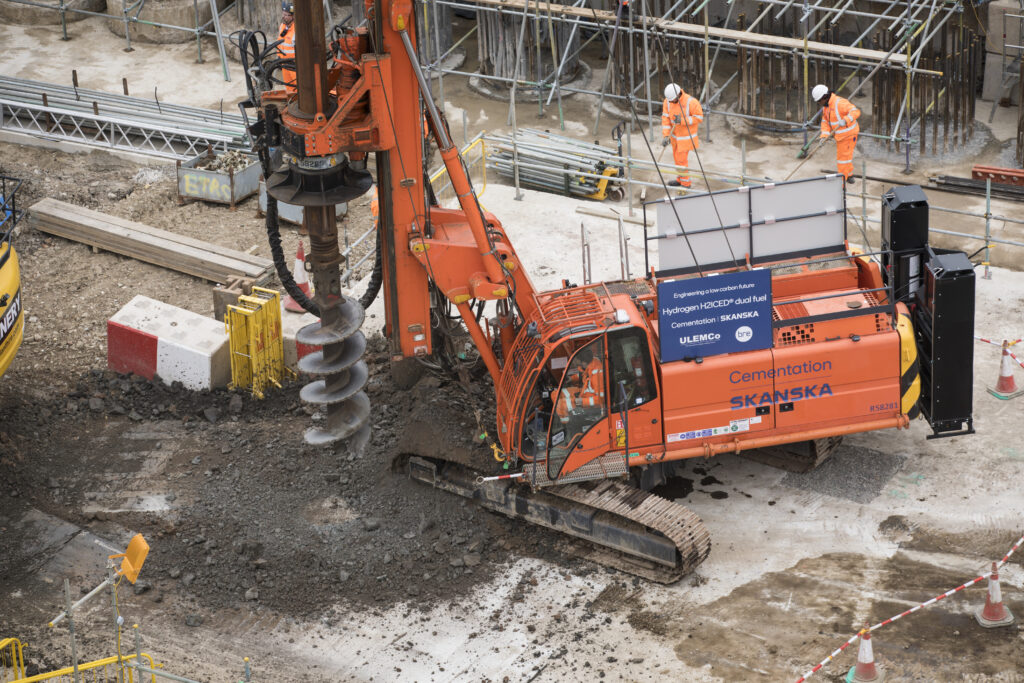 In March this year, GeoPura announced it had raised £36 million in funding to accelerate the manufacturing and deployment of its HPUs across the country. Investors included GM Ventures, Barclays Sustainable Impact Capital, SWEN CP, through its fund SWEN Impact Fund for Transition 2, and Siemens Energy Ventures.
Working closely with Siemens Energy, GeoPura will now expand the production of its HPUs to replace traditional diesel-powered generators in a wide range of 'off-grid' applications.
Geopura estimates that over the operating life of a single HPU, up to 1,800 tons of carbon emissions can be avoided compared to electricity generated from a diesel generator. The company intends to deploy more than 3,600 HPUs by 2033, displacing more than 6 million tons of carbon emissions over their combined operating life.
Andrew Cunningham, CEO of GeoPura, said: "This investment allows us to build on our installed base of HPUs and hydrogen production infrastructure to stimulate the green hydrogen economy, and then expand the use of clean fuels into other hard-to-decarbonise areas of our energy system.
"We have secured the right mix of investors, forming strategic partnerships that not only provide the funds to enable us to scale rapidly, but also the skills and resources to accelerate the transition to zero emission fuels. With the support of our investors, we can help turn the market on its head and build a green hydrogen economy this decade, not next."
Dual fuel piling
Back in April, HS2 took a further step forward in decarbonising its construction projects by installing four 30-metre deep piles on a London site using a hydrogen dual-fuel piling rig.
The trial took place as part of work done in partnership by ULEMCo and Cementation Skanska, working with the Business Research Establishment (BRE), funded through the BEIS Phase 1 Red Diesel Replacement competition.
ULEMCo and Cementation Skanska successfully modified a medium sized CFA piling rig, converting it so that the machine component operated using energy from on-board hydrogen tanks. Using the dual-fuel system, both diesel and biofuels (HVO) can be mixed with hydrogen, displacing the fuel with hydrogen, resulting in a reduction in fuel use and lower CO2 emissions.
Following successful yard trials simulating the technology, the rig was brought onto a HS2 site in London where it successfully completed piling works for HS2, demonstrating that the dual-fuel adaptation can be applied more widely across the construction sector supporting the decarbonisation of plant and machinery.
"HS2 is continuing to drive a positive change in the construction sector and is providing an important environment to develop the real-world use of hydrogen energy technology," said Andrea Davidson, Head of Environmental Sciences for HS2 Ltd.
"The development of dual-fuel systems that can be used to adapt existing equipment so it can run off cleaner, low carbon energy sources, could be a game changer across the construction sector."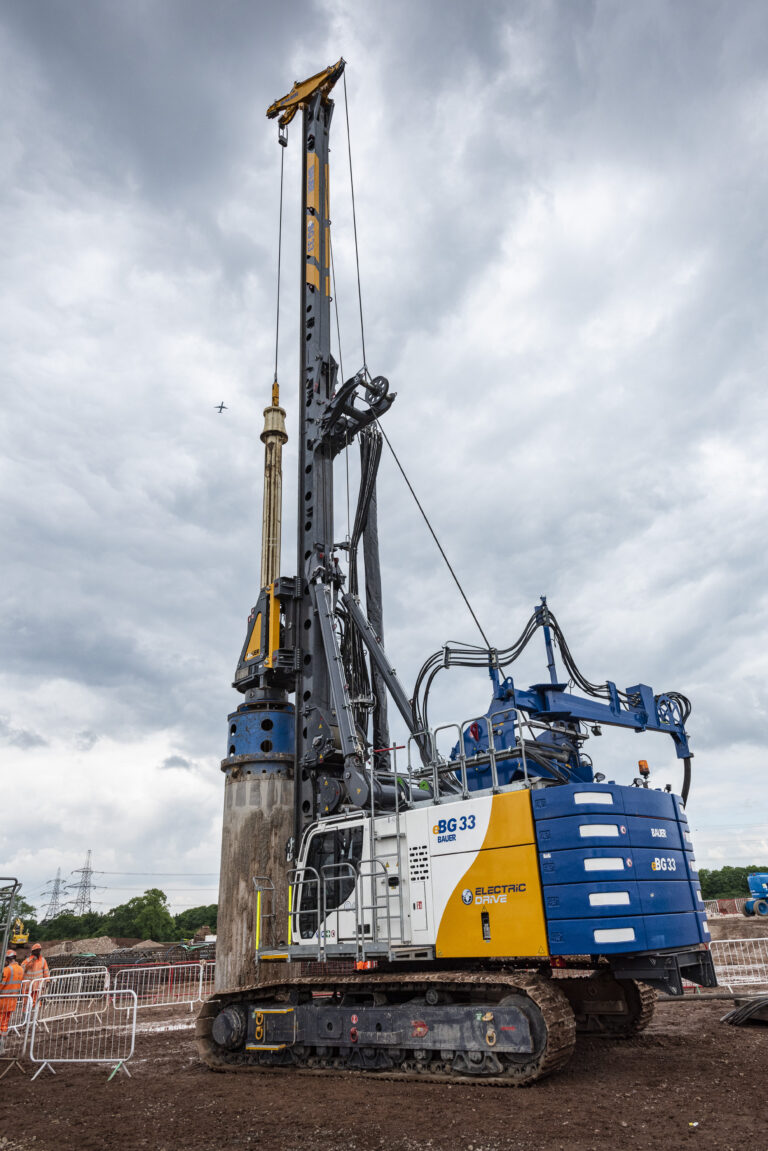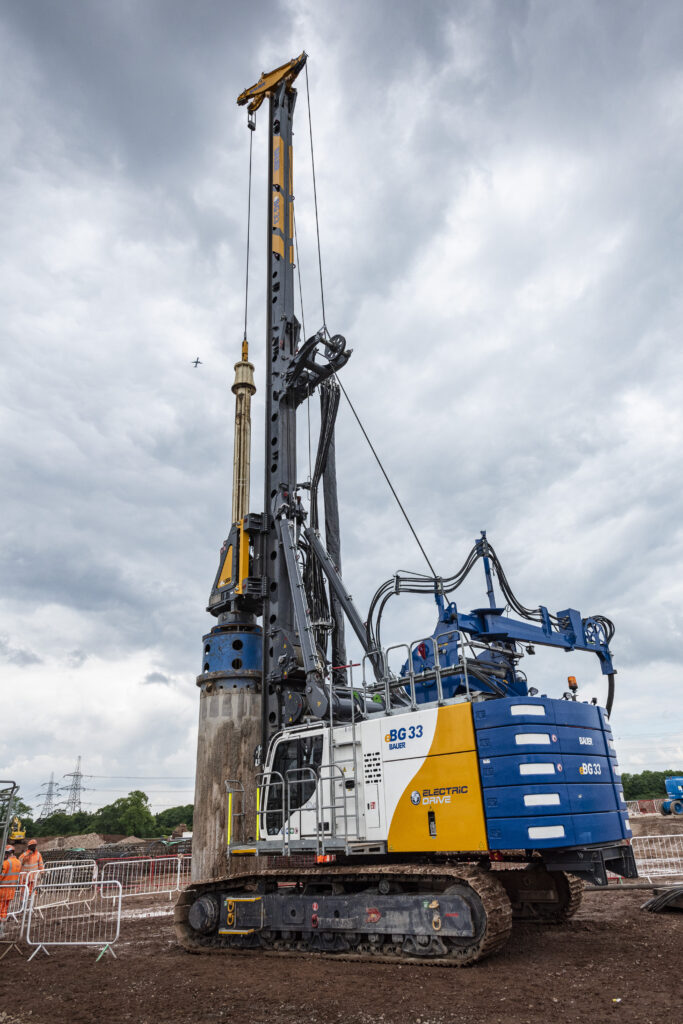 Now that it has been shown that the technology can work in a real-world scenario, ULEMCo and Cementation Skanksa are looking at how this technology can be used more widely, reducing embodied carbon in construction and reducing impacts on local communities near construction sites.
"Using this rig in a real-world environment to install piles on a commercial site is an exciting milestone, said Terry Muckian, managing director at Cementation Skanska. "It follows the success of the simulated trials last year and is the next step towards rolling the technology out more widely.
"This project goes beyond piling and ground engineering, it provides proof of concept for converting other types of heavy construction equipment, paving the way to construction site decarbonisation."
Grid powered drilling
In the past few months, Cementation Skanska has also trialled an electric drilling rig on one of HS2's London sites. The trial took place at one of the London Euston sites, before work on the station was paused. The BAUER eBG 33 is powered by an electric drive, which thanks to an on-site substation, was able to draw directly from the grid.
The 100 tonne drilling rig is the world's first all-electric, high-capacity drilling rig, and, says Bauer, offers an overall reduction of 1,292kg of CO2 per day compared to a traditionally powered rig, while reducing noise by 50%.
The rig was previously trialled on an HS2 site in Birmingham, where it ran on generators to test the viability of handling the cable in a live environment. By connecting to the local power grid in London, Bauer and Cementation were able to put the eBG 33 through its paces and gather valuable data on power consumption throughout the piling operation. This data will be used in the further development of the eBG 33H – a battery-powered version recently introduced by Bauer.
Warren Arnold, general manager of Bauer Equipment UK Ltd, said: "We are all incredibly proud of this unique rig which is setting standards. All the data recorded during operation will help Bauer in the further development of our environmentally friendly rigs and in our ambition to be the leading supplier of sustainable equipment for specialist foundation engineering. This really is a great opportunity to showcase what the eBG 33 can deliver in real terms and the benefits to the local community and environment."
Ideal test bed
In November 2022, HS2, launched its Diesel free plan, which sets out how all HS2 construction sites will eliminate diesel use by 2029. To date, 19 construction sites on the project are now operating completely diesel-free and HS2 continues to work with the construction industry to pioneer cleaner and greener ways of working, and increase the use of reliable, proven diesel-free alternatives.
Though the project has attracted considerable scrutiny and criticism in recent months, it continues to provide an ideal test bed for eco-friendly equipment that will help the entire industry minimise its construction emissions.