The Historical Railways Estate comprises about 3,200 bridges, tunnels and viaducts on disused railways throughout the UK. With the abolition of the residuary British Railways Board in 2013, the maintenance responsibility for this estate passed to Highways England (HE), who are a Government-owned, arm's-length company monitored by the ORR. HE's responsibilities are set out in a DfT framework document and include the requirement to ensure their actions support the Government's transport policies.
In a HE strategic report in 2016, Highways England recommended significantly reducing the level of liability and risk to the HE and DfT through interventions such as demolition and infilling to reduce this estate by 10-15% (320-480 structures). To fund this work, the HRE budget was quadrupled to a typical annual figure of £41 million after they awarded a seven-year £254 million framework contract for "minor works intervention and reactive maintenance." This contrasts with the residuary BRB annual spend of £8 million on these structures.
In January, the HRE Group, an alliance of campaigners, released an online map showing that HE planned to infill 115 structures and demolish 15 others. Many of these would thwart plans for future walking and cycle routes as well as rail reopenings, including the extension of preserved railways. As a result, HE is in breach of its obligations to support Government policies on active travel and reversing Beeching.
Following representations to senior politicians including the Chair of the Transport Committee, Huw Merriman, there were press reports that HE planned to infill 69 structures and demolish 15 others, which were significantly less than initially reported. A HE spokesperson confirmed to Rail Engineer that these figures were correct and advised that "Infills, some of which are only partial and retain pedestrian routes, aren't permanent and are built in a way that allows for them to be reversed should organisations become interested in the structures' future use."
HE did not wish to provide Rail Engineer with an updated list of these 84 structures as it is being continually updated. However, HE's Head of Scheme Delivery, David Wheatley, advised that "We can confirm that any work carried out by the Historical Railways Estate in the future will not thwart any potential active travel schemes, or any rail reopenings, including the extension of preserved railways. We have paused infilling and demolition works where local authorities have raised queries about the works."
The reduction in the number of affected structures together with the commitments not to block the reuse of disused railways – or at least make any infills reversible – would seem to be a positive development. Yet events at Great Musgrave in Cumbria indicate otherwise.
On 24th May, contractors engaged by Highways England started work to infill a bridge here at a reported cost of £124,000, far in excess of that required for minor remedial work. This will make it almost impossible for the Eden Valley and Stainmore railways to achieve their longstanding ambition to reunite their operations by laying five miles of track from Kirkby Stephen to Warcop. This bridge is featured in the Rail Engineer video on HE's bridge infilling plans Video: Highways England bridge infilling plans | Rail Engineer
In April 2020, HE advised Eden District Council (EDC) of its intention to undertake the infilling work. At the time, EDC expressed no objection. However on 4th June, 11 days after the start of the infill works, the Council issued a statement advising that it as in discussions with HE to ascertain whether the works fall within Permitted Development rights – which Highways England is now claiming – and that these discussions have not yet concluded. Yet despite this, work continues to infill the bridge.
Such Permitted Development rights only apply when the work is necessary "to prevent an emergency arising." Yet the HRE Group and the railways affected advise that there is no evidence to suggest that the 159-year-old bridge is in danger of collapse. Furthermore, contrary to HE's assurance that infill will be easily removable, the planned infilling at Great Musgrave involves a 1.5-metre deep foamed concrete plug which cannot be dug out.
In a statement to Radio Cumbria, HE advised that they had complied with all planning requirements and that they had consulted the Eden Valley Railway. Yet in an official statement the Eden Valley Railway – whose long-term aim is to reinstate the line under the bridge – pointed out that none of their officers had been contacted by HE. The Stainmore Railway also advises that it was not consulted about the Great Musgrave bridge.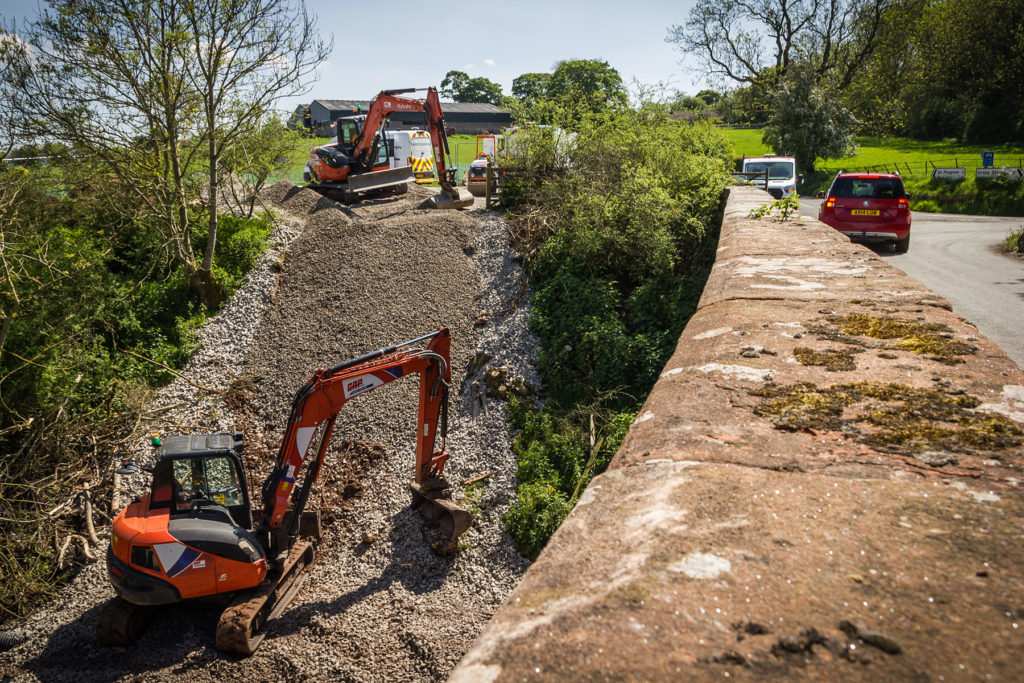 Furthermore Eden District Council do not consider that the planning process has been exhausted in view of their statement that that they are in discussions with HE to determine whether the infill work constitutes Permitted Development or if planning permission is required, and that these discussions have not yet concluded. The Council was not aware that work was about to start on the bridge.
Thus, those directly affected by the Great Musgrave infill have issued statements which contradict various comments that HE has provided to Rail Engineer. In particular, David Wheatley's statement that HE's work will not thwart the extension of preserved railways is demonstrably untrue. Hence, without a list of the 84 locations where HE is planning to block disused railways, there is no certainty that these will not also destroy plans to make best use of historic rail infrastructure. It is disappointing that Highways England have been less than transparent about their action to minimise their liability for the Historical Railways Estate. This issue does also not reflect well on the Department for Transport who have supported and funded the significant cost of a ten-year infill and demolition programme of work, some of which thwarts the DfT's own policies for active travel and rail reopenings.
Featured image – Hackney Bottom: This bridge near Newbury is earmarked for infilling despite being on the route of a proposed greenway. Credit: The HRE Group