Christmas is a special time of year. To religious Christians, it's a time for celebration and worship. To others, it's a time for celebration, family and parties. And to railway workers, it's a time to get dressed up in orange protective clothing and actually go to work in daylight! For Christmas Day and Boxing Day are the only two days in the year that Britain's railway network shuts – completely.
So, as well as undertaking major work over two days (actually around 52 hours given that it shuts at midnight on 23 December and reopens at 04:00 on the 27th), it's a good time to do all the little jobs that would otherwise have to be carried out in one or more four or five-hour shifts in the dead of night.
That's why 20,500 people were working at over 4,500 sites around the country. Most were not major pieces of work, but they all benefitted from that 52-hour window. More work could be done than would otherwise take place in three months' worth of weekends.
The work was spread right across the country, although some projects were larger than others. Indeed, some were so large, or so complex, or just took so long, that the two-day window had to be extended by a day or two, perhaps over New Year.
The good news
In all, 34 projects delivering infrastructure through a total of 57 worksites identified as RED through the Delivering Work Within Possessions (DWWP) standard, therefore carrying a greater risk of overrun and/or a more significant impact in the event of an overrun.
As a result of lessons learned on other Christmas closedowns, when unacceptable delays occurred which prevented the railway from reopening as planned and caused a great deal of embarrassment to Network Rail executives, and because of the thorough planning that now takes place, no capital delivery schemes accrued any possession overrun delay minutes and the railway was returned to operational use on time.
The highlights of Christmas and New Year 2019 included:
Large-scale switches & crossings (S&C) renewals at Haymarket, Newport, Colchester, Ashford and Southall;
Plain line track renewals at Pitstone Crendon Road, Crewe and Norton Crossing within the North West & Central Region, and at Shields Road in the Glasgow area;
The energisation of Cardiff Central as part of the electrification of the Great Western main line;
Continuation of a number of large enhancement schemes including Leeds Station, Werrington Dive Under, London to Corby (L2C) and Euston HS2 Enabling Works
Structures, OLE and drainage renewal schemes at Sanderstead Road (Southern), Cleveley Cutting (North West & Central) and Cheadle Hulme (North West & Central).
The bad news
Sadly, of the 20,500 people deployed on the work, three did not have a happy Christmas. At approximately 23:00 on Christmas Day, a Network Rail employee who was working in a mobile elevating work platform in Kensal Green came into contact with live overhead line equipment. He suffered serious burns and was transported to hospital before reaching a stable condition.
A second incident involved a contractor at Paddington who fell from a tower scaffold and was taken to hospital to recover.
The third was at Old Oak Common (Wales Western) where a member of staff tripped whilst descending stairs, resulting in a chipped bone and ligament damage.
In addition to these three RIDDOR reportable incidents, eight minor injuries occurred that didn't result in any lost time and one other accident was logged that didn't result in an injury at all.
There were also two environmental incidents reported during the period, both of which related to oil leaks from vehicles or plant. These were rectified on-site by deploying spill kits.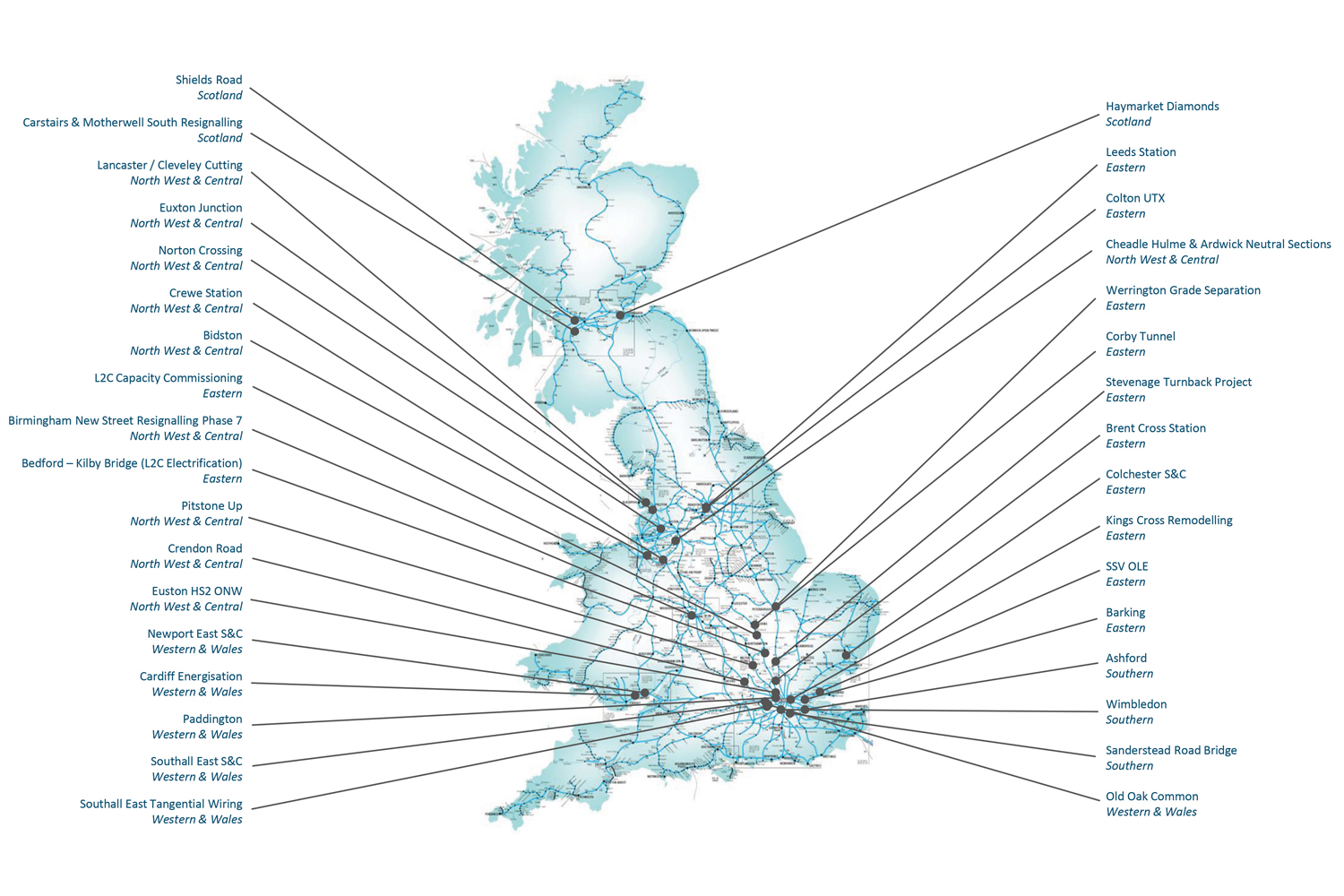 Around the regions – Eastern
The long-term project to remodel King's Cross continued. The track layout in the station throat area is being remodelled, so that standard S&C units are used rather than complex bespoke units, and life-expired infrastructure is being replaced. The eastern bore of Gasworks tunnel is being reopened, to ensure enhanced capacity and operational flexibility, and panels 1and 3 of Kings Cross signal box (Kings Cross, Holloway, Moorgate, Finsbury Park and Wood Green) will be re-controlled to York ROC.
Over Christmas and New Year, new track was laid in Platform 6, though work to also replace the track in Platform 5 was rescheduled due to difficult site conditions. Four under-track crossings (UTXs) were installed at Holloway and work was undertaken at Woodgreen and Holloway as a rehearsal for the transfer of signalling control to York.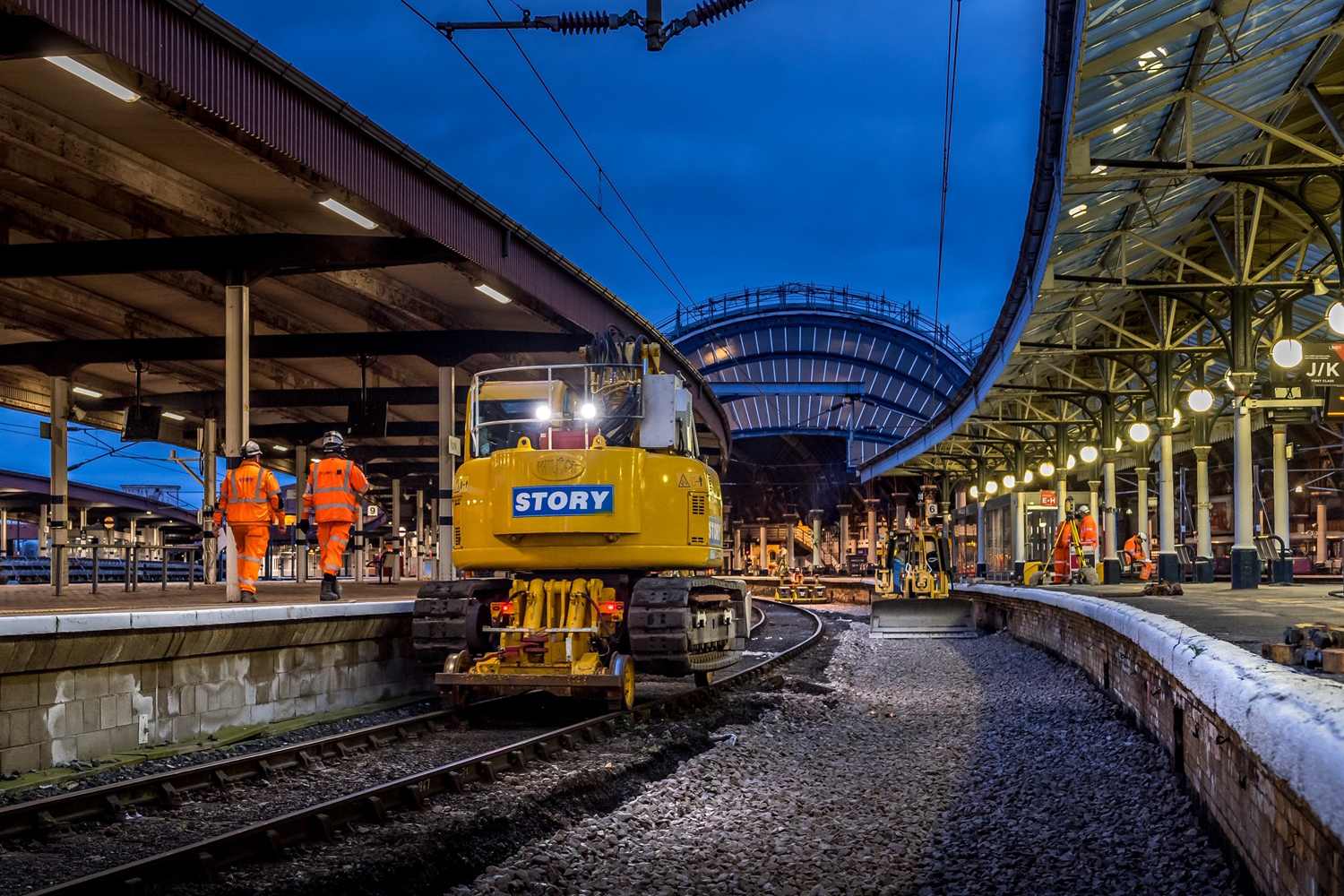 Further north on the East Coast main line, the Werrington Grade Separation project is constructing a dive-under that will allow freight trains to travel between the Stamford lines and the Spalding lines without slowing down high-speed trains on the ECML. It is the subject of a more-complete article elsewhere in this issue.
The Stevenage Turnback project is extending the existing Down Hertford Loop into Stevenage station and providing a turnback facility serviced by a new single-face platform (Platform 5) sufficient for a six-car train, based on Class 717 coach lengths. In providing this facility, trains using the Hertford Loop will be able to de-train passengers at the station and then return without the need to enter onto the East Coast main line, thus alleviating capacity issues and enable inner suburban trains from London to turn back more quickly.
Three redundant signals were removed and new signals installed and tested. Cable troughs and ducting were installed, as were piles for the OLE along with masts and small parts steelwork (SPS).
The Barking Riverside Extension project is building a new elevated station at the end of a 1.5km steel and concrete viaduct. Two sets of points were installed, new signalling power migrated to 36 existing signalling locations and an OLE neutral section was moved.
Twelve S&C units were renewed at the London end of Colchester station along with 398 yards of plain track. This involved making 179 welds and 11 stresses, along with 18 OLE adjustments and adjusting 60 metres of copers on the station platforms. New points heating was installed and the temporary speed restriction (TSR) lifted from 50mph to 60mph.
Cricklewood sidings are being altered and expanded to allow the new Brent Cross West station to be built, in the footprint of the current North Sidings, on the Thameslink route of the Midland main line. Four OLE portal booms were installed across the main line, two location cases moved and the diverted Up autotransformer feeder (ATF) cables commissioned.
The replacement of the 1956-era overhead wiring on the Great Eastern with a modern, autotensioned system has been underway for some time. At Christmas, work continued on the Shenfield to Southend Victoria branch. Nine wire runs were completed at Wickford, along with the installation of several new structures and the removal of redundant ones.
The London to Corby capacity enhancement scheme is installing a fourth line between Bedford and Kettering. Both signalling and p-way work took place over Christmas and a more complete report is included elsewhere in this issue.
The work at Leeds station is also described in an article here. Work is proceeding to add Platform 0 and the station roof recently received attention.
28 two-track UTXs were installed at Colton to clear the way for a high-output machine running between York and Church Fenton in March 2020. The UTX pipe for a four-track crossing was also installed – the two chambers will be installed later. Telecoms testing was completed at 13 locations and 70 per cent of the signalling testing planned for this location was also completed.
North West & Central
Phase 7 of the Birmingham New Street Area Renewals (BNSAR) is the renewal of all life-expired signalling systems and trackside equipment in the Birmingham New Street PSB (power signal box) control area (New Street station) ready for control to be transferred to the West Midlands signalling centre in 2022.
To prepare for this, cable route ducts were installed on Platforms 2/3a, 2/3b and 10/11a. In addition, LNW maintenance installed a half-set of switches at Grand Junction and carried out various maintenance activities including welding and grinding, track maintenance and S&T work. Structures examinations also took place under the Civils Examinations Framework Agreement (CEFA).
Work at Cheadle Hulme and Ardwick in Greater Manchester involved the renewal of the neutral sections as these utilised obsolete OLE equipment. They were renewed with a modern equivalent that has PTFE-coated contact wire insulation. The existing automatic power control (APC) magnets were also replaced with Vortok super-strength white APC magnets. These are mounted on the ends of sleepers to align with the train-borne sensor and "instruct" an electric locomotive to open the circuit breaker on its transformer so that it does not draw current as the pantograph traverses as neutral section to eliminate arcing. A second magnet tells it to switch back on again afterwards.
Four S&C units were refurbished and reballasted at Wolverhampton Station South. This was to improve track geometry, extend the life of the treated assets, reduce maintenance interventions and fault rectification, treat existing formation issues, improve drainage by replacing poor quality ballast, and provide a smoother more comfortable journey for passengers travelling through Wolverhampton station. Plans to work on a fifth unit were curtailed due to isolation being granted five hours later than programmed, a situation that is currently being investigated.
Cleveley cutting is located on the West Coast main line in the village of Forton, Lancashire. Work is taking place to regrade the lineside embankment adjacent to the Up line to resolve historic failures and the installation of new line side drainage system on both sides of the track to improve historically poor drainage in the area.
Over the Christmas and New Year period, 130 metres of deep drainage was installed on northern section of the site and 100 metres in the southern section. One snag that cropped up was that a clash between the drainage trench offset and the toe of the cutting slope resulted in a small section of latter being incorrectly excavated by a contractor. Work was temporarily suspended to allow a reduction in offset to be approved so that work could proceed. The affected area of the cutting slope was replaced prior to handing back.
To facilitate the construction of the new HS2 station and its approaches, Network Rail has been clearing the west side of Euston of all railway systems infrastructure and re-provisioning as required. The team has also been providing construction sidings for the HS2 build. Within the station itself, the team has been carrying out significant alterations and changes to mitigate the expected loss of platforms and the maintenance delivery unit depot.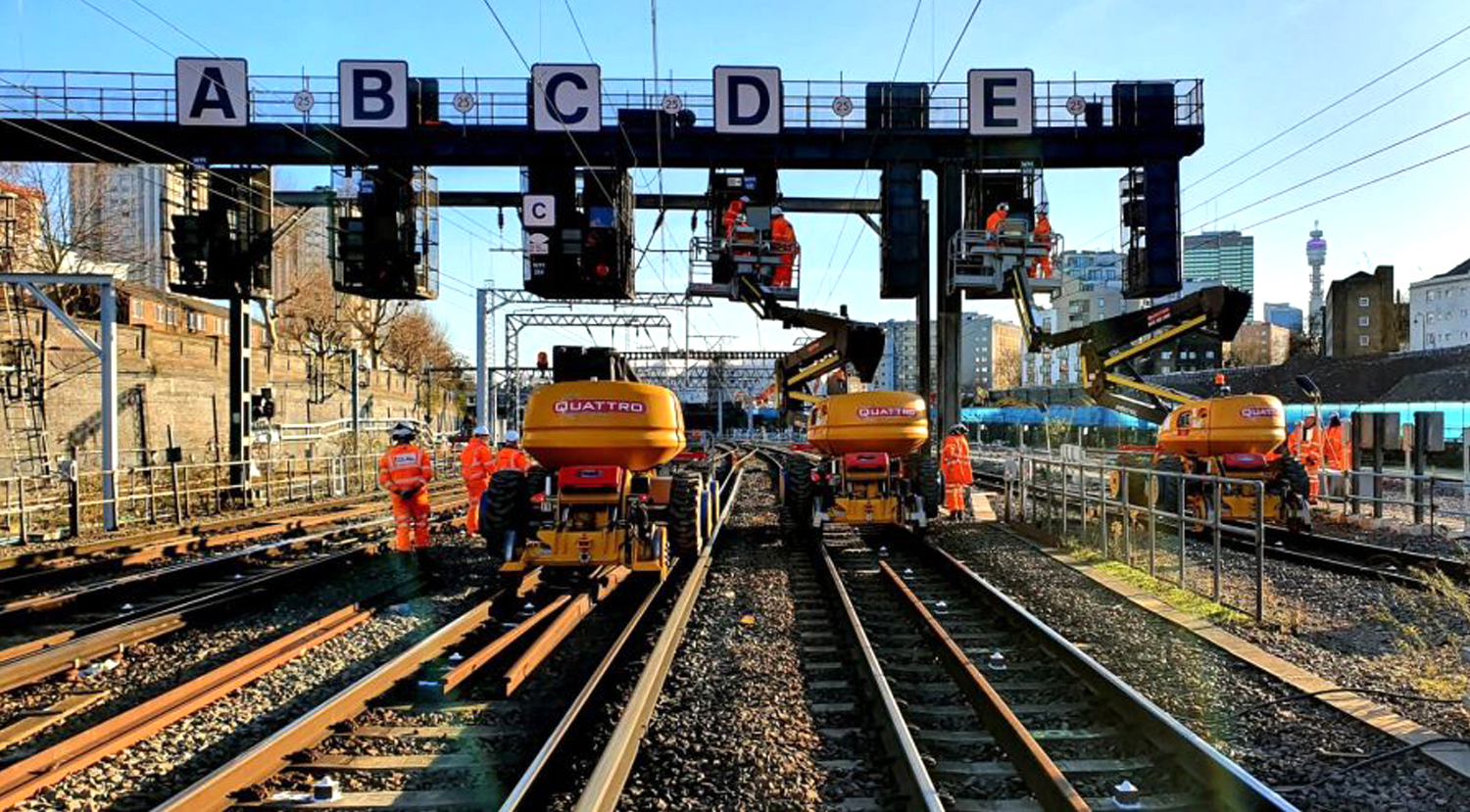 The team took advantage of the holiday shut-down to commission the signalling for the final layout, including the construction sidings. New route indicators and SPTs (signal post telephones) were installed. Scaffolding was erected on Platform 16 to facilitate deconstruction of the west train shed, and additional suspended scaffolding was installed to allow for London Underground installations. Areas of the station scheduled for future demolition were stripped of MEP (mechanical, electrical and plumbing) fixtures and fittings.
An underbridge was installed at Lichfield as part of city's southern bypass scheme that will allow better access to land for the development of new housing in the area. As a 100-hour possession was required for the bridge installation, Christmas was the only option.
60 metres of track were removed and reinstated, signalling and telecoms cables were disconnected, reconnected and tested, the trackbed was excavated, two ballast walls and the bridge superstructure using SPMTs (self-propelled modular transporters) and mobile cranes.
A section of the West Coast main line was renewed near Pitstone, between Tring South Jn and Ledburn Jn, during a four-day blockade over the Christmas period. 315 yards of the Up line was renewed using road-rail vehicles and conventional techniques (thimble out rail, remove sleepers using RRV, dig doze, install sand and geotechnical membrane, install bottom stone with side tippers. Relay loose with chains, top stone out of open wagons, tamper/automatic finishing machine (AFM)/dynamic track stabilisation (DTS), weld and stress). The site was handed-back on time with a temporary speed restriction of 60mph.
A similar method delivered 685 yards of renewed track between Princes Risborough and Bicester South junction on the Chiltern main line during a 54-hour blockade between 29 and 31 December. This was also handed back with a TSR of 60mph.
Scotland
Three 'RED' jobs took place over the holidays north of the border.
The Carstairs and Motherwell South Recontrol Project (CaMSR ) transfers control of the section of the West Coast main line from Carstairs to the regional border, along with the Midcalder lines between Carstairs and the 81-mile post, from Motherwell Signal Centre (MSC) to the West of Scotland Signal Centre (WSSC).
The existing GEC geographical interlockings at Abington, Beattock, Beattock Summit and Lockerbie, and the interfaced SSIs (solid-state interlockings) at Carstairs, are being retained. Currently operated from MSC NX panel number six, in future a new remote-control system will operate these interlockings from the WSSC.
All of the work was completed on time and the new Carstairs workstation at the WSCC was commissioned to bring the end of an era with the closure of Motherwell Signalling Centre after 46 years. When it opened in 1972, MSC replaced 86 mechanical signal boxes.
Haymarket East junction is situated to the west of Haymarket station and feeds both the Edinburgh to Glasgow main line and the Midcalder lines to Glasgow via Carstairs. It is a key junction, it was in poor condition with heavy wear and dipped joints on the steelwork throughout, split timber bearers that had already been pulled through and plugged, worn baseplates and ballast that had seen better days. There were also top and alignment issues.
Between 23:00 Tuesday 24 December and 10:00 Sunday 29 December 2019, three S&C units, 250 yards of plain line and 2000 metres of OLE return conductor wire were installed. 78 welds were carried out and the new track fully stressed before the possession was handed back at line speed.
The track at Shields Road is one of the busiest parts of the Ayr lines, which feed Glasgow Central station. However, the overall condition of the track at this location was poor, with several life-expired components, and the route asset manager called for a formation-based renewal.
The work was split into two possessions, one over Christmas and another over New Year. Two sections of plain track, the first of 345 yards with an 11-yard ramp and the second of 175 yards with two 11-yard ramps, were replaced in a 'category 14' renewal –formation, ballast, sleepers and rail were all replaced.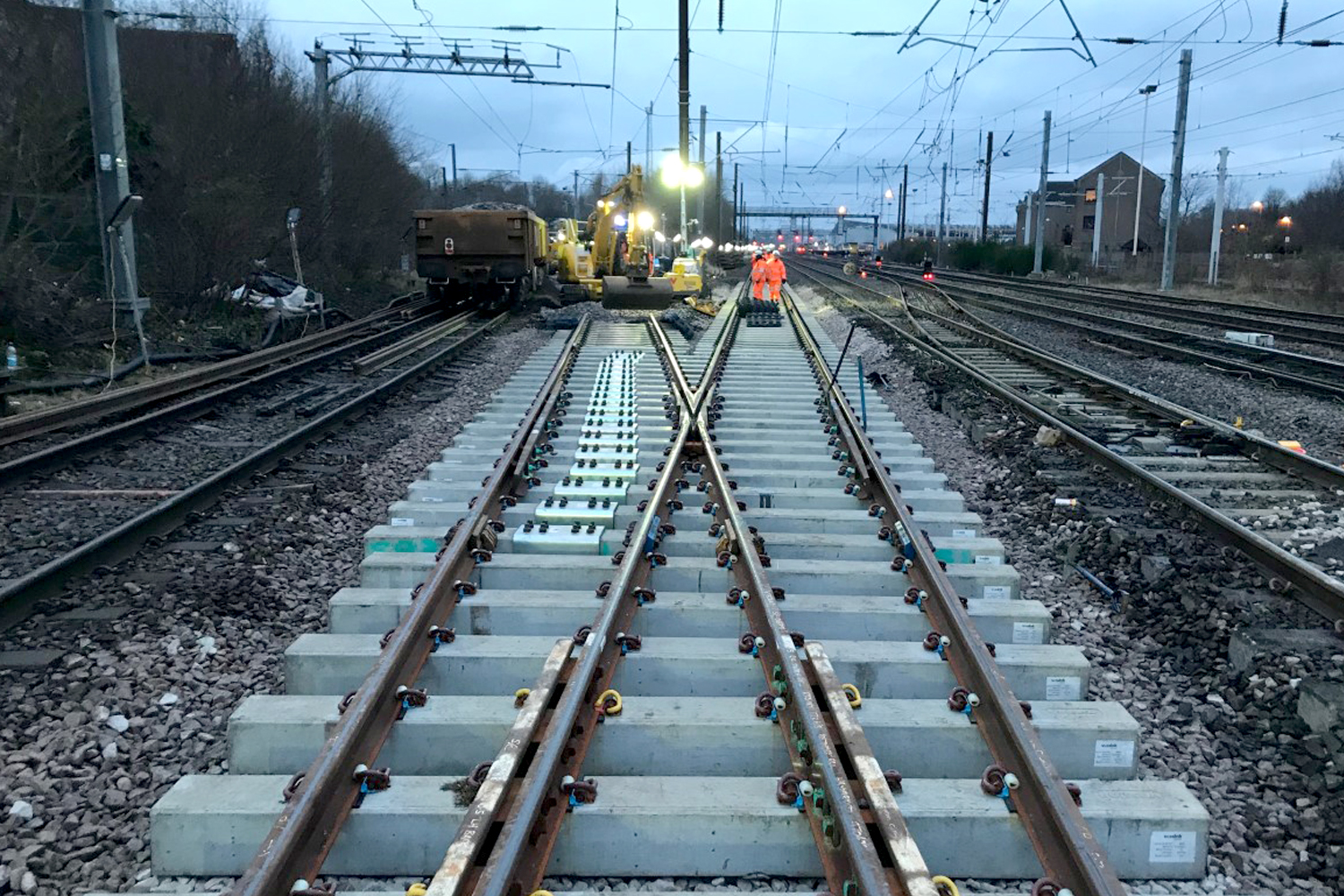 Southern
The bridge at Sanderstead Road, South Croydon, was built in 1839 as a brick arch. In 1909, two cast-iron outer decks were added, one each side, to allow for extra tracks and more capacity. By 2019, 110 years later, these additions were badly in need of replacement.
New concrete bridge decks were brought in from Ireland. The northwest (Purley Road) side deck was removed and replaced using SPMTs over Christmas 2019 and the southeast (Broomhall Road) side was similarly replaced between 27 and 30 December. All four lines were closed during the first phase of the work, but only two were shut for the second deck replacement as the team worked ALO (adjacent line open). A temporary cable bridge was removed at the end of the second possession.
A small, but crucial, piece of work took place at Wimbledon as two signalling transformers in the substation were replaced with modern equivalents, making the installation more reliable and resilient.
Wales and Western
A series of track renewal projects took place over the holiday. At Newport, seven S&C units were replaced along with 220 metres of associated plain line which was fully welded, stressed and handed back at line speed. The need to get a freight route reopened by 28 December required careful safety planning as work continued on site.
To go along with the S&C units, seven mechanical back-drive points machines were installed in the four-foot, seven speed signs were renewed and 20 axle-counters were removed and refitted. New points heaters were fitted and tested, the OLE was adjusted and bonded, 90 metres of new drainage channel was created and 160 metres of new copers and oversails installed.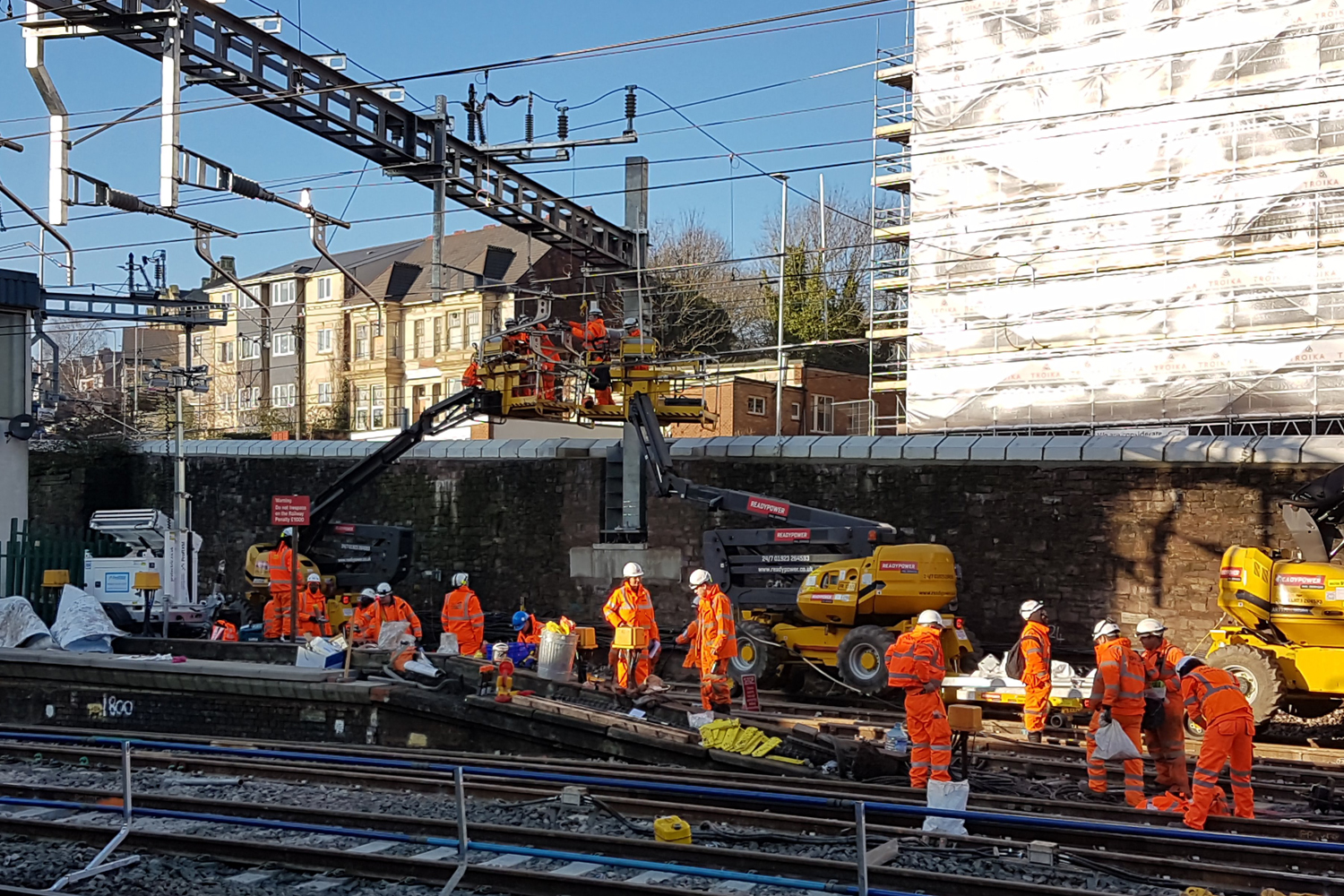 At Slough West and Southall, one pair of points was renewed, fitted with hy-drive point motors. The associated OLE was adjusted and new point heaters installed.
Plain track renewal at Portobello was curtailed – Paddington line 2 wasn't completed – due to issues with spoil wagons on site.
Work also took place at several locations as part of the Paddington to Reading (P2R) project for the overground sections of Crossrail.
At Paddington itself, the buffer-stops for Platforms 11 and 12 were relocated, and the signalling and OLE altered, as preparation for strengthening works to London Street bridge in the New Year.
A new signal was installed and commissioned at Hayes & Harlington station, and a link bridge and stairs to the platforms was made fully operational.
An existing retail unit at West Drayton was underpinned, with the concrete base providing a level floor.
Southern Systems Alliance installed both a four-track and a five-track under-track crossings (UTXs) in support of the HS2 enabling works.
The link bridge serving Platforms 1 to 4 at Ealing Broadway was encapsulated, removing reliance on possessions for access during the demolition phase. A new canopy was constructed on Platforms 2 and 4, as was a new station control room.
OLE tangential wiring was installed over S&C at Southall East.
208 axle counters were installed as part of the programme to replace track circuits over the first 12 miles of the route out of Paddington.
The Safer and Faster Isolations programme installed seven new OLE Switches, recovered three existing switches and installed high-voltage cables.
Over 160 bags of silt were removed from catchpits at Kensal Green, which were cleaned by Network Rail's works delivery team using high-pressure jetting after CCTV investigation.
A three-track UTX was constructed at Old Oak Common, providing a cable route to a new DNO (power Distribution Network Operator) that will eventually provide greater resilience and reliability.
Further west still, the OLE was commissioned between Newport and Cardiff – a more detailed report can be found elsewhere in this issue.
The Bristol Area Signalling Renewal and Enhancement (BASRE) programme installed 32 axle-counters, disconnection boxes.
At Exeter St Davids, work to replace life-expired track components as well as to replace jointed track with continuous welded rail was delayed by a late start to the ballasting of Platform 4. The railway was handed back 20 minutes late so that S&T testing could be completed, and the level crossing work was not completed.
The level crossing at Colthrop also caused problems for the works delivery team. The sleepers under the crossing panels were found to be different to those on both approaches, so the new panels wouldn't fit. As a result, the existing level crossing panels were maintained and secured to ensure the crossing is compliant and safe for passage until panel upgrades could be completed a few weeks later.
In Wales, works delivery units renewed the surface of Penrhiwtyn level crossing, recovered insulated rail joints from the site of the recent Port Talbot resignalling, cleared drainage in the Severn tunnel and undertook speed-raising checks and installed new ironwork and timbers on double-slips at Cardiff West.
Review
Although many people said that Christmas 2019 was quieter than normal, it was still a busy time. Network Rail chief executive Andrew Haines looked back on the activities: "Christmas and New Year, of course, is a time of holidays for many people, but on the railway it's a time when we're exceptionally busy. Over 20,000 people were working on or around the line side this Christmas, intervening just to make sure that our service is more reliable, it's safer, and that it lasts for future generations. I want to thank everyone who was involved in that.
"But our Christmas works were not incident-free, and three colleagues suffered injuries that were preventable. We have more to do to keep everyone safe and our track worker safety task force, headed up by Nick Millington, is focusing on the challenges we face."