Whilst the UK has reduced its carbon emissions by 48% since 1990, transport emissions had decreased by only 15% over this period. The problem of reducing transport carbon was considered during the Decarbonising Transport Week (DTW) between 6 and 10 March, organised by Binary Carbon. The DTW website offered webinars, policy statements, and reports which are still available on demand.
The fundamental problem with decarbonising transport is that vehicles have to carry their own fuel which is not too much of a problem as petroleum has a particularly high energy density. This is not the case for the only practical net-zero alternatives of batteries and hydrogen which require far more storage space than a petrol or diesel fuel tank. For the same amount of energy, the weight of a battery is around 50 times that of a diesel tank. This is a particular problem for high-powered vehicles such as HGVs and planes.
Decarbonisation highlights the importance of energy efficient transport. Railways are a particularly efficient form of transport as the rolling resistance of a steel wheel on a steel rail is a tenth that of a rubber tyre on a road. In contrast, planes require an enormous amount of energy to accelerate to 900 km/h and lift them eight kilometres into the air. A loaded Airbus A321 weighing about 50 tonnes burns about 5 tonnes of fuel between London and Glasgow. A battery having the same energy of this fuel would weigh 150 tonnes.
Much is said about the importance of innovation if net-zero carbon transport is to be achieved. Yet innovation cannot change these basic laws of physics. There will no doubt be improvements in battery energy density though these are unlikely to be dramatic. The Advanced Propulsion Centre predicts an increase in battery energy density of about 30% by 2035.
'Sustainable' fuels
One proposed solution is the use of sustainable fuels which, despite their name, are generally not sustainable. A report on the DTW website 'Speeding up the switch to sustainable aviation fuel' identifies four types of such fuels:
Crop-based biofuels – these could displace food production or lead to deforestation.
Biogenic waste fuels – produced from waste products such as used cooking oil or agricultural residues, of which there is a limited availability.
Recycled carbon fuels – produced from unavoidable fossil fuel waste and so are linked to fossil fuel production.
Power-to-liquid fuels (PtL) – a synthetic fuel derived from green hydrogen and CO2 from direct air capture (DAC). This could be produced at scale dependant on the availability of renewable energy and hydrogen.
Thus, sustainable fuels should only be considered as a transitional solution. PfL is the only one that could be truly sustainable although it is likely to be more expensive than petroleum. It also needs a rapid scaling up of the new industries required to produce it, such as green hydrogen and DAC.
Road, sea, and air
The DTW's Net Zero Roads webinar highlighted the National Highways plan for net zero highways. By 2030 this commits to net zero for corporate emissions and replacing 70% of road lighting with LEDs by 2027. There are also plans to ensure that maintenance and construction activities are net zero by 2040 and to support Government plans for net zero road user emissions by 2050.
The Government report 'Taking Charge: the electric vehicle infrastructure strategy' shows that there are currently around 30,000 public EV chargepoints. By 2030, it is expected that, as a minimum, there will be around 300,000. Energy regulator Ofgem is required to support the required investment in the electricity network for these chargers. This is to be a Government-provided £950 million Rapid Charging Fund for the installation of at least 6,000 high powered chargepoints across England's motorways and major A-roads by 2035.
The DfT's Transport Decarbonisation plan proposes ending the sale of diesel HGVs by 2040, though the most suitable zero emission technology for long-haul HGVs has yet to be determined. Hence, trials are being funded which are considering electric road systems, hydrogen, and battery powered HGVs. The DfT is also considering increasing the maximum HGV weight to allow for extra weight of batteries and/or hydrogen tanks.
Possible maritime decarbonisation solutions were shown by the UK Government's Clean Maritime Demonstration Competition. These included direct Ammonia fuel cells as Ammonia is a practical way of storing Hydrogen onboard ships, as well as the SKYTUG concept which could tow large ships across oceans at normal service speeds, using only a fraction of their usual fuel consumption, without the need to modify existing vessels.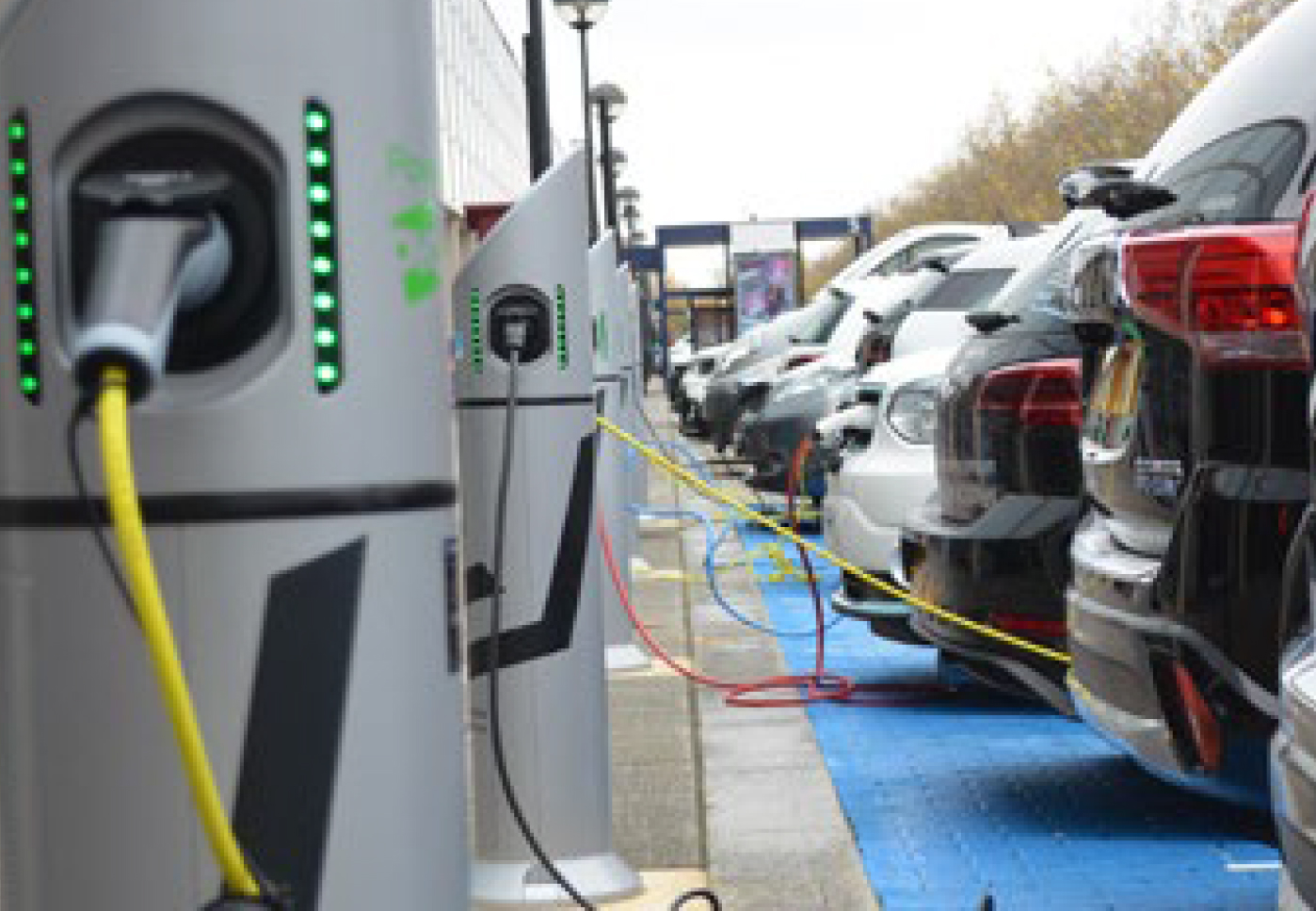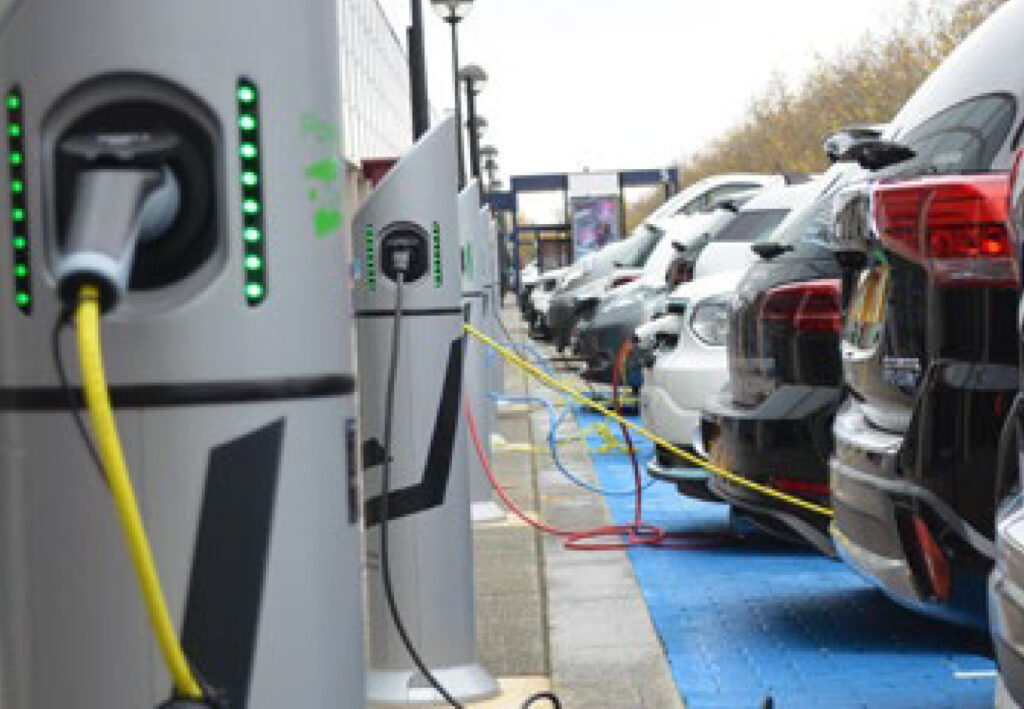 Research into net zero liquid-Hydrogen-fuelled planes was described by Dr Peter Clough of Cranfield University who noted that sustainable aviation fuels were not a long-term solution. He described how ZeroAvia is developing a 9-to-19-seat hydrogen-powered plane with a range of 500km that could be operational by 2025. He also referred to the 12 specific research strands of the ENABLEH2 project which showed how hydrogen planes could eventually carry 200 passengers over 8,000 km.
Rail's net zero contribution
Rail sector webinars were run by the Railway Industry Association (RIA), HS2, and the Rail Freight Group (RFG), whilst the Rail Delivery Group (RDG) offered an opinion piece. Perhaps not surprisingly these all promoted a modal shift to rail whereas other webinars promoted decarbonisation solutions for sectors with emissions that are hard to abate.
RDG was critical of the Government's halving of Air Passenger Duty on domestic flights which, it estimates, could result in 222,000 fewer train journeys and over 1,000 extra flights, generating 27,000 additional tonnes of carbon emissions.
The RFG webinar also looked beyond the rail sector by considering the need for a circular economy to reduce the environmental impact of economic activity though re-use, recovery, and renewal. Carl Waring of the Frazer Nash consultancy referred to the Institute of Asset Management's report on how asset management can enable the circular economy. He noted that the long life of rail's assets and vehicles made it an even more carbon efficient sector and also considered that current investment criteria do not recognise the value of rail investment.
A particular example of rail supporting a circular economy was given by Victoria Crabtree of SUEZ waste management services. Its rail-connected facility on Merseyside despatches two trains a day, each of which has 66 containers carrying 900 tonnes of waste. This represents 21,000 HGV journeys saved each year. These trains go to the company's Teeside Energy-from-Waste facility which produces 30MW of electricity per year.
SUEZ also has a Renew Hub in Manchester which is a warehouse, repair, and repurpose centre. Last year, this diverted more than 100,000 items for re-use through three resale shops and internet sales as described in its guide on integrating repair into a household recycling centre network.
GB Railfreight's head of sustainability, Suzannah Rocket, also considered the carbon benefits of long-life assets. One such example was the conversion of coal hopper wagons to carry aggregate. With coal being a less dense material, this was done by removing a coal hopper bay to shorten the wagon from 17.8 metres to 14.3 metres whilst keeping the gross weight the same at 102 tonnes. A more ambitious conversion was the creation of the Class 69 locomotive from the bodyshell of a Class 56, with the engine and traction equipment from a Class 66.
Building better
Both the HS2 and RIA webinars showed how building a better railway gave the added benefit of decarbonisation.
When the full HS2 network is eventually built it will free up significant capacity on the West Coast Main Line for freight and local passenger services. It will increase the hourly rail seats per hour between Birmingham and Manchester from 450 to 1,500 and those between Manchester and London from 1,800 to 3,900. International experience indicates that HS2 will result in 770,000 fewer air trips and 1.8 million passenger journeys per year.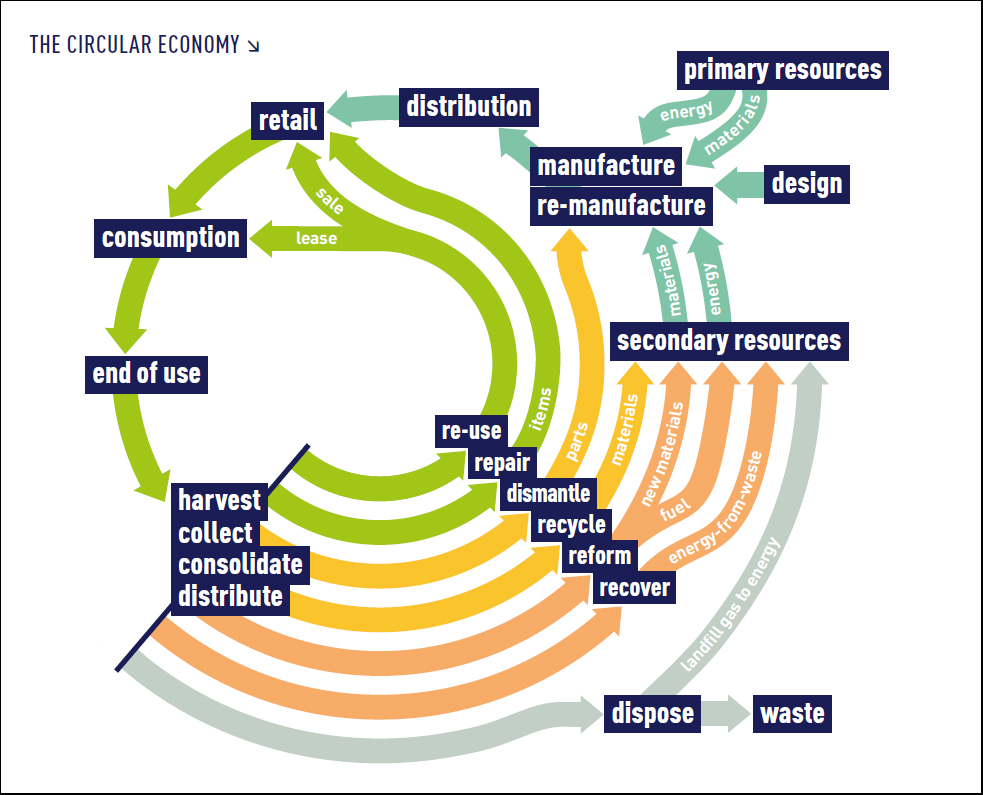 The provision of an attractive customer experience was stressed. As well as shorter journey times. This will attract people from cars and planes as has happened whenever high-speed lines are built. From the start, HS2's trains will be powered by zero-carbon electricity. To achieve this, HS2 is mindful of the lead times needed for additional generating capacity as it is pointless just taking zero-carbon electricity from somewhere else.
HS2's carbon manager, Mark Fenton, explained that construction emissions are 73% of whole life carbon cost. To reduce these, HS2 has achieved accreditation to the global PAS 2080 standard for its whole-life carbon management system. This includes the application of circular economy principles and the requirement to minimise resource consumption and use low carbon alternatives wherever possible.
For example, designers have achieved a 27% reduction in the structural steel required to build the roof of Old Oak Common station and HS2 intends for all of its sites to be diesel free by 2029. Carbon is also being saved from better construction logistics. A 3km network of conveyors at the Willesden logistics hub will move five million tonnes of spoil to save the need for a million lorry movements.
RIA's webinar was also part of its RailDecarb23 campaign, which was launched during Decarbonising Transport Week. Its technical director, David Clarke, noted that although the DfT's plan to decarbonise transport included a commitment to deliver an ambitious programme of electrification, there was a clear gap between policy and delivery. As a result, it was looking increasingly unlikely that the rail network would be decarbonised by the legally binding 2050 target.
He advised that RailDecarb23 had three asks: i) immediate implementation of an electrification programme on intensively used lines; ii) ramp up orders for hydrogen and battery trains; and iii) ensure suppliers are not penalised for offering low carbon solutions.
Doing something now
Helen McAllister, who led the production of Network Rail's Traction Decarbonisation Network Strategy, advised that she was a big fan of doing something that can be done now, and that decarbonising rail is definitely in this category. She felt that we can't rely on some technology that might magically appear in 2040. Hence, the large-scale electrification plan needed to decarbonise rail cannot be left until a few years before 2050. She advised that big infrastructure programmes don't work like that, they need a long-term plan.
She was concerned that decarbonising rail might not be seen as important as it was already an efficient form of transport, accounting for only 2% of transport emissions. This view ignores the huge contribution that rail can make by abstracting freight and passenger traffic from roads and air which should be part of an overall UK strategy to get to net zero. For example, the Chartered Institute of Logistics and Transport estimates that freight traffic equivalent to 30% of HGV kilometres could be transferred to rail.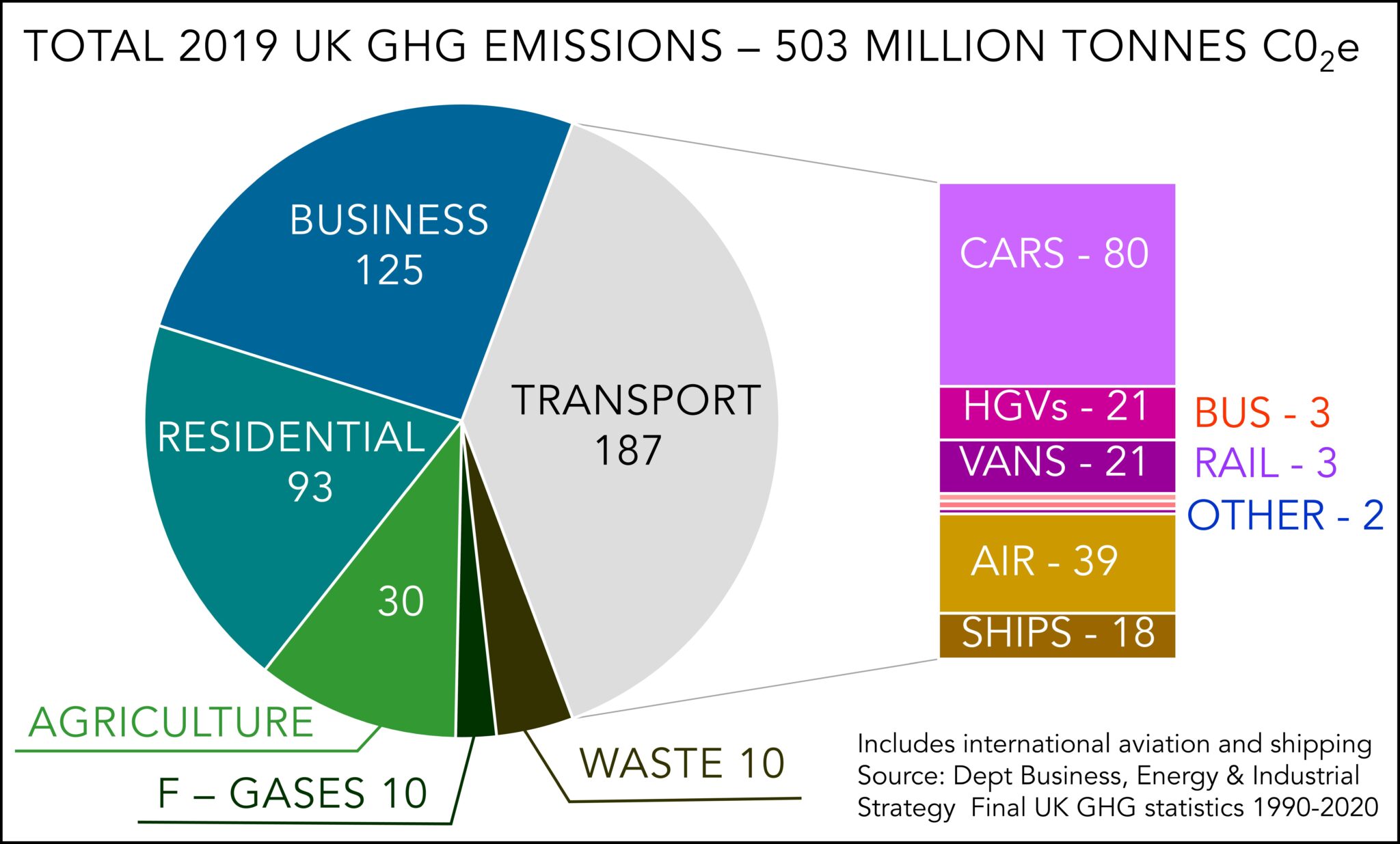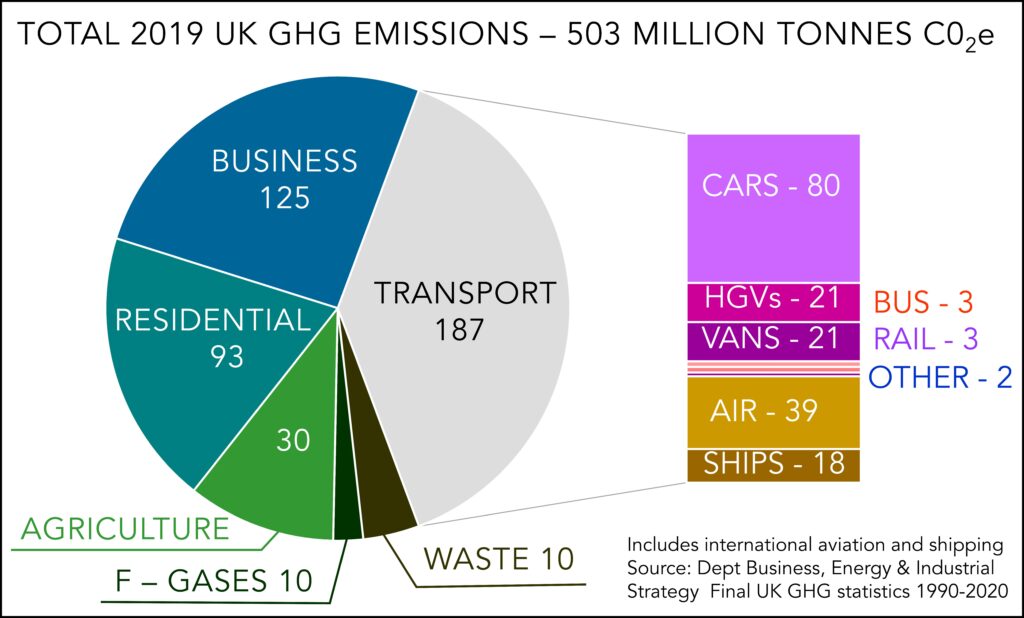 Noel Dolphin, head of UK projects for Furrer+Frey, explained why electric railways offer better performance, lower operating costs, better reliability, as well as decarbonisation. Hence it is a mistake to consider rail electrification solely as a decarbonisation solution. Aspects of his presentation are included in a short paper 'Rail Electrification: The Facts' that RIA recently published on its website.
Rail's easy solution
The recordings of the webinars and reports on the DTW website provide an interesting insight into the challenges of decarbonising transport which can only happen if it can be weaned off petroleum. For roads, water, and air transport this is a difficult problem, especially for high-powered transport for which there are currently no proven solutions.
While it has been proposed that the sale of diesel HGVs will end by 2040, a suitable net-zero alternative has yet to be defined. Whatever it is will need a substantial infrastructure investment. For aviation, expensive sustainable aviation fuel is a short-term solution and liquid-hydrogen-powered planes are seemingly the only long-term solution. This would reduce a plane's passenger carrying capacity and require the world's airports to be provided liquid hydrogen storage and fuelling infrastructure.
Yet the reality of these problems is denied by Government statements such as "Guilt-free flying is within our reach, and we are backing the world-leading UK firms whose skills and ingenuity are going to make that dream a reality."
In contrast, rail offers the proven decarbonisation solution of rail electrification that also reduces cost and improves performance. Whilst it comes with a high initial cost, on an intensively used railway it offers a lower whole life cost. More powerful electric trains also offer greater network capacity and thus support the required modal shift from road and air.
For all these reasons, Decarbonising Transport Week showed that a rolling programme of rail electrification is needed now.