Between January and March 2022, the North Yorkshire Moors Railway (NYMR) completed the reconstruction of the last two of a package of four bridges at Goathland; one of the largest bridge renewal projects yet undertaken by the heritage rail sector.
The railway's 180-year-old route runs along 18 miles of scenic moorland, with gradients of up to 1 in 49. As a result, larger classes of steam locomotive, with axle loadings of up to 23 tonnes, are required to haul eight coach trains that carry over 300,000 visitors every year.
Tim Bruce, the railway's director of Civil Engineering, explained that: "Our bridges are absolutely crucial for an operating railway and ensuring that future generations will be able to enjoy this historic route. Some of our bridges are over 150 years old and, despite regular maintenance work to care for them and prolong their lives, the metalwork is starting to show its age."
Replacement required
In the early 2000s, the railway had appreciated that several of their larger underbridges were in deteriorating condition and would soon need replacement. For much of the northern half of the route, the track shares the valley with the Eller Beck, crossing it many times. All four of the project's bridges carry the line over this river.
The first of these was underbridge No. 30 – a hard to access, 25 metre span, 43o skew bridge, which was successfully reconstructed in 2010. With this worst condition span completed, attention turned to underbridges 27, 25, and 24. The cost of replacement or repair of these was, however, beyond the railway's funds at that time.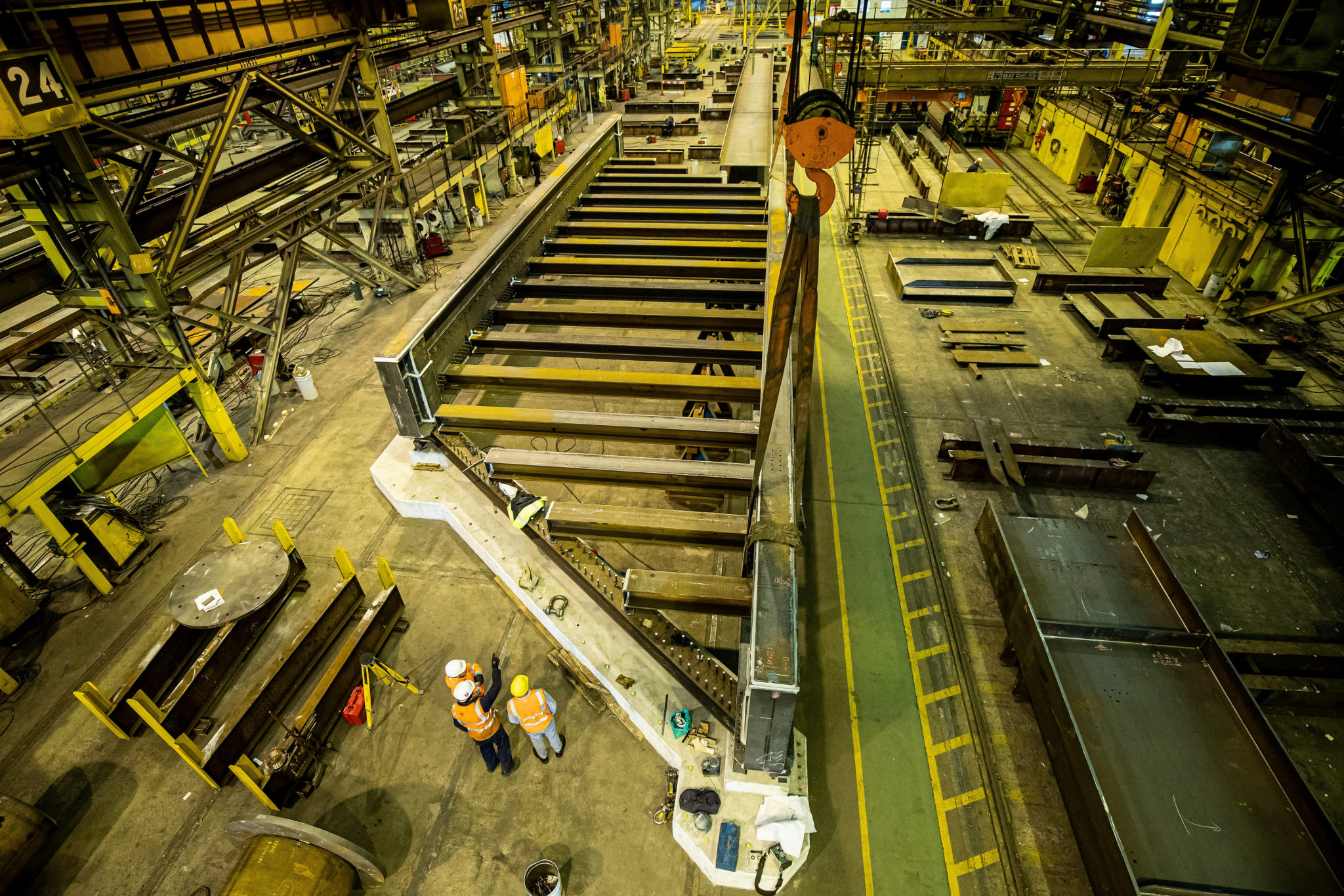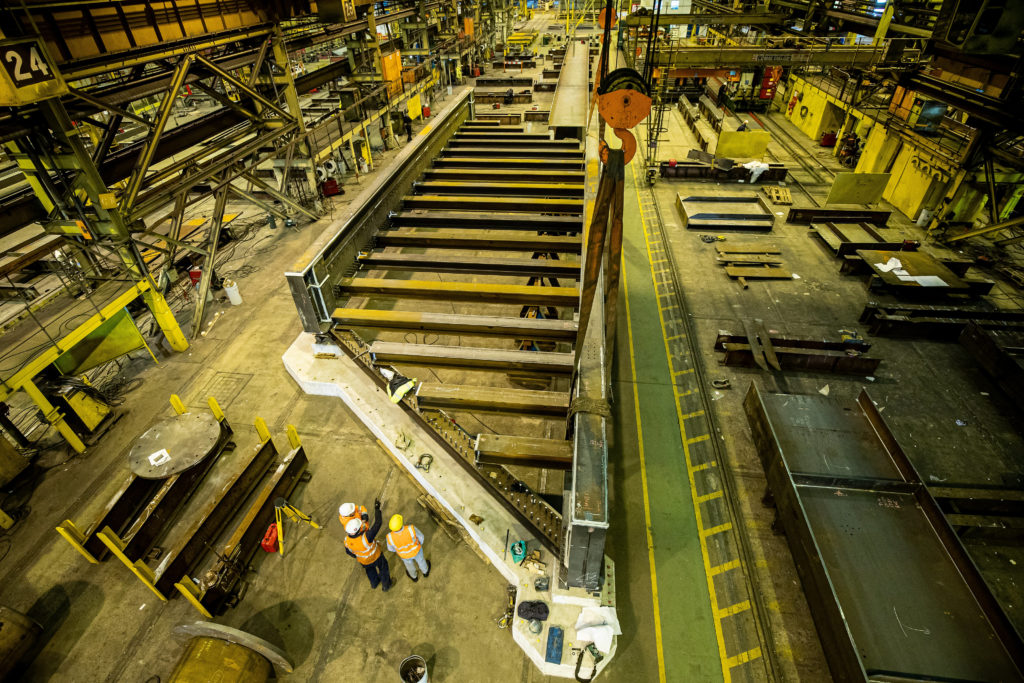 The NYMR turned to the National Lottery Heritage Fund, with an ambitious and successful application for a £4.4 million grant as part of a £9.7 million package of projects, termed 'Yorkshire's Magnificent Journey'. The balance of funding was provided by the Rural Payments Agency, European Union, and Local Enterprise Partnership, as well as contributions from local organisations and private donors. In addition to the three bridges, the project also included a £4 million carriage stable at Pickering and a volunteer development hub and outreach centre at Stape.
In 2020, underbridge No. 27 at Goathland Station was the first of the three to be replaced. Structural assessments and reviews of its condition had led to the conclusion that the bridge was well past economic repair. Cleveland Bridge were appointed to fabricate and install a new 84-tonne, single span bridge structure. This was designed by bridge specialists Cass Hayward Consulting Engineers based on the British Railways former type "E" bridge updated for the required loading and bearing arrangements. Span is 20m with 40 degree skew. The lack of road access was again a key issue, and so the span was installed using VolkerRail's 100 tonne and 125 tonne Kirow rail cranes.
Bridges 24 and 25
Under British Rail, this had been a double track railway, but is now single using the former up line. Bridge No. 25 also carries a siding. These two structures had an interesting history, originally constructed in 1868 as two track half-through bridges, with track carried on waybeams. In 1908 to raise the axle loading of the line, the North Eastern Railway reduced their widths to form single track, half-through bridges with new steel decks and ballasted track.
Surplus main girders from elsewhere on the route were installed to carry the second track, an early demonstration of the benefits of standardised spans and frugal reuse of components. However, the two spans were placed so closely that the external web faces had not been properly inspected, or painted, for over a century.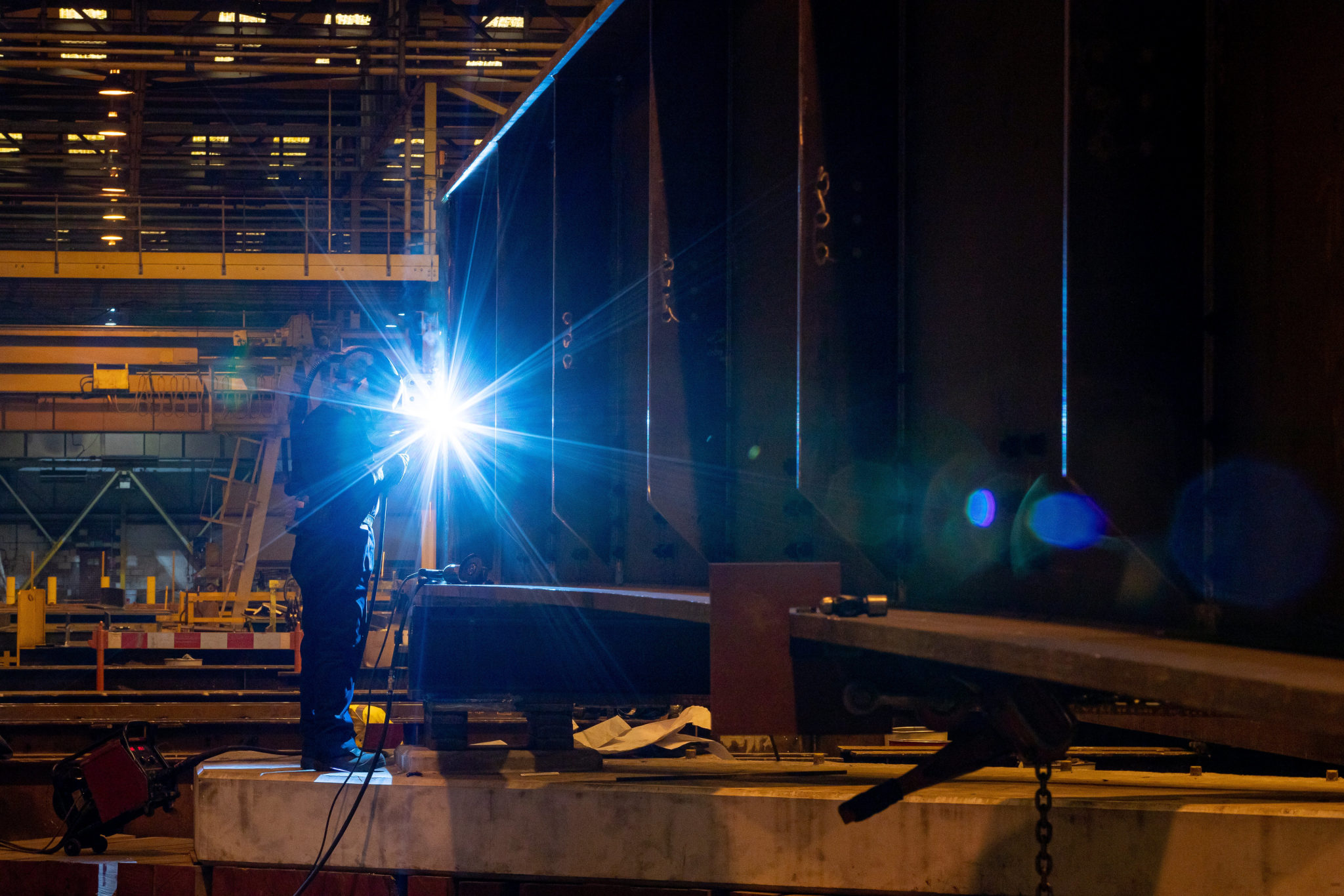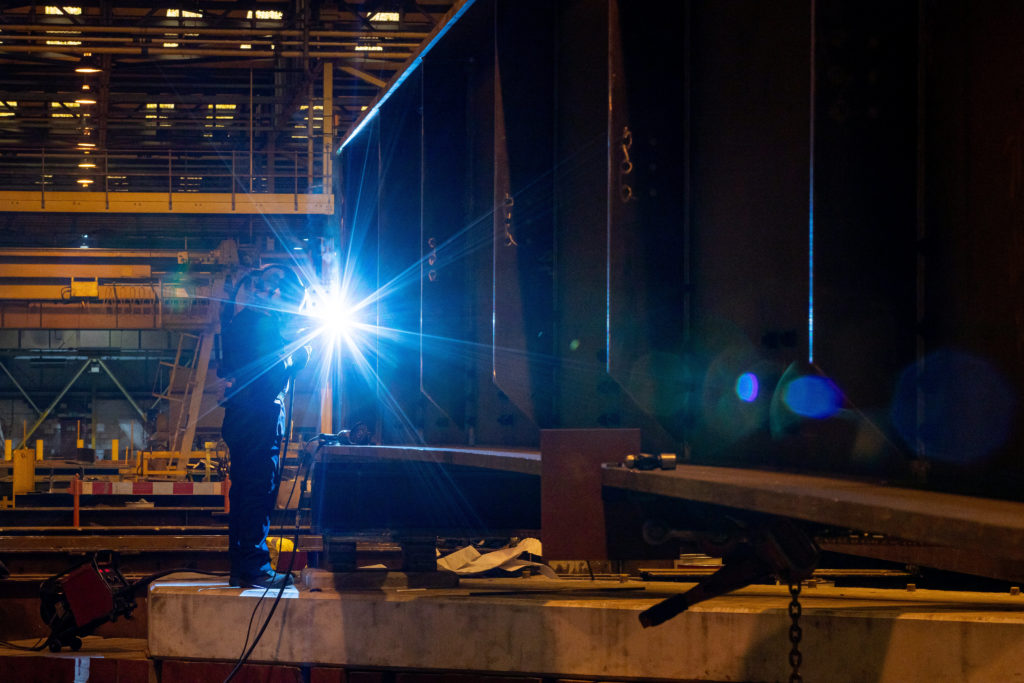 These two bridges had initially been considered for strengthening, but their general condition and the difficulty of inspecting hidden parts of the structures, as well as the unknown remaining fatigue life, led to a decision to instead reconstruct them both. Cleveland Bridge was appointed to replace these, with a planned installation in early 2021. However, this company went into administration in July 2021 and closed in September 2021.
Smooth transition
VolkerLaser was appointed to take over this contract and, fortunately, a number of the senior team from Cleveland Bridge had moved to this company, smoothing the transfer of information and project knowledge.
Roger Bastin, NYMR's bridge engineer explained that design loading was to BS153 providing a Route Availability of RA10 (catering for steam locomotive hammer blow effects), meaning that 25 tonne axles could be accepted in future. Speed was taken as 35mph, the original line speed of the branch in BR days. As it is classified as a 'Light Railway', the maximum speed on the NYMR is currently limited to 25mph.
Both bridges are of 20 metres span, bridge 25 being 35o skew and bridge 24 being a square span. The new structure was designed to BS 5400 by Cass Hayward based on the British Railways former type "D" bridge", with cast insitu concrete floor. An aesthetic hog-back profile was provided to match the adjacent spans which are not being reconstructed. 2D and 3D analyses were used to check the designs. To allow for inspection and maintenance between the two structures, the girder bottom flange has been offset relative to the web to allow access from beneath.
VolkerLaser's fabrication sub-contractor was Allerton Steel, at Northallerton. Here the main girders, cross girders, and trimmers were fabricated and assembled, and shear studs welded to the main girder webs and trimmers. After dimension checks, the spans were despatched as assembled units to Sheffield for grit blasting, metal spray, and painting to Network Rail N1 specification.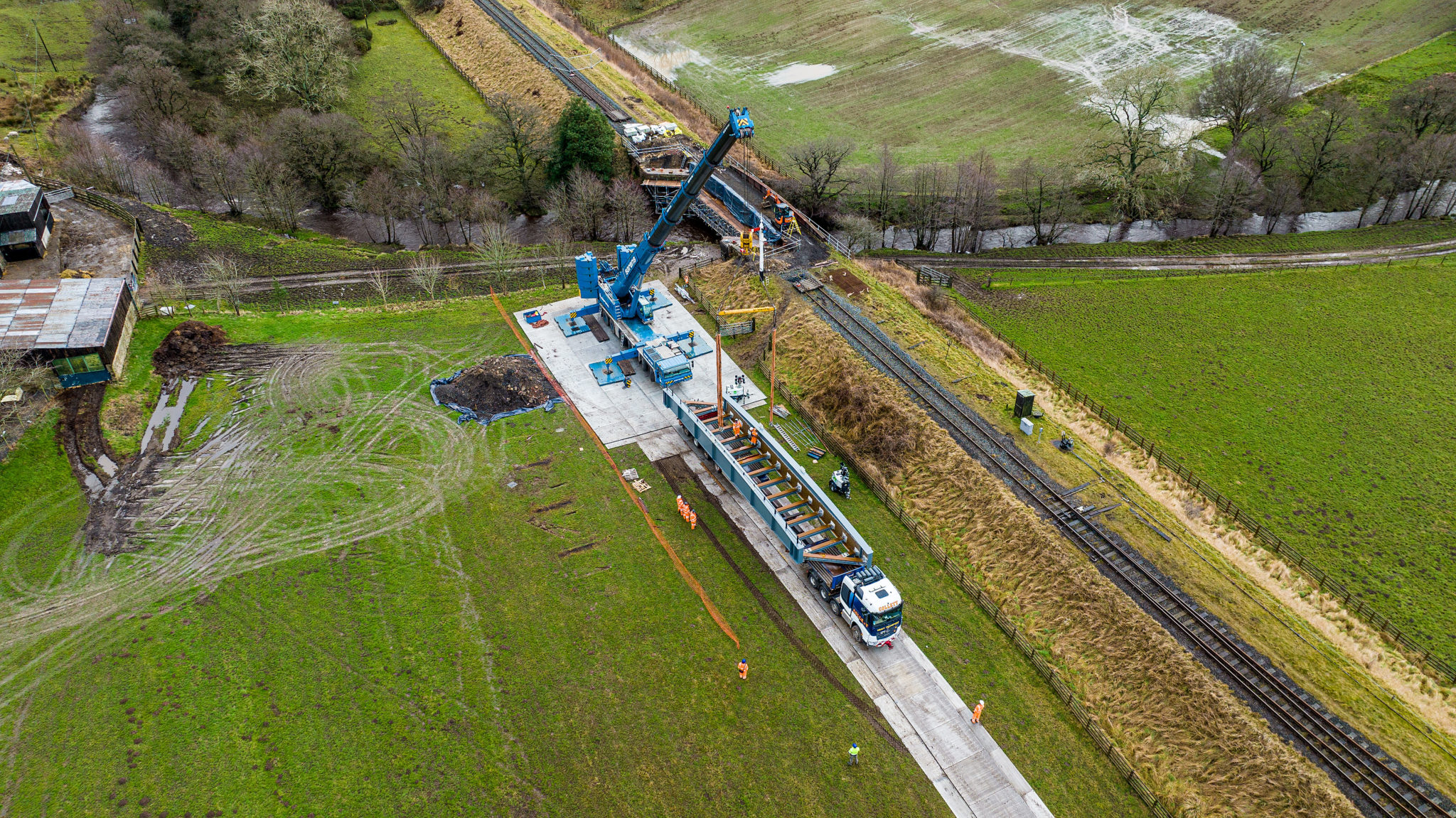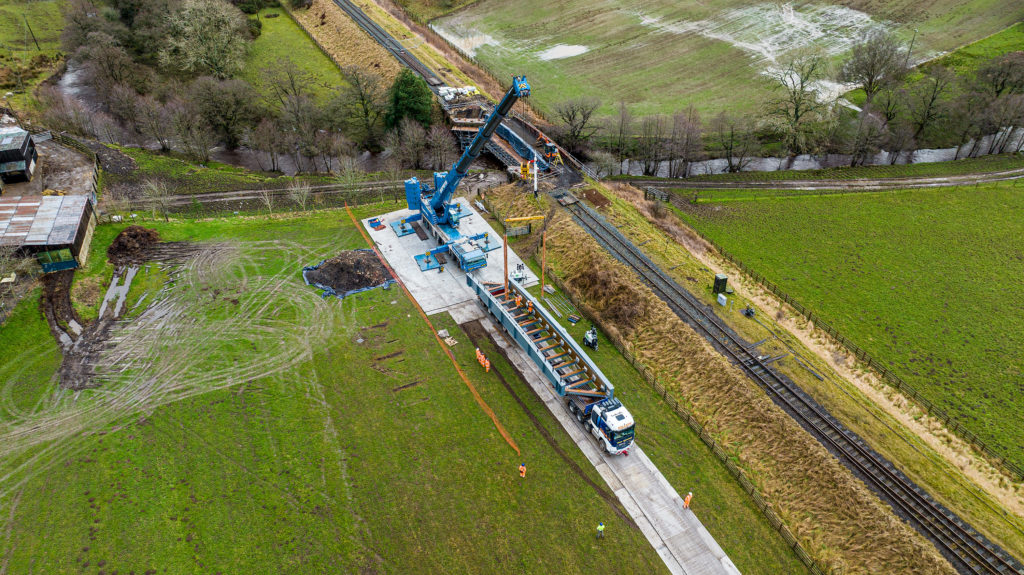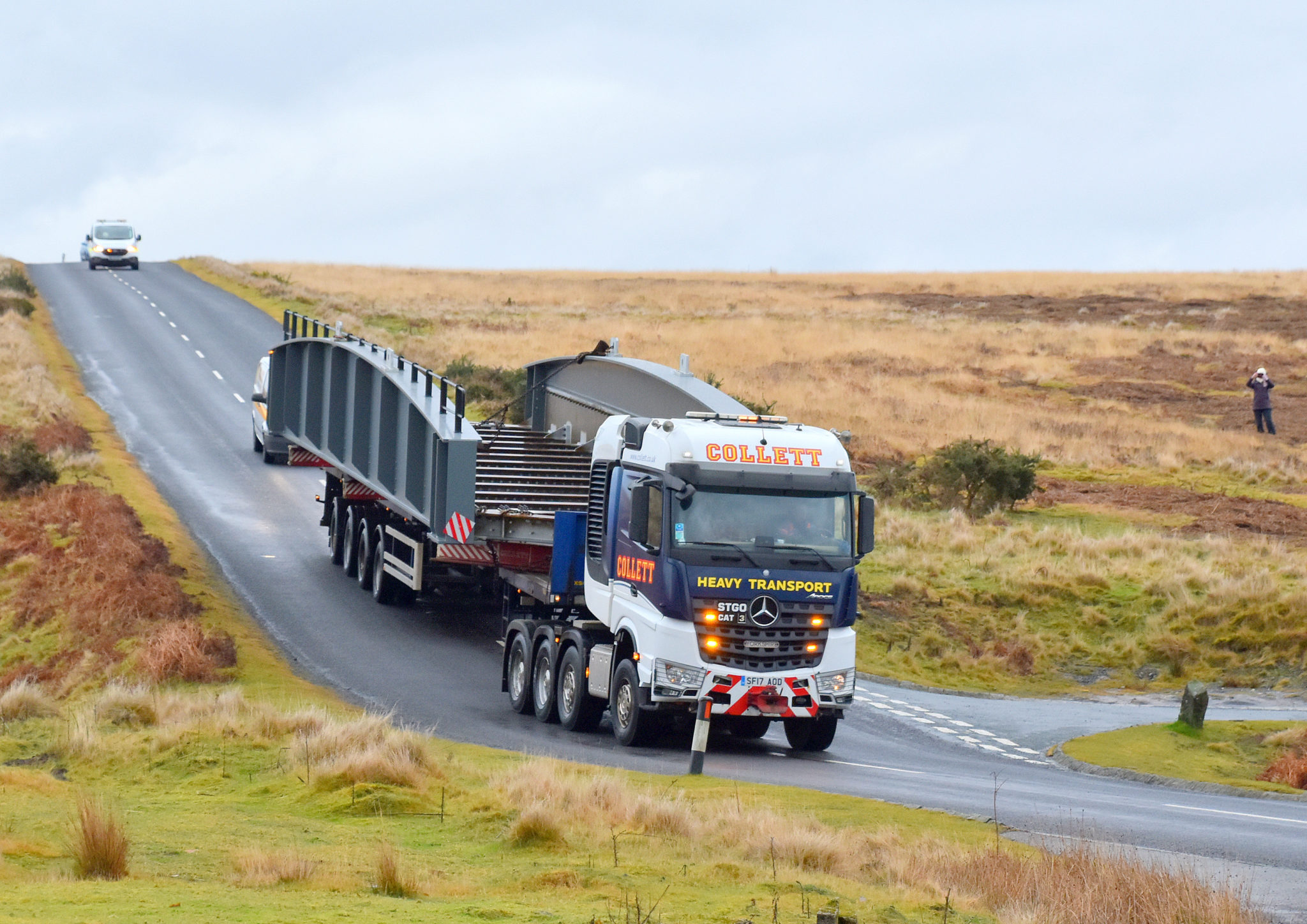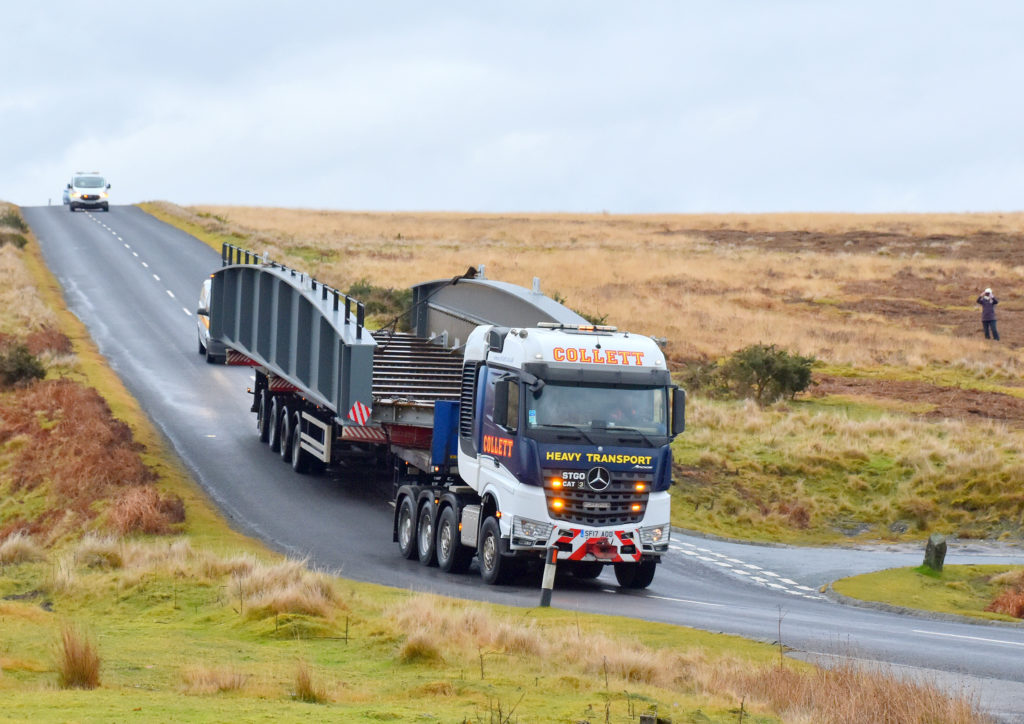 Access issues
The previous projects at bridges 30 and 27 had no road access and were carried out entirely by rail craneage using Kirow cranes. Fortunately for bridges 24 and 25 an adjacent field was available enabling road craneage to be used. NYMR had a long-standing relationship with the farmer and agreement was made to install a trackway access to both bridges, on the east side of line, entered from the road leading to Goathland House.
The existing track across the bridge was removed by the railway's permanent way team using their diesel rail crane. The old spans were lifted out by a 400-tonne road crane and cut up on site before loading for recycling.
The original 1868 masonry abutments were in very good condition and the design was simply to replace the bearings on these, rather than replace them with precast sill units giving a significant time and cost saving.
Following the demolition, the abutments were checked to verify their condition before the new Ekspan spherical bearings were installed.
Delivery of the 4.3-metre-wide painted steelwork was expected to be a challenge. From the A169 above the valley, the route into Goathland is a narrow road, with hairpin bends and a maximum gradient of 1:3. However the haulier's skill ensured the successful delivery to the site.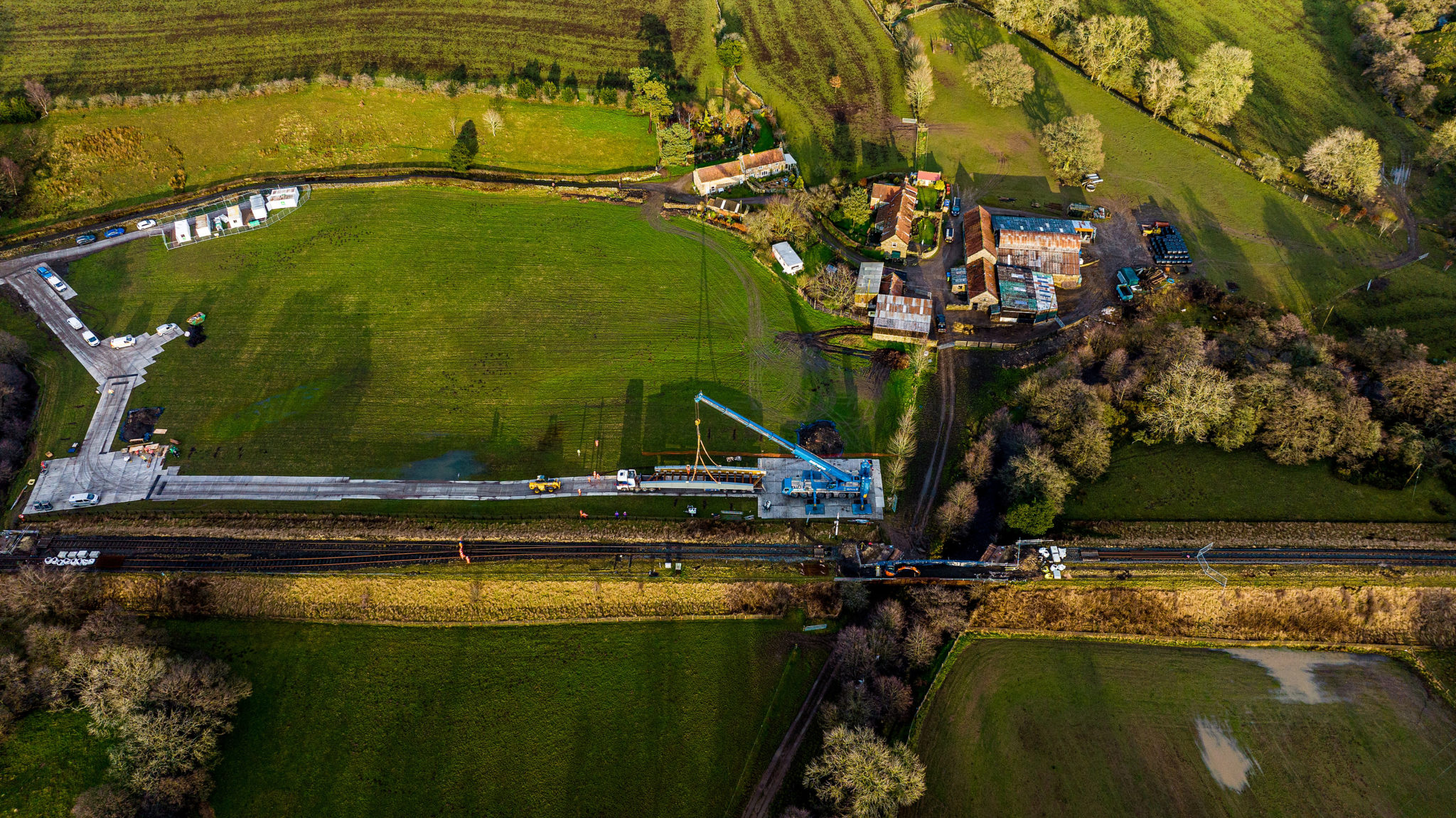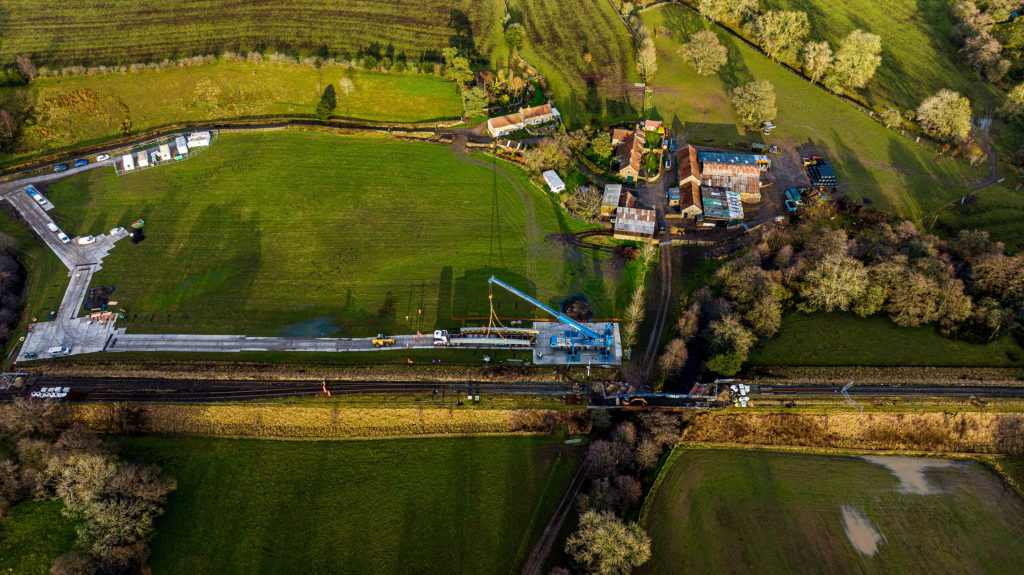 Challenge met
The new steelwork was craned into place by a 400-tonne road crane. Following this, the concrete decks and web face upstands were cast, with reinforcement threaded through the cross girders and trimmers. Flat GRC soffit permanent formwork was placed on the top of the bottom flanges of the cross girders and concrete pumped into place. Timber formwork was constructed for the upstands. Wolfin sheet membrane waterproofing was selected rather than a sprayed acrylic system, as this is less time and weather critical.
The design of the new bridge resulted in a track lift of up to 200mm. This provided a bonus for the permanent way engineer, as the track formation here was known to be poor. The railway's team installed new rails and timber sleepers on the bridges, lifted the 180 metres of track between the two bridges, and beyond each to tie into the existing track. New ballast was placed using their in-house heritage ballast hoppers, tamper, and ballast regulator.
The works were completed in time for the new season's operations commencing on 4 April, thus completing this quartet of challenging bridge reconstructions.