Of the many closed lines that are currently being proposed or reviewed for possible reopening to passenger traffic, one that looks close to coming to fruition is the so-called Northumberland line. This is being actively promoted by Northumberland County Council, with AECOM (with SLC Rail) as scheme designers, working with Network Rail as the owners of the assets.
Interestingly, there are some special features in the characteristics of this project. It is not all about just reopening a passenger route. The authorities participating in the project are making sure that it will also be about integrating the reopened line with the needs of the local community from cultural, educational and business perspectives.
Context
The line north-east of Newcastle-upon-Tyne running to Ashington and beyond was one of the closures ensuing from the Beeching Report. More correctly, it was not fully closed, but passenger traffic ceased in 1964. Since then, the line has continued in use for freight and still carries five trains daily in each direction.
The reopened line will be around 18 miles long with six new or refurbished stations at Ashington, Bedlington, Blyth Bebside, Newsham, Seaton Delaval and Northumberland Park. Services will then continue on to the existing stations of Manors and Newcastle Central.
The option of extending the service beyond Ashington to Woodhorn has been considered, but the costs of doing so are significant and this therefore remains a future possibility for the rail service.
Regarding access to the railway for people living in Blyth, unfortunately the railway line runs on the outskirts of the town but the location of the new station is well served by buses. Negotiations with the bus companies to do some slight rerouting to help create a viable bus rail interchange will be needed.
Specification and benefits of the reopened line
Stuart McNaughton, strategic transport manager for Northumberland County Council, explained that there are three key objectives to be achieved in the reinstatement of the passenger service in this area, over and beyond the obvious one of putting rail connectivity back into this part of south-east Northumberland, both for commuting and for travelling further afield.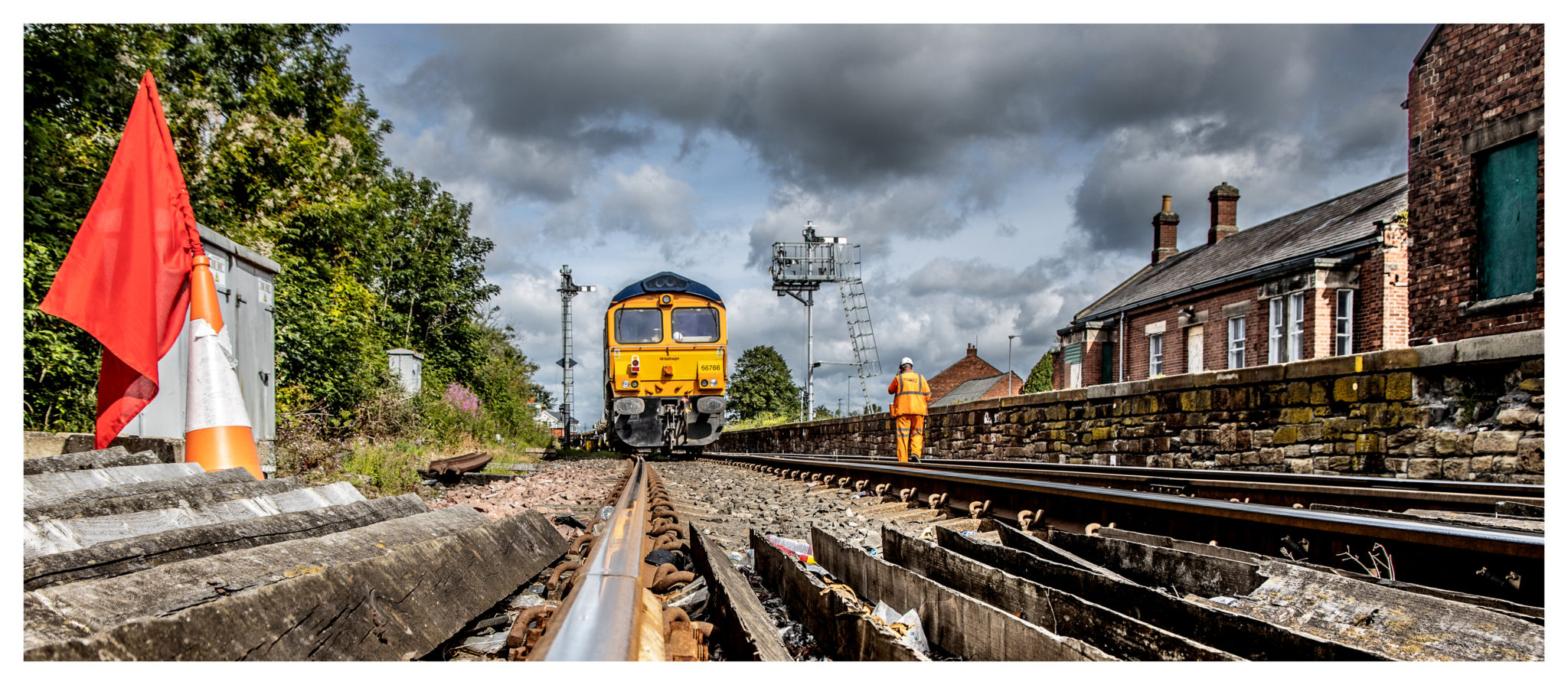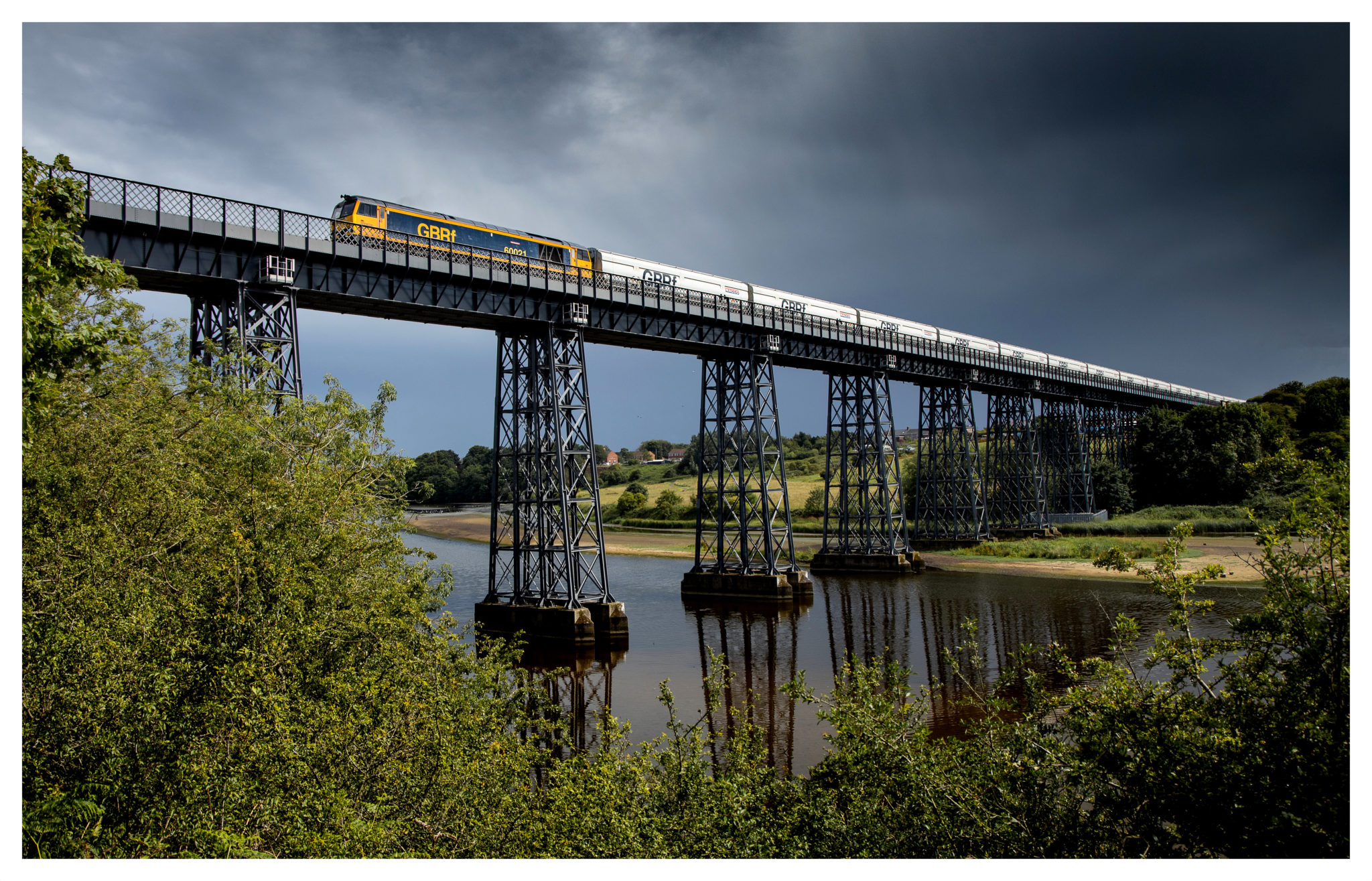 In developing the detail of the design and characteristics of the new route and passenger services, the promoters are seeking to engage with the communities through which the line runs and to maximise collateral benefits.
These extra objectives are:
Provision of better access to education, employment and housing development;
Creating a sustainable modal shift from road to rail;
Economic growth in the area.
At present, commuting time from Ashington into central Newcastle by bus or car is an hour or slightly over. The design criteria for the rail commute will be a journey time of 35 minutes or less, with a train frequency of 30 minutes as a minimum.
There is an aspiration to introduce low-carbon rolling stock for the new passenger services on the route. Rolling stock alternatives are being looked at and, certainly, there is a need to avoid diesel power – this type of rolling stock would do nothing to gain the benefits of transferring road traffic to rail and so alternatives such as battery powered rolling stock are being seriously considered. Northumberland County Council is in discussion with the market.
Various initiatives are under way to boost the economic value of the route, including exploring commercial possibilities adjacent to the various stations. The County Council is carrying out an "Economic Corridor Strategy Study", employing Steer Economic Development to examine in detail the development opportunities along the route.
Developing the case for reopening
AECOM and SLC Rail are working with Northumberland County Council to progress the scheme's business case, engineering design and planning and consent processes necessary to support and validate the project.
The scheme is being developed in line with the government's Department for Transport (DfT) RNEP (Rail Network Enhancement Pipeline) process. The scheme has now passed through the 'Decision to Develop' and the 'Decision to Design' stagegates and is now moving towards 'Decision to Deliver' and 'Acceptance'.
In support of this process, the DfT's business case process has been followed. So far, both a Strategic Outline Business Case and an Outline Business Case have been produced, with the Full Business Case to be finalised once the final design and costs are confirmed.
From an engineering perspective, AECOM is currently undertaking the design for Approval in Principle, which is equivalent, in broad terms, to a GRIP (Network Rail's Governance for Rail Investment Projects) 4 level of design. This will be followed by detailed design.
Infrastructure requirements
The existing infrastructure on the route was originally built for passenger traffic as well as freight, but these would not now meet all the current standards. Currently, there are legacy signalling and control systems with four mechanical signal boxes from the late nineteenth century. There is a mix of signalling types, some features of which are not compatible with passenger trains.
The five or so trains a day in each direction are made up of those to and from Lynemouth power station and those taking fuel pellets imported from the USA for feeding Drax power station.
Currently the line has 24 level crossings of various types, ranging from private crossings up to Automatic Half Barrier and Manually Controlled Barrier types. With the intensive train service of the future, it will be essential, for operational and safety reasons, to rationalise this inventory. It is planned that 10 will be upgraded to MSL or MCB-OD type, four will be closed and one will be replaced by a footbridge.
Track capacity needs increasing. Access to the main East Coast main line at Benton North is via a single lead junction and there will need to be some double tracking and provision of passing loops on the Northumberland line itself. Where possible, line speed will be increased to 65mph.
Kilborn Consulting is contracted to AECOM to carry out key elements of the detailed engineering preparation for the new infrastructure, including surveys, outline signalling, control systems and level crossing design, including signalling modifications and upgrades where appropriate.
Paul McSharry, managing director for Kilborn, said that the design policy will be one of evolution, not revolution, to achieve rationalisation and modernisation efficiently and economically. They will not be looking at this as a project to try out technical innovations, but will be working with Network Rail in a collaborative way. In particular, Network Rail's local ASPRO (Asset Protection and Optimisation) team has been very supportive in development of the specification for the project.
Operational considerations
Options for the control points for the line are still being looked at. For example, the signal boxes at Bedlington may or may not be redundant.
One of the biggest challenges will be to ensure that there are adequate paths to accommodate the new services where they join the ECML at Manors and then on to Newcastle Central. It is believed that, when the passenger service from Ashington was last running in 1964, there were around a dozen main line trains each way on a typical day. Now there are 49!
Community engagement plans
Bedlington, near the centre of the line to be reopened, has a proud history in relation to railways, being, amongst other things, both the birthplace of Daniel Gooch and a manufacturing centre for early rail forms and locomotives.
Northumberland County Council is working with Cadenza Transport Consulting to develop community engagement plans. The idea of these is to maximise the benefits to be gained from the reopening of the line. Three communities are identified – Arts, Academic and Business. Each of these represent very different groups of people and the purpose of working with them individually is to build ownership of the railway.
For the Arts Engagement Plan, there has been public consultation exploring the history of the railway, with several people who can recall their previous use of the line. There are plans for a parallel walking and cycling trail, with encouragement to explore the route section by section, returning by train. Information boards and a sculpture trail are planned. Building pride in the line will be key.
For the Academic Engagement Plan, the intention is to work with pupils from primary age up to university level. How will the regeneration of the railway work for them? Ashington Academy may have a relationship with the railway which will promote careers. School children are going to be invited to make suggestions for the design of a nearby footbridge and 12 to 14-year-olds may well be asked to participate in teaching their peers about the dangers of the many level crossings and other potential hazards.
The aim of the Business Engagement Plan will be to create a coordinated approach across the region for business opportunities and to maximise the value of the railway to local businesses.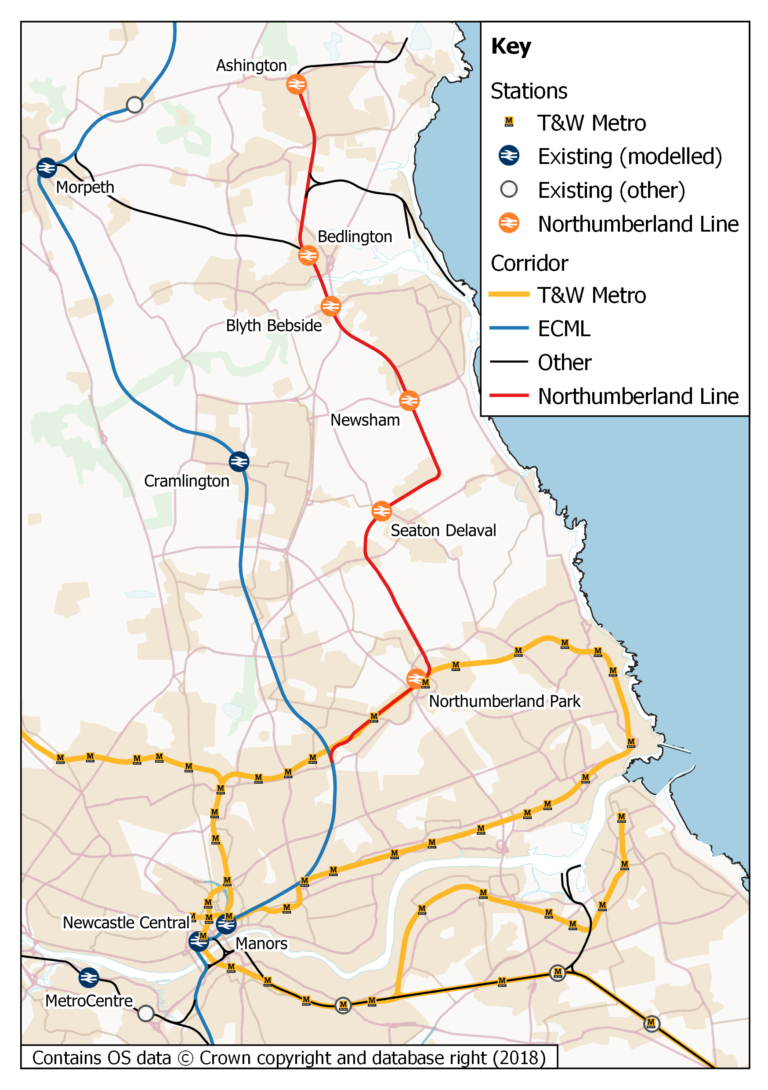 Timescales
Detailed design of all the new infrastructure requirements should be completed by mid 2021 and a Design and Build contract will be let soon after that. The aspiration is for the line to open with the new passenger service by 2023/4.
Connected cities
Rail Engineer was recently invited to attend a webinar hosted by ConnectedCities. This was one of a series of such events looking at rail regeneration schemes in several locations around the UK. The focus is on the wider societal benefits possible for communities adjacent to those schemes, apart from the obvious one of travel. The Tyne & Wear region is one of the locations which the organisation is currently studying.
ConnectedCities is working globally to foster ways of catering for increasing population growth in urban areas without detriment to the environment and, in fact, where and when possible, by enhancing living and working surroundings. It is doing this by being the catalyst in developments, alongside local authorities and community groups.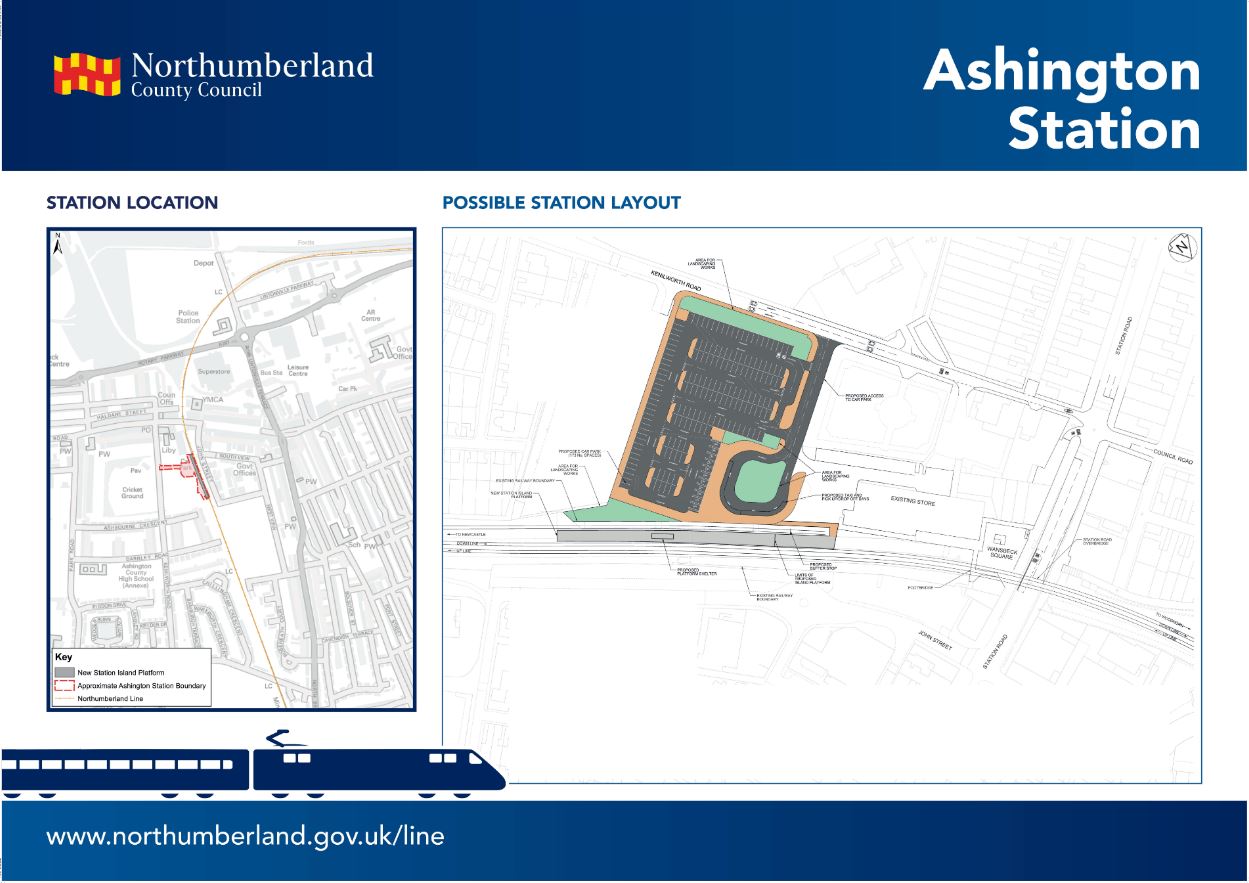 A key principle is to reduce an urban area's dependency on travel by car. This thinking is a shift change from a previous generation where a new urban development would be designed around car use, with Milton Keynes a classic example of that approach. This next generation of urban development should be founded on travel by rail, bus or tram, with increased walking and cycling opportunities.
A connected city is a grouping of moderately sized settlements that are not car dependent but have good public transport connections that link their town centres within 15 minutes. These towns then link to form the connected city with the ethos being all about liveable neighbourhoods, socially equitable, within 15 minutes walking distance of a station.
On a smaller scale, a 'Pedshed' is defined as an area within a one-kilometre radius of these towns' railway stations.
Future development of housing and commercial, educational and recreational facilities would, as much as possible, be confined to within the Pedshed areas. In turn, this would mean that a significant share of travel within each town is possible on foot or cycle. For journeys outside that town to one of the others within the connected city, a walk or cycle ride of 15 minutes or less to the station coupled with a frequent rail service would be the norm.
The inhabitants across the overall connected city would be able to share facilities not resourceable by the individual towns, such as hospitals, theatres, recreational and educational centres and all easily accessible whilst, at the same time, maintaining significant green belts between the towns and green spaces within the towns.
ConnectedCities is currently very active in promoting its approach to urban planning. There is a major conference "Metroisation of the Railways: ConnectedCities" being held at Euston, London, in October, at which Network Rail chairman Sir Peter Hendy will be the keynote speaker.
Rail Engineer believes that we will soon be learning more of this philosophy, which could well prove to be a powerful element in building the case for individual route reopenings, new lines or enhancements to the services on existing railways.