As one of the most ambitious infrastructure projects in the UK, HS2 is set to transform the country's transport network. Concrete is an essential component of this project. From the foundations of the track to the construction of stations, the material is used extensively, ensuring durability, safety, and efficiency. Concrete plays a vital role in shaping the high-speed project and HS2 has reported several developments in recent months.
With its remarkable structural properties, concrete is the material of choice for creating a solid base for the tracks, and concrete piers and abutments are employed for the construction of bridges and viaducts along the HS2 route. It's durability and strength allow for long-lasting and resilient infrastructure, minimising maintenance requirements and enhancing the overall efficiency of the railway system.
On 16 May, HS2 announced it had completed the first concrete pour in the west station box at its Old Oak Common Station. Set to be the best-connected and largest new railway station ever built in the UK, Old Oak Common will boast 14 platforms: a mix of six 450-metre underground HS2 platforms in an 850-metre-long station box, and eight platforms adjacent to this box serving the Elizabeth Line and Great Western Main Line. At ground level there will be an integrated connection between the six HS2 underground platforms and the eight conventional service platforms. Construction of the station is continuing at pace, with the station box taking shape.
The first base slab pour took place at the western end of the station, coming after the excavation of approximately 80,000m3 of spoil in the west box by HS2's station contractor, Balfour Beatty Vinci SYSTRA joint venture (BBVS JV). The spoil from the excavation is being transported to HS2's London Logistics Hub at Willesden Euroterminal via a conveyor system, negating the need for lorry movements on local roads.
Huw Edwards, HS2's Project Client for Old Oak Common said: "This first concrete pour of the station box base slab means that we have now reached the HS2 track level and can continue to work eastwards to build the foundations for the HS2 operational services.
"Once complete, HS2's Old Oak Common Station will be one of the UK's best connected transport hubs, and will be a catalyst for economic development, the creation of new homes, jobs and spaces for the local community."
Work to begin constructing platforms for the ground level platforms, to be used by the Elizabeth Line and Great Western Mainline services, will begin later this year.
Carbon concerns
With HS2 committed to sustainability and climate concerns, it has incorporated various innovative concrete solutions to reduce its environmental impact.
Before its construction was paused, in September last year, the team constructing HS2's new Euston station undertook what was then the largest ever UK pour of Earth Friendly Concrete (EFC). The pour was undertaken by John F Hunt, working for HS2's station Construction Partner, Mace Dragados joint venture.
EFC is made from a combination of ground granulated blast furnace slag, pulverised fly ash and a high-alkaline chemical, rather than Portland cement. Its geopolymer binder system reduces embodied carbon by around 70% saving 250kg of CO2 per cubic metre poured.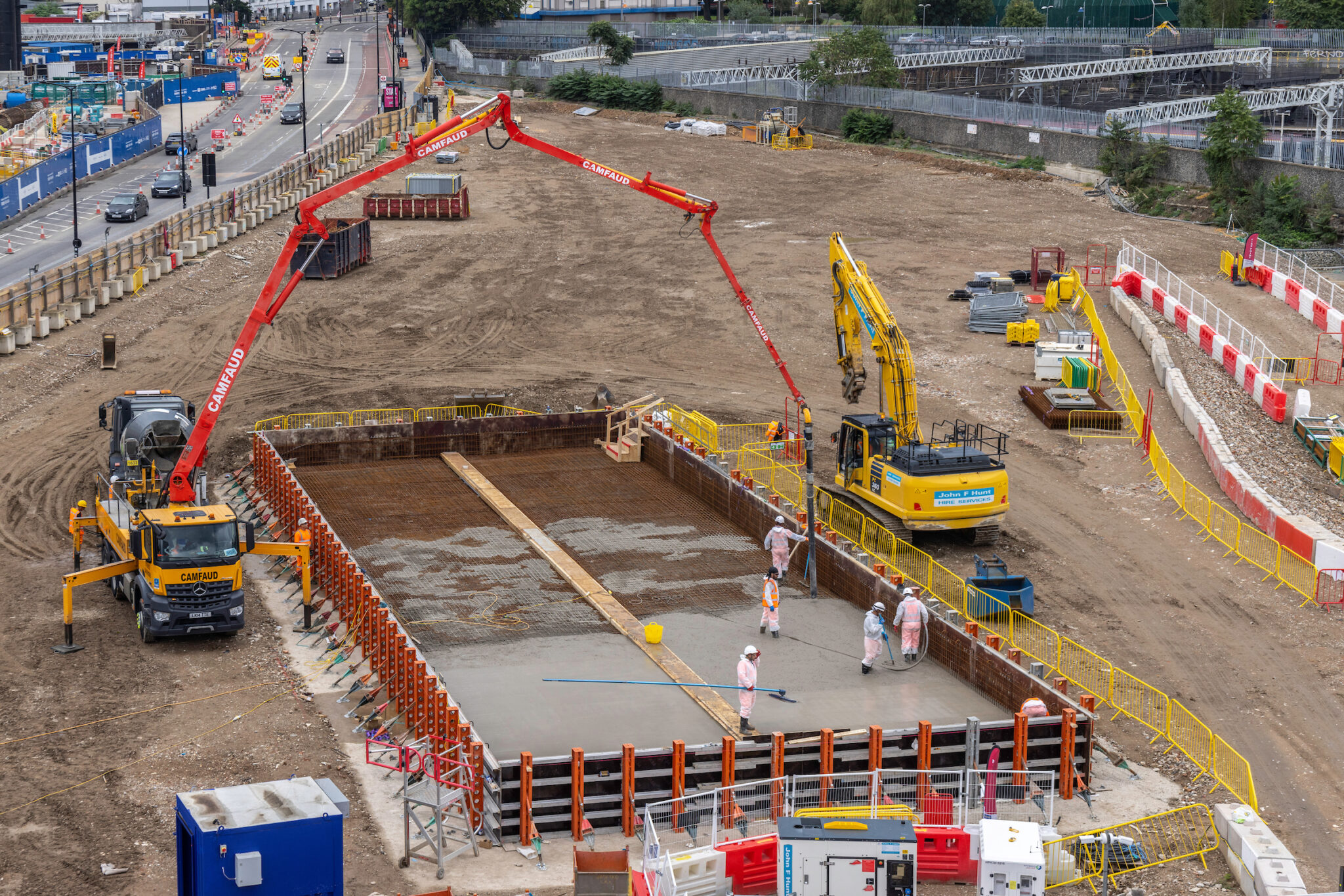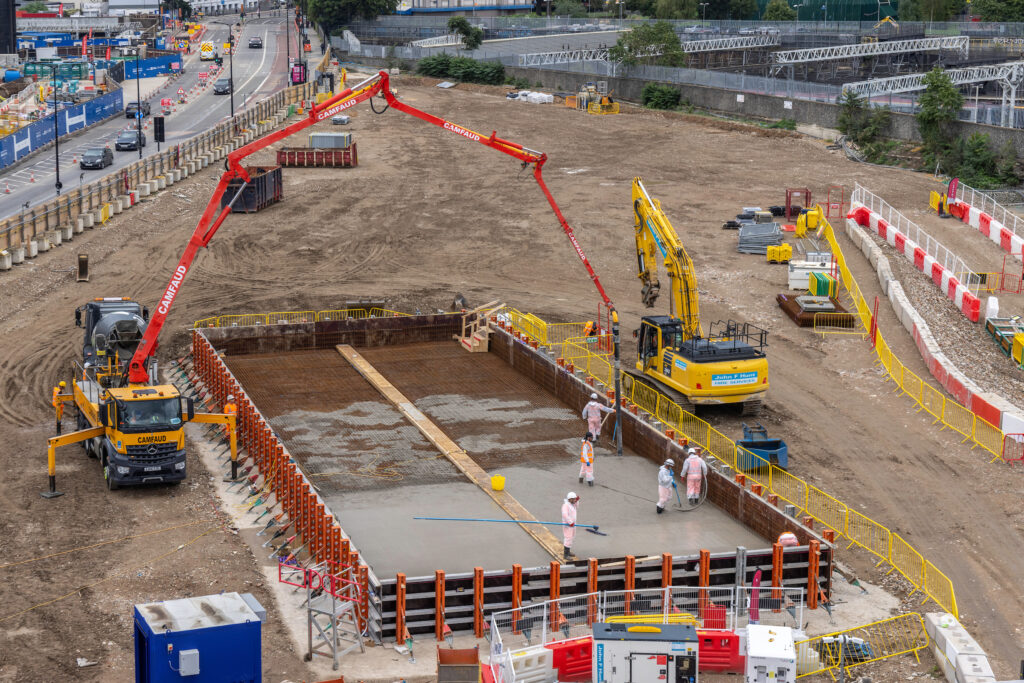 The EFC product, supplied by Capital Concrete, was used as a foundation slab that will support polymer silos used for future piling works at the north of the Euston station site. Whilst the foundation is temporary, it will be in use for two years, and historically would have been constructed with a more traditional cement-based concrete.
The use of the product on this scale is an important step forward in how new, innovative environmentally sustainable products can be used in construction. It also helps support HS2's objective of net-zero construction by 2035, and achieve its goal of halving the amount of carbon in the high-speed line's construction.
Martin Needham, John F Hunt's Senior Project Manager, said: 'We chose to use the EFC, not only for the over 70% saving in embodied carbon, but also for its excellent characteristics. It has an increased tensile strength, enabling thinner slab designs and therefore a reduction in overall volume of both concrete and reinforcement."
EFC has also been poured for HS2's construction conveyors, which will be in place for the next decade at least, on the eastern and central London sections of HS2 from Euston to Acton.
Innovative techniques
Along with the use of eco-friendly materials, HS2 is making concrete carbon savings through the use of various new manufacturing methods.
Also in May, HS2 revealed the first of 68 giant concrete and steel piers that will support the project's first entirely off-site manufactured modular viaduct.
Unlike more traditional viaduct designs, every major element of the 880-metre-long Thame Valley Viaduct is being manufactured in a factory before being slotted together on site like a giant Lego set, cutting its carbon footprint by around a third.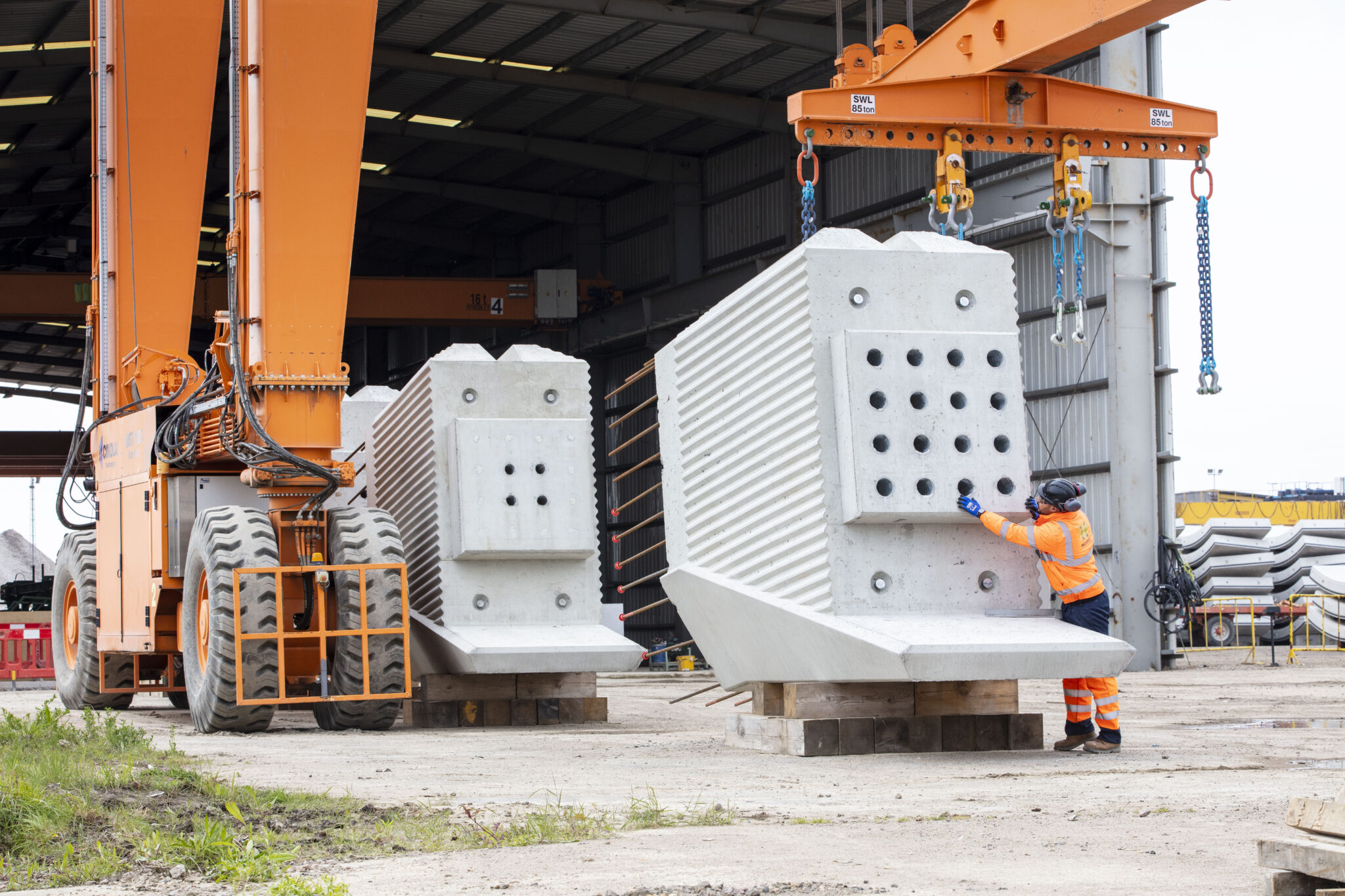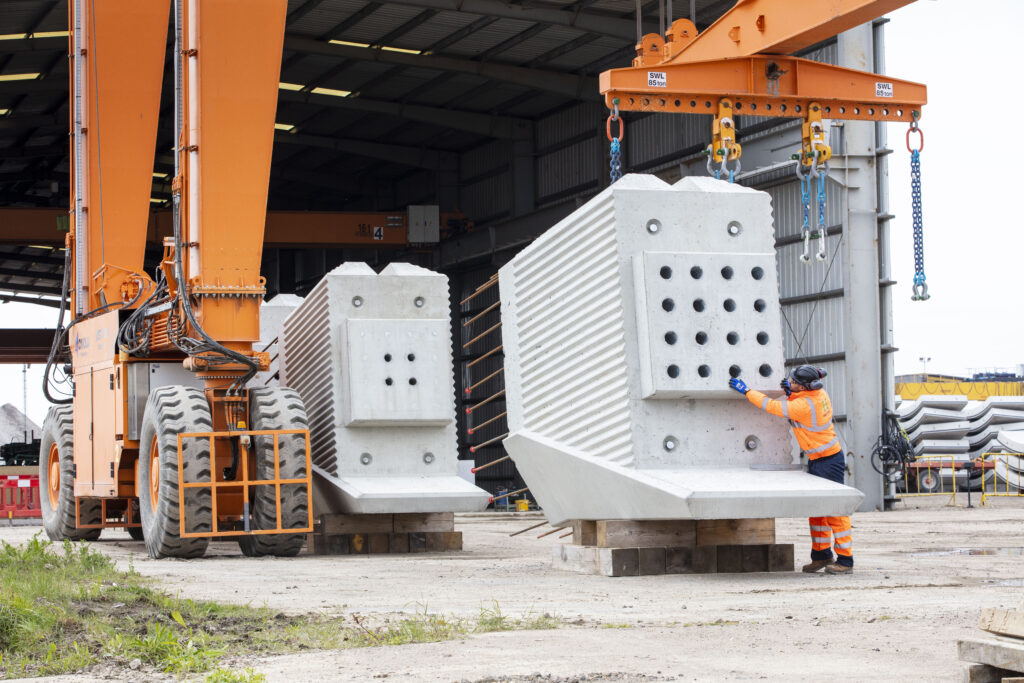 Thame Valley is one of 15 viaducts designed by HS2 Ltd's main works contractor, EKFB – a team made up of Eiffage, Kier, Ferrovial Construction and BAM Nuttall – working with on-site construction partner, FC Civils Solutions and pre-cast specialist, PACADAR UK, to build the innovative structure.
Applying lessons from the construction of recent high-speed rail projects in Spain, the design team opted for a simple structural solution with two 25-metre-long hollow beams per span, which cuts the amount of carbon-intensive concrete and steel, while simplifying work on site.
These 97-tonne beams – and the 42-tonne piers that support them – are being manufactured at PACADAR UK's factory on the Isle of Grain which also produces tunnel wall segments for HS2's London tunnels.
Cutting edge
In February, HS2 successfully completed its first use of 3D concrete printing (see above). ChangeMaker 3D, the company which facilitated the concrete 3D print, used a cutting-edge technology called 'Printfrastructure', trialling this alongside HS2's London tunnels contractor SCS JV (Skanska Costain STRABAG Joint Venture).
Printing concrete with computer-operated robots has enabled SCS JV to make structures on site, instead of transporting them as pre-cast slabs by road, before being assembled and lowered into place by large cranes.
Using a computer-controlled robot enables the reinforced concrete structures to be printed with a strengthening unique internal lattice structure, which not only significantly reduces the quantity of concrete required but also cuts waste.
Along with its environmental benefits, the technique can be deployed in physically-restricted areas – avoiding the need to develop complicated and potentially expensive logistical plans, and, where HS2 construction is happening besides a live railway, it offers an opportunity to deliver works safely and without disrupting the travelling public.
Working with UK advanced materials specialist, Versarien, ChangeMaker 3D makes the 3D printing process even greener, by combining the concrete with graphene. Microscopic strands of graphene only several atoms thick replaces traditional steel, helping drive improved site safety, greater construction flexibility, shorter build time, and a smaller carbon footprint.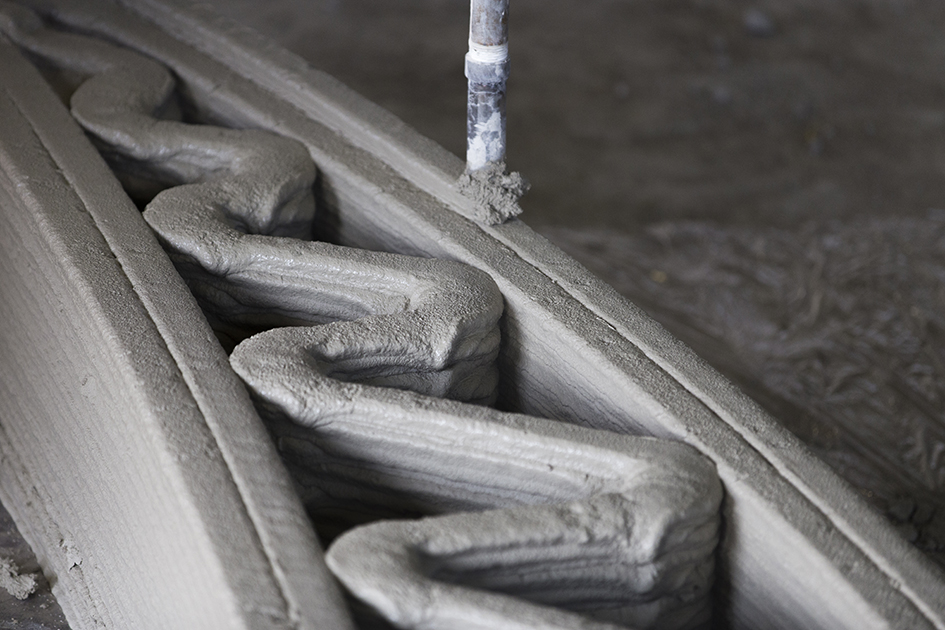 SCS JV estimates that the process it is developing with the Midlands firm could reduce the concrete used and contribute toward reducing carbon by up to 50%. By removing steel and simplifying the construction process, which will no longer require cranes and significantly fewer delivery trucks, the carbon reduction could be even greater.
Concrete commitment
An increasing number of HS2 partners are announcing their commitment to low-carbon concrete. In May, SCS JV, joined the Climate Group initiative ConcreteZero, announcing its intent to reduce emissions from concrete today and into the future.
ConcreteZero is a global initiative led by Climate Group in partnership with WorldGBC. It brings together businesses to drive demand for more sustainable and net zero concrete. ConcreteZero members commit to buying and using 30% low emission concrete by 2025 and 50% by 2030, with a long-term target of using 100% net zero concrete by 2050.
Athina Papakosta, Sustainability and Carbon Lead, SCS said: "SCS has ambitious environmental sustainability targets and decarbonising concrete has an intrinsic part to play in achieving them in the major construction project SCS have to deliver. Joining ConcreteZero is testament to teaming up with the rest of the industry to drive the overarching goal of lower carbon concrete forward."
Critical role
Concrete serves as the backbone of the HS2, providing the necessary strength, durability, and efficiency for system. This versatile material plays a crucial role in ensuring the longevity and reliability of the infrastructure. Moreover, the innovative use of concrete, including low-carbon alternatives and precast components, showcases HS2's commitment to sustainability and reducing its environmental impact.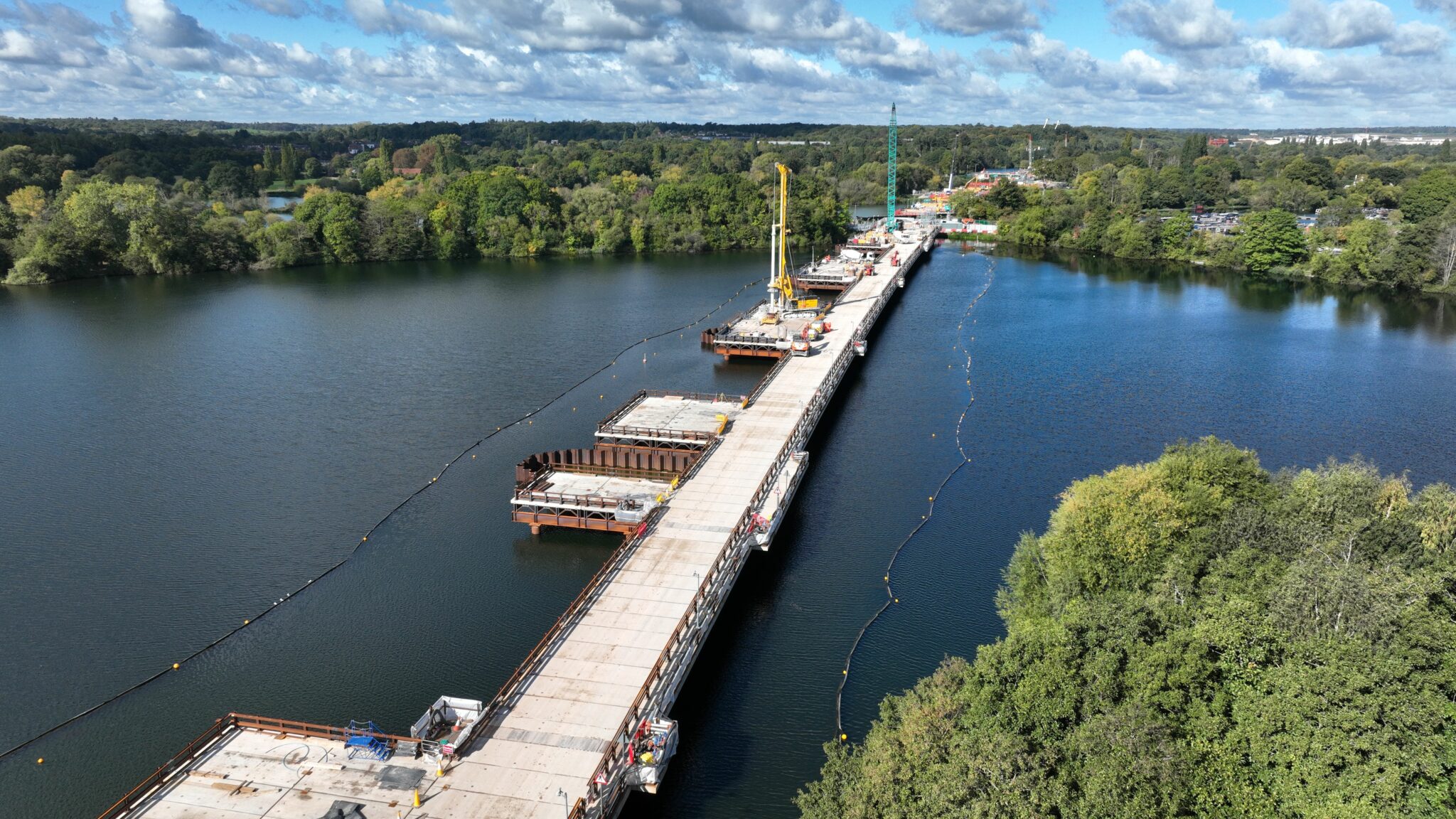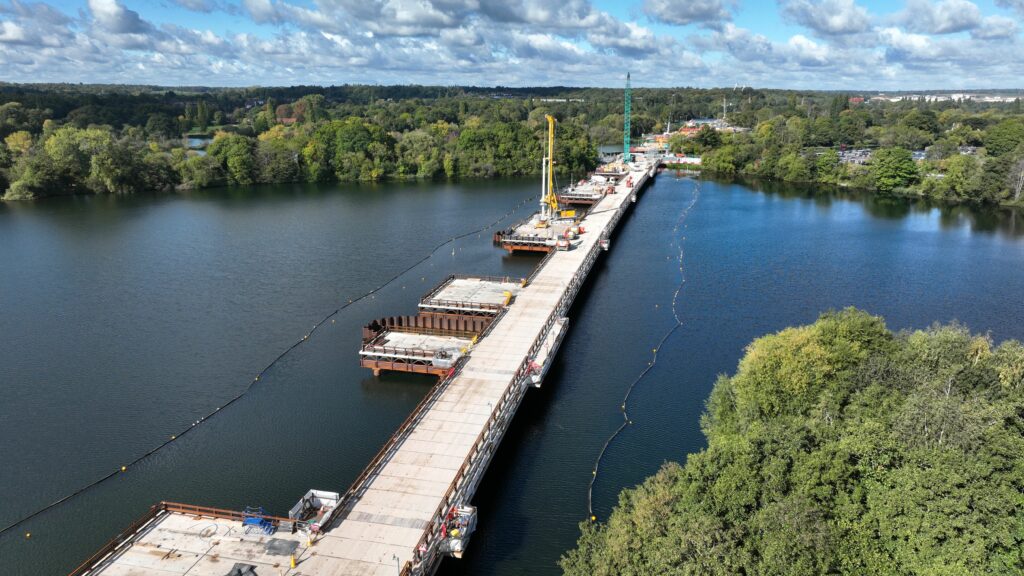 As HS2 continues to shape the future of high-speed rail in the UK, its extensive but responsible use of concrete sets a solid foundation for safe, efficient, and sustainable transportation.