Schneider Electric is a major multi-national company, operating in a wide range of sectors including energy management, industrial automation and control. The company's extensive product includes an impressive range of Glass Reinforced Polymer (GRP) elevated cable troughing and accessories which are designed and manufactured in the UK.
Operating in more than 100 countries and employing over 135,000 people, Schneider Electric prides itself with its extensive research and development capability, and it invests 5% of its annual revenue in R&D. It also holds 20,000 patents worldwide, demonstrating its engineering creativity. In the UK, the company operates from a number of sites, providing products for automation and control, electrical distribution, building management, critical power and energy automation.
GRP elevated cable troughing is an especially useful containment system for rail. Ground Level Troughing (GLT) is often used in signalling and telecoms schemes for the cable connections to lineside equipment such as points, train detection, signals and radio sites. However, in many places, GLT cannot be used due to the ground profile and steep embankments and cuttings. GRP is an ideal alternative for such locations and it is also essential for large current-carrying power cables.
High quality manufacture
The MitaTM GRP is produced by pultrusion technology. This uses a combination of unidirectional and cross-strand glass mat which is resin-impregnated and pulled through a hot die to produce a very solid, structurally sound profile with excellent mechanical rigidity. Unlike some other troughing systems, MitaTM GRP does not contract or expand with heat causing the troughing route to distort. It is produced with a high quality of manufacture and modified by the use of additives to the resin, and with protection from ultra-violet light. The product is produced in either 3m or 6m lengths for easy transportation and installation.
MitaTM GRP is 70% lighter than steel and 90 times lighter than concrete; it is also corrosion resistant. It does not conduct heat and has excellent durability against adverse weather conditions. The product offers excellent UV stability resulting in a cost-effective long-term solution.
The MitaTM GRP is provided in a wide range of trays, troughing and ladders which can support any type of cable – especially power and fibre cables which require a gentle bending radius. Unlike some competitors' systems, MitaTM elevated troughing is provided with GRP support posts to increase its durability. The troughing lids clip securely in place, providing cable theft protection. Further security can easily be added by installing stainless steel bands around the elevated route.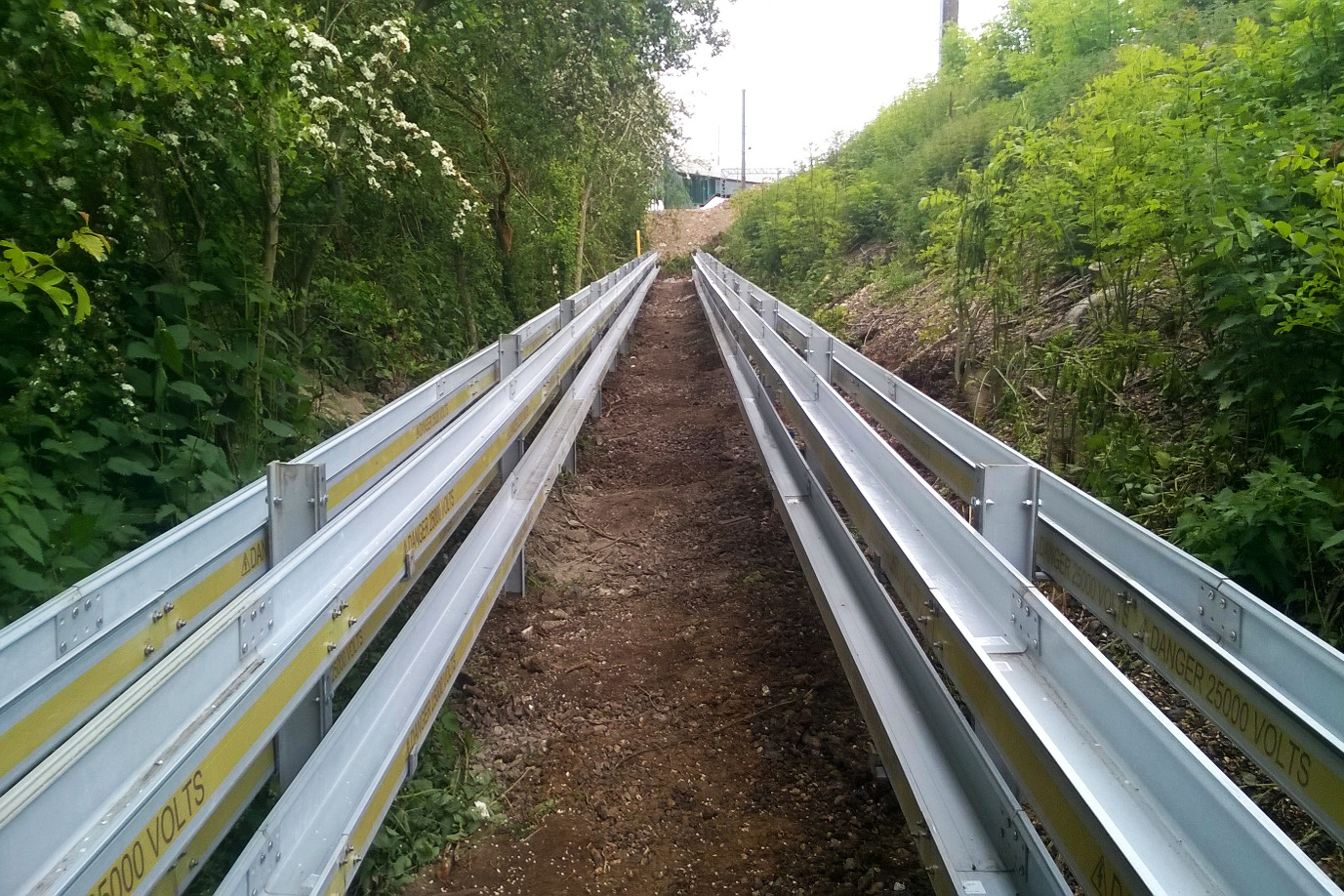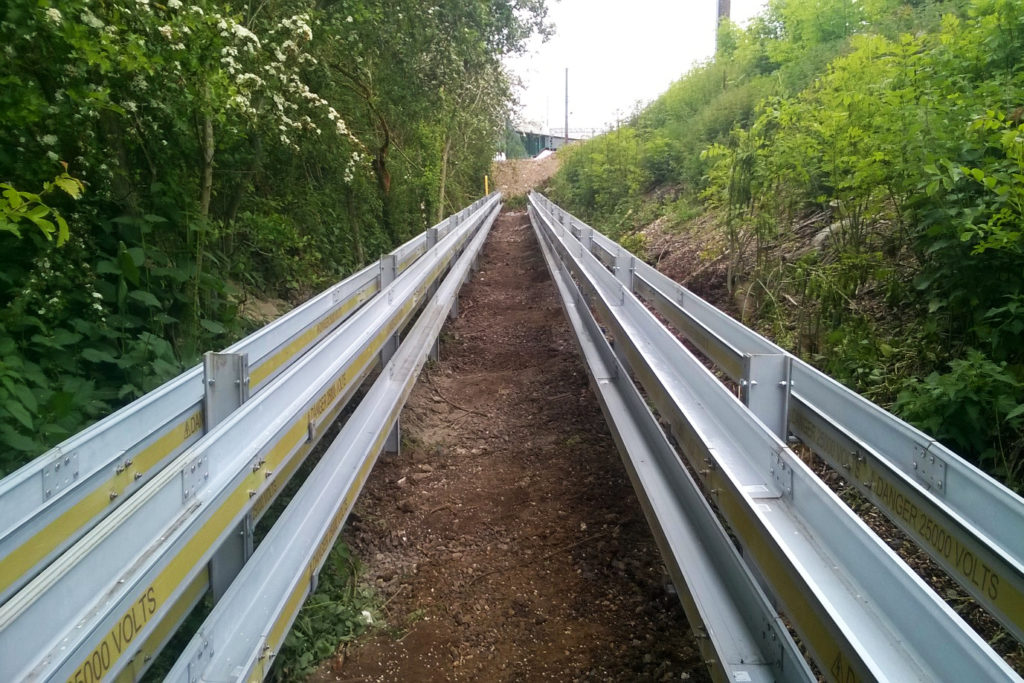 Network Rail approval
The MitaTM GRP elevated cable route has been fully approved by Network Rail under Certificate of Acceptance PA05/00442 issued in 2015 for use in locations unsuited to GLT. The Zero Halogen Low Smoke (ZHLS) version has also been approved for use in sub-surface stations and connecting tunnels. Furthermore, the approval applies to a very impressive 42-page list of accessories, including bends, brackets, risers and transition/reducer pieces. Allowing connections to existing GLT cable routes, reducers are important and not always available in other cable containment systems.
London Underground has successfully used MitaTM GRP troughing. They were concerned that their sensitive signalling equipment was susceptible to contact by flakes of galvanisation from steel support systems and that their DC traction cabling system might create eddy currents within troughing ladders and supports if they were metallic. MitaTM GRP troughing was chosen as it is non-magnetic and has non-conductive properties. The ZHLS version is also a requirement for London Underground's sub-surface locations.
The cable containment system is not just used in rail, but has also been successfully employed in a wide range of industries including data centres, power industries, manufacturing, water treatment, food production, industrial buildings and oil and gas.
Working with GRP
Another particularly useful feature of the MitaTM GRP system is its ability to be integrated with the Bentley Raceway and Cable Management Building Information Modelling (BIM) tool. This provides a complete layout, routing and material estimating function in a single, integrated system. It can be applied from the initial concept design through to detailed design and construction. A user can create an accurate 3D model of the cable troughing route, making it easy to ensure that adequate space and clearances are available in confined locations, and for the detailed design and material requirements to be quickly and easily produced.
MitaTM GRP is a non-hazardous, inert product. It is lightweight and can be manually handled without difficulty, unlike concrete. In contrast to steel, GRP does not have to be deburred or given edge treatment before fitting, saving time and further reducing labour costs. During installation, any cutting, drilling, bonding and jointing can be easily undertaken and will not give rise to a hazardous situation, with any dust kept to a minimum.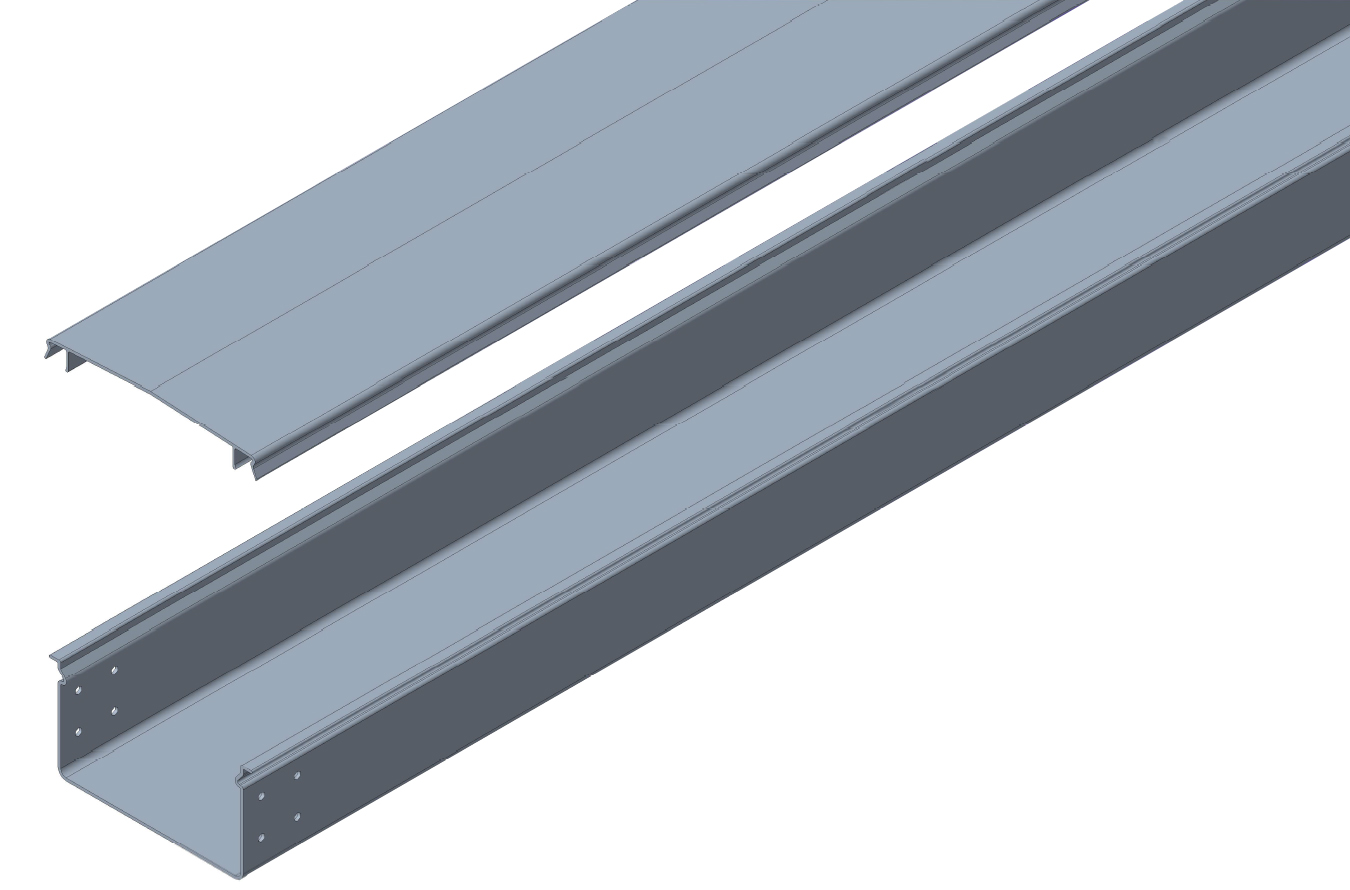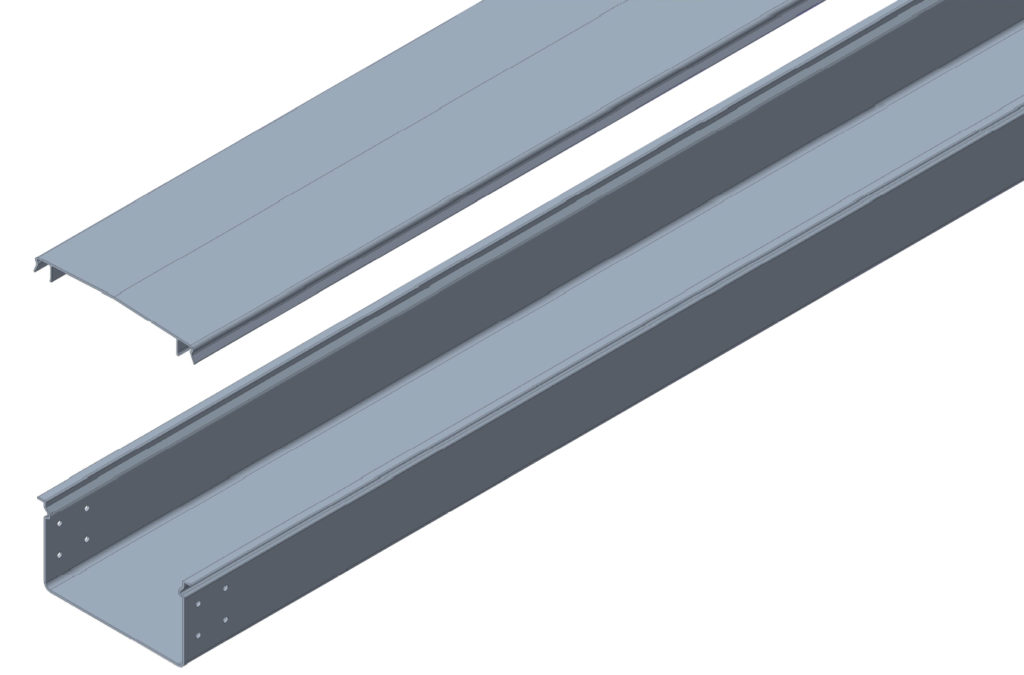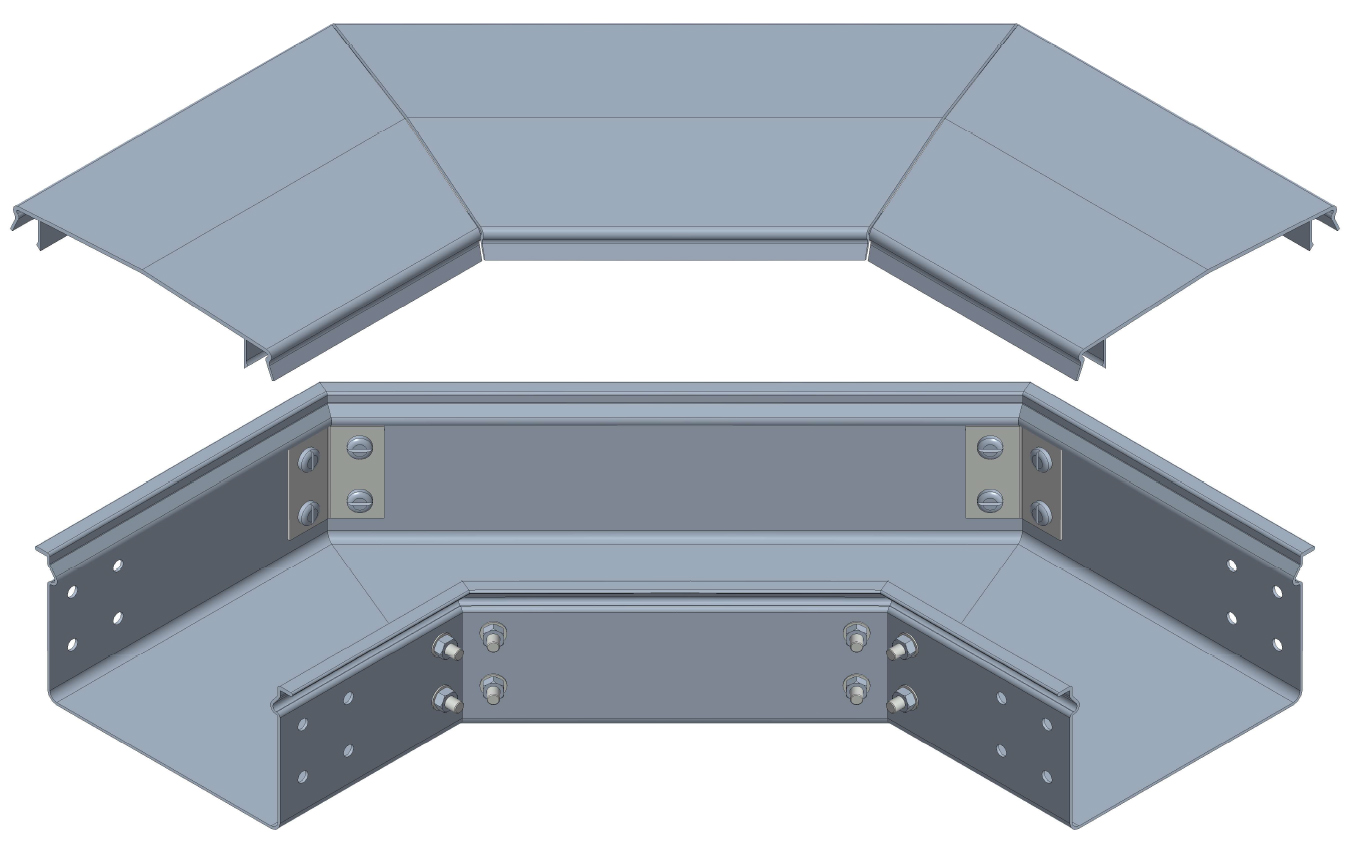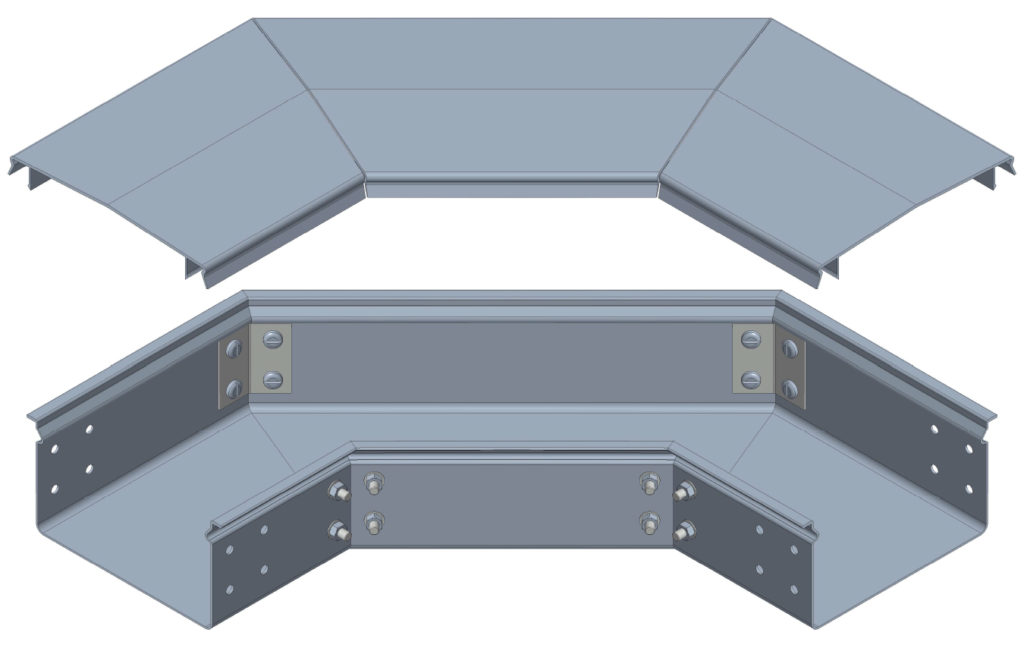 Andrew Sillars, Contractor Specification Engineer, says: "Having supported the specification of Glass Reinforced Polymer cable containment since 2005, I have experienced its unique features such as light weight, long-life durability, no deburring, no earth bonding and many more. All these advantages of GRP Cable Containment support a cheaper, quicker and easier-to-install system that gives a true fit-and-forget solution."