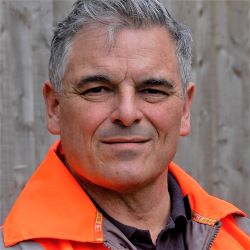 Guest writer: Simon Meades, Ecolite product manager at Taylor Construction Plant.

With the announcement this year that the UK has become the first major economy in the world to pass laws to end its contribution to global warming by 2050, the pressure is now on to bring all greenhouse gas emissions to net zero. This means good practice of energy management on site. Consequently, the efficient use of construction plant equipment powered by sustainable fuel has never been so important.
This creates a huge opportunity for plant hire companies to expand their fleet and offer customers cleaner air products and services. It also opens the market for new, innovative plant equipment that produces zero harmful emissions.
There are many solutions already available, some of which are currently being used or trialled by the rail construction industry, but which ones are best is still to be proven. Working off-grid is perhaps the biggest challenge, as connecting to the National Grid could dramatically reduce CO2 emissions, instead of using diesel generators, which produce not only air pollution but also noise.
Typically, nearly everything on site is run by generators – from light towers, CCTV, welfare cabins and power tools – so imagine the reduction in pollution if everything could be run by an alternative power source in the absence of mains electricity. Hybrid generators are one option, as they use battery and solar power to reduce the run time of the generator; diesel is only used to supplement the battery for high-power jobs or to charge the batteries.

The clean alternative
Another option is a hydrogen fuel cell/battery hybrid generator, which is completely free of diesel.
A hydrogen fuel cell generator produces electric power by combining hydrogen with atmospheric oxygen. The only emission from these cells is water vapour, and they are virtually silent in operation, which is a big advantage when complying with Section 61 of the Control of Pollution Act. With zero impact on air pollution levels at point of delivery, zero noise pollution and no risk of fuel spill, hydrogen fuel-cell power arguably presents the perfect solution for a healthier work environment.
This could be why we are increasingly seeing hydrogen fuel cells in our cities. London now boasts entirely hydrogen-powered bus routes, and many cities and motorways are installing the vital fuelling stations needed to allow wider adoption of hydrogen vehicles. Britain also has its first hydrogen fuel cell train, the 'HydroFLEX', being developed by Birmingham University and Porterbrook, which presents a much greener solution than bi-mode trains which run off electricity where there are overhead cables, and off diesel the rest of the time.
Hydrogen fuel cells offer greater efficiency as, with a continuous supply of hydrogen, a fuel cell can provide electrical energy indefinitely, unlike a battery which requires charging or replacing. It is also more reliable than trying to use sun or wind to generate a constant flow of energy. However, hydrogen fuel cells can be hybridised with these renewable energies to further improve efficiencies – making this technology very versatile. For example, a hydrogen fuel generator with battery power and PV (photovoltaic) solar panels can effectively provide sufficient energy to power a welfare cabin.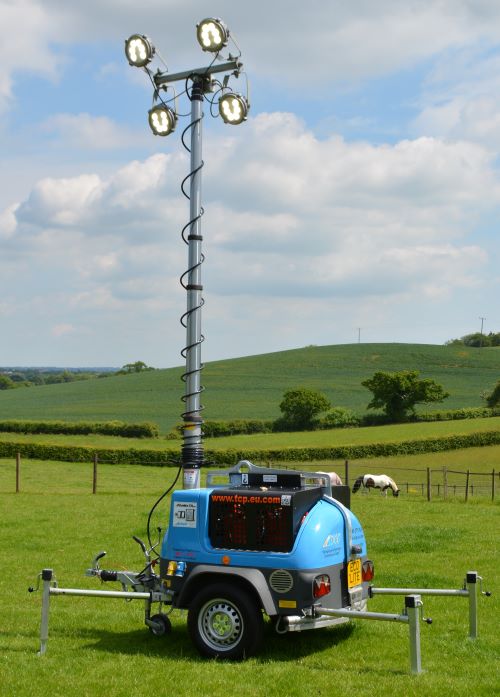 So, when it comes to reducing carbon emissions for railway construction and maintenance, hydrogen fuel cell/battery generators could help provide a sustainable solution for reaching net zero. This technology is already being used by several major rail infrastructure companies with great success, not only to reduce carbon emissions but also to cut noise pollution when working near residential properties.
Low noise, low pollution
A good example of this was the railway enhancement work which took place in the Oxford area last year. Working 24/7, and in close proximity to residential properties, the Network Rail Western Enhancement Delivery (WED) team knew it had to make every effort to keep noise down to a minimum.
It was therefore recommended that Network Rail needed the TCP Ecolite TH200, which would give them a 200W LED output and longer run times. This hydrogen fuel cell light tower, which is virtually silent in operation, would also help WED to reduce noise pollution within the residential area whilst work was being carried out at night over a five-week period.
TCP and Torrent Trackside provided Network Rail with 25 portable Ecolite TH200 hydrogen fuel cell light towers, which were positioned at various site locations along the Oxford corridor. Collectively, the units, which have been designed to carry four cylinders of hydrogen gas, delivered an average of seven hours of LED light each working night over a five-week period.
During the project, 122 cylinders of hydrogen gas were used, providing a total energy saving of over 19,000kWh and a significant reduction of CO2, when compared to a modern diesel light-tower. The lights not only reduced disturbance to residents, but also reduced the carbon footprint throughout these intensive works.
Having equipment that is fuel efficient helps reduce vehicle movements, which again contributes to lowering the carbon footprint, as does having smart remote monitoring to control the run time of products during periods of peak and low activity.
This is undoubtedly an exciting time for manufacturers of plant equipment as the demand for zero-emission decarbonising products can only increase if we are to reach net zero by 2050.