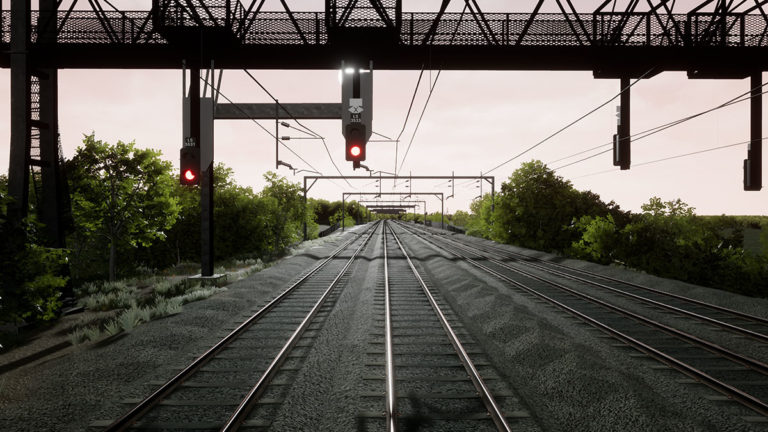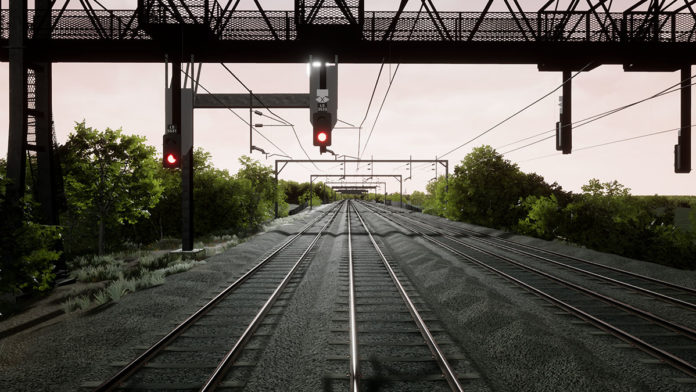 Signal sighting is a process which confirms that train drivers are able to reliably read, interpret and respond to signal aspects and other signs. The signal sighting assessment process has evolved and improved over the years and one of the latest processes uses a real-time 3D video game engine tool called 'Unreal Engine'.
True North Rail Ltd has been established by Ian Fury and Jay Furlong to use Unreal Engine for railway signal sighting purposes. They recently presented the system to the Institution of Railway Signal Engineers, and it was very positively received.
Virtual worlds
Unreal Engine is provided by Epic Games, an American video game and software developer and publisher with a $17 billion valuation. It is an open, state-of-the-art game engine, originally used to build video games. It has evolved from simply being a gaming engine to being used by a number of industries to deliver cost effective, immersive virtual worlds, to model designs before any construction takes place. It is also used extensively in the film and TV industry, which includes interactive modelling for garden and house renovation programmes.
Signal sighting assessment is carried out by a Signal Sighting Committee (SSC). The SSC is made up of a number of bodies who must agree the suitability of every signal, indicator and sign. These include representatives of the signal asset engineer (who is normally the chair of the SSC), the maintainer, an operator, and the train operating companies who provide the drivers and operate the trains. The representatives must have the necessary competence and experience to make the assessment. Cost, safety and engineering compliance all have to be considered, along with an allowance, where possible, for the introduction of new rolling stock.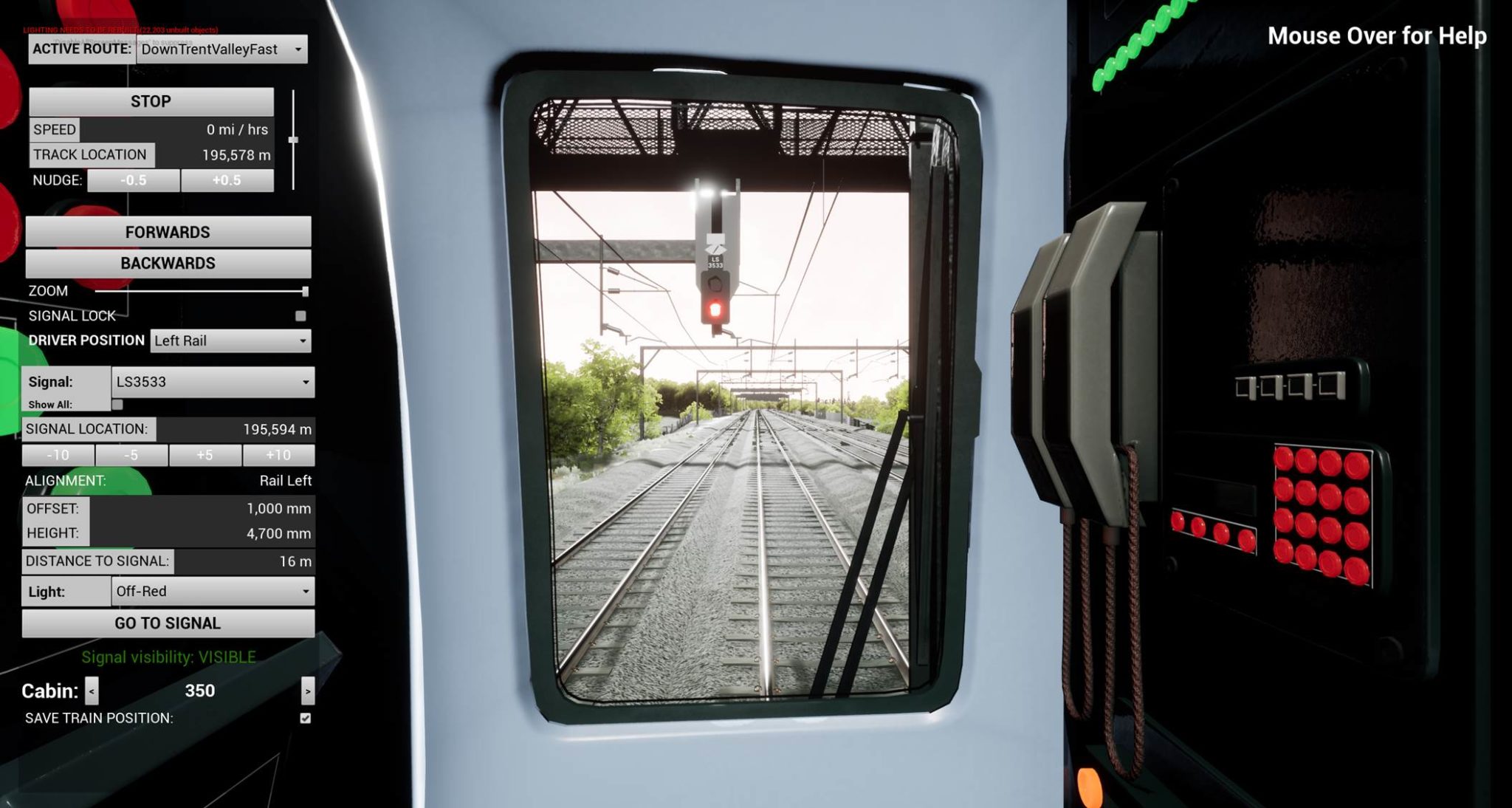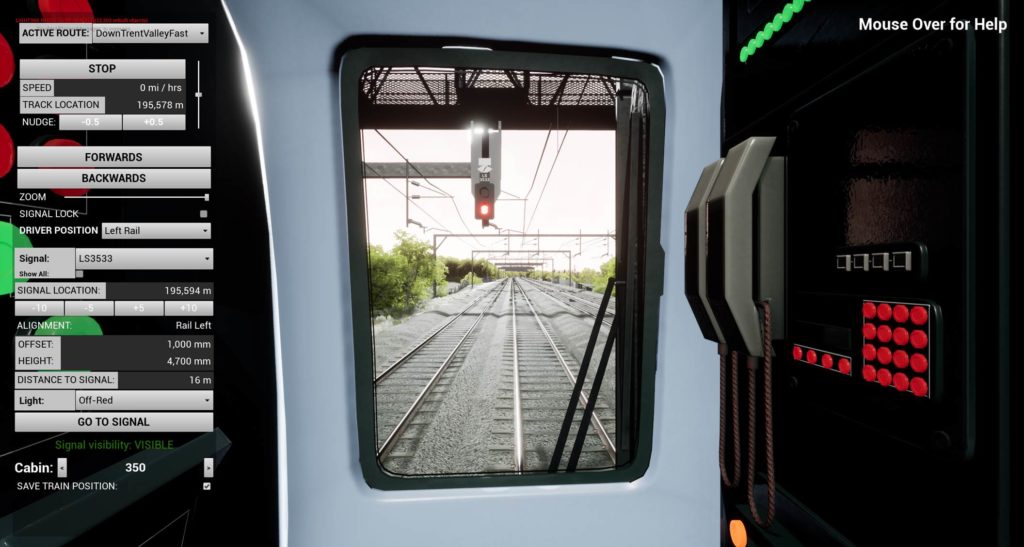 Train drivers have to read signal aspects and indications, interpret their applicability, decide if they apply to the train being driven, interpret their meaning, decide the action to be taken and then carry it out. The time required for a simple signal is around seven seconds, considering conditions such as weather and time of day. The actual time needed is assessed for each signal as it will be different for each location. From this, a Required Readable Distance (RRD) is derived.
Factors that can influence signal sighting include: the post or gantry position; structures such as electrification stanchions, bridges and station buildings; time of day and weather conditions; drivers' cabs and viewing angles, including direct sun; risk of over reading (seeing an incorrect signal); intrusive local conditions, such as external lights; multiple signals; type of signal e.g., colour light, semaphore, ground signal, banner repeater or route indication; curvature of the track; and tunnels and light/dark contrasts in cuttings.
The standard for sighting assessment says that a simulation tool provides the most effective, efficient and, in some cases, the only viable method. For example, if new infrastructure features are not yet built, or where access to the real environment is impracticable or unsafe.
Means of sighting
At one time, an SSC would always go to site. The only assistance available was perhaps a 'periscope' so they could see from the same height as a driver's cab, and possibly a mock-up of the signal, which was held in the proposed location so that its position could be agreed. Over the last decade, videos taken from train cabs and various 3D interactive design tools have been introduced to assist SSCs.
An obvious solution may appear to take a video of the route to be resignalled from a train cab. This will only provide one angle of view and may not represent the image seen by a driver. There are cab videos available that appear to show a high level of sunlight entering the cab making it difficult to see train signals. But drivers of such trains with the cameras on board frequently report no issues with seeing the signals. It is also difficult to model proposed signals onto the video.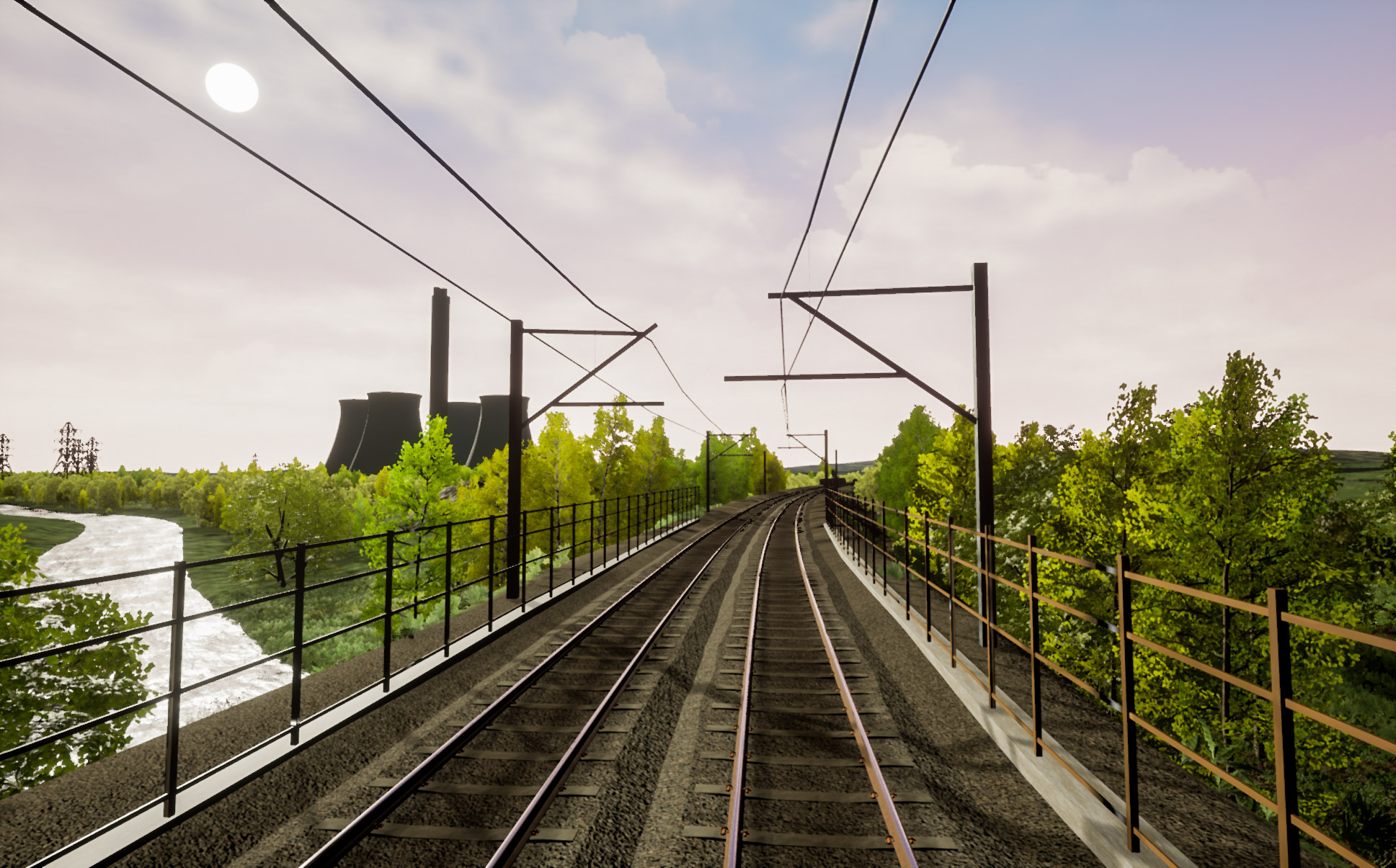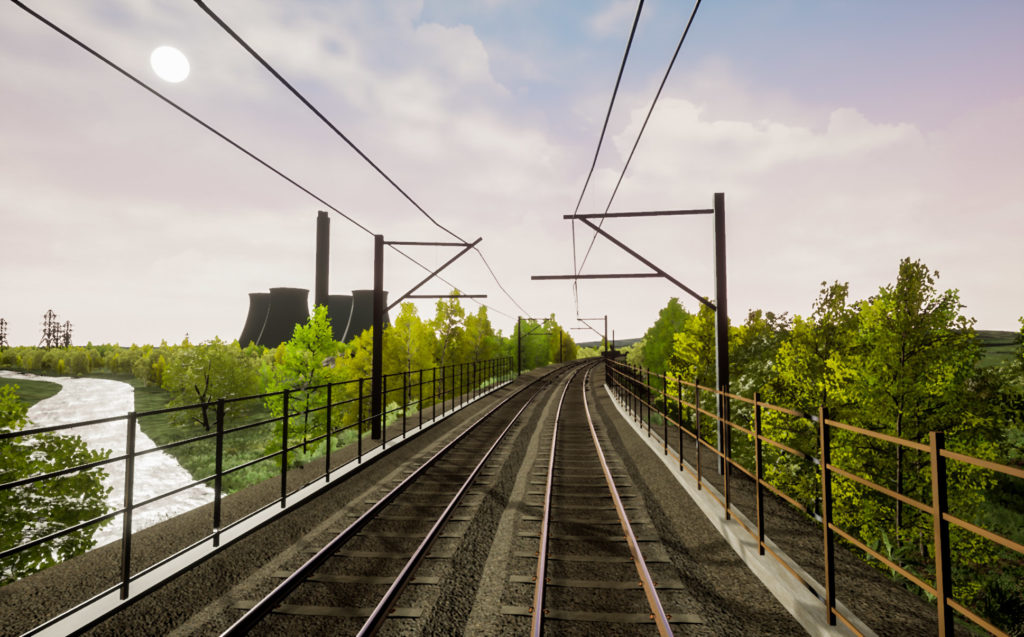 Ian and Jay worked closely together on the Liverpool Lime Street re-signalling and remodelling project. They identified that the signal sighting systems available had problems and that they had a shared desire to improve the use of 3D rail asset and design data for signal sighting. The systems available were bespoke specialised systems and the majority of people on a project could not access the output data. There were also licensing issues and a requirement for specialist hardware.
As a result, they established True North Rail Ltd in 2018. Following research, the prototype development of a signal sighting tool based on Unreal Engine commenced in April 2019, with a demonstration and working Beta model completed in October 2019.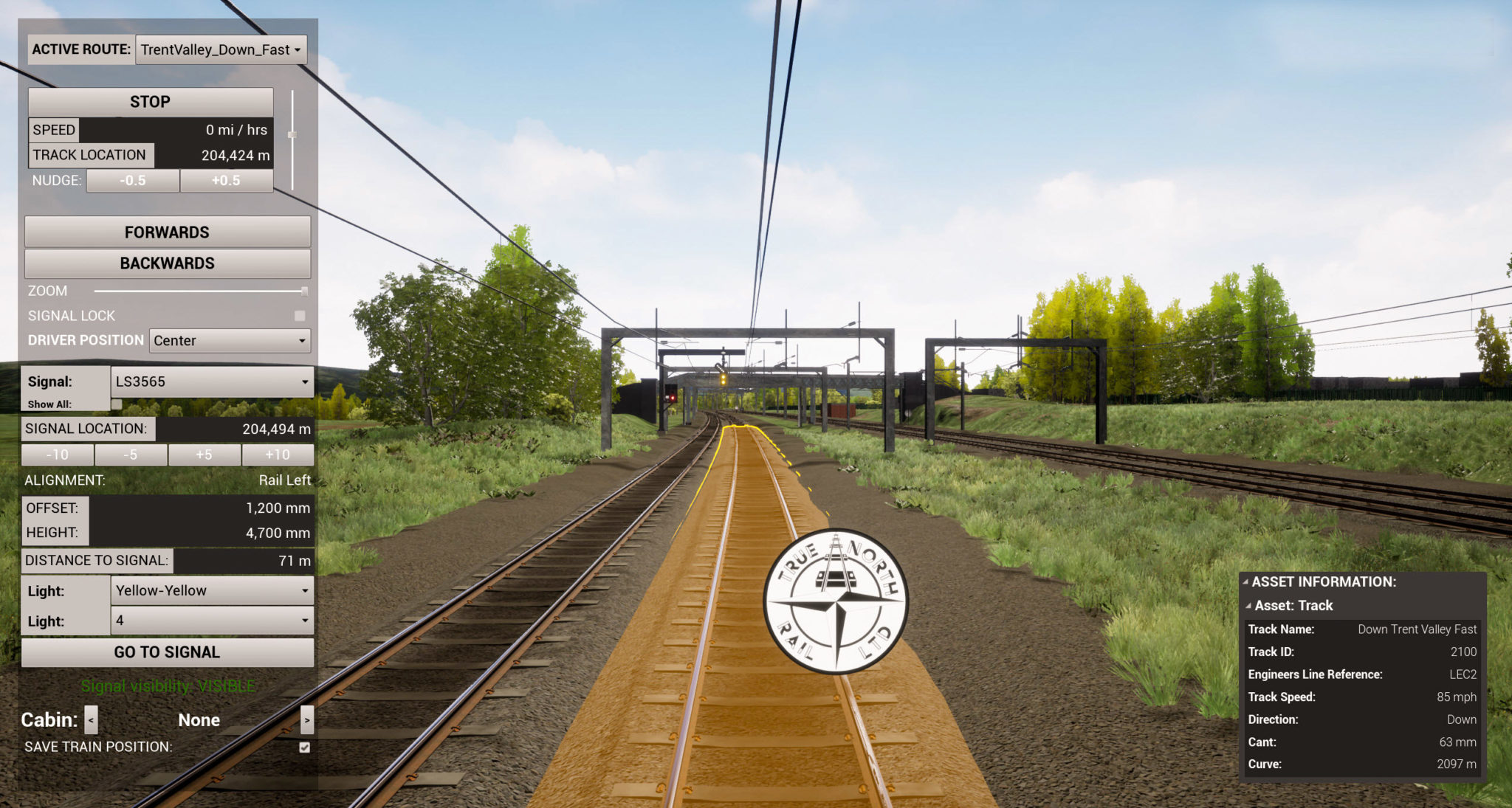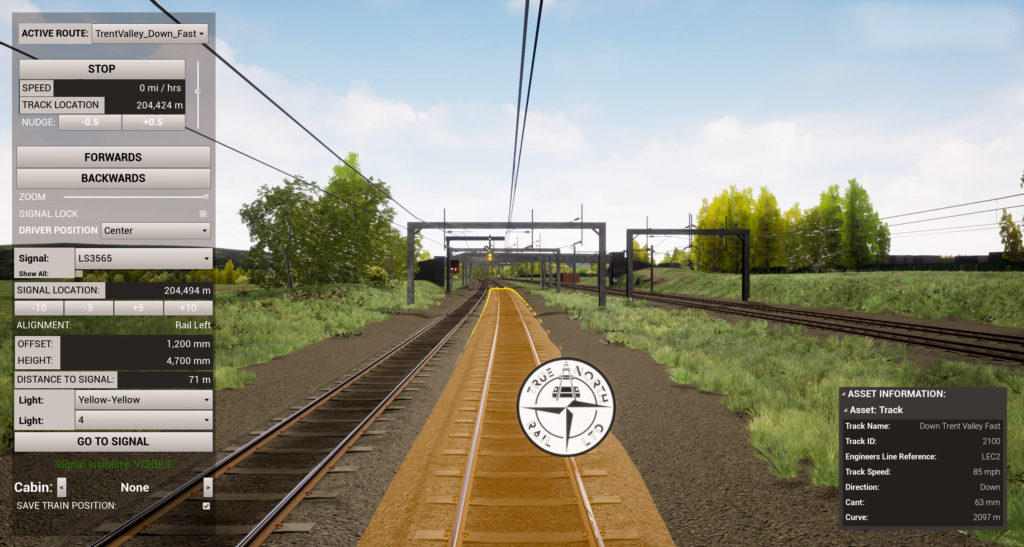 Efficient algorithms
The Unreal Engine has highly efficient algorithms for spontaneous illustration, allowing larger and complex models to be visualised while maintaining extremely high fidelity. It is claimed to be the world's most advanced, real-time communication tool and it has moved on from its initial purpose of simply being a computer gaming engine. The Unreal Engine end user license agreement is 100% royalty-free for creators, with Epic Games charging a percentage of any products (such as video games) sold. So, it can be used to create internal or free projects, or to develop linear content or custom projects for clients, but not for publishing off-the-shelf products. This made it ideal for signal sighting purposes.
Compared to bespoke signal sighting models, Unreal Engine also has huge worldwide development resources for coding, development, and modelling, due to the size of the computer gaming industry. It provides a fully programmable virtual world, with simulated 'real world' physics. Ian and Jay established that it was likely that any function required for signal sighting already existed in Unreal Engine. The product was a leading player in the 'digital twin' revolution and has increasing support to interface directly with Computer-Aided Design (CAD) and Geographic Information Systems (GIS).
True North Rail's Unreal-based system can be easily loaded with other CAD inputs and enhanced with imagery from site photos and cab ride footage to provide a very flexible and smooth image of the signal design, which can be easily modified and modelled to assist the SSC with their sighting recommendation. True North were able to overcome the issues with the traditional bespoke systems as shown in table 1.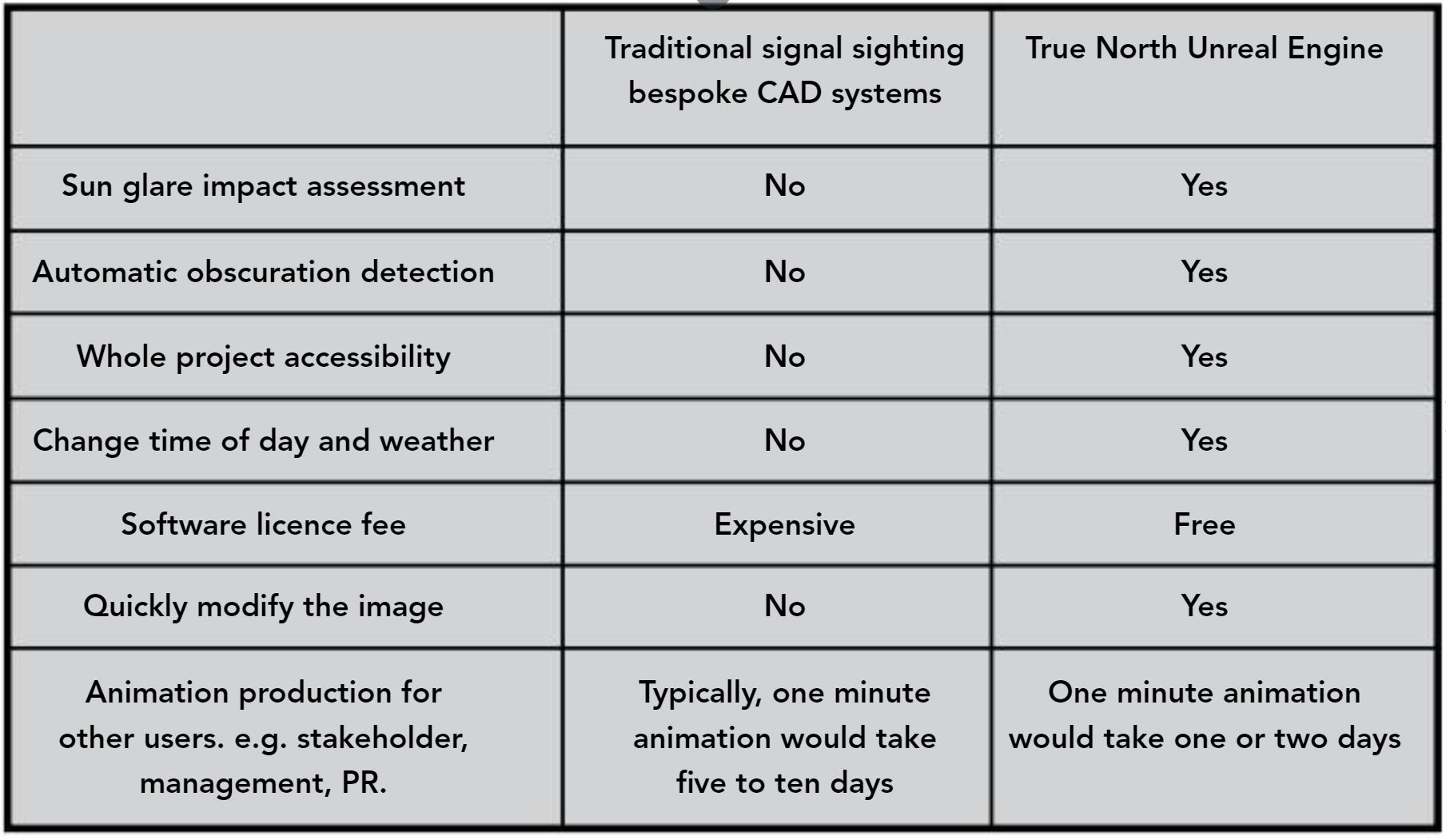 Tried and tested
The first project to use True North Rail's Unreal Engine sighting tool was the Rugeley to Colwich resignalling project. The project required the model for the sighting committee within a six-week window commencing June 2020. The Rugeley Colwich resignalling project was a complex project. It is well known as one of the most challenging routes for signal sighting, with 59 signals (16 signal posts and 43 gantry signals) over 42 miles of route. The route has a 125mph maximum line speed along with 44 Bridges, 600 overhead line structures, one tunnel, one station and numerous curves, all creating numerous sighting obscurations.
There was a specific problem with a tree in a resident's back garden which could have affected signal sighting. True North were able to model the tree quickly and accurately using lidar helicopter data. This enabled the committee to assess its impact on signal sighting. The project was also able to descope multiple banner repeaters on huge signal gantries which were thought to be necessary in the initial video sighting exercise. This saved the project millions of pounds.
Once the signal sighting was complete, Ian and Jay identified that the Unreal Engine animation output was so flexible and easily modified that it could be used for other project purposes, such as safety inductions, stakeholder management, and driver familiarisation and training. Previously, these applications would have required separate unique systems at additional cost.
Future proof
As ETCS is gradually introduced, with in-cab movement authorities replacing lineside signals, it could be presumed that signal sighting will become a thing of the past. But ETCS will require marker boards to define the places where trains may be required to stop and these will still need sighting. Ground and shunt signals are also likely to remain in station areas and depots and, as we have seen, a flexible modelling design tool has many other possibilities for rail.
True North Rail have also completed a signal sighting model of Handsacre Junction model pending overlay of the HS2 infrastructure. The tool has also been upgraded to incorporate asset information, such as track name and identification, speed, direction, track cant and curve. This will enhance the modelling capabilities of the tool.
Ian and Jay are to be congratulated on what they have achieved with Unreal Engine for signal sighting and railway design modelling. It is an example of what the rail industry and signalling needs to do more of: to make the best use of open systems that have been developed for other industries, often with resources that the rail industry can only dream of.