With the Coronavirus having caused events to be cancelled around the country, including the London Marathon, the biggest one-day fundraising event in the world, many charities are facing a huge fundraising deficit.
Railway Children and other affected charities have therefore launched a new event in a bid to help good causes raise funds that are more urgent than ever in these difficult times.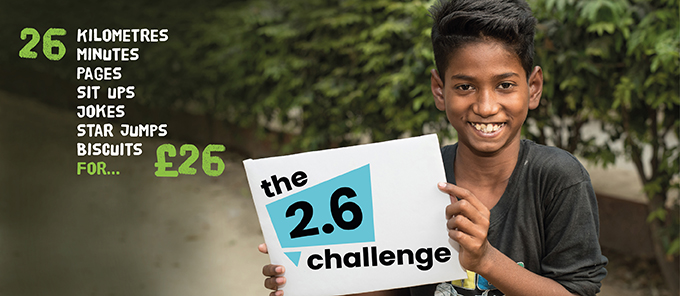 The 2.6 Challenge is a fundraising event open to everyone – marathon fit or not! Participants are invited to come up with their own challenge based on the number 26 or 2.6 and have been encouraged to let their imaginations run wild. Running 26 miles on the 26th April in place of the London Marathon is an option… but so is walking 2.6 miles, reading 26 pages, telling 26 jokes, cycling 26 kilometres, doing 26 star jumps or eating 26 biscuits in record time… the options are endless.
Do 26 of something simple and help Railway children do something incredible.
The charity's founder, former British Rail professional David Maidment, has already stepped up and committed to taking up the 2.6 Challenge. Despite being 82 and confined to his home, he has vowed to walk two miles in laps of his garden in Nantwich for the next 13 days – until he reaches his 26-mile goal.
David said: "It's not easy being stuck at home in these strange times, but I know that I am one of the lucky ones as I have a home I can stay safely in. So many of the children Railway Children works with do not have that luxury and our teams need to be able to reach them now more than ever. I know they are all doing everything they can to achieve that so I'm doing my bit too and hope I can raise a bit of money to help them keep those children safe."
Railway Children reaches and protects vulnerable children in East Africa, India and the UK. These young people are more at risk than ever due to the impact of Coronavirus, so the Cheshire charity's work is needed now more than ever.
In India, many of the families they work with have already lost all income and are in desperate situations. Railway Children teams there are delivering emergency parcels of flour, rice, oil and soap that will last four weeks and each bundle of supplies costs £26. The charity is urging people to support them through the 2.6 Challenge by raising £26 (or more!) with their own events.
To find out more about Railway Children's 2.6 Challenge, or to donate, visit www.railwaychildren.org.uk/twopointsix/