The extraordinary work of the rail industry's unsung heroes was recognised last night (Thursday 24 November) as the RailStaff Awards returned in style at Birmingham's NEC.
The RailStaff Awards gets bigger and better each year, and last night's extravaganza wowed all in attendance. From rail managers to customer service assistants, apprentices to training managers, the full breadth and depth of job roles were represented at the Awards, which received a record 143,000 votes to decide the finalists.
The shimmering scenery of the RailStaff Awards' sparkling Ski Resort provided the inspiration for this year's celebration. Guests were welcomed into a bustling alpine party village, complete with log cabins, entering the scene through a snow-dusted, fir tree forest. Once inside, they mingled with old friends at the venue's double-storey ski lodge – which featured a VIP section sponsored by Total Rail Solutions – before being seated for a delicious meal ahead of the awards ceremony.
Comedian and actor Ed Byrne compèred the evening's events, keeping everyone in stitches all night. Well known as a regular face on Mock the Week, Ed has enjoyed a long career in comedy, enjoying huge critical and popular success in the UK, Ireland, and abroad.
Once every category winner had been named and welcomed on stage, the real party began, as a raft of after-dinner entertainment appeared to take everyone's experience into the early hours. With casino tables open and indoor fairground rides whirring away, the dance floor welcomed those with the energy to dance the night away. Throughout the evening, guests were welcome to make a memento of the occasion at the Igloo photo booth, sponsored by D2 Rail.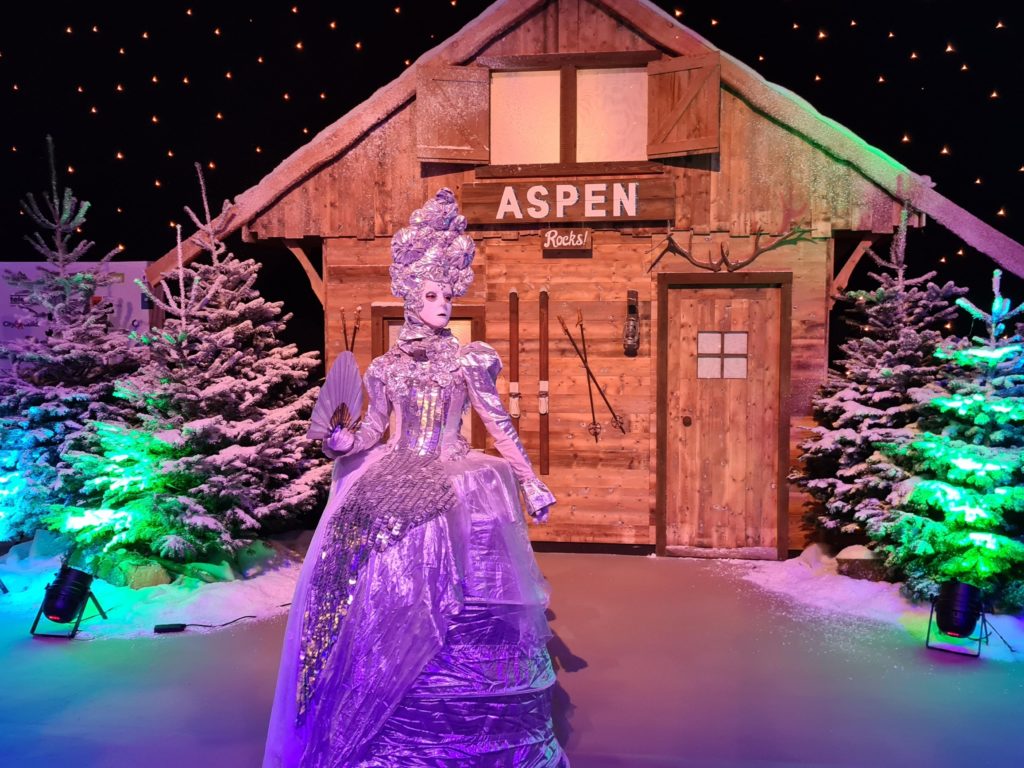 The RailStaff Awards has been recognising the achievements of rail industry employees since 2007. The ceremony shows appreciation for the people who deliver the railway – from drivers to cleaners, and engineers to station staff. Often these are stories of lives saved, careers turned around, and adversity conquered.
The occasion was another huge success for the RailStaff Awards. Adam O'Connor, Managing Director of Rail Media said:
"I have been absolutely overjoyed to once again invite the rail industry to the RailStaff Awards 2022 after putting it on hold for the last couple of years. From gauging feedback from multiple guests, it has been made clear that the event has been missed and that attendees see it as 'the' rail event of the calendar.
"The RailStaff Awards was launched in 2007 by Tom O'Connor as an event like no other that recognises those people in our industry who go above and beyond on a daily basis. It is humbling to be able to stage this event and see the impact it has on the rail industry and its amazing work force. I would like to congratulate every winner and highly commended individual, as well as all of the finalists and nominees.
"My thanks go out to our sponsors and supporters, without whom we would be unable to put on such a fantastic event, with special thanks going to Total Rail Solutions for their continued support. Our sponsors play key roles in our industry and their support is greatly appreciated.
"Thanks also to our panel of judges, and the whole team at Rail Media for their sterling determination in putting on a great event.
"The atmosphere tonight has been electric. I am immensely proud to be able to do what we do, and to see the joy that tonight has brought to so many. Thank you one and all."
Thank you
The event would not be possible if it weren't for a few very special groups. The RailStaff Awards would like to express its gratitude to all who nominated and made their colleagues feel special by recognising their hard work. A huge thank you also goes to those who engaged with the awards process, whether that was through judging, voting, or attending the ceremony.
Last, but by no means least, the Rail Staff Awards also thanks its sponsors: Advance TRS, Amey Consulting, Bodyguard Workwear Ltd, CIRAS, City & Guilds, D2 Rail, G&W's UK/Europe Region, GeoAccess, Govia Thameslink Railway, Heathrow Express, McGinley, Ontrack Recruitment, Resourcing Solutions, Rhomberg Sersa Rail, Samaritans, Telent, Total Rail Solutions, Transport Benevolent Fund CIO, and Young Rail Professionals.
Event organiser Gemma King said: "And so we bring a close to yet another memorable RailStaff Awards night. We hope you all enjoyed a magical night at the RailStaff Ski Resort and congratulations, once more, to the winners.
"You've all earned your place in the RailStaff Awards hall of fame."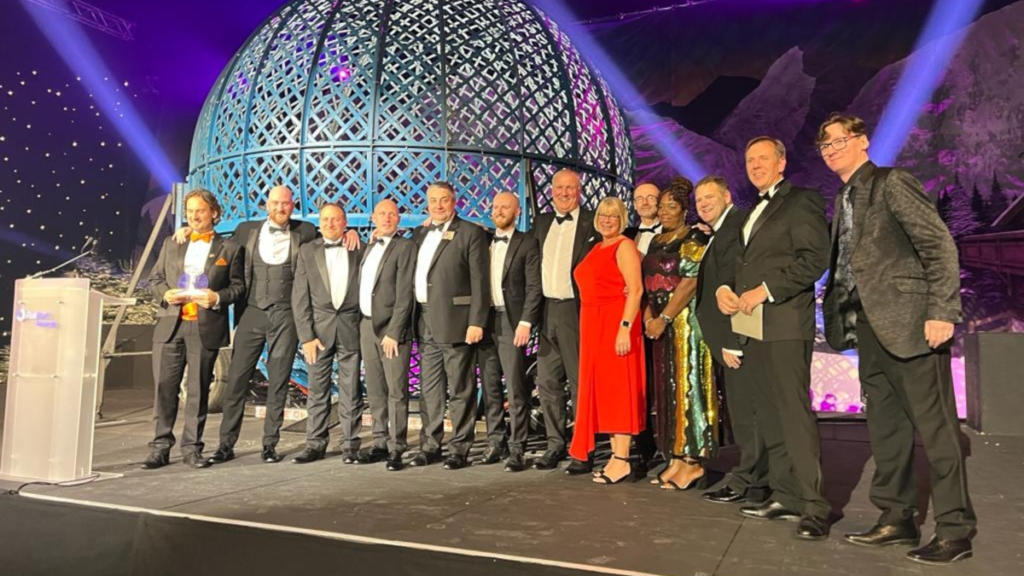 The winners of the 2022 RailStaff Awards are:
Apprentice of the Year
Winner – Bob Bryce, Govia Thameslink Railway
Highly Commended – Marnie McKay, Atkins and Chloe Farrell, Merseyrail
Award for Charity
Winner – Nicola Dawson, ScotRail
Highly Commended – Susan Temple, ScotRail and Charles Dickson, Southern
Digital Railway (S&T) Person or Team Award
Winner – Safety Task Force, Network Rail
Highly Commended – Callum Stopforth, Alstom and Telent Public Wi-Fi Installation Delivery Team, Telent
Depot Staff Award
Winner – Jake Harwood & Duane Fryer, Northern
Highly Commended – Shane Hill, Freightliner and Abbie Wood, Network Rail
Graduate or Newcomer Award
Winner – Louis Szymanski, D2 Rail
Highly Commended – Madeleine Coyle, Network Rail and Alison Clark-Dick, Network Rail
Marketing & Communications Team Award
Winner – AB2K Madmess, AB2K
Highly Commended – QTS Marketing Team, QTS Group Ltd and Lynn Crump, G&W UK (Freightliner)
Customer Service Award
Winner – Charles Dickson, Southern
Highly Commended – Deborah Hubner, Network Rail and Charlene Pearson, MTR Elizabeth Line
Rail Project Manager Award
Winner – Ricky Barsby, LNER
Highly Commended – Shelby Coates, Alstom Transport UK and Matt Horvai, South Rail Systems Alliance (AECOM)
Recruitment & Talent Acquisition Person or Team of the Year
Winner – Matthew Foote, Network Rail
Highly Commended – Madeleine Phillips, Mott MacDonald and Alstom Advance TRS, Alstom Advance TRS
Samaritans Lifesaver Award
Winner – Shane Davis, Network Rail
Highly Commended – Richard Baker, MTR Elizabeth Line and Amir Aziz, GTR
Rail Civils / Infrastructure Team Award
Winner – Whitecross Recovery Team, Rail Systems Alliance Scotland
Highly Commended – TRU Lineside Civil Design Team (Derby), Amey Consulting and Lundy Projects WCML Project Delivery Team, Lundy Projects Limited
Rail Manager of the Year
Winner – Lauren Heap, Southeastern Railway
Highly Commended – Zack Jenkin, Great Western Railway and Michael Trippitt, Merseyrail
Safety Person or Team Award
Winner – Travel Safe, Travel Smart, Southeastern Trains & Network Rail
Highly Commended – Hi 5 Safety Team, Freightliner and Safety Task Force, Network Rail
HR, Diversity & Inclusion Person or Team Award
Winner – Sharon Salmon, Network Rail
Highly Commended – Shane Andrews MBE, Network Rail and EDI Charter Working Group Team, RIA/WR EDI Charter
Station Staff Award
Winner – Paul Gregg, Govia Thameslink Railway
Highly Commended – All the frontline staff who worked through covid, all TOC's & Network Rail and Sheree Whetren, South Western Railway
Health & Wellbeing Award
Winner – Samantha Winfield, Great Western Railway
Highly Commended – Nicola Dawson, ScotRail and Heather Waugh, Freightliner
Learning & Development Award
Winner – Andy Hill, Freightliner
Highly Commended – Alan Godding, Greater Anglia and Peter Woodbridge, Siemens
Rail Engineer of the Year
Winner – Chloe Thomas, Transport for Wales
Highly Commended – Nathan Sealy, Amey Consulting and Jason Peterson & David Moss, Quattro Plant
Lifetime Achievement Award
Winner – Alan McLeish, QTS Group
Highly Commended – Andy Nwichi-Holdsworth and Vicki Beadle, Network Rail
Covid Heroes – Outstanding Team Award
Winner – SNGX Santa Train, Southern Rail & Gatwick Express
Highly Commended – Metro South Operations, Southern and Rail Enforcement, Great Northern & Thameslink, GTR (Great Northern)
Covid Hero – Outstanding Individual Award
Winner – Gavin Dicks, LNER
Highly Commended – John Sidebotham, Network Rail and Sharon Smith, McGinley
Rail Team of the Year
Winner – UK Rail for Ukraine, Network Rail
Highly Commended – Dartmore (Okehampton) Project Team, GWR / Network Rail and Kilsby Delivery Team, Central Rail Systems Alliance (CRSA)
Rail Person of the Year
Winner – Amy 'Bessie' Matthews, Freightliner
Highly Commended – Sarah Bennet, Great Western Railway and Rebecca Vandyke, Govia Thameslink Railway
Official video