Sometimes it seems that the rail industry is constantly asking for huge sums of money to be invested in schemes such as HS2, Northern Powerhouse, and a rolling electrification programme. Yet when such projects are discussed, the emphasis is invariably on their high costs with little said about their far greater benefits.
Railways have always been a source of economic growth, jobs, and investment. But it is difficult to quantify these benefits. In this respect the Railway Industry Association has done the industry a great service by commissioning Oxford Economics to undertake an independent study: The Economic Contribution of UK Rail. This considered the impact of rail investment in 2019 and follows a previous 2016 study.
This in-depth study shows that every £1 worth of work on the railway system in 2019, generated £2.50, compared with £2.20 in 2016. It showed a similar increase of all rail sector economic indicators over this period, except for exports which were down from £800 to £600 million.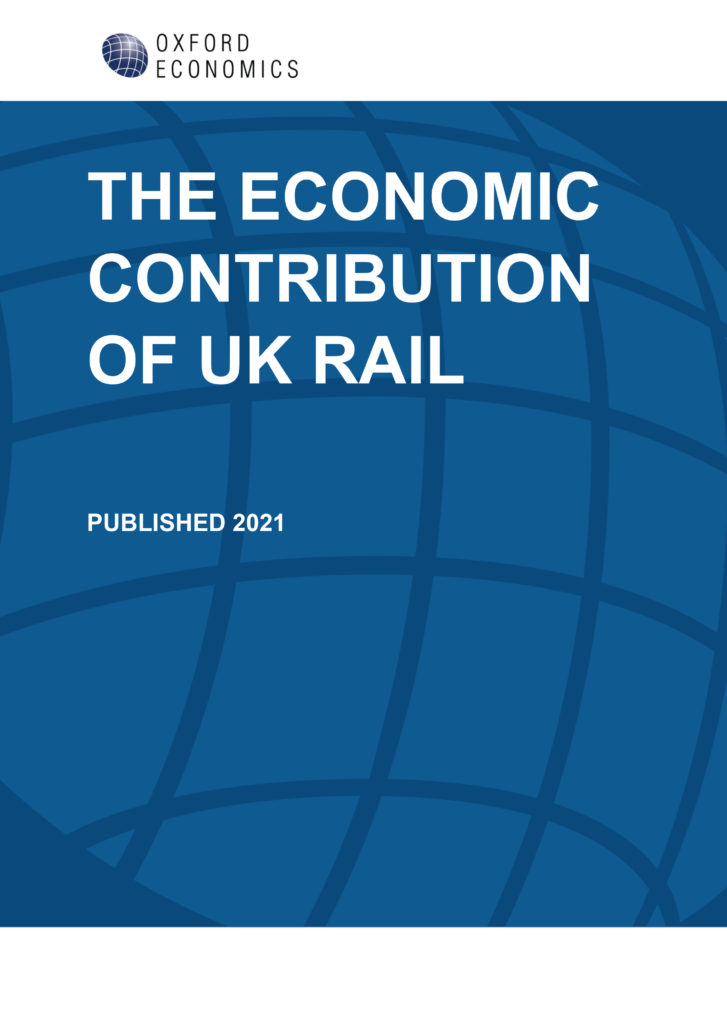 It also showed that, in 2019, the industry supported £43 billion in economic production and provided £14 billion in tax revenue, which is 80% of total rail public expenditure. The industry is also associated with 710,000 jobs (rail system – 123k, supply chain – 317k, station retail – 0.2k, induced impact – 247k). Induced impact is due to the spending power of rail and supply chain workers which averaged £41,227 per annum compared with £30,303 for the whole economy.
Although the report uses pre-pandemic figures there is little evidence that, as with previous crises, passenger numbers will not return to previously high levels. Furthermore, with the UK economy operating below full capacity as it recovers from the effects of the pandemic, there is a strong case for stepping up rail investment. The report considers that many of the extra jobs created in the rail supply industry as a result would genuinely be additional jobs, rather than merely displacing typically less well-paid work in other parts of the economy. Its modelling suggests that for every extra £100 million per annum invested in UK rail infrastructure it would support an additional 1,400 jobs in the rail supply sector, plus a further 700 jobs in the wider consumer-related economy.
In addition to these impressive benefits, rail offers significant connectivity and environmental advantages which the Oxford Economics report does not quantify. The message is clear: although rail investment is not cheap, if offers excellent value for money.
It was great to see the industry's capabilities on show at the combined Railtex / Infrarail exhibition in Birmingham a few weeks ago. Our new Production Editor, Matt Atkins, provides an overview of the show whilst the 'Editor's Eye' feature details some of the stands on display.
The 3km tunnels for the Northern Line extension to Battersea were completed in 2017 and the new extension opened in September. Malcolm Dobell reports on this tube extension project and how the connectivity it provides has been the catalyst for the creation of Dubai on Thames. A much bigger tunnelling project is HS2's twin 16-km tunnels under the Chilterns. Bob Wright's report shows just what is involved in this massive project.
On the mainline network, Mark Phillips reports on the recent 16-day blockade to undertake major bridge, track and signalling works between Manchester Victoria and Stalybridge as part of the Transpennine upgrade. Replacing the timberwork on the 113-span Barmouth viaduct requires a much longer blockade as we report.
On disused railways, the 3,000 structures that offer opportunities for active travel and rail re-openings are threatened by Highways England's asset management regime. Graeme Bickerdike reflects on the campaign to save these structures.
In the first of two features on lineside assets Paul Darlington considers the potential for significant cost savings if the 30,000 or so fixed lineside telephones could be removed now that GSM-R radio provides alternative safe communications. His other feature considers the development of Fibre Optic Acoustic Sensing technology.
Glasgow's COP26 carries the hopes of the world for effective legally binding carbon reduction targets. We explain what this climate conference entails and what UK rail has on show. Decarbonising transport is one of the biggest carbon challenges for which rail offers the only zero-carbon solution for high-powered, high-speed transport. David Fenner has been considering this issue and finds that the UK Government's Decarbonising Transport plan is disappointing as far as rail is concerned.
Decarbonisation is also considered by the Williams-Shapps report on which much has been written. However, not so much has been said about the plan's engineering implications which leaves some key questions unanswered. We consider the benefits of its whole system approach, the implications for engineering access, rolling stock procurement, innovation, and skills.
This month we feature the Institution of Railway Signalling Engineers (IRSE) and the Institution of Mechanical Engineers (IMechE) to explain how these professional engineering institutions offer their members many benefits and support the industry. 'Dots and boxes' is the title of this year's annual address by the Chair of the IMechE's Railway Division who, this year, is James Collinson. This has useful lessons for the development of new rail engineers who are essential if the rail industry is to continue to support the UK economy.