Railtex is a great show, featuring exhibits of all shapes and sizes by the railway industry supply chain, from (models of) complete trains to the smallest springs and washers.
But there's more to Railtex than that. There are networking events, put on by show organiser Mack Brooks (Tuesday) and by the Railway Industry Association (Wednesday) and, on a smaller scale, by several of the exhibitors themselves.
There are also many opportunities to listen to experts in various fields explain the latest technologies or expound on their current theories. No less than three conference areas could be found at the show this year. The RIA's Knowledge Hub tackled such topics as the skills shortage, the Rail Sector Deal, station design, opportunities in Turkey, diversity and decarbonisation.
Then there was the Future Focus Conference, which took place only on the middle day of the show – Wednesday. Also organised by RIA, there were three panel discussions – on Championing UK High Speed Rail Internationally, The Digital Journey and Decarbonisation in Rail. Rail Engineer editor David Shirres was on the panel for that one.
Rail Minister Andrew Jones popped in late on Wednesday afternoon, giving a speech and touring the hall, and Nick Kingsley of Railway Gazette chaired a discussion on the issues of recruitment, training and retention of staff in 'Securing the Next Generation' on the Thursday morning.
But Rail Engineer's focus was on the Seminar Theatre, where once again presentations were made by exhibitors, explaining to show-goers their latest ideas, technologies, developments and products.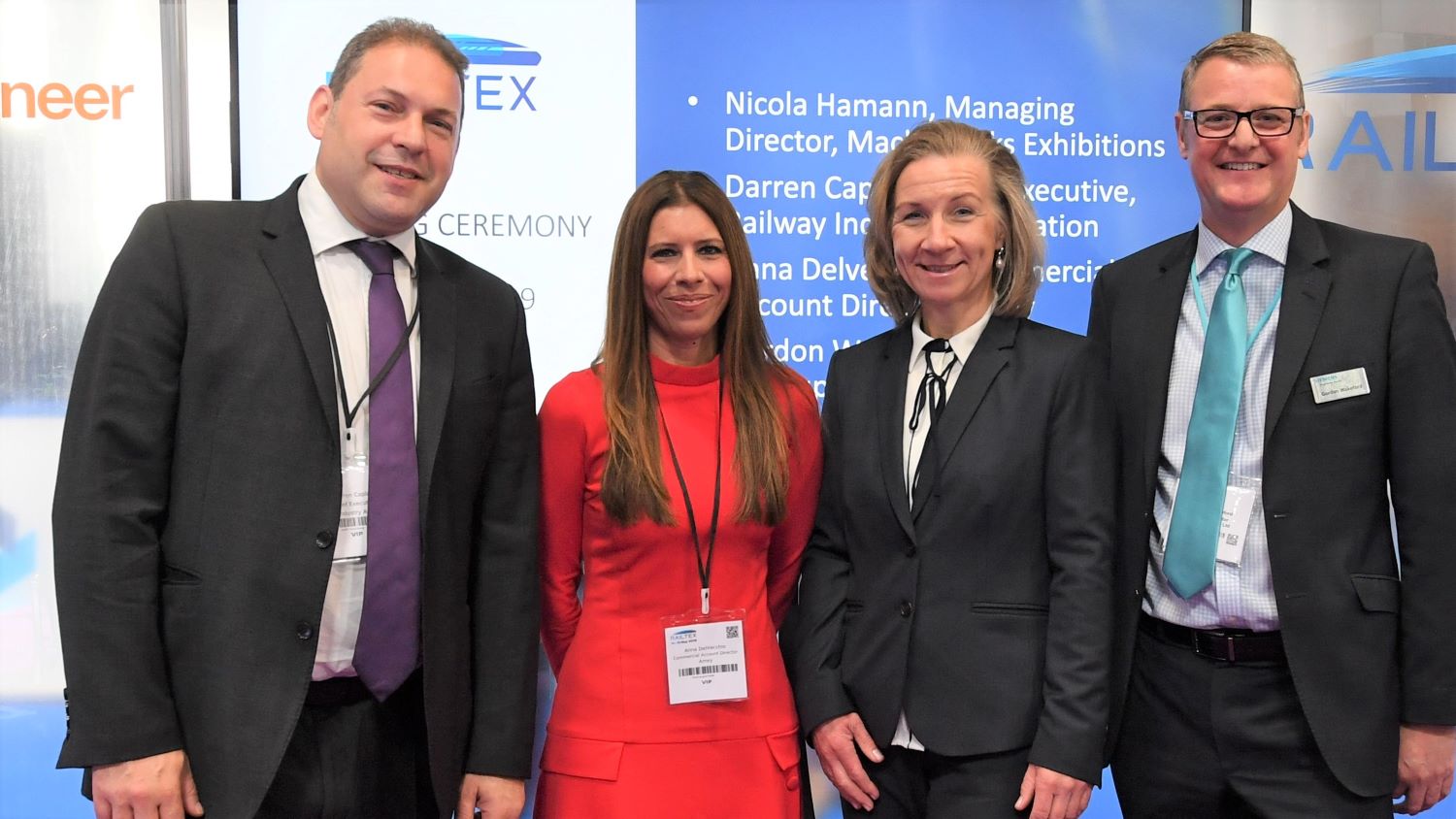 Opening day
Half an hour after the doors opened, letting in the first of the 6,700 people who would attend Railtex over the three days, the opening ceremony took place in Rail Engineer's Seminar Theatre.
Mack Brooks managing director Nicola Hamann welcomed visitors to the show, noting that, with the start of Network Rail's Control Period 6, 2019 was "a year of exceptional opportunities".
"Railtex affords people the opportunity to forge lasting relationships, meet colleagues and renew acquaintances," she continued.
RIA chief executive Darren Caplan was upbeat about the show. "Great to be opening the 14th Railtex – the leading exhibition for the UK industry," he enthused. "As you can see, there is a vast array of products and services for us all to see, it's a really exciting three days in store."
Darren then returned to a topic he spoke about two years earlier at Railtex 2017- smoothing boom and bust in rail investment. "At the start of a control period investment goes up, then it comes down," he said. "It makes it 30 per cent more expensive to run the rail sector, it means big companies lay off teams – don't invest – and small companies can't survive to the next boom. It's really important that we sort out boom and bust."
Anna Delvecchio, commercial director at Amey, co-led the rail sector deal on behalf of the industry. She said that she was proud to have been asked to open Railtex 2019 – a show she said that she had come to for the last10 years.
"Railtex is a great showcase for rail capability," she said. "There's also no better time to be in rail, given the growth plans that we have." She then urged visitors to not only visit the stands and attend the various seminars, but to network with colleagues. "When we collaborate, there's no better people than the people who work in rail."
The opening was completed by Gordon Wakeford, CEO of Siemens Mobility UK and also co-chair of the Rail Supply Group. "A visit to Railtex, for me, is always a bit of a highlight. It's the place we can see the complete range of products and services that we have available here in the UK."
He reminded delegates that there was an eye-watering amount of money being spent on the rail industry at present. "It's up to us," he said, "the UK rail supply industry, the big tier ones as well as our suppliers, to make a fist of that and make sure we have as much local value-added as we can here in the UK, employ as many people as we can and, importantly, recruit and inspire new people to come to this industry."
With Gordon's encouragement for them to "have a good show", the delegates dispersed to look around the stands.
Listening to the railway
Or at least most of them did. Some stayed for the start of the Rail Engineer seminar programme, which was to run throughout the show.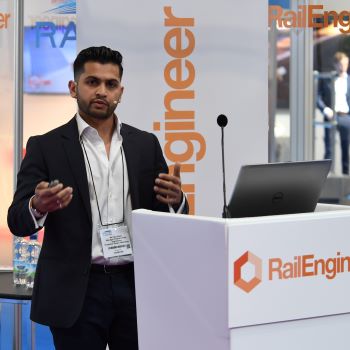 Deep Desai, business development and strategy manager for Frauscher Tracking Solutions, was first up with a presentation entitled Predictive Maintenance Strategies for Continuous Track Monitoring.
He explained that Frauscher tracking solutions are underpinned by a technology called DAS – distributed acoustic sensing. This uses the fibre-optic cable that is already alongside the track, either buried in the ballast or in troughing. When a pulse of laser light is passed along the fibre, this converts it into a series of microphones that sense vibration.
These vibrations can then be used to detect defects on the train and on the track, and also for monitoring the position of the train. "It's a powerful tool," Deep summarised, "to derive information throughout a monitored section. It supports smart maintenance of rolling stock and track. It's efficient, wayside, no-maintenance, low-life-cycle-cost – once the system is installed, it's going to be there for years. As long as there are trains and tracks, this technology is going to work."
A song in his heart
Gordon Wakeford then returned to the stand for his keynote speech. He started by saying: "I was wondering how to I can make a presentation on government, industry, industrial strategy for rail sound interesting. Anybody out there remember the Beach Boys?"
He went on to display the lyrics for the song 'Wouldn't It Be Nice?' and to suggest some small changes so it would read:
Wouldn't it be nice if we were bolder?
We wouldn't have to wait so long.
And wouldn't it be nice to work together,
In the kind of world where we belong?
He then explained: "It's a bit corny maybe, but wouldn't it be nice if we had an agreed and joined-up approach to delivering the digital railway of tomorrow?
"Wouldn't it be nice if we could all share the data available in our entire network to be an enabler, rather than a tool to defend ourselves and in some cases, even sue each other?
"Wouldn't it be nice if we could eliminate boom and bust from our marketplace?
"And wouldn't it be nice if we could increase the value of rail-related exports from its relatively low level of today?
"And in doing all of this, wouldn't it be nice to engage the entire supply base, especially the SMEs, to ensure their voice is heard and their future requirements for growth and prosperity are understood?
"And wouldn't it be nice, in parallel, to upskill and attract new employees to our great industry?
"And finally, wouldn't it be nice, for once and for all, to demonstrate that we can be a cost-effective and productive industry?"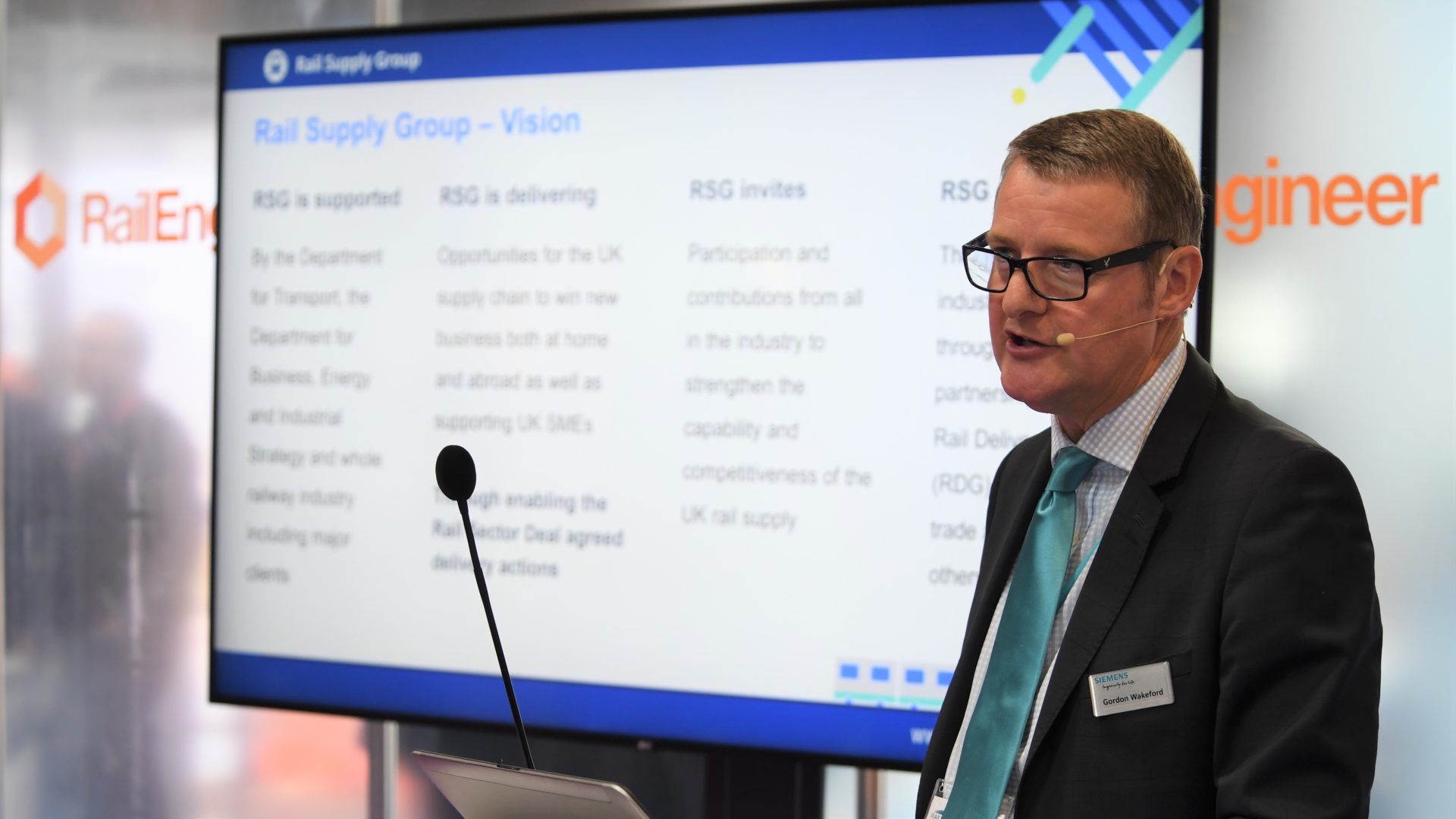 Gordon then went on to assure his audience that there is a plan, and a way to move forward, to meet all of these aspirations. These "wouldn't it be nice?" topics all feature in the Rail Sector Deal, and Gordon went on to explain that in more detail.
"This really is our opportunity to transform the industry to be better for all," he concluded.
Now what was the question?
Gordon's Siemens colleague Ian Jones followed, presenting "CBTC/ETCS – The Answer is ATO". He started off by asking another question – What is ATO?
Ian then answered his own question: "ATO is the perfect driver for mass transit and main line, every time. It automatically drives the train in an optimal way."
He then continued to explain the two types of optimal driving – for time or for energy efficiency – and to discuss the differences between its application on metros and on the main line.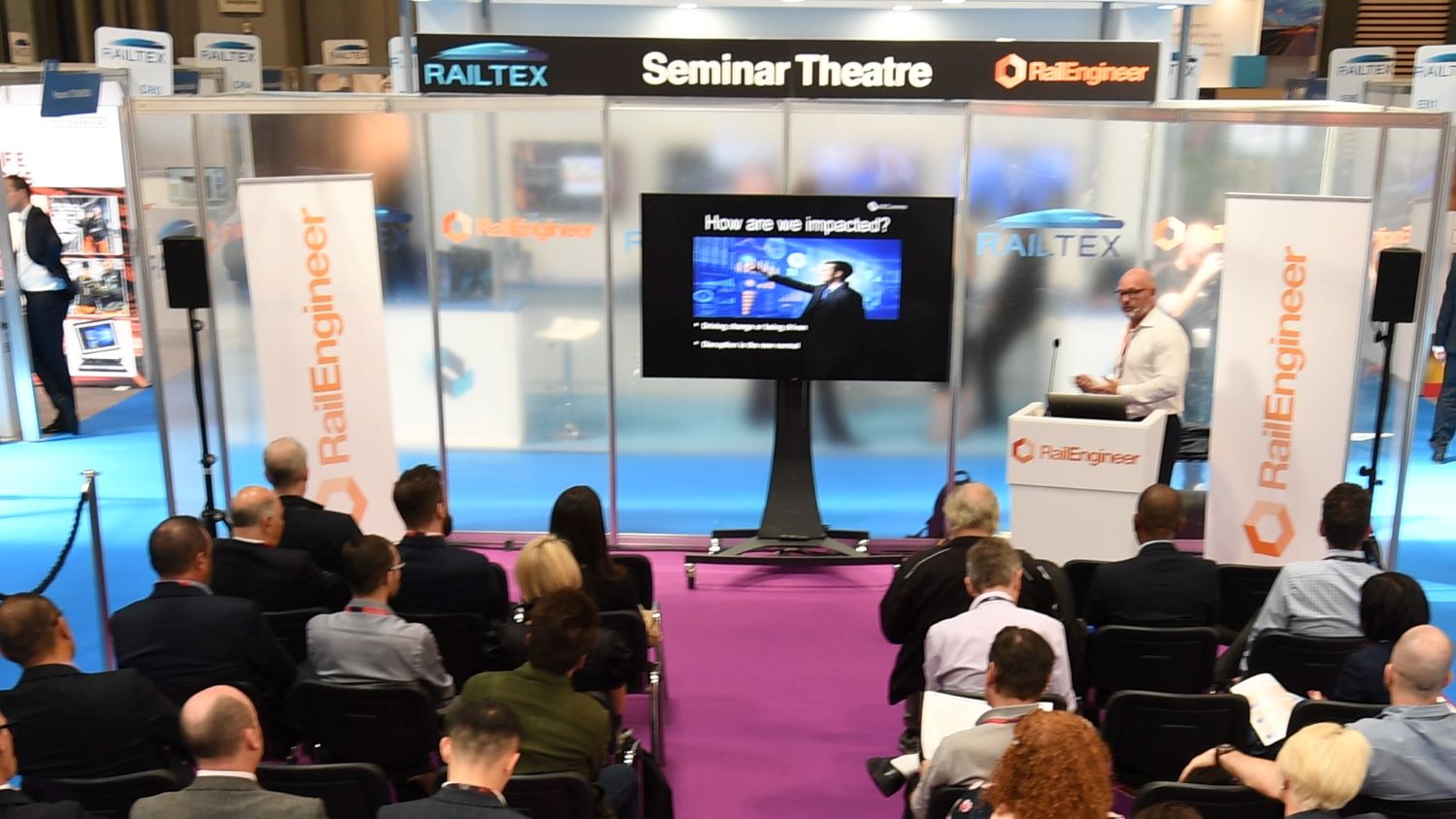 Mike Hewitt, chief technical officer of ADComms, asked another question – How can we digitise the journey to benefit the customer?
With challenges to rail coming from new technologies such as ride-sharing applications, autonomous vehicles, drone-based taxis, and personal vehicles, it's no longer just about getting from A to B – the passenger demands connectivity, information, and reliable infrastructure to get them from their home to their destination.
In his presentation, Mike Hewitt was at pains to point out that he wasn't going to talk about the Digital Railway, but about "the digitisation and digitalisation of systems related to how we look after our passengers". He then proceeded to look at the challenges that connectivity presents, and the opportunities it enables, and also at the application of new technologies, and collaboration that will enable innovation.
Technology and innovation
Gioconda was established in the UK in 2006, specifically to develop desktop signal sighting tools for the UK rail market. In his presentation, Simon Gardiner explained the process used to capture, process and report on cab stand back to stop board validity.
Simon chose the title "Thameslink Stand-Back Assessment" for his talk, and he quickly explained the problems which Thameslink faced.
"We've got a new train, which has a central driver position, and the cab layout is a bit different to what we are normally used to. One of the key problems is that the driver can't look out sideways, he hasn't got a widow beside him, so he can't line himself up with the STOP boards.
"Network Rail had already identified the problem, recognised it was a project-wide issue, so they were looking for a method to capture the whole network, quite quickly, so they could do the necessary assessments."
He then explained how to use simple train-borne video, correlated to aerial imagery, for a stage 1 check, the options for a more detailed, higher accuracy, stage 2 check, and the modelling process that is used where remedial action is required.
This process can also be used in an underground situation, and Simon talked about the varying limitations imposed by operators when arranging to capture data using in service and special train services.
The topic of energy efficiency carried over into the next seminar, as Steve Brew of ZF Rail Drive Systems talked about the direction ZF Friedrichshafen is taking from a technology perspective. Efficient mechanical transmissions are already available as part of the product range, they now want to align these with ZF's plans in terms of future technologies and digitisation and how that can all be "stitched together to the operator's advantage".
Condition monitoring forms part of those technologies, including built-in diagnostics and onboard analytics to advise operators of the transmission's performance.
"This kind of smart connectivity is going to be essential for all of our products in the future – it has to be inbuilt from the beginning," Steve said. "A really flexible system is a system that is open platform, so we are hosting the data and analytics on our own system, but we'll share that on an OEM level and an operator level. Because of this open-platform approach, the data that we are gathering from our sensors is not only available from a single package from an OEM – there is complete flexibility for the access to that data."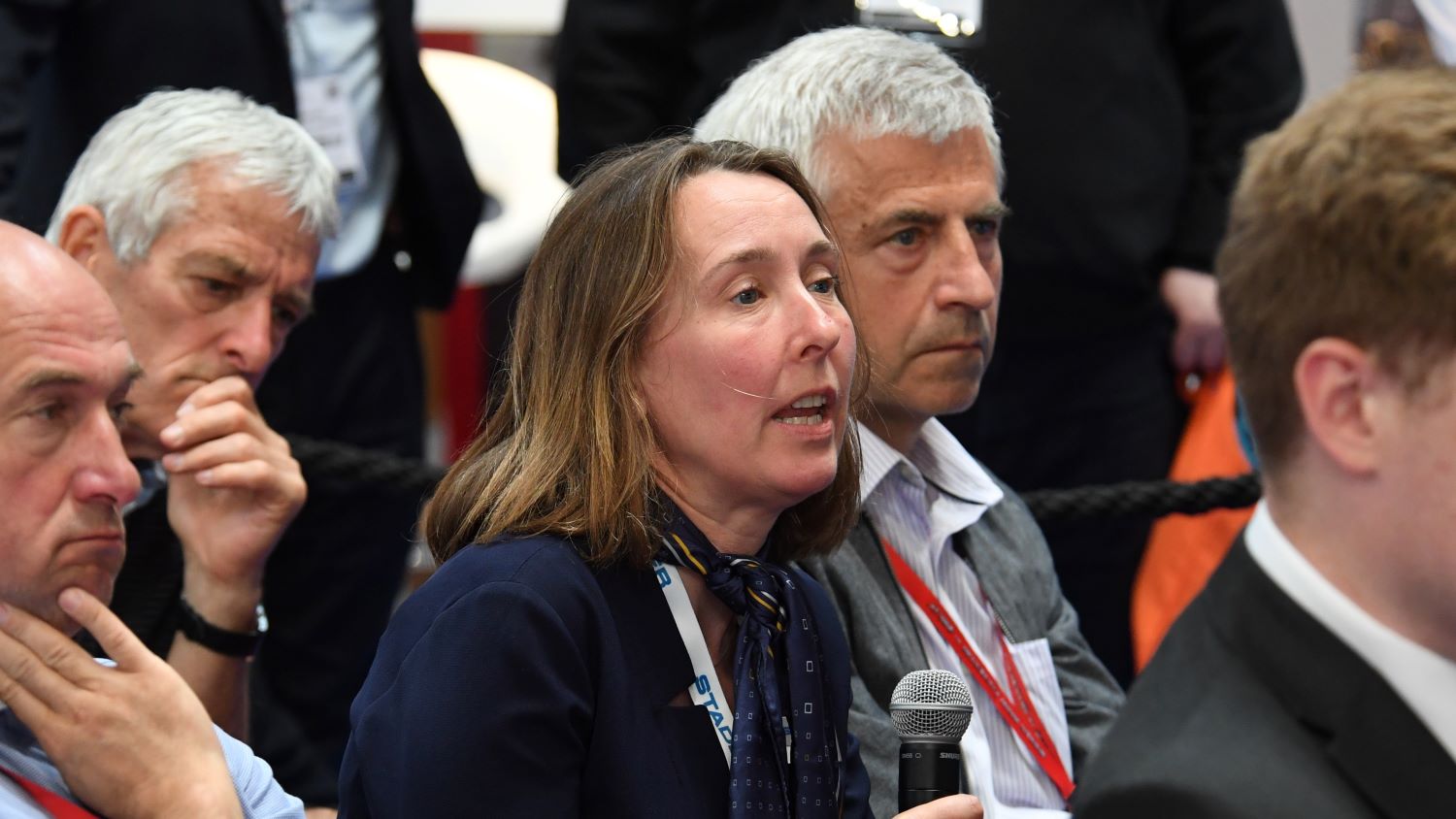 The smarter that technology becomes, and the more digital, then the need for cyber security becomes ever more essential. Steve Little is cyber lead for Frazer-Nash and he explained that countering cyber threats, and the risks they pose, requires a whole-system approach and understanding of PPITF (People, Processes, Information, Technology and Facilities) and the interdependencies between them.
"There have been a number of cyber attacks," Steve continued. "In 2016, the San Francisco Municipal Transportation Agency, there was a ransomware demand. They were trying to extort money to 'unlock' some of the hardware assets that they had frozen."
Steve then gave a couple more examples, before offering some suggestions for improvement. In tackling this challenge, the rail sector could learn lessons from other sectors, and he gave examples of what other sectors are doing, balancing the new with the legacy, ensuring any mitigation or response is both appropriate and proportionate.
Driving greater reliability
Wednesday's programme in the Rail Engineer Seminar Theatre started with Reg Cook, director of asset management at Telent Technology Services, who asserted that reliability-centred maintenance is a good way of driving operational and cost efficiencies.
"There's a lot to talk about on reliability-centred maintenance, and in half an hour I'm going to have to cram quite a bit in," he started. However, he managed to cover all of the ground he wanted to.
He explained how Telent is driving greater reliability through remote monitoring tools to identify deterioration in asset performance and intervening before costly service affecting failures occur. He then explored how this award-winning approach not only provides best value but improves safety and reduces carbon footprint.
Remote asset condition monitoring is a key component of reliability centred maintenance, he continued, as it enables systems engineers to predict how long components and systems will last and when they might fail.
Sam Bussey, business development manager of Instrumentel, was joined by David Munro, Unipart Rail's head of digital, to talk about the impact of the fourth industrial revolution on the railways.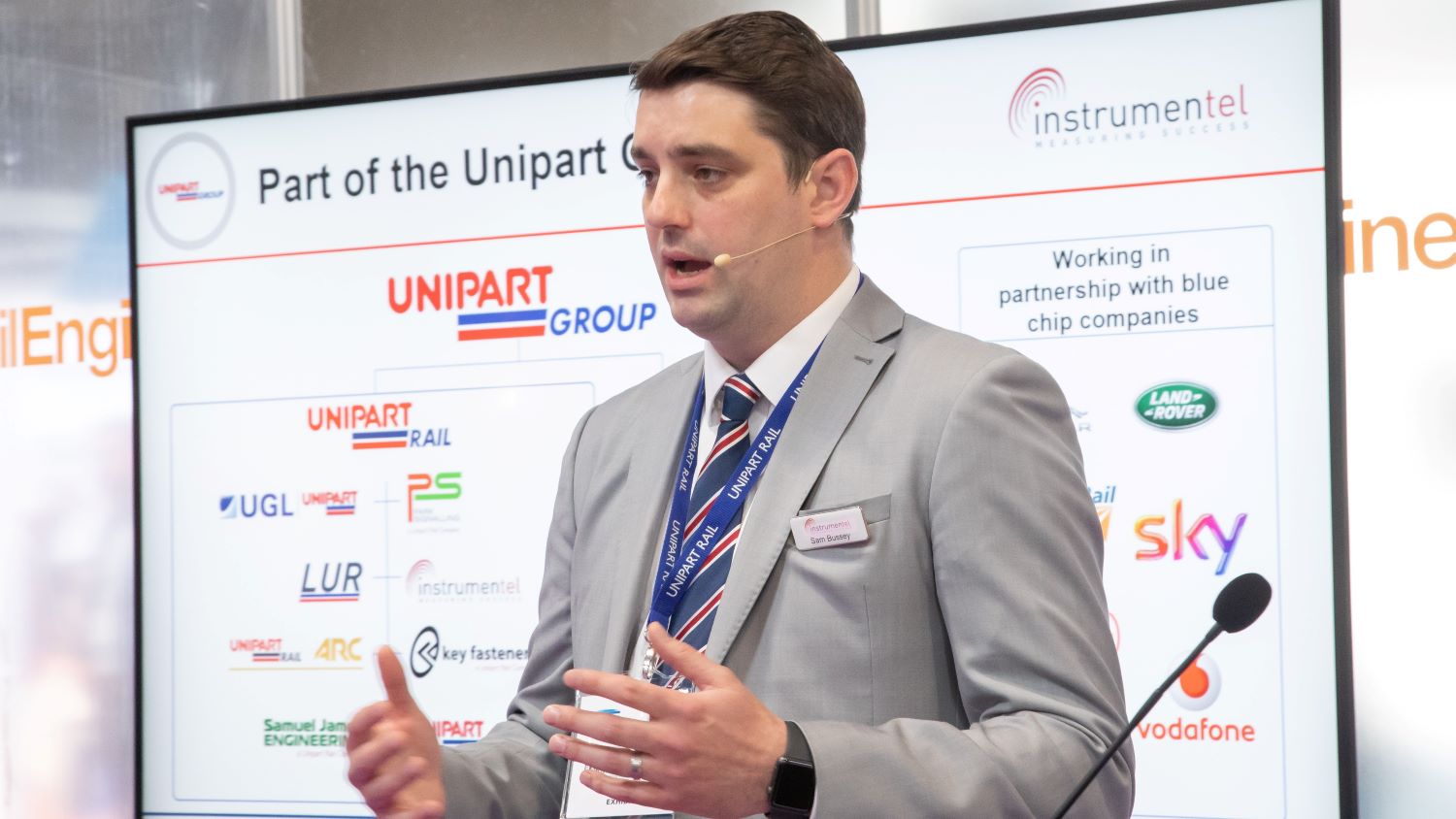 The Digital Railway is now upon us, they said, and the technologies that are available are now being deployed, including Instrumentel sensors in assets, with data being visualised on Unipart's 'Paradigm Insight' system.
First of all, Sam explained why they used the term 'condition-based maintenance' rather than 'remote condition monitoring'.
"The main difference for us is, to monitor something, you're provided with data. To provide customers with information that they can act upon, that is usable and actionable, is so much more valuable, which is why we call it condition-based maintenance."
But there's a long way to go to transform the industry, not just at the lineside and in asset monitoring, but in the supply chain too, and the speakers explored some of the technological concepts that are now being used – and others that are soon to be introduced.
While new products that are available for installation on trains and infrastructure were all around at Railtex, delegates were told that technologies that are 'hidden' but transform supply chain operations are just as important – especially in today's 'just in time' modern society.
Digital systems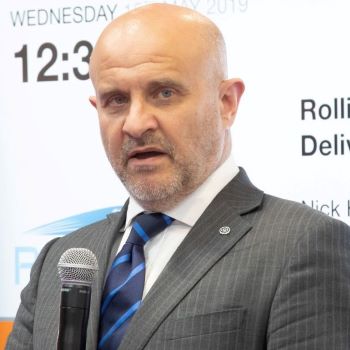 Talking of trains, Nick Hughes, from Hitachi Rail, updated his audience on Hitachi's progress in supplying several fleets of new trains for the UK. He also reminded them that Hitachi is about far more than just trains: "People normally associate Hitachi very strongly with rolling stock solutions, and you can understand why that is, but the product range is much wider than rolling stock, and I want to update everyone on how we are positioning ourselves globally in this very interesting and dynamic marketplace."
In Japan, the company's digital signalling systems have been running for decades, allowing bullet trains to run at unprecedented speeds and frequency, and that technology is now being installed in the UK.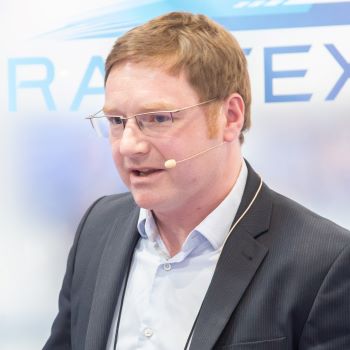 Returning to the topic of technology, Chris Parr of Sella Controls described how to integrate systems for safety critical applications. He first of all defined what a safety-critical system is, as, in one way, almost every system on the railway is safety-critical in some way.
"A safety-critical system is a system that implements safety functions necessary to achieve or maintain a safe state. But there is no point having a safety-critical system unless it's reliable, so linked to a safety system is its reliability."
Chris then went on to explain the techniques and measures used to ensure safety critical systems are designed, specified and commissioned such that they provide the level of reliability and functional safety required.
Using real world examples of projects, he detailed the types of safety studies that are required to identify and mitigate hazards and the design techniques that can be used to ensure the software and hardware are appropriate for safety critical applications. In addition, he covered the increased use of certified commercial-off-the-shelf components in safety critical applications on level crossings, and explained how this can lead to a streamlined safety assurance process.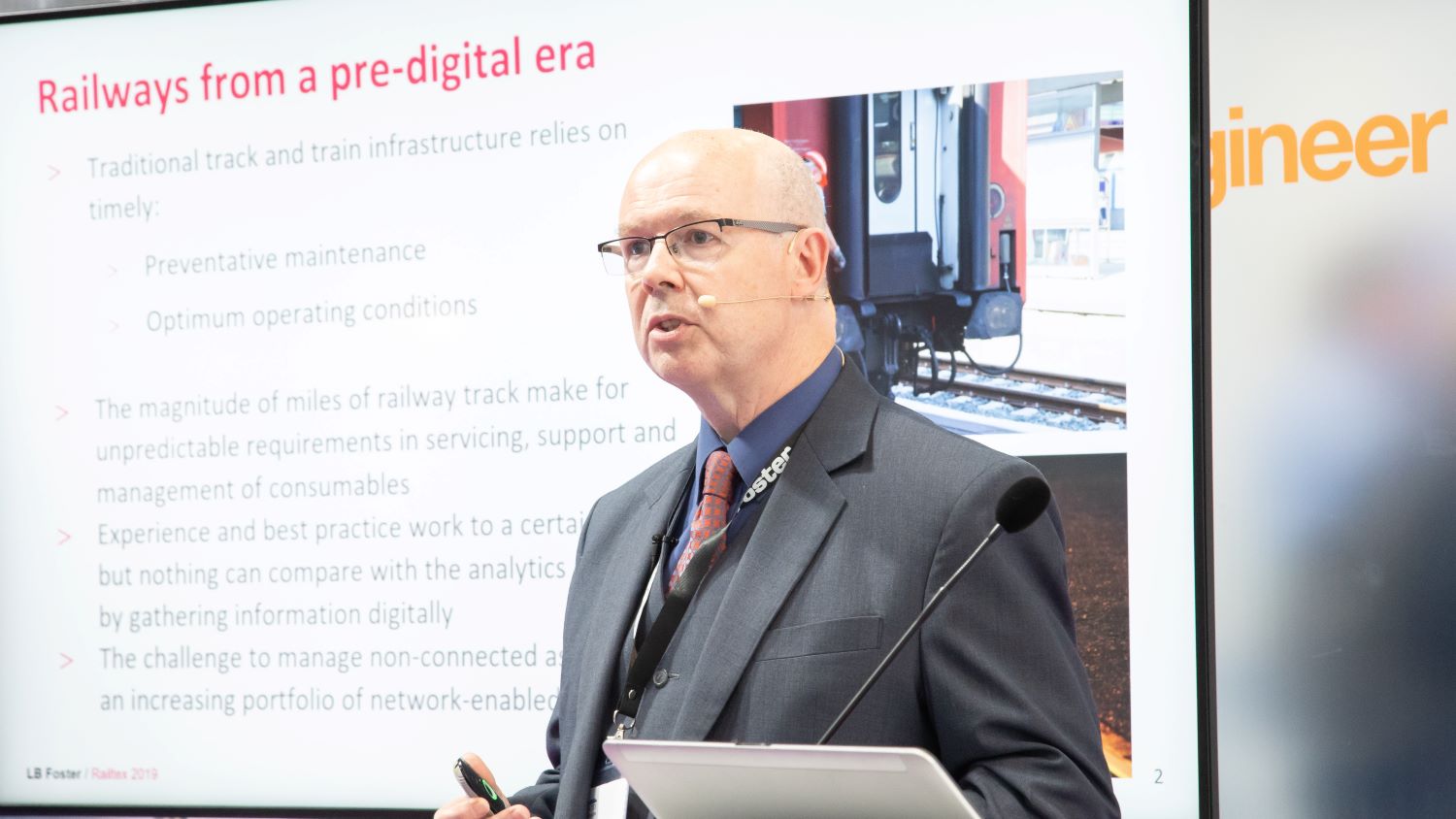 LB Foster chief technology officer Dr Mark Aston returned to the subject of the digital railway. At the start of his presentation, he said that his talk would try to answer the question: "How do suppliers, manufacturers and operators of rail networks translate this magical term 'digital railway' into something that is useful and actually benefits the operability of the railway, the running costs of the railway and the passengers that use it?"
He considered how technological innovations on the digital railway are helping to optimise network lifetime costs for operators and network owners through breakthrough technologies – from remote performance monitoring of trackside and onboard friction management to digital asset monitoring and digital asset maintenance – that are releasing real lifetime value through proactive and pre-emptive management.
Bridges and fences
The next presentation was on a completely different topic. Bridges with hot-rolled sections for railway lines was the subject chosen by Dennis Rademacher, bridge development leader for ArcelorMittal Europe – Long Products.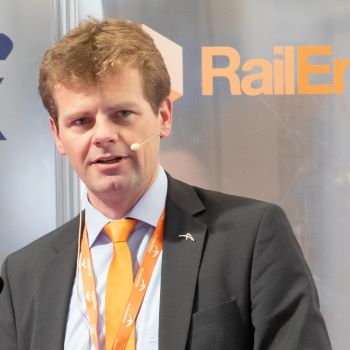 He reminded the assembled audience that filler beam bridges, using hot-rolled steel sections at close centres and filled with concrete, meet all requirements of small and medium-span railway bridges. Therefore, filler beam bridges have been used for many years with considerable success, particularly where construction depth restrictions are relevant for the design. Moreover, they are perfectly suitable for use on high-speed railway lines.
He continued: "Another advantage is that you don't have any formwork or falsework under the bridge during the construction phase, so the traffic disturbance during construction is very low."
With the introduction of the Eurocodes, some of the standard designs adopted by various railway infrastructure owners have become outdated. However, as this design of bridge lends itself to quick and economical installation, new designs tools are urgently needed.
Amongst other things, Geobrugg supplies the fences used to protect spectators at the Monaco Formula 1 Grand Prix. However, regional manager Duncan Ecclestone's chosen subject lay closer to home – stabilising cuttings using steel mesh on Network Rail's Cambrian programme.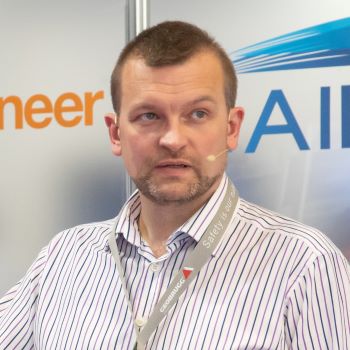 The mesh in question is manufactured from stainless steel, and Duncan presented a case study on the use of the stainless steel TECCO® System in the protection of rock faces on the coastline in mid-Wales. In a project led by the Network Rail's design delivery team from Bristol and contractor Alun Griffiths, the designers chose this more-expensive material in order to achieve the best possible design life and solution available.
"Galvanised material was only going to give them around a ten-year lifespan," Duncan explained. "By looking at a stainless-steel product, they were able to get the 120-year lifespan that they wanted.
"Including the higher up-front cost, over the 120 years that they were costing it for, the solution was much cheaper in the long term. They are getting the lifetime savings that they were looking for."
The sustainability theme continued into the last presentation of the day as Farah Syed, principal consultant with CEEQUAL at BRE, outlined key megatrends that can be expected in the future and how CEEQUAL is responding to these trends and challenges for the rail industry. She also highlighted examples of rail projects that are demonstrating best practice and are implementing real solutions to the challenges they face.
Following her presentation, Farah presented three CEEQUAL Awards. These went to the Crossrail Surface Works – Stations West (Phase 1), Crossrail – Old Oak Common Paddington Approach – OOCPA and Bond Street Station Upgrade project teams from Network Rail, Crossrail, Arcadis, Laing O'Rourke, Costain, Jacobs and Taylor Woodrow, celebrating their achievements and illustrating high environmental and social performance.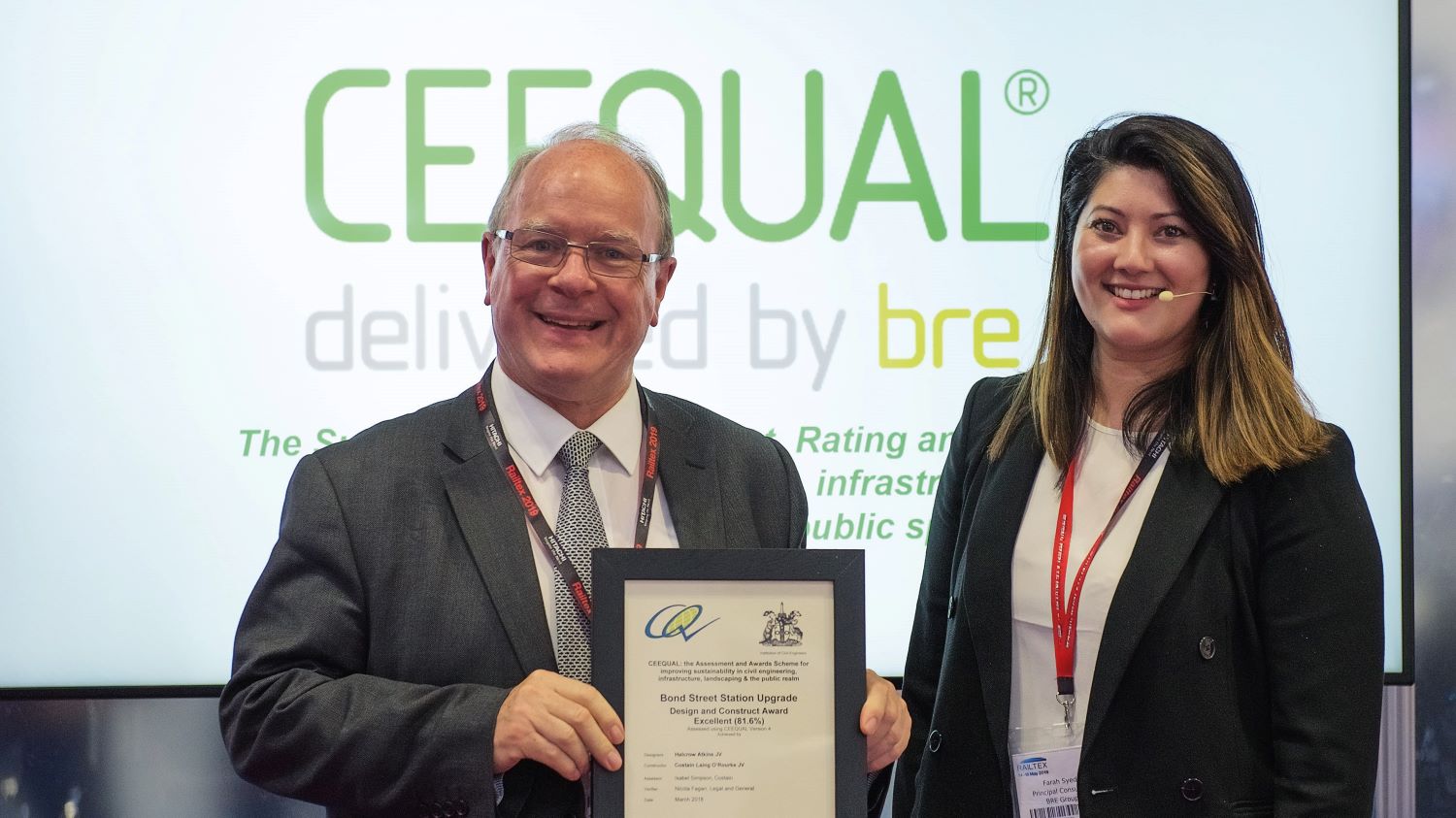 Congratulating the three project teams, Farah stated: "Something to remember, CEEQUAL is not just for the major projects. It's for any types of projects of any size." So, hopefully, the next awards will go to a few small projects.
Rails and surveys
Daniel Pyke of British Steel opened up the Rail Engineer Seminar Theatre on day three with a talk on real track – real performance.
The theme of the talk was how to do more with less: to run more trains with less headway, obtain more life from the railway for less cost, and to have quicker trains that cover more distance in less time.
All this places demand on the track, and British Steel has been developing new rail grades to meet these challenges. HP335 high-performance rails are designed for heavy freight lines and elsewhere. On a heavily used freight line at Drax power station, Daniel showed a photograph of some conventional rail that was only two or three years old and had "some gross plastic flow – the rail has been smeared over like butter" and, in addition, pieces had started to flake off. Replacement by HP335, and the introduction of a rail grinding regime, solved the problem.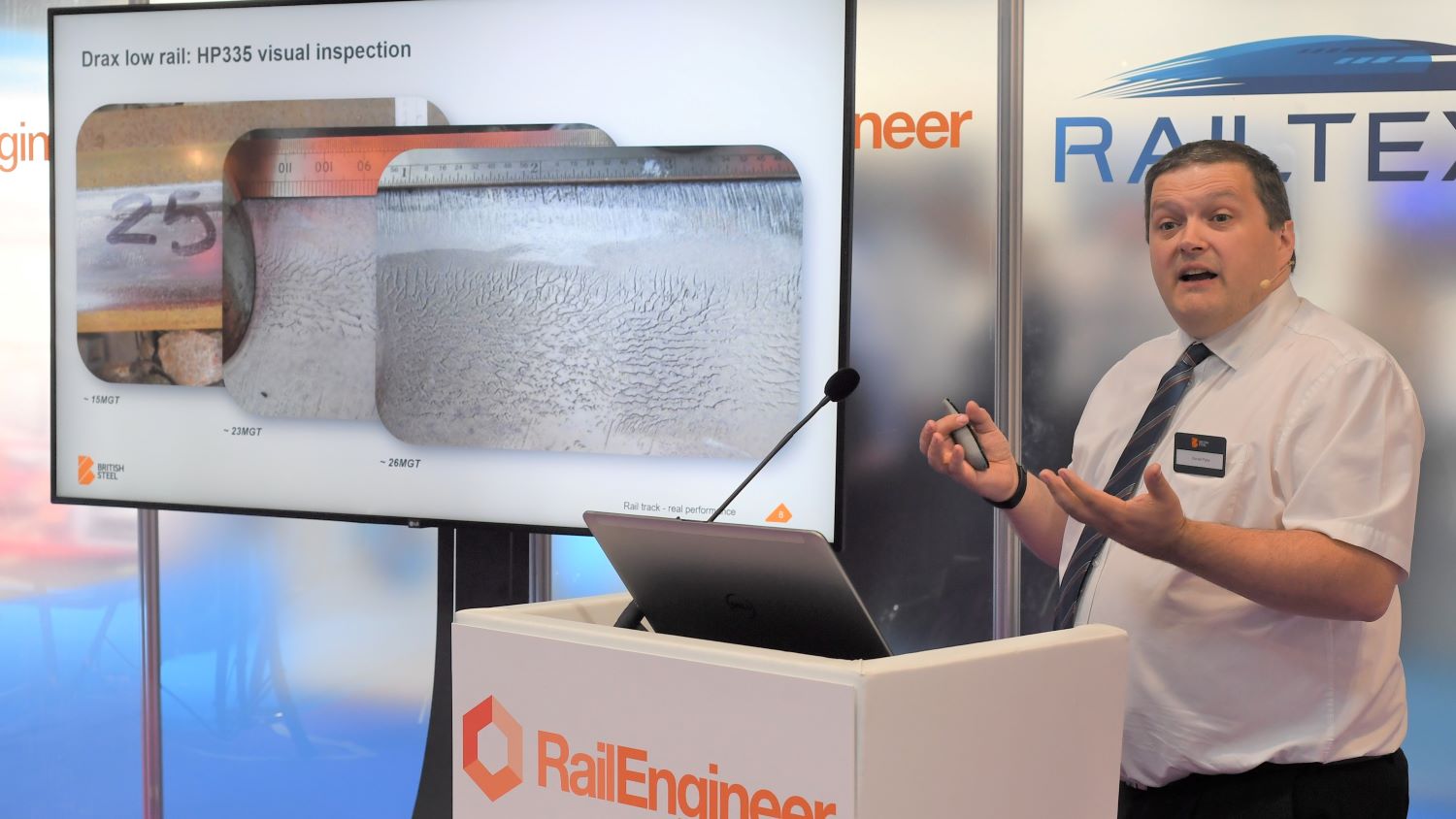 Continuing with a theme of case studies, Daniel described two other British Steel products. Zinoco® coated rail can prevent corrosion, particularly in wet tunnels and across level crossings where the salting of roads in winter can corrode track, and multi-life grooved rail for tramways that can be repaired in situ, without having to dig up the road.
TSP Projects, perhaps better-known for platform extensions and steel structures, chose to speak about innovation in collaborative ground risk management using geospatial information systems. Gerard McArdle, senior engineering geologist, and Callum Irving, geotechnical data manager, were the joint speakers for this one.
As the development of digital ground models has become more widespread over the last few years, TSP Projects has developed innovative ways of using available technology, working with industry partners, such as the British Geological Survey, to improve how information and ground data is managed, assured and shared across organisations.
Callum Irving introduced the concept of "dead data" – data gathered by one project that doesn't get shared with the rest of the industry. "So, in 10 years' time, when another contractor takes up that job, perhaps installing OLE instead of extending platforms, he doesn't have the information. He has to go out and redo that ground investigation, even though somebody's already done it before!"
If project information and ground management objectives are set and aligned at the start of a project, improved project outcomes can be realised, such as reducing the programme by early identification of ground risk, increasing productivity in design and construction and developing more accurate cost projections from early project development stages.
In examining these challenges, the speakers considered the tools and systems used, such as 3D geological modelling, identification and management of geological and geotechnical hazards, management and assurance of data for use by various parties, efficiencies in collection and the dissemination and use of ground information.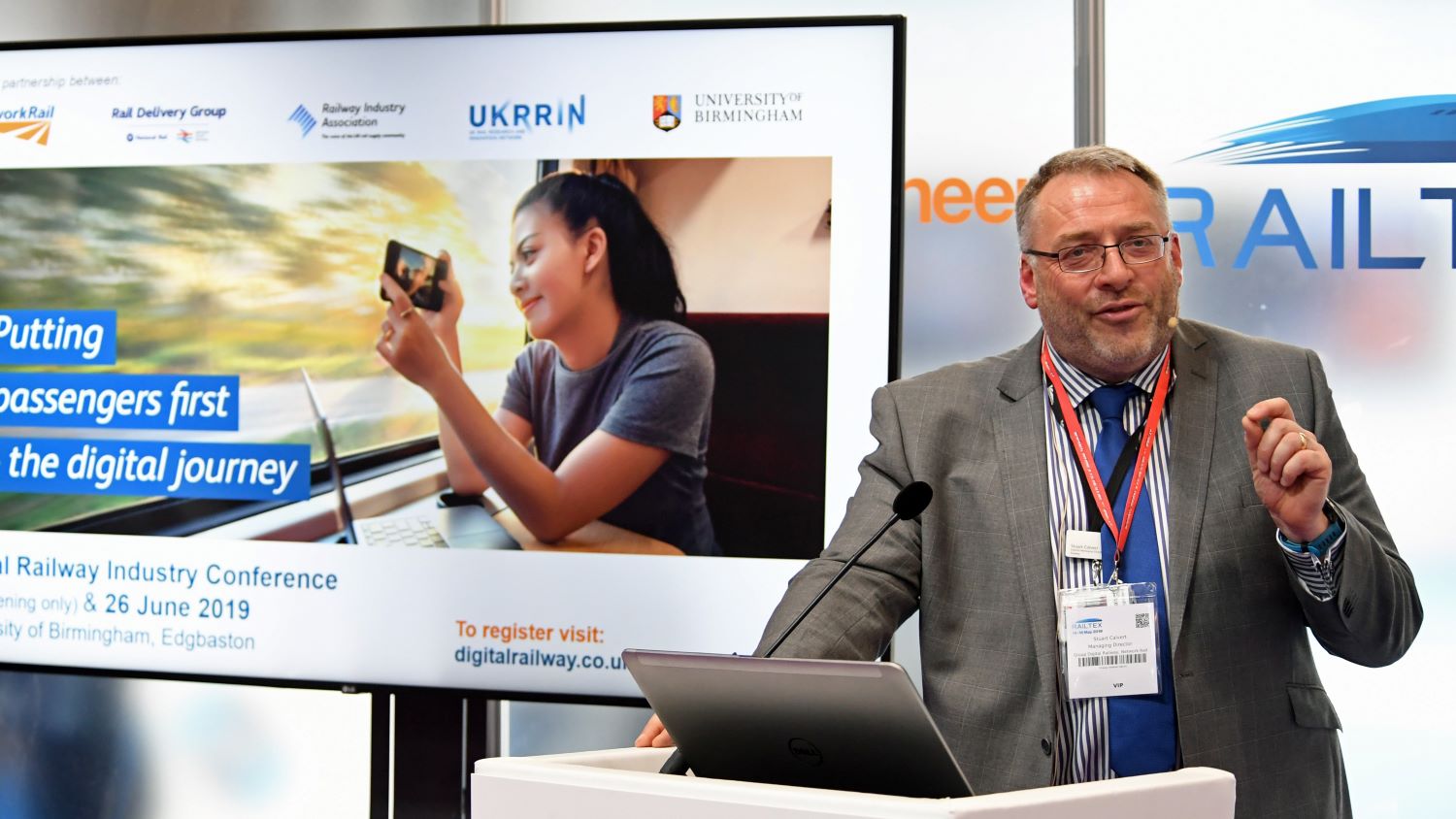 Looking forward
Stuart Calvert was appointed interim managing director of Network Rail's Group Digital Railway back in February. With Network Rail becoming more devolved over the next few months, into five regions controlling 13 routes, Stuart could arguably be thought of as having to work himself out of a job. However, the Digital Railway Programme will remain, working with the various technologies and supporting the routes as they improve their signalling and train control.
Stuart also discussed Network Rail's wider plans and explained where he saw the organisation going through the next control period in a thoroughly entertaining talk.
"The whole rail industry has probably been introspective," he suggested. "And we've actually lost focus on what running the railway is all about, which is to provide a great service for the millions of passengers we serve every day. Our intention is very much to put that right."
Electric trains
Technology continued to be the topic for discussion as Stuart was followed by Mike Muldoon, Alstom's head of business development, who explained how hydrogen-powered trains work and suggested what use they might be on the UK network.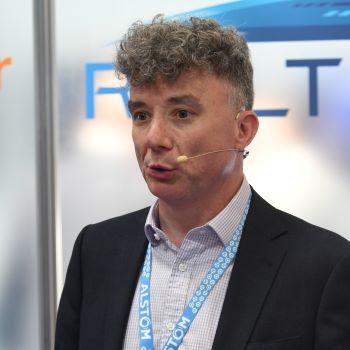 "Today, 2,500 vehicles, typically with a diesel engine underneath, are chugging their way around the country," he said, "criss-crossing the country every single day, providing essential services, but not in a very environmentally friendly way. That didn't strictly matter, until Jo Johnson got up in February of last year and announced the decarbonisation challenge for the railways with his specific objective of removing diesel-only trains from UK railway."
Alstom, of course, already has the iLint in service in Germany, and now a Class 321 is being converted here in the UK in a joint project with train owner Porterbrook. The 'Breeze' concept train could replace diesel multiple units in some circumstances, but it all comes down to cost, an available supply of hydrogen and the government's intentions regarding train emissions.
Of course, electric trains are already seen as being 'clean', and Lee Brun, engineering manager of Faiveley Brecknell Wills, described the closed-loop pantograph, currently undergoing service trials in the UK, which is fitted with fibre-optic sensors that are paired with GPS and video equipment.
"The reason we use fibre-optic sensors," Lee explains, "is that we are operating in a 25kV environment, and electrical sensors don't like that. So, we have a bunch of fibre-optic sensors that we can add to a pantograph that tell us how the pantograph is performing and also tell us about the infrastructure it works on."
The sensor system measures various pantograph and OLE interface parameters which can then be used to determine the condition of the pantograph or the overhead line with which it interfaces. This data, which is then presented via a user dashboard, can be used for condition monitoring of either the pantograph/OLE or to actively control the pantograph for optimum performance and current collection.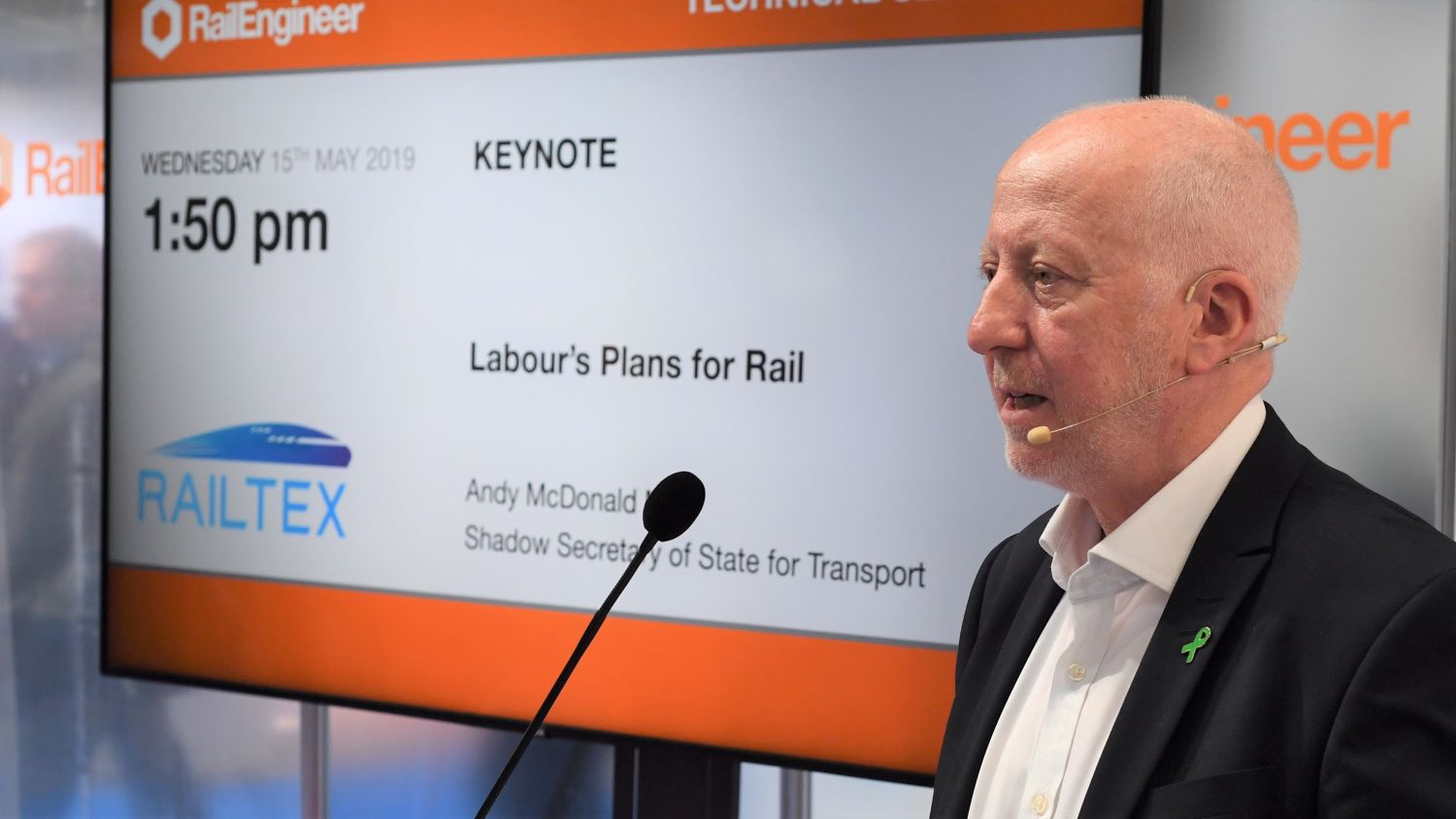 An alternate view
To round off the Rail Engineer Seminar Theatre programme at Railtex 2019, Shadow Secretary of State for Transport Andy McDonald spoke to a full auditorium.
"It's really good to be getting away from Westminster for a little while," he said, "and step into the real world.
"I'm really amazed at the range of businesses here this week," he continued. "It's a strong turnout and speaks volumes for the strength and resilience of the UK supply side.
"I'm always impressed by the passion and enthusiasm of railway people. You've a special pride and connection to the work you do, and Railtex is a reminder of the very real strength in innovation and technology that we have in UK rail.
"A few months ago, I gave a speech setting out labour's priorities for the Department for Transport, and I said Labour's primary transport objective is to create an affordable, accessible and sustainable transport system, for the many and not the few, founded on the principle that transport is an essential public service."
He then went on to discuss how Labour would propose to make sure those objectives were met.
"It's beyond doubt that rail urgently needs reform," he concluded. "Labour wants a railway with rising patronage. We want a railway with rising investment, and we want a railway that cost-effectively uses public money that supports it, and I hope very much to be working with you in pursuit of those objectives in the years ahead."
So, the Rail Engineer Seminar Theatre had seen a varied programme, well supported by speakers and show visitors alike, with almost a quarter of all visitors to Railtex 2019 taking in at least one session.
Now the planning starts for Infrarail 2020, which will take place at London's Olympia on 12-14 May. See you there!