Being the leading force in bespoke rail plant has always been a passion for rail contractor QTS Group. Founded in 1992 by managing director Alan McLeish, the company has brought a selection of world-first machinery to the rail industry and now employs over 500 staff and has offices around the UK, including at Strathaven, Nottingham, Preston and Penrith.
QTS has grown over the last 29 years and now delivers a variety of services to the UK rail network, including drainage, fencing, civil engineering and design and training, as well as vegetation management.
Through the years, QTS has developed a strong reputation for its innovative approach to plant, creating bespoke pieces of kit which can travel easily from road to rail. These machines are not only unique, but they also allow for the creation of huge efficiencies for the company and its clients. One of the most well know is the Mega Chipper, the world's first rubber-tracked and rail-mounted chipper.
Mega enhancements
However, with a commitment to improvement and innovation, the team at QTS is constantly evolving its ideas and has recently unveiled a new, industry leading rail mounted chipper, the Mega Chipper V2.
This advanced machine is the successor to the original Mega Chipper, which QTS has revamped, re-engineered and improved to create a more powerful and efficient machine. The fully automated 460 horsepower machine has the ability to chip a 600mm diameter tree in 10 seconds, enabling the company to process more material than any other rail contractor in the UK.
Following years of studying and improving the existing machine, the V2 now features a personnel carrier for up to four operatives, fault reporting by text and remote diagnostic access for fault finding. The new blade configuration helps to make the machine operate more smoothly and efficiently.
The rail wheels are hydrostatically driven when in work mode and can be fully operated via remote control, enabling the operator to be located in a position of safety. The rubber tracks are more powerful for both climbing steep embankments and road travel.
One of the new Mega Chipper V2's first jobs was on the East Kilbride line, which is undergoing electrification works. This six-month-long project saw QTS work along 16 track miles, clearing all vegetation from both sides of the track by six metres, removing any dead, dying and dangerous trees which pose as a risk to the infrastructure.
The man behind the vision of the QTS plant fleet, managing director Alan McLeish, said: "With track access becoming increasingly limited, efficiency is more crucial than ever. The idea behind the first Mega Chipper was to create a machine that could handle large trees and chip them on site, saving both time and manpower.
"The QTS Mega Chipper was the world's largest and only rail-mounted chipper. However, we wanted to continue to innovate and improve on the original version.
"After many discussions on adaptations with the operating and design teams here at QTS, we created the Mega Chipper V2, a bespoke and upgraded chipper with even more power."
The Mega Chipper V2 is part of QTS' 47-strong vegetation fleet and a part of its wider plant machine fleet. QTS has over 60 machines working across the UK, many of which are first of a kind, and invests £3 million a year, both in new machinery and in upgrades to the existing fleet.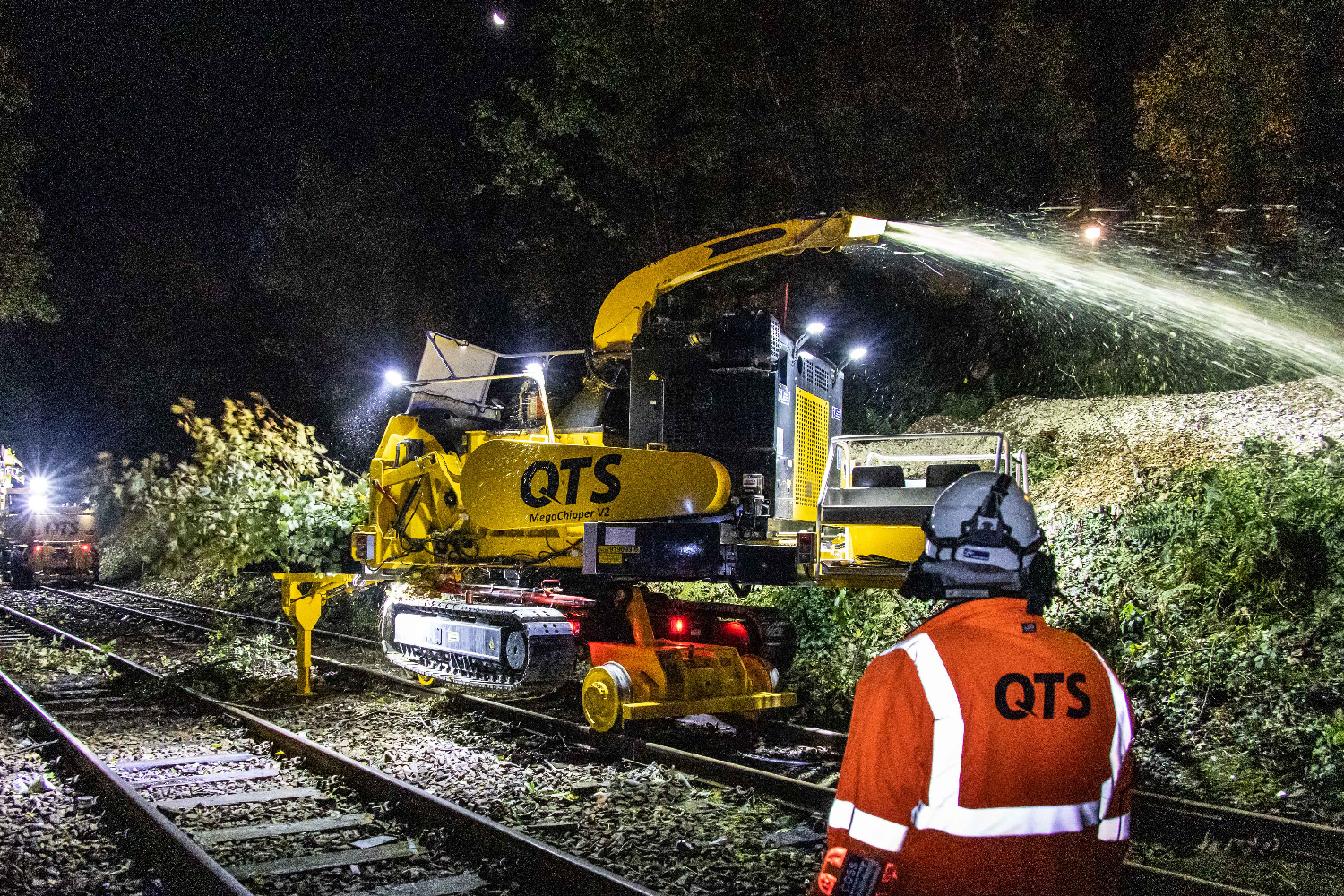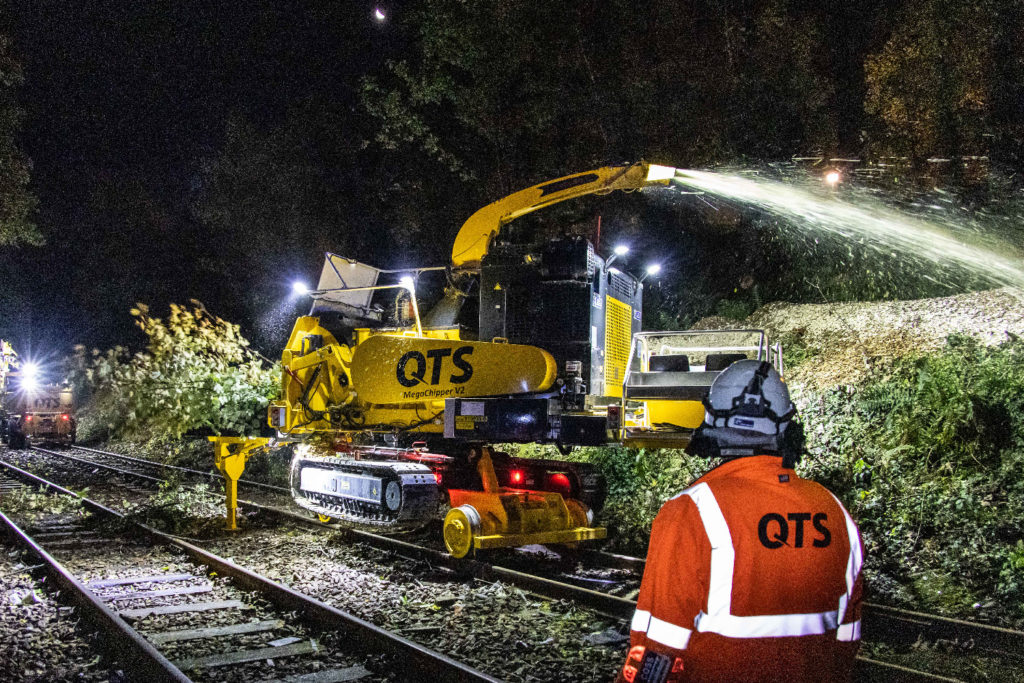 Further investment
QTS is constantly investing and innovating, including a recent investment in metal detector technology that will be fitted throughout all of the firm's chipper fleet. These will stop unused metal Pandrol e-clips, which are often thrown into the vegetation at the side of the track, from going through the chipper and damaging the blades.
Alan added: "It doesn't stop at the Mega Chipper. Our focus is on steady investment in innovation across our whole plant fleet, including everything from excavators and cranes to jetters and vactors. Our drainage fleet is incredibly impressive and we've been working on more than 48 design projects this year. Whether that's upgrades to our existing Unimogs or new attachments for our rail road excavators, we want to be at the forefront of innovation on the railway."
The firm has also taken delivery of a Compactor, a module designed to collect vegetation materials on site and take them away for biomass – another piece of machinery unique to QTS. This compactor has a capacity which will enable QTS to move two to four times the material volume compared to traditional methods. The compactor is mounted onto a standard rail trailer coupled to a road-rail excavator, which is used to lift and load vegetation. The excavator operator has full remote control of the Compactor's hydraulic power pack and compacting sides to give greater efficiency and safety on site.
In 2019, QTS made a further investment and bolstered its workshop to include a 'special projects' team. This team of engineering specialists is focused on rebuilding and improving current machinery, as well as working on a series of other projects which will help to keep QTS at the forefront of rail plant design and development.
Alan added: "We are incredibly proud of the machinery that we develop and not only do we utilise them for our clients, but many of them are available for hire. We have a dedicated plant division which looks after the logistics of the machines which ensures that they are able to move around to the required locations easily."
For more information on QTS, visit www.qtsgroup.com. For more information hiring any of our plant, email [email protected]