Trains are designed, manufactured and procured to operate; they are not intended to be stabled in a siding and not working. Great effort and advances have been made in the industry over the years to ensure that lifecycle costs of rolling stock are reduced and availability of the assets are maximised. To support this, it is also essential that the facilities developed to stable and maintain the rolling stock are also accessible and reliable.
Lowery understands the need for this and has built up a wealth of experience in the maintenance of depots, with contracts delivered in both the Ashford Train Maintenance Centre and at the hugely complex Clapham facility for South Western Railway (SWR). The experiences gained were the start of an exciting journey and Lowery hopes to build on and develop this knowledge through future opportunities.
Ashford TMC experiences
Hitachi Rail Europe (HRE) Ashford TMC is located in Kent and was the first rail vehicle maintenance centre built in Europe by the Japanese rail vehicle manufacturer, with trains such as the Class 395 maintained in the depot. The company is responsible for cleaning, inspecting and repairing the trains to ensure safe travel for the Class 395 Javelin stock on both high-speed and classic tracks, connecting London and the Channel Tunnel.
Lowery was contracted by HRE to undertake the permanent way and electrical maintenance and inspections at Ashford TMC, as well as developing and delivering a number of reports regarding the condition of the assets. These reports focused on maintenance records, asset availability, defects and trends, and recommendations.
Through planned daily, weekly and monthly track inspections – undertaken in line with the HRE technical work scope – the team was able to assess the condition of the assets, ensuring the permanent way remained suitable for the linespeed throughout.
A review of the existing maintenance regime and records was carried out to generate a base line of both the asset condition and any planned works that were already in place.
In addition to developing the asset maintenance plan, coordinating and carrying out maintenance over the course of the contract and on-call cover for any fault rectifications, Lowery also put in place the necessary measures for hot weather monitoring of the track during relevant periods.
Finding trends
Lowery uses a number of problem-solving methods to analyse equipment and process failures. Part of the depot team's role was to separate problems and failures that required relief from those where recurrence must be prevented in the future. To do so, the team asked several questions:
What is the current actual impact of the problem?
What is the potential impact if the problem is not solved?
What level of risk can be tolerated from a moral, legal and contractual viewpoint?
What is an acceptable outcome that balances risk, cost and benefits?
When we focus on a response that provides relief and, as necessary, the discovery of root causes, we use a Root Cause Analysis (RCA) approach defined by the five steps outlined below:
Safety – accident analysis, occupational safety and health
Production – quality control in industrial manufacturing
Process – the scope of production is expanded to include business practices
Equipment failure – inspired by the military, then customised by industry and used in engineering and maintenance
Systems – incorporates all the above and adds change.
By focusing on the trends, Lowery was able to develop and put in place a preventive maintenance approach. Experience has shown that this reduces the overall lifecycle cost of the assets and, more importantly for HRE, improves their availability. Preventive maintenance is planned in advance to minimise disruption and reduce late notice access requests.
Key opportunities were identified over the course of the contract and will be included as recommendations for future proposals.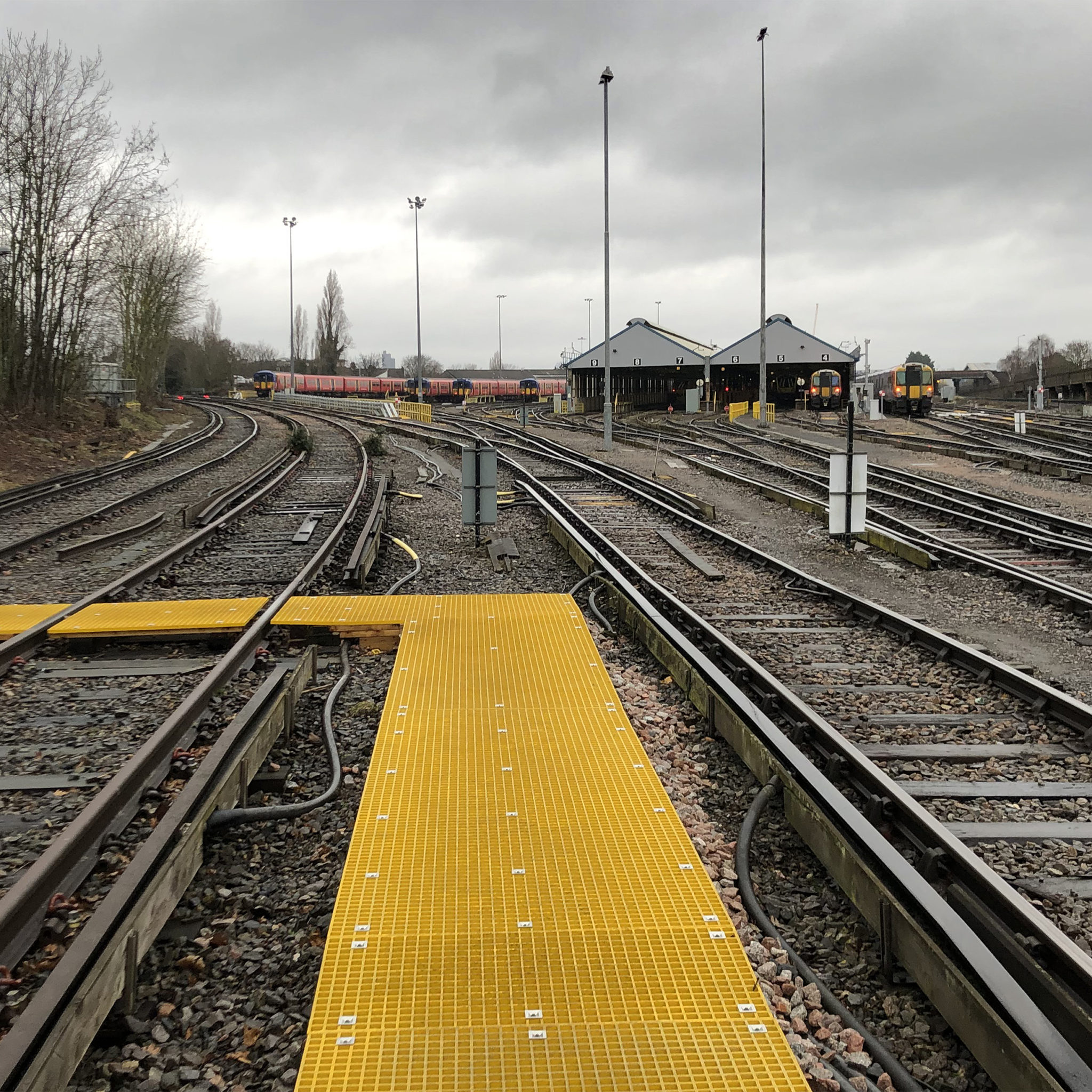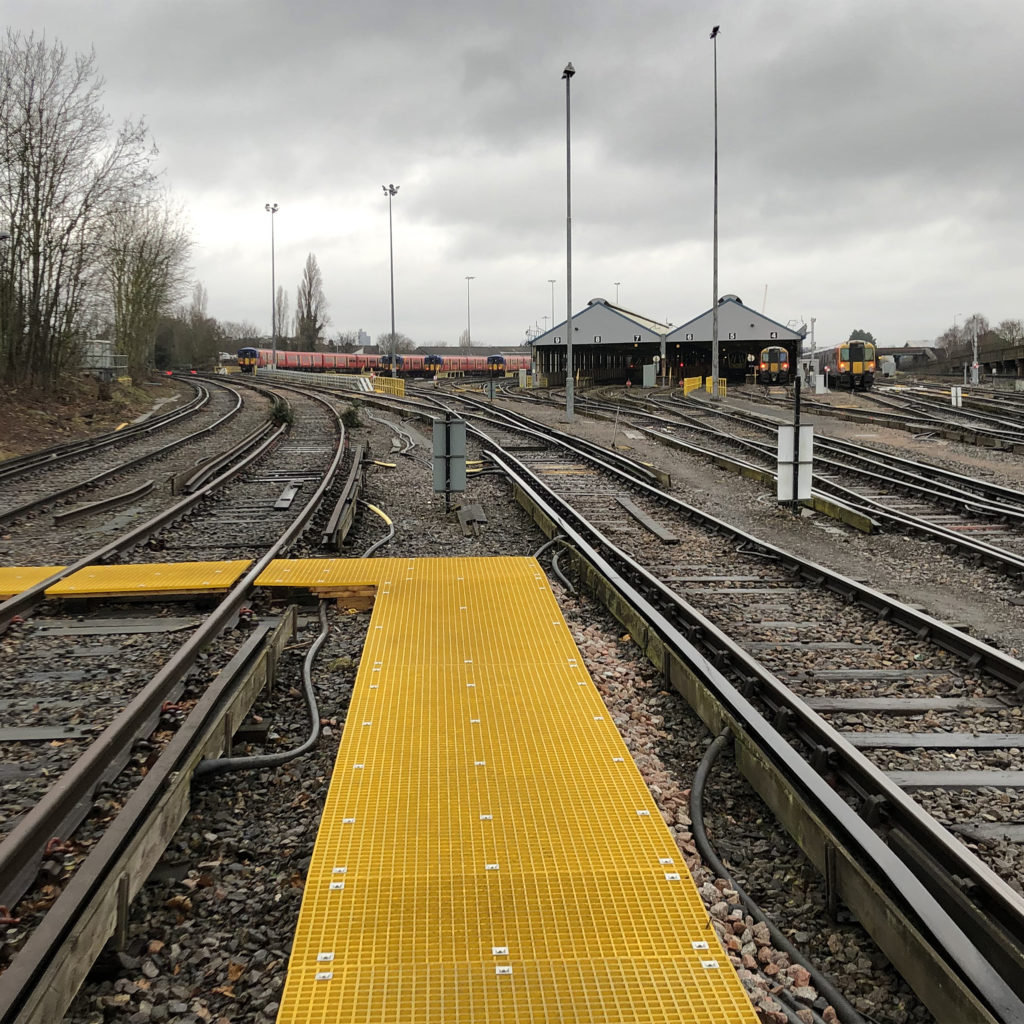 A learning experience
Often, the track used in UK rail depots is older and of a lower specification than the permanent way on main lines. This is understandable; there is no desire to over-specify the tracks in depots. However, track upgrades can be considered without requiring large levels of capex.
A simple easy-win solution could be to weld up jointed tracks into suitable lengths. This reduces the need for joint inspection, risk of dipped joints and broken fishplates. As long as the lengths of continuous rail are such that adjacent track does not require expansion joints and S&C does not need to be strengthened, this is a relatively simple exercise to improve track quality.
Another option Lowery is keen to explore on future contracts is the reuse of materials, such as switches and crossings removed from main lines that still have a serviceable life in an application such as a low-speed track in a depot. In the same way that we are encouraged to up-cycle in our everyday lives, a slightly more open approach to reusing materials could see great benefits in improving depot track quality, reducing failures and ultimately improving the availability of the assets.
Also, a different approach to preventive and cyclical maintenance could change trends. From working closely with depot operatives and in developing the asset management plans, it became clear that some areas of the depots were known hotspots and cyclical maintenance was undertaken on a regular basis to ensure the correct geometry and accessibility of the tracks. Whilst manual tamping is common place in depots – especially around turnouts – Lowery believes mechanised tamping could be used more widely to reduce continuous cyclical maintenance and benefit trends.
Delivering enhancements
With a different operator and a different location come different challenges. Whilst the approach was specific, the fundamental principles adopted at Ashford were readily transferrable to the works carried out in Clapham Depot on the Wessex Zone.
A key facility for SWR with a number of stabling sidings and train cleaning crews, the depot is located alongside Clapham Junction, one of the busiest in Europe. Ensuring the availability of access and egress to the depot is critical.
Lowery delivered the track asset enhancement works at Clapham as part of a long-standing collaborative relationship with South Western Railway. The track maintenance and enhancements works were developed as part of Operation Spark – an ongoing programme of works covering the permanent way and associated equipment for Wimbledon, Clapham and Strawberry Hill depots. These are all operated by South Western Railway for the stabling, maintenance and washing of trains.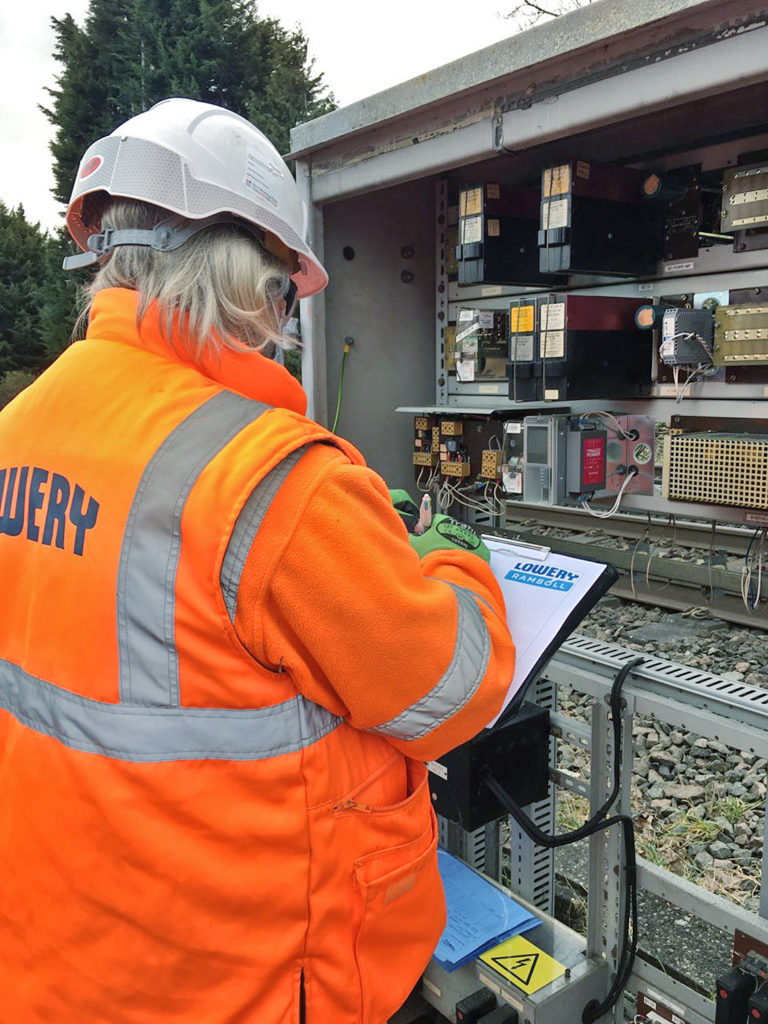 At the project close-out, Lowery provided final updates to the CDM/CSM hazard log where all remaining risks after site completion were handed over to the maintainer. Many initial risks which had been identified at the beginning of the project – mainly access/egress and asset condition – had been closed.
A key element of the successful delivery of these projects – which included development, installation and commissioning – was Lowery's highly skilled engineering staff, constantly liaising with the client's permanent way and construction teams, as well as other stakeholders. Numerous technical meetings, often led by Lowery engineering staff, contributed to quick close-out of the most challenging issues and problems. Liaison with clients, manufacturers and end-users ensured all parties understood project requirements and worked towards mutual success.