Merseyrail is the commuter rail network serving Liverpool and is one of the most heavily used urban railway networks outside London. It consists of two dedicated DC third-rail electrified lines known as the Northern line and Wirral line, creating a metro-style network of local passenger rail services within Merseyside and adjacent areas of Cheshire and Lancashire, including a number of underground stations.
A number of organisations are involved. Merseyrail is the operator, currently run by Serco-Abellio under a contract which runs until 2028. Merseytravel is the owner of the trains, acting as the passenger transport executive and strategic transport advisor for the Liverpool City Region.
Over the years, Merseyrail has pioneered a number of control and communications initiatives and is currently rolling out new 'connected' trains.
The network normally carries 110,000 passengers on weekdays and a total of 34 million passengers per year along its 75 miles of route with 68 stations. Six stations and 6.5 miles of route are underground. It can be a surprise to some visitors arriving at Liverpool Lime Street main station to find 'full size' trains entering the underground platform every few minutes.
The Northern line links underground stations at Liverpool Central and Moorfields with Southport, Ormskirk, Kirkby and Hunts Cross, while the Wirral line 'loop' links underground stations at James Street, Moorfields, Lime Street and Liverpool Central with Hamilton Square the other side of the Mersey River and on to Chester, Ellesmere Port, New Brighton and West Kirby.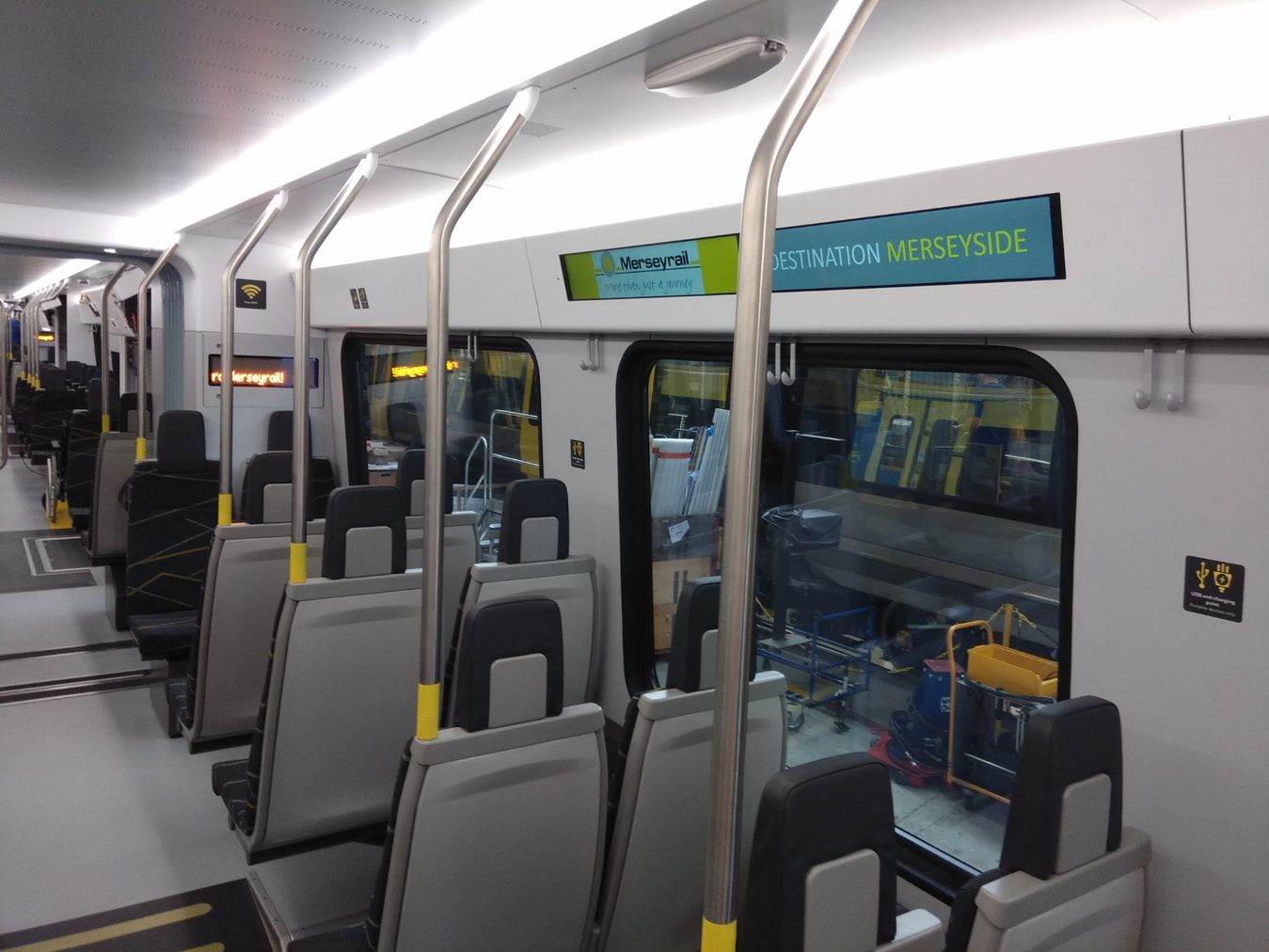 Conway Park station was opened in 1998 to provide a station more convenient for the town centre of Birkenhead than either Birkenhead Park or Hamilton Square, but it doesn't have "Birkenhead" in its name and can be mistaken for Conwy station in North Wales. Conway Park was built by excavating a box downwards, opening out the roof of the tunnel, and is 18 metres (59ft) below ground level. Even though it is below ground level, it is not subject to the Fire Precautions (Sub-surface Railway Stations) Regulations due to its open construction.
The network currently operates a fleet of 59 Class 507 and Class 508 three-car electric multiple unit trains. These were constructed in the late 70s and are in the process of being replaced by a fleet of 52 (with an option for 60 more) new Class 777 custom-built train sets made specifically for the Merseyrail network by Stadler Rail. Interestingly, the trains are being financed by Liverpool City Region itself, rather than by a bank or leasing company.
Sandhills IECC
The Merseyrail network is predominantly signalled from an integrated electronic control centre (IECC) located near to Sandhills station to the north of the city and called Sandhills IECC. The IECC controls a Remote Relay Interlocking (RRI) at Rock Ferry for part of the Wirral Line, with Solid State Interlocking (SSI) for the rest of the Sandhills control area.
The IECC has two signalling positions. One for the Northern Lines and one for the Wirral Lines, two separate CCTV crossing keeper positions and an electric control operator for the DC traction supply.
While making Merseyrail a completely independent, 'vertically integrated' railway has been proposed in the past, one of the problems with this proposal is that the IECC signalling arrangements are not unique to Merseyrail and the IECC does not control all of the Merseyrail network. The IECC also controls part of the Manchester to Southport line nearer the Southport end of the route, together with the Borderlands line between Bidston and Dee Marsh Junction. Between Brunswick and Hunts Cross, the Northern line is signalled from Hunts Cross Power Signal Box (PSB) and south of Hooton railway station the Wirral line is signalled from Chester PSB.
Both Hunts Cross and Chester PSBs control other parts of the national network and extensive resignalling would be required to make Merseyrail signalling self-contained.
The separate CCTV crossing positions in the IECC are required for the large number of CCTV-monitored crossings on the Northern line, which are too many for a signaller to monitor and control.
The IECC also has a separate operational control facility within the building. This is for train service management, incident management, operational people resources, fleet planning and maintenance, customer information, underground fire detection, public address and the monitoring of help points – all assisted by a comprehensive CCTV system.
In addition to individual CCTV monitors for each operator, there is a CCTV video wall with 32 flat screen monitors. There is also an automatic camera viewing link so that, in the event of an automatic fire alarm activation in the underground, assigned CCTV cameras for a particular alarm area will be automatically activated on the video wall.
The CCTV system was originally provided in the 70s for the five sub-surface stations, with black and white pictures and monitored from a control room at Moorfields. Only certain cameras were fitted with zoom lenses. Following the King Cross Fire in 1987 and the subsequent Fire Precautions (Sub-surface Railway Stations) Regulations 1989, the CCTV was upgraded to colour and with more cameras featuring pan, tilt and zoom, along with fire resistant cabling.
Automatic fire detection with integrated public address was also provided and, when control was transferred to the IECC in 1993, additional surface stations were connected to the system.
Over the years the CCTV system has been expanded and upgraded, so that today the system monitors an impressive 70 stations and depots with over 1,000 cameras. It does not stop there, as over the next two years many of the cameras will be upgraded to all IP (internet protocol) types. Telent is the designer for the upgrade.
To comply with the sub-surface fire regulations in 1994, a comprehensive radio system was also installed to operate in all parts of the underground, including stations and running tunnels. Radio channels were provided for the then VHF National Radio Network (NRN), British Transport Police (BTP), Fire Authority and UHF Cab Secure Radio (CSR) to enable all trains to communicate with signallers.
The CSR system was also provided with radio masts on the above-ground parts of the network to facilitate 100 per cent train to signaller radio coverage. The functionality of the system was very similar to today's GSM-R system, only it was provided years before the latter was conceived.
The BTP VHF channel was replaced with the Tetra Airwave System in the 1990s and the BTP VHF frequencies re-licensed for railway use – all operating over the same 'leaky' feeder infrastructure. The CSR system has now been replaced by GSM-R, with its own unique leaky feeder.
New trains and Wi-Fi
The current 507/508 fleet, despite being one of the oldest on the network, appear surprisingly modern with a reasonable ride, good visibility and comfortable seats. The units have lasted well, as they were last refurbished 17 years ago when they were provided with new high-backed seating, interior panels, lighting, and a passenger information system.
However, the new trains will be even better and are 'state of the art' articulated four-car units, with 50 per cent higher capacity and faster acceleration and deceleration to reduce journey times by up to 10 per cent. They are also 5.5 tonnes lighter, with more efficient electrical systems, and so use 20 per cent less energy. They will feature free Wi-Fi, including coverage in tunnels and underground stations, along with high-quality CCTV and voice links between the trains and Merseyrail's control centre in Sandhills IECC. The system will also provide data on the exact number of passengers on each train to enable better management of the network.
The Class 777 is a new design, specific to the Merseyrail network. The two longer driving cars at each end will only have one set of twin doors on each side, while the two middle trailer cars will have two sets. The trains will also have sliding steps as 'gap fillers' between the train and the platform, which will mean passengers using a wheelchair will not have to use a ramp when boarding, improving accessibility for all users.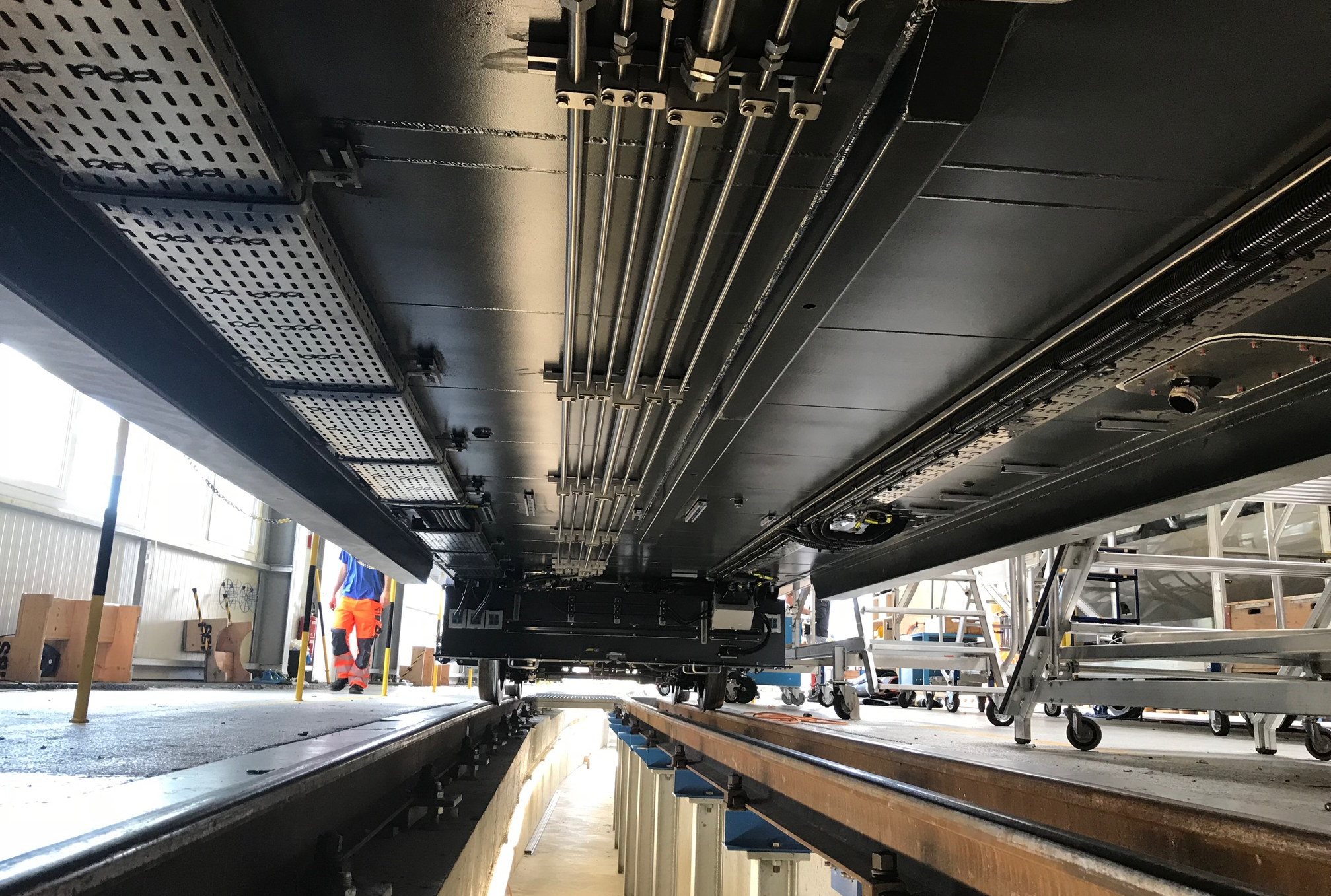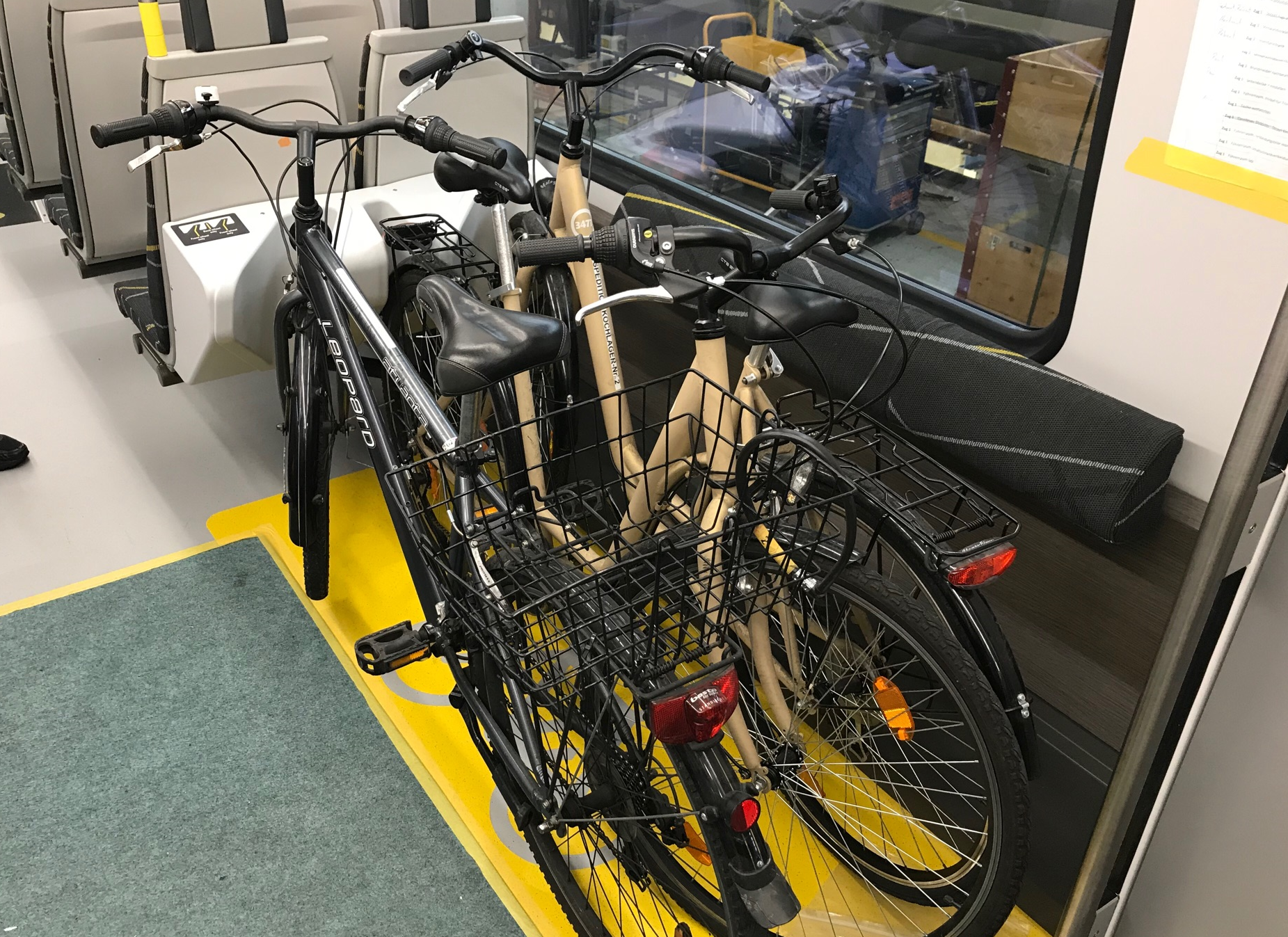 Each train will also be provided with power and USB sockets and bike racks. Instead of having partition doors between each carriage, the articulated units form one large open space. Like the current Class 507 and 508 trains, the Class 777s will not be provided with toilets as journeys are considered to be too short to warrant them.
As well as providing improved passenger facilities, the new trains are future-proofed by having dual-voltage capability (25kV AC overhead supply as well as DC third rail). This could possibly allow them to operate beyond the third-rail DC electrification infrastructure to destinations such as Helsby, Preston, Skelmersdale, Warrington and Wrexham, as any future extension of the third rail traction system in unlikely to be approved due to the risk to people on the track.
The trains will also be fitted with small battery sets, for easy movement around workshops and depots. It could also permit them to move to the next station in the event of a traction power failure, but this would depend on the distance as it isn't the prime aim of this feature.
As has been mentioned, the trains are being provided by a self-financing, sustainable business model with no rolling stock company or rolling stock leasing company involved. This is a natural extension of devolution and will deliver savings in energy, maintenance and operations plus additional revenues flow to Merseytravel, which will become the UK's only public-sector mainline rolling-stock owner.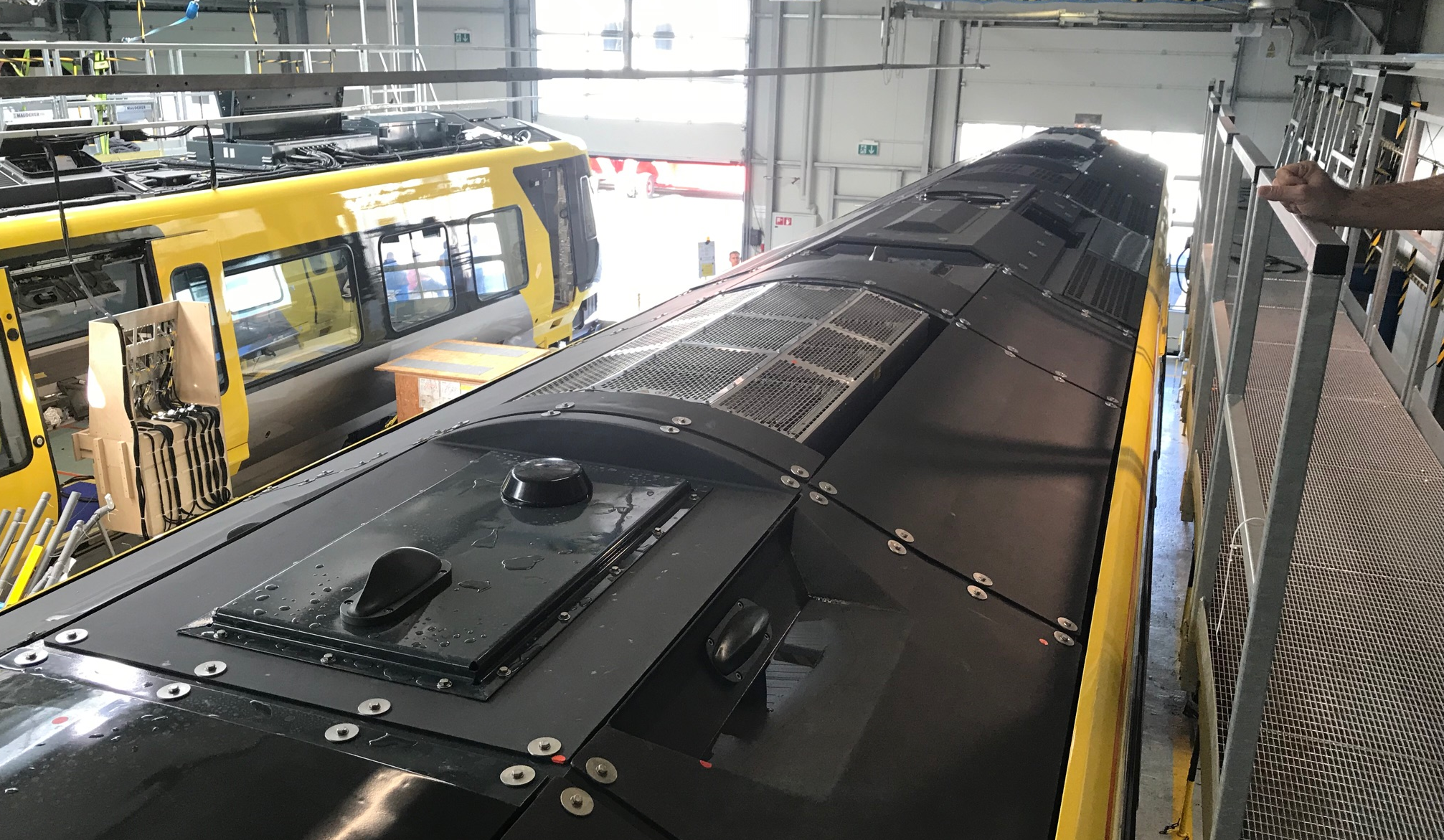 It has also been decided to contract maintenance for the new fleet, so the deal for the new trains with Stadler includes modernisation of the train maintenance depots at Kikdale and Birkenhead North, along with the provision of a new driving-cab simulator.
Steve Rotheram, Metro Mayor of the Liverpool City Region, said: "We are investing nearly half a billion pounds in a new, publicly-owned fleet for the Merseyrail network and the infrastructure it will run on. This will increase capacity, reduce travel times and provide a better experience for the travelling public. Our new fleet will be one of the best connected in the world, which not only means that people can use their smart phones or tablets via Wi-Fi, it also means a safer and more responsive network."
Infrastructure works
Extensive platform adjustments and track realignments have been required to accommodate the new trains and their sliding steps that improve passenger accessibility. The work has taken place on 97 platforms at 56 stations across the Merseyrail network using a rolling programme between October 2018 and May 2019. The programme was designed to minimise disruption to passengers wherever possible.
The existing trains Class 507/508 trains are 60.7 metres long for a three-car unit and 121.4 metres for a six-car unit. The new trains are longer – 65 metres for a four-car unit and 130 metres for an eight-car – with a 50 per cent passenger capacity increase, so platform lengthening, signal moves and track lengthening in the reversing siding at Liverpool Central have also been required.
The Class 777 trains will deliver a 10 per cent journey time reduction partly through improved acceleration, so they will require a more reliable traction power infrastructure to address voltage drop and increase current from 4kA to 5.4kA. Three new bulk supply points are being provided by Scottish Power, along with eight new substations and extensive cable upgrades.
New high-capacity Wi-Fi
Panasonic is providing an extensive new trackside network-wide Wi-Fi system. This will provide 100Mbps data connectivity to all trains and will enable high-quality, real time CCTV, voice and data links between the trains and the Sandhills control centre. This impressive initiative, which will also provide free internet access for passengers, is known as the Merseytravel Train Connectivity and Information System (TCIS).
There are several elements forming the TCIS:
The Optical Fibre Network (OFN): This will provide full system connectivity across the Merseyrail network, achieved by installing a 432-fibre optic cable providing full fibre connectivity linking the new equipment within the Sandhills control room to all the station and trackside access points across the TCIS network.
Trackside radio: The full coverage will be achieved by strategically located eight-metre tilt monopole mast antenna/access points at station and trackside locations, to assure that there are no signal drop zones and the trains are in constant communications with the station and trackside access points.
On-Board radio: A mobile radio unit will be installed at each end of the train. All data traffic to and from the train will go via an on-board router for the purpose of network monitoring and to restrict access to trusted users only.
Ethernet network: The managed Ethernet network will provide a 1Gbps managed link between each mast site and the nearest station. This will give provision for a chain of ten access sites on a single 10G circuit, providing remote management for each access site along with spare switch capacity for future expansion.
The revisions to the existing Merseyrail operations in Sandhills IECC will consist of a single TCIS workstation on each of the existing and proposed operator work positions and two 49-inch monitors with a multi view option for viewing six to eight cameras on one screen.
Best performing operator
Merseyrail has been amongst the top best-performing train operators for many years, winning the 'best-performing regional rail operator' award at the 2019 Golden Whistle Awards, with 96 per cent of trains running on time.
It was also named 'most punctual operator' in 2019 and came top in the national rail passenger survey for Autumn 2019.
The new Class 777 trains, with their state-of-the-art facilities, performance and communications, can only drive further improvements for Merseyrail's customers.