The Shepperton branch line in the south west of London and north Surrey, which is part of the Feltham signal box area, connects to the Kingston loop by a triangular junction between Strawberry Hill and Teddington stations. The line opened on 1 November 1864 and was briefly named the Thames Valley Railway, with access only from the Twickenham direction. The line was electrified using 630VDC third rail on 30 January 1916.
Demand and population in the area rapidly increased after the railway's relatively late introduction to the network, and today Hampton station is the line's busiest, with more than 1.2 million journeys, up from 0.7 million only ten years ago.
Feltham signal box is a large route relay-interlocking system dating from 1974 and it was high-time that it was replaced – resignalling had already been deferred and the asset condition was such that further deferment was not an option. The Shepperton branch was selected as the first stage of the renewal of Feltham signal box, with full renewal taking place in six stages over several years, such is the complexity of the Feltham signalling area.
The task of resignalling was to be delivered using 'future signalling systems by Atkins'- a strategic programme to change the way signalling projects are delivered in the UK. The system involves 11 separate product acceptance approvals and uses a wide range of products and components to deliver a full train control, signalling and power system – from interlockings to level crossings, barrier arms, power supplies and cables.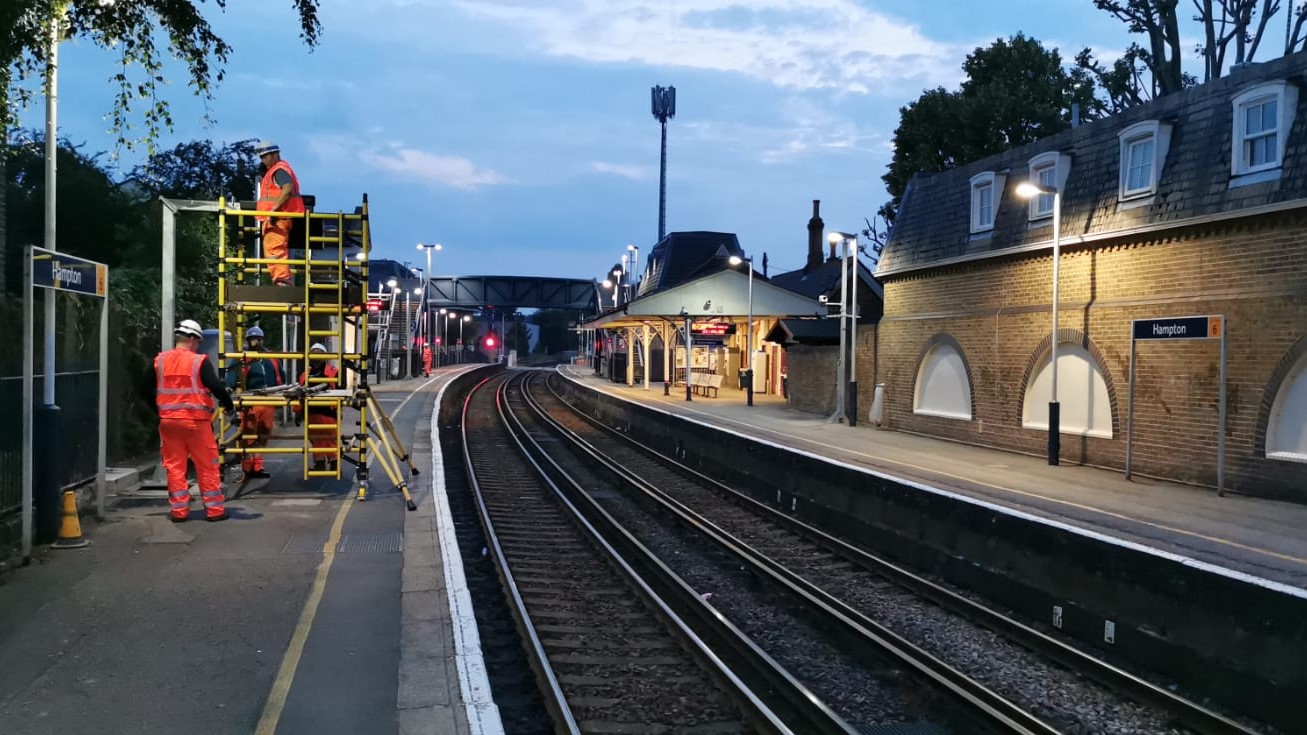 Over the weekend of the 22/23 June, Atkins recommissioned the Shepperton branch – the first use of its first ElectroLogIXS electronic interlocking and level crossing controller system on the main line railway.
ElectroLogIXS is a proven programmable logic controller licensed to Atkins, exclusively for UK rail use. It is the first all-new type of interlocking to be introduced onto the railway for some time, so the commissioning was a significant milestone in the introduction of modern state of the art signalling interlocking systems to the UK, together with new innovative ways of providing signalling infrastructure which have been developed by Atkins. All this will deliver many benefits to railways and the travelling public.
Initially, the Shepperton branch will be controlled from a single workstation located at Feltham signal box before being transferred to Basingstoke rail operating centre (ROC) in a later stage within the overall Feltham resignalling. A maintenance training facility has been provided at the ROC, which will allow technicians to familiarise themselves with the state-of-the-art signalling equipment. The training facility will provide the ability to generate physical and virtual faults, to practise equipment repair and reconfiguration – essential for modern IP networked assets in an off-network environment.
The recent Atkins commissioning followed the successful introduction of the ElectroLogIXS system at Old Oak Common depot in 2018. This was the first installation to use the ElectroLogIXS digital interlocking, which is now performing well as part of the validated signalling system for this vital Crossrail depot.
The new signalling system is not just about new equipment though, as Atkins has successfully introduced innovative production methods to deliver a flexible, future-proof, digital-signalling-compatible solution. Its approach is technology agnostic – Atkins has considerable expertise in a wide range of signalling products and is not tied to any one product, being able to choose and work with the best equipment available. This knowledge and experience of all types of signalling also means that Atkins is ideally placed to manage the interface requirements with other types of signalling, often the most difficult and risky part of any signalling scheme.
Ladder logic
The ElectroLogIXS interlocking is a flexible, 'ladder logic' driven device that deploys software written using the Atkins Signalling Method (ASM). The introduction of this interlocking in the UK is intended to remove reliance on existing interlocking products and solutions, with the system enabling the rationalisation and reduction in the quantity of trackside cabling, along with many other benefits.
Ladder logic was originally a manufacturing industry and process control method to document the design and construction of relay racks. Each device in the relay rack would be represented by a symbol on the ladder diagram, with connections between devices shown. Other items external to the relay rack, such as pumps and heaters, would also be shown on the ladder diagram. It then evolved into a programming language based on the circuit diagram relay logic hardware.
Ladder logic is now widely used in other industries to develop software for programmable logic controllers (PLCs) that are being used in industrial control applications. Ladder diagrams were once the only available notation for recording programmable controller programs, but today other forms are standardised in IEC 61131-3, the international standard for PLCs that is over 20 years old and is accepted in many industries.
Less equipment
The standardisation of equipment and a reduced number of trackside equipment location cases is a major benefit, which will deliver significant capital and operating savings. There will also be no reliance on bespoke software languages used in previous electronic interlocking technologies, with the system designed to be future proof, scalable and ETCS compatible.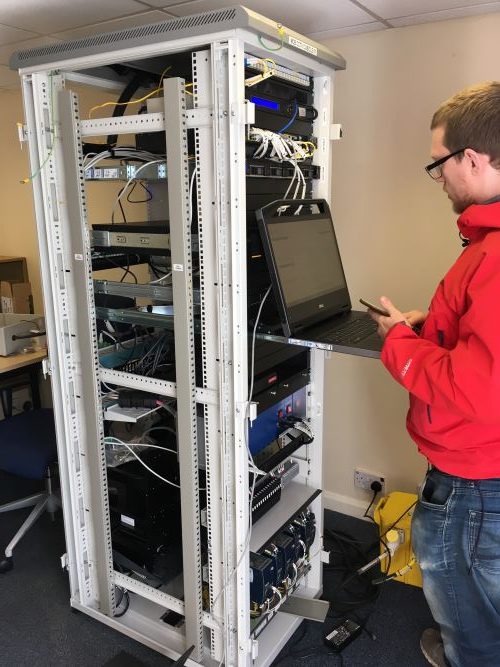 Atkins has calculated that resignalling all of the Feltham signalling project area using conventional SSI would have required in the order of 3,000 relays and 450 lineside equipment locations. Using the new future signalling system, this will reduce to approximately 130 relays and 220 lineside equipment locations, a reduction that will bring with it a step change in reliability.
The solution developed by Atkins is based on a design using more readily available non-discipline-specific software engineers, rather than scarce signalling designers, allowing the signalling engineers to focus on the core functional signalling requirements.
With traditional SSI interlockings, there was also a large number of data errors leading to failures resulting in significant resources required to resolve. So, Atkins has identified new methods of data production and testing, using modelling techniques and empirical processes as part of their new way of working.
The design and testing of electronic interlocking data was also taking too long, so one requirement for the new way of working was for repeatable data modules, designed and tested once and then used many times.
Some current interlocking technology (SSI trackside functional modules, for example) are reaching the end of their life, so new equipment solutions are also required. An interlocking capable of communicating with a Radio Block Centre (RBC) was essential to enable a future, easy upgrade to ETCS, once compatible rolling stock is available on a route.
Network Rail's technology strategy requires new interlocking technology to comply with the EN 50128 functional safety standard (Railway applications – Communication, signalling and processing systems – Software for railway control and protection systems), so the ElectroLogIXS interlocking creates a new solution that is designed from the start using EN 50126 (Railway Applications – The Specification and Demonstration of Reliability, Availability, Maintainability and Safety), EN 50128 and EN 50129 (Railway applications – Communication, signalling and processing systems – Safety-related electronic systems for signalling standards).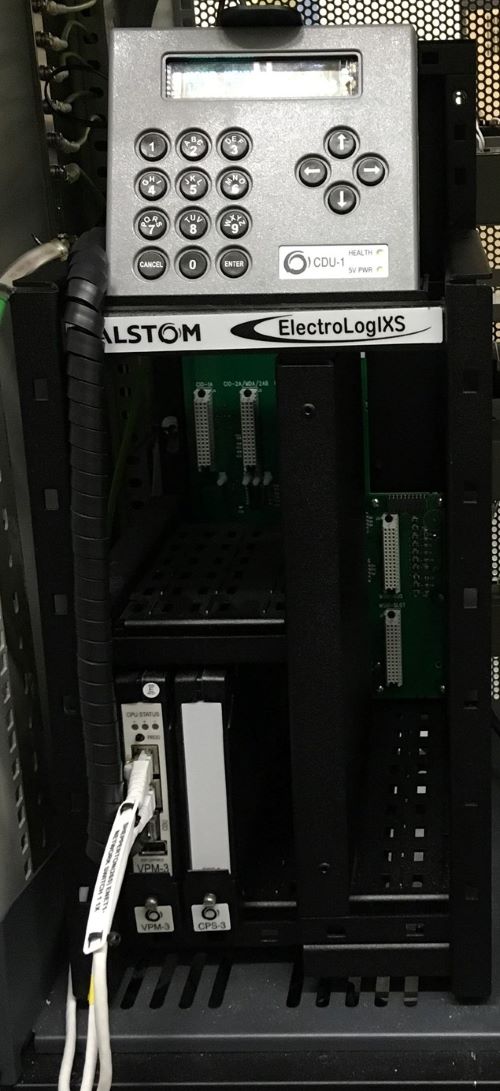 The ElectroLogIXS hardware is manufactured by Alstom (formally GE) and is a vital logic controller (VLC), using internet protocol (IP) communications and advanced diagnostics via a scalable remote condition monitoring system and a common hardware platform for both trackside and control parts of the system. Its chassis-to-chassis communication uses RP2009 (SIL4) protocol with no safety reliance on the network. The equipment's product acceptance has been developed to cover both 'interlocking' and 'level crossing controller' applications, both of which have been used on the Shepperton branch commissioning.
Compliance with EN 50128 is considered a step change improvement in safety when compared to SSI data software, with the automation of the design process along with the production of the ladder logic. This enables far more testing to be carried out automatically, delivering consistency and reliability in results. High levels of automated testing will save time to commission projects, while reducing the dependency on scarce testing resources required and the associated risks.
The interlocking is provided in three sizes, with either a one, four or nine slot capacity. New input/output cards have been designed for the UK that are 'hot swappable', with personality modules provided to ensure their correct location in the chassis.
The hardware is designed to work reliably between -40°C and +70°C. Its power supply requirements are only 70W, with an internal 5V supply derived from a 12V external feed. The processor is a two-out-of-two arrangement that can handle 10,000 vital equations extremely reliably. Up to 32 interlockings can be multi-dropped together if required, making it truly scalable.
With the new Atkins system, all trackside equipment is contained in a smaller number of location cubicles with no equipment buildings required, thus saving both cost, access and space. The actual ElectroLogIXS interlocking is contained on a very small circuit board within one equipment location housing – a relay interlocking to deliver the same functionality would have required a room the size of a garage.
It can be very costly and time consuming to erect bases for lineside buildings, which may also require several line blockages to install. Once in place, power is required for lighting and heating, and the buildings create a maintenance liability for the life of the signalling project. Atkins has now eliminated all this risk, with all the signalling equipment located in low-cost, smaller lineside equipment cubicles.
The lineside digital communications network consists of Layer 2 network switches (housed within each signalling location case), while the control centre network uses Layer 3 switches (housed within each cubicle). The Network Rail Fixed Telecom Network (FTN) is used to 'bridge the gap' between the lineside and control centre elements of the network.
A 24-fibre optic cable to NR/PS/TEL00014 between FTN access nodes forms a sub access layer to the telecoms network. This is supplemented with a two-fibre pre-terminated cable to connect the lineside equipment.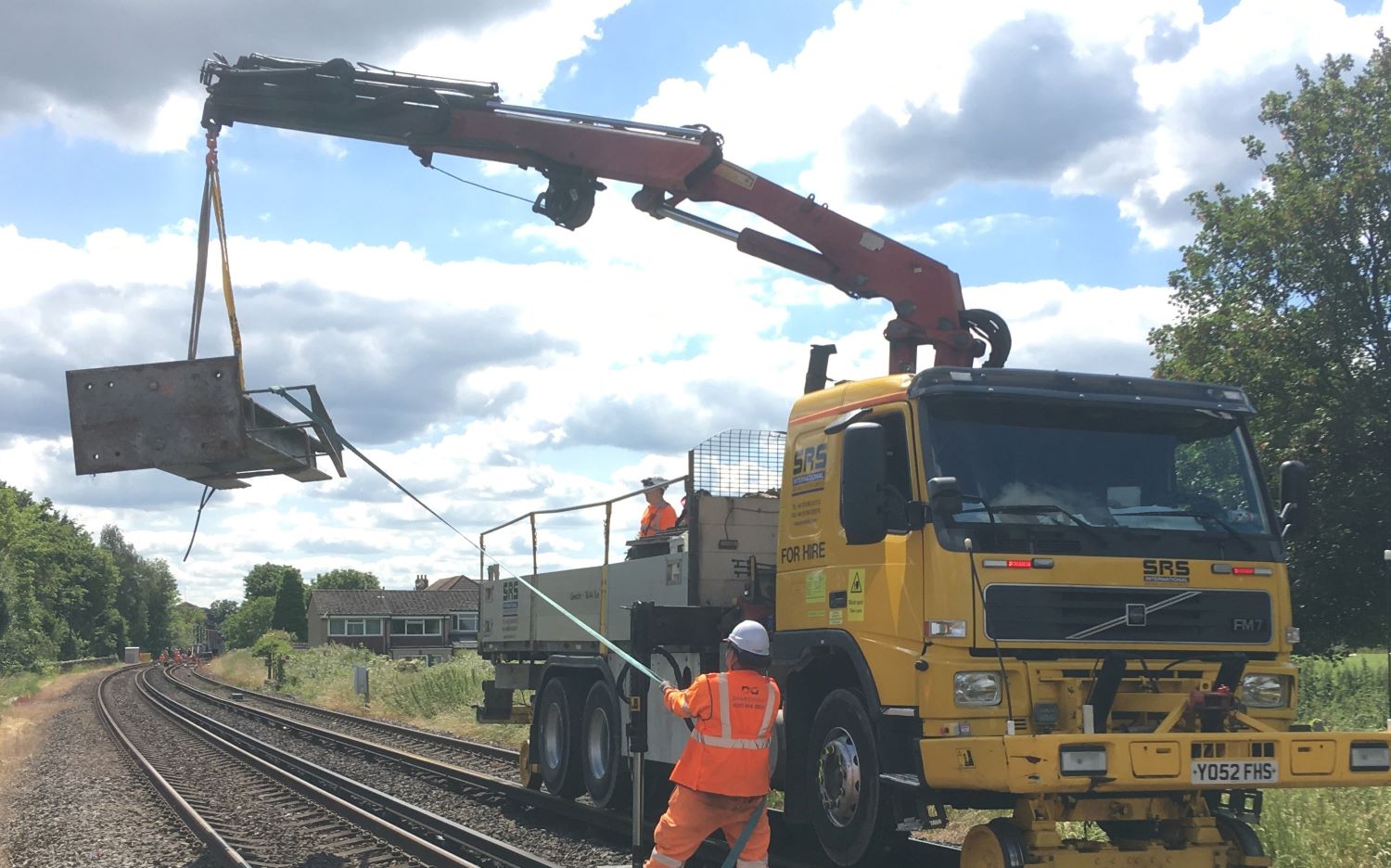 Atkins Signalling Method
A significant change in approach to the design of a scheme has been the introduction of the Atkins Signalling Method (ASM). This is intended to maximise overall efficiency across the design (including interdisciplinary design interfaces), procurement, installation, testing and commissioning.
Deviations from the ASM are prohibited without the formal agreement of the ElectroLogIXS Technical Authority Group, to avoid changes that appear to give a benefit (such as a reduction in materials) but actually cause inefficiency on a scheme. The ASM also allows the use of another programmable logic controller (PLC) hardware platform in the future far more easily than was the case with previous bespoke designs.
Level Crossing in a Box
The 'Level Crossing in a Box' (LCiaB) concept arose from the idea of delivering a complete crossing in a container ready for installation. This has now evolved to an element of 'just in time' delivery, but the concept of a complete and ready to install crossing. In the Shepperton scheme, the solution has been provided at Hampton MCB-CCTV (manually controlled barriers with closed circuit television) crossing.
Currently, LCiaB is specified for MCB-CCTV, but it has been designed so that is can easily be configured for other types of MCB and as a miniature stop light (MSL) crossing. The crossing solution consists of two or four barriers. It can be deployed either as a standalone installation or part of an Atkins ASM signalling system. Up to six sets of traffic signals (wig-wags) and four 'Standing Red Man' signals can be supported.
The barrier machine, supplied by Newgate, is also new to the UK signalling market and is 110V AC powered, with the boom driven by a three-phase inverter and motor through a gearbox. Angular detection of the barrier is by factory-set rotary blades detected by proximity sensors. There are a pair of industrial safety switches which mechanically detect the drive spindle when it is in the lowered position.
A small safety controller (PLC) provides machine control via a set of 24V DC control and indication lines connected to the level crossing controller (LXC) case. Manual operation is achieved with a small hydraulic pump and cylinder system. A machine has already completed in excess of 3,000,000 fault-free operating cycles in the factory.
Going forward
The benefits of this new signalling system include both safety, reliability, programme, scalability and cost. Atkins believes that, once the solution is fully accepted, it can deliver an overall saving of 20 per cent in capital cost compared to other solutions and a 65 per cent saving in whole life costs over 35 years. In terms of programme, Atkins estimates an 18-week improvement over conventional signalling should be achievable, with more to come.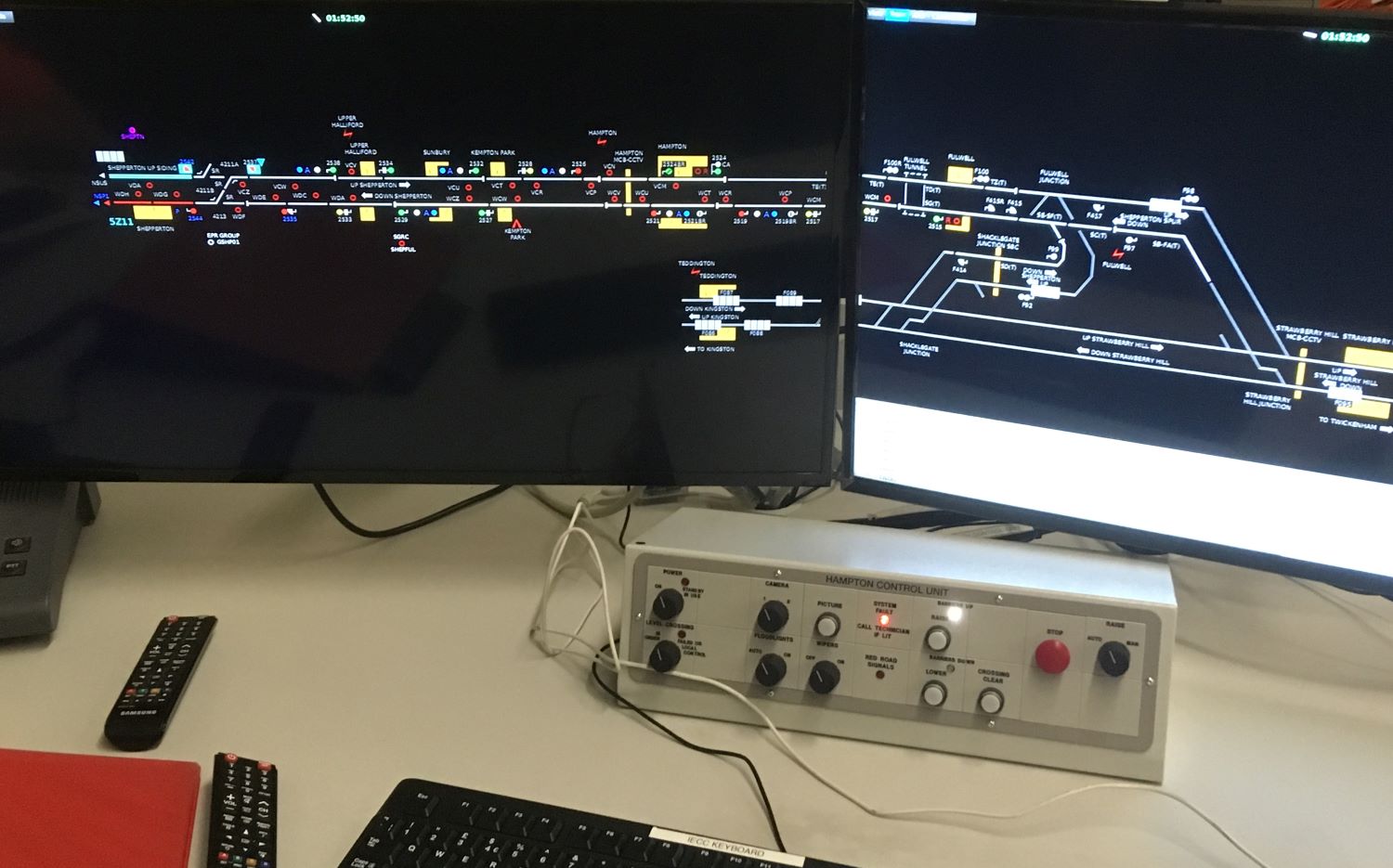 The June commissioning of the Shepperton branch Feltham will be followed by the re-signalling of the Norwich – Yarmouth – Lowestoft routes, also using the 'future signalling systems by Atkins', with interfaces to existing signalling at Norwich and to the East Suffolk line at Oulton Broad. The area will be controlled from Colchester ROC.
Other schemes using the new system should include phase two of East West Rail – the Bicester to Bletchley section – using the system to provide both interlocking and level crossing controls controlled from Thames Valley ROC.
The system is compatible with several RBCs (radio block controllers) for ETCS deployment, while further innovative Atkins enhancements to the system may include integration with intelligent infrastructure, IP-enabled barrier machines, IP-enabled signals, integration with ETCS and level crossings, VoIP telephony, replacing ElectroLogIXS VLC with a commercial-off-the-shelf (COTS) PLC product and radio-based communications between lineside 'objects'.
Rail Engineer naturally looks forward to returning to report the complete renewal of the Feltham signalling area with the 'future signalling systems by Atkins'. If the scheme goes to plan, completion will be achieved by 2024, when the whole complex area will be under the control of Basingstoke ROC.
---
Thanks to Nicky Brunker, James Sykes and Matt Phillips of Atkins and Tim Weston of Network Rail for their assistance with this article.