The Prime Minister was welcomed to Glasgow Central station this afternoon by Network Rail chief executive Andrew Haines as he boarded one of the green trains of the future being showcased at COP26.
Mr Johnson was given a tour of the Porterbrook HydroFLEX, a hydrogen-ready hybrid capable of being powered by hydrogen, battery or the overhead electric wires. He also met with the team from Vivarail, whose battery-powered train is also being showcased by Network Rail at COP26 to demonstrate the rail industry's commitment to further decarbonising Britain's railway and supporting the UK and Scottish Governments net zero targets.
Andrew Haines spoke with the Prime Minister about Network Rail's Environmental Sustainability Plan and the measures needed to decarbonise the railway to make a broader contribution to sustainability.
The Prime Minister also met with schoolchildren from Glasgow who were aboard the HydroFLEX for an event with award-winning children's authors M.G. Leonard and Sam Sedgman.
Last year, Network Rail announced that it had become the first railway in the world to set the most ambitious level of science-based targets for reducing carbon emissions, and released the interim Traction Decarbonisation Network Strategy, outlining the further electrification of the mainline rail network and use of alternative fuel trains needed to meet those targets.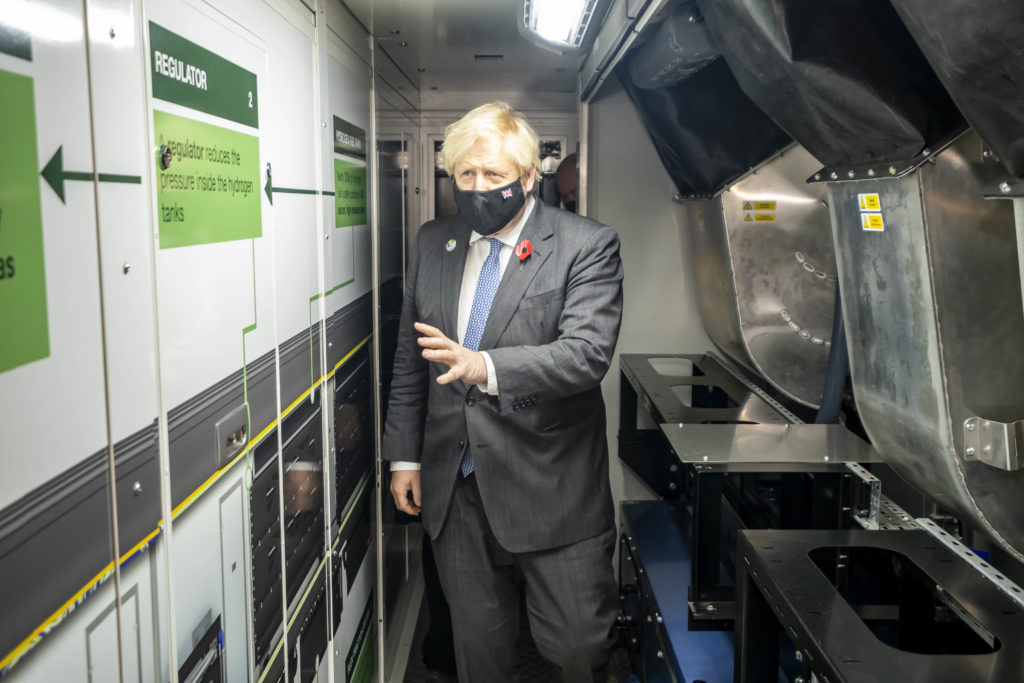 Andrew Haines, chief executive of Network Rail, said:
"We're very pleased to have been able to welcome the Prime Minister to Glasgow Central this afternoon to take a closer look at these ground-breaking trains, powered by British green technology, which will play an important role in helping the railway play its part in tackling climate change and supporting the UK and Scottish Governments' net-zero targets.
"Rail has a strong starting point as the greenest form of public transport and the most environmentally-friendly way of moving large quantities of goods, but we cannot afford to rest on our laurels. Decarbonising our railway, nurturing biodiversity on railway land and supporting our suppliers in cleaning up their act are fundamental to the future of the railway in Britain and we're already making strides towards these goals."
Photo credit: Network Rail