Network Rail thanks passengers and local residents for their patience and understanding over the festive period while it has completed important rail upgrades.
Over the Christmas and New Year break, Network Rail's team of engineers has been hard at work completing £22m worth of essential upgrades across its Western region – which runs from Paddington to Penzance – for the benefit of passengers.
While most of the network ran as usual over the festive period, there have been a number of significant projects successfully completed.
In London, the stretch of track between London Paddington station and Slough has been upgraded with engineers removing ageing and unreliable signalling equipment and swapping it with modern and reliable replacements. The completion of this upgrade work will play an important part in the delivery of a safe and reliable train service for the tens of thousands of passengers who use services at Paddington every day.
In Stroud, the railway bridge over the canal at the Ocean in Stonehouse has been replaced on behalf of the Cotswold Canals Connected Project. Engineers worked 24/7 between Christmas Eve and New Year's Day including replacing the current culvert with a new open structure, which will allow boats to pass through for the first time since 1968.
In South Gloucestershire, over 1km of new track has been laid either side of Bristol Parkway station. Rail-mounted diggers, cranes and bulldozers were used to remove and replace the old rail, sleepers and ballast with new rails, more than 1,400 sleepers and nearly 2,200 tonnes of ballast. The completion of this crucial maintenance will help ensure the safe and smooth running of the railway on this key route for customers travelling by train between London and South Wales for years to come.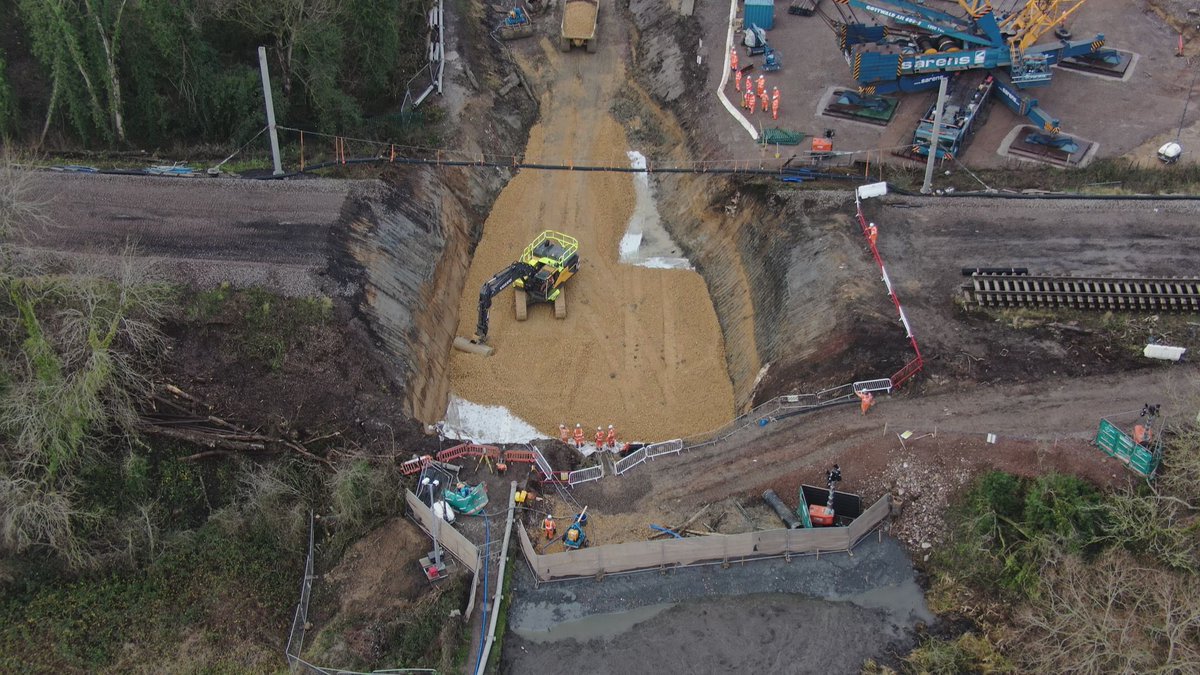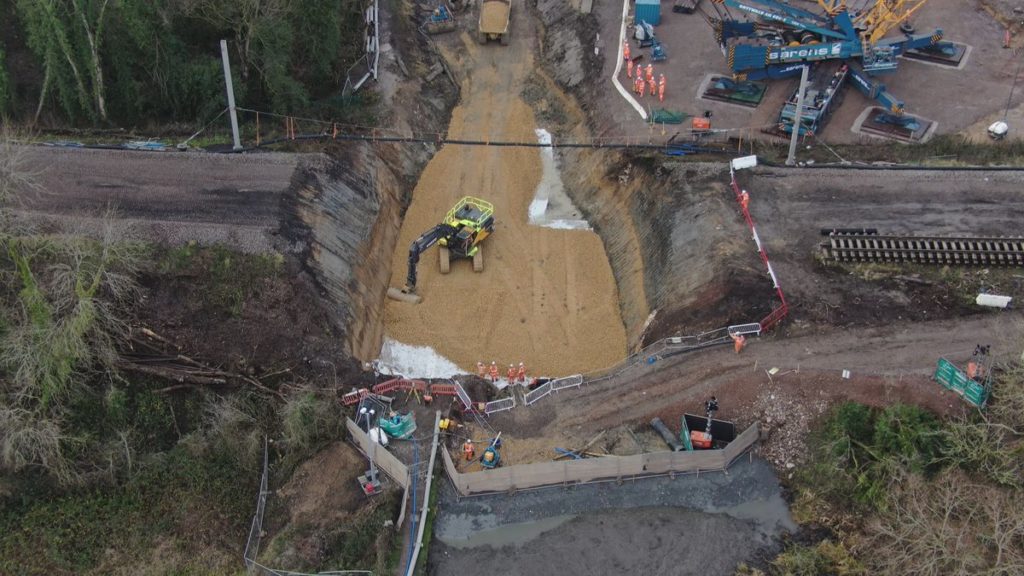 At Bristol Temple Meads, work as part of the Bristol Rail Regeneration programme continued with the installation of tactile paving along the edge of the station platforms. This work began on Christmas Day and will be completed today (4 Jan) with further work planned in the first few months of 2022. The installation of tactile paving will help improve the platforms to make the more station more accessible, particularly for passengers with visual impairments.
Mike Gallop, Network Rail Western route and strategic operations director, said: "I'm really pleased with the upgrades our engineers have completed over the festive period. These upgrades will help ensure we continue to run a safe and reliable railway for years to come, not forgetting also enabling boats to pass through the canal at the Ocean in Stonehouse for the first time since 1968."
"Undertaking this work over the festive period when there are fewest people travelling – particularly with no trains on Christmas Day and very few on Boxing Day – ensured the number of passengers disrupted were kept to a minimum. However, we are grateful to passengers and local residents living near to our work sites for their patience and understanding while we have undertaken these upgrades.
"The festive period is a really critical time for us to make vital upgrades to the railway and completing £22m of engineering work is no mean feat so I'd also like to thank the many men and women from Network Rail who gave up their festive periods so we can complete these upgrades for the benefit of our passengers."
Mark Hopwood, GWR Managing Director, said: "We always work closely with Network Rail to make sure essential track and signalling improvements can take place when fewer people are travelling, and this Christmas and New Year was no exception.
"These upgrades are important to ensure we can continue to provide safe and reliable services and I'm grateful to our customers for the patience they have shown during this time.
"I'd like to thank the project teams for their hard work and dedication over the festive period and I'd also remind customers to continue to check their journeys into the new year due to the impact of Covid and associated staff availability."
Photo credit: Network Rail