During COP26, a three-day 'Low Carbon Logistics' conference took place at the Mossend railhead off the West Coast Main Line near Motherwell, which is operated by PD Stirling. This is Scotland's largest rail freight park and handles up to 16 trains per day, which includes steel and bulk cement products, intermodal containers and finished cars. One of the success stories of Scottish rail freight is the way that logistics companies such as WH Malcolm and J.G. Russell took the risk of contracting trains to make rail freight available to small companies by aggregating full train loads.
Work has now started to expand the Mossend terminal to give it direct access to the motorway network and an additional eight 800-metre electrified sidings. When completed in 2024 it could transfer 14,000 HGV movements per week from road to rail and provide a throughput of 18 million tonnes/annum to support other Scottish logistic hubs.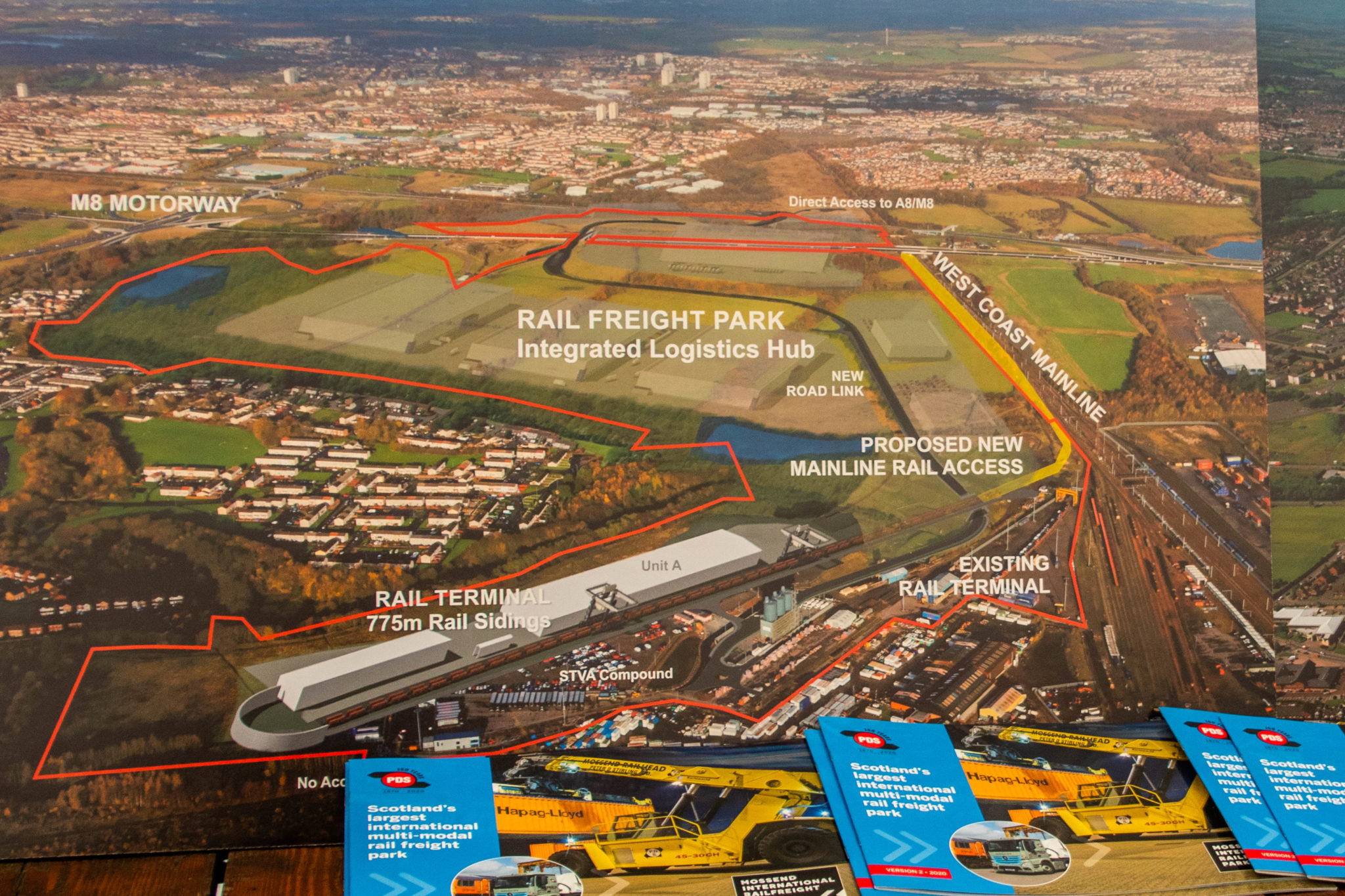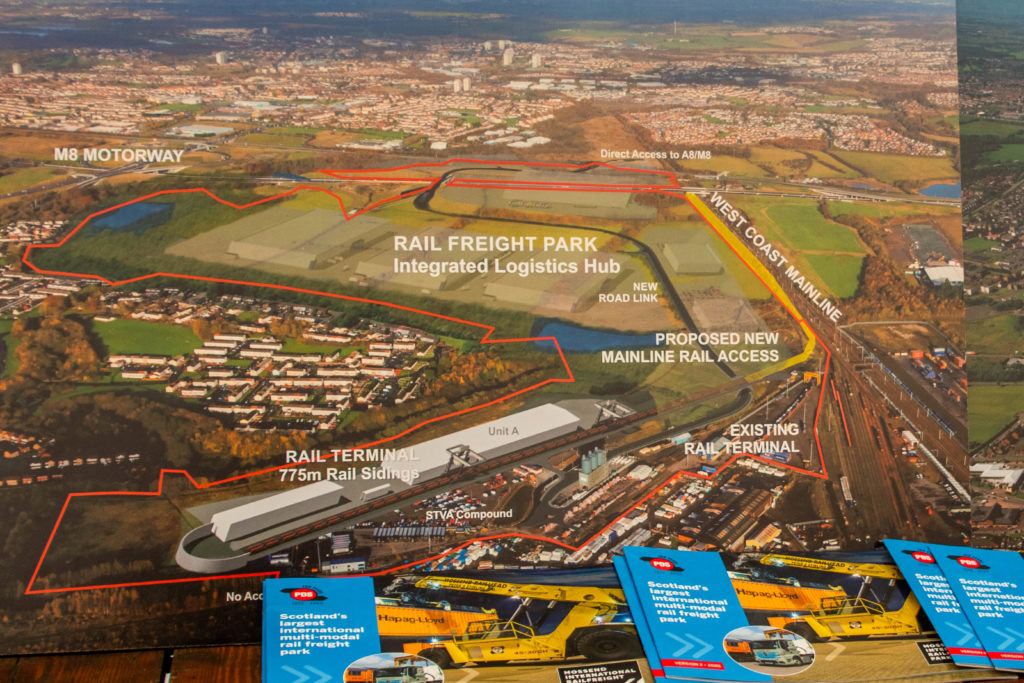 The conference was opened by the Scottish Minister of Transport, Graeme Dey, who considered that rail and road freight must come together to deliver the real prize that is modal shift. This needs new business models and industry innovations. He outlined Scotland's decarbonisation plans which included phasing out delivery vans by 2030 and decarbonising passenger trains by 2035. He noted the Rail Delivery Group had estimated that rail decarbonisation would create 6,000 jobs per year.
Decarbonising Scotland
Presentations by Alex Hynes, Managing Director of Scotland's Railway and from Transport Scotland's Bill Reeve, Director of Rail and Frazer Henderson, Head of Rail Policy, set the scene. These described the challenges of climate resilience and what Scotland has to do to meet its legally binding target of net zero by 2045.
Alex Hynes noted that extreme weather events from global temperature rises are a now real problem and that COP26 emphasised the need for urgent climate action. Network Rail was investing heavily in infrastructure, now has an infrastructure monitoring helicopter based full time in Scotland, and is applying modern asset management techniques to ensure resilient infrastructure for which Scotland's geography presents a challenge.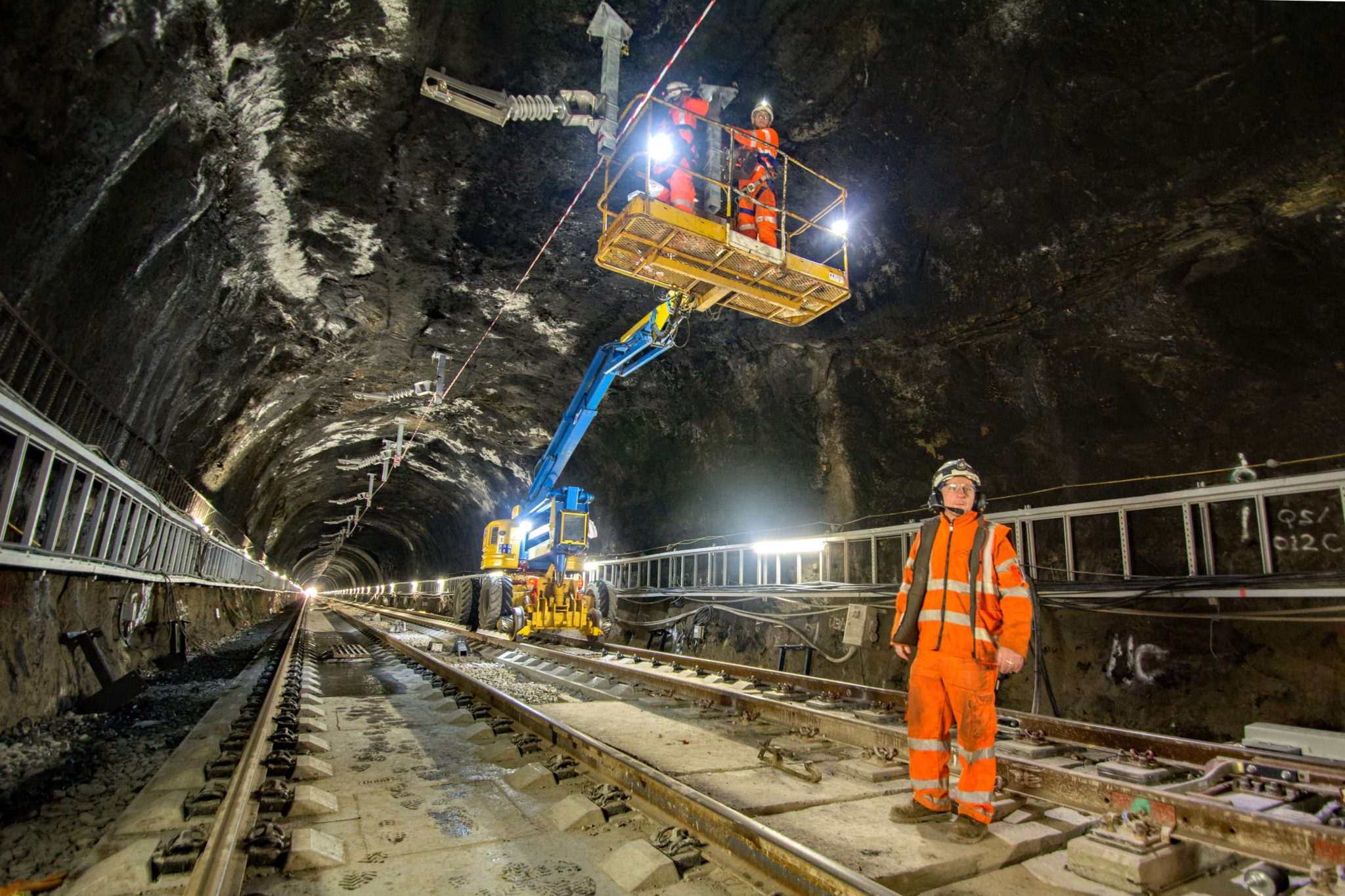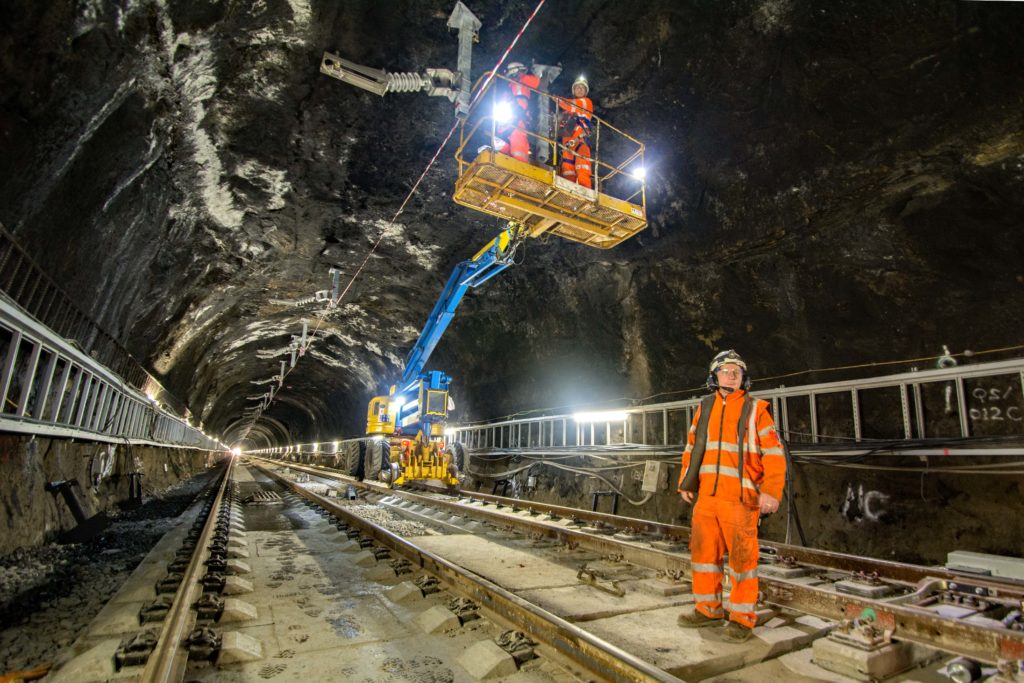 He advised that electric traction is net-zero carbon as Network Rail procures its electricity from nuclear power stations. Electric trains account for 76% of Scotland's passenger journeys and 45% of its freight electric. Since 2007, the Scottish Government has invested £8 billion on railway enhancement work. This has included re-opening lines to support modal shift to railway and a rolling programme of electrification with eight schemes totalling over 500 single track kilometres (stk).
Bill Reeve noted that to meet the Scottish Government's 2045 net-zero target, there had to be a 56% reduction in emissions by 2030. By then there needs to have been, for example, a 130% increase in cycling; 20% reduction in car travel; 57% switch to rail for journeys over 30km; 33% reduction in aviation emissions (either from sustainable fuels or reducing aviation demand); and 23% of truck tonne kilometres shifted to rail.
He explained that although rail accounts for 1% of Scotland's CO2 emissions, its contribution to decarbonisation is so much more than that. Hence, the Scottish Government places great importance on its rail decarbonisation plan which requires Scotland's passenger railway to be decarbonised by 2035. Bill emphasised that this will also provide a cleaner and more cost-effective railway.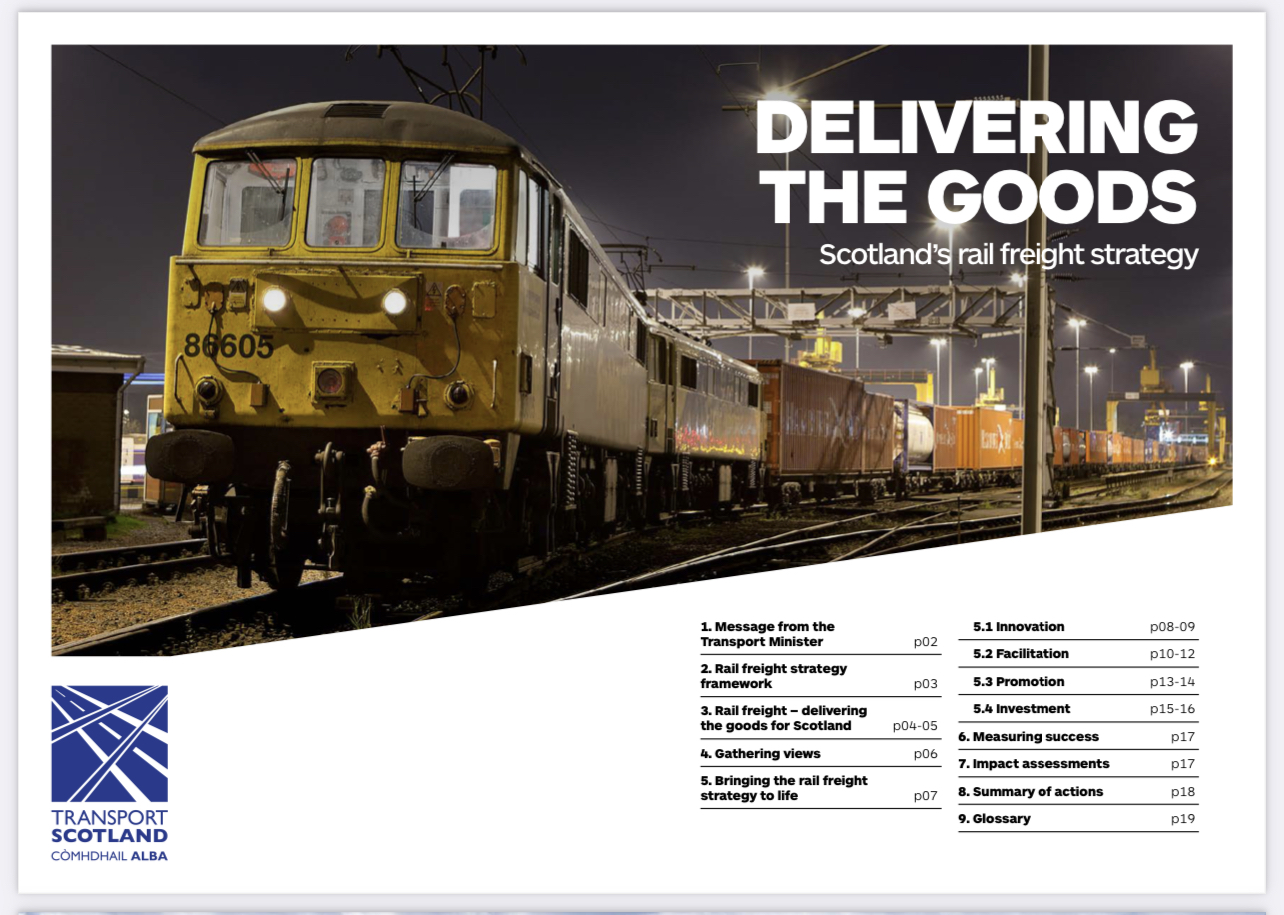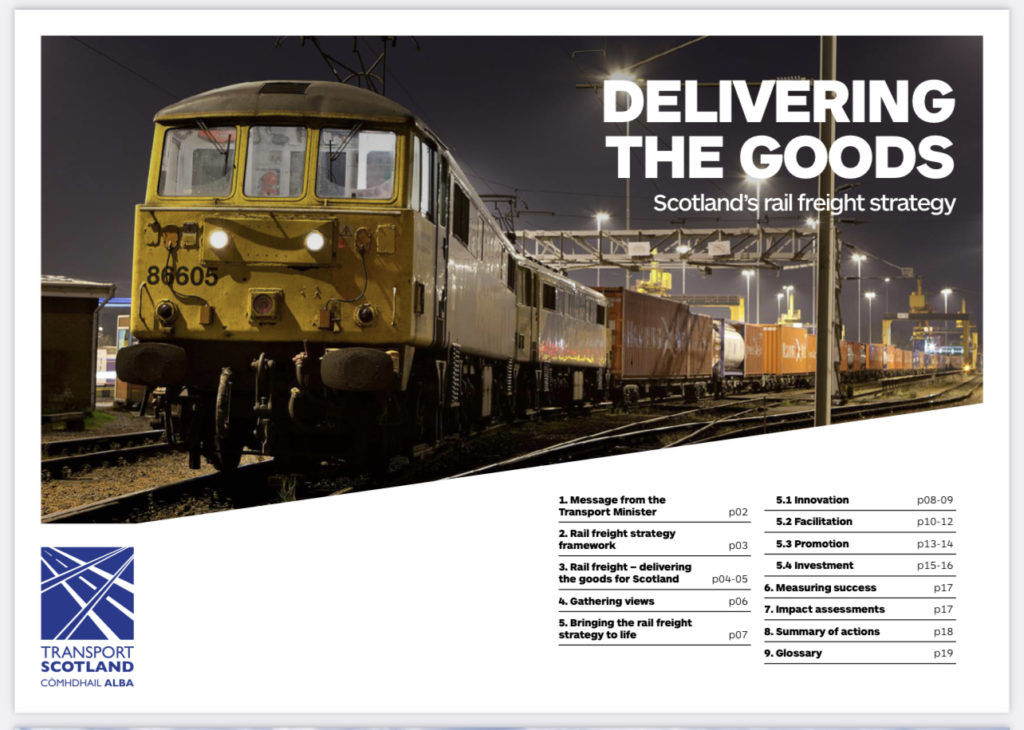 The first part of this plan is the decarbonisation of four routes: Barrhead, East Kilbride, Fife, and Borders. Alex Hynes advised that electrification of the Borders Railway had a good business case as the line was built with passive provision for electrification and that an announcement is expected soon.
Frazer Henderson advised that Scotland was currently delivering electrification at £2 million per stk. Whilst this cost is significantly less than recent UK schemes, it needs to be reduced further with greater efficiencies during design development and delivery. He stressed the need for hydrogen and battery traction during the transition period and noted the challenges of procuring new trains in quantities, types, and timescales to meet the electrification programme.
Bill Reeve advised that he had "never felt more optimistic about rail freight than I do now." With 80% of Scottish HGV movements on the M74 corridor there was potential to shift such long-distance trips to rail as two thirds of Scotland's rail freight is cross-border traffic. He was pleased to see Tesco using rail freight and looked forward to seeing Orion's converted passenger trains carrying parcels traffic.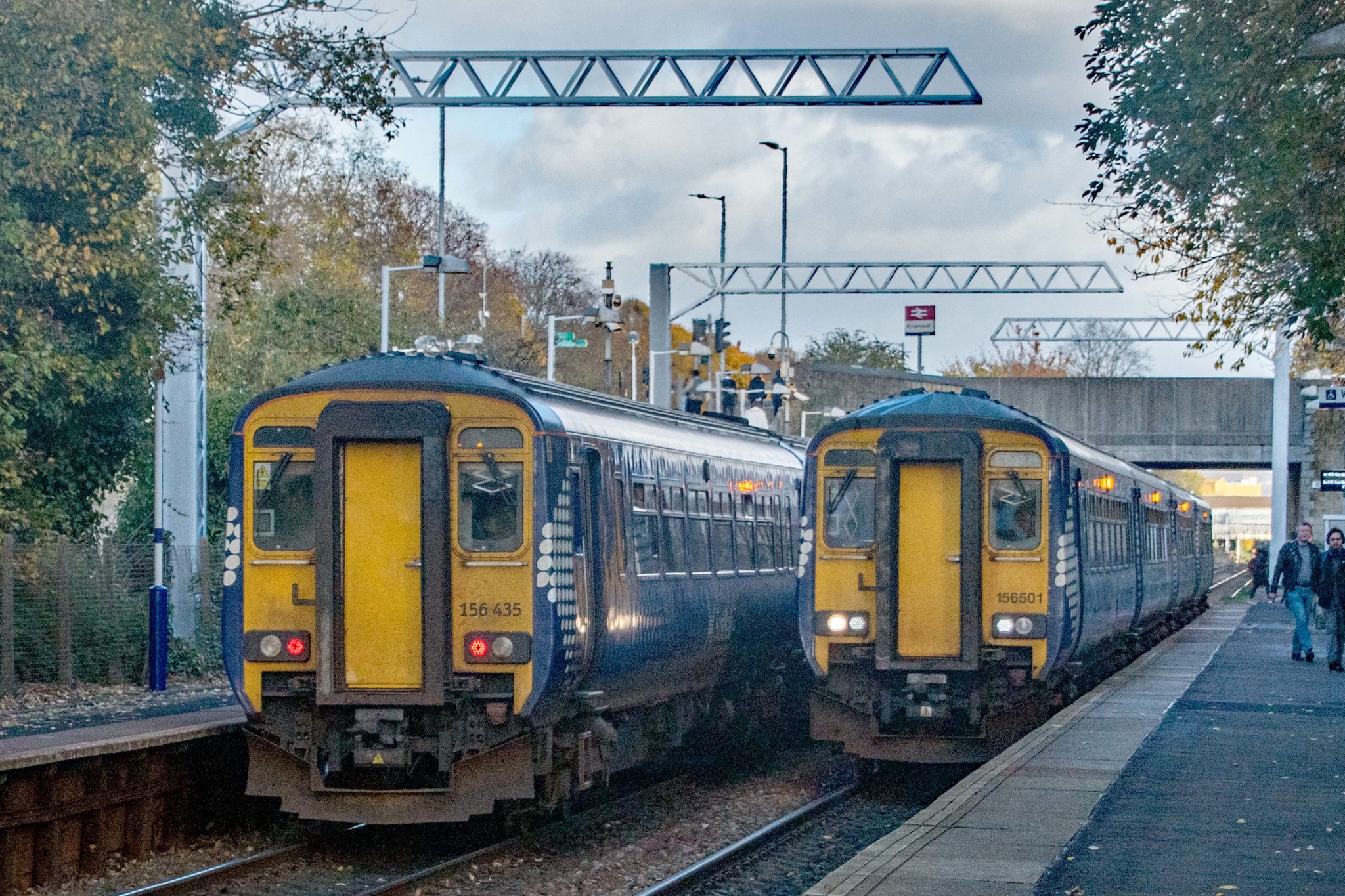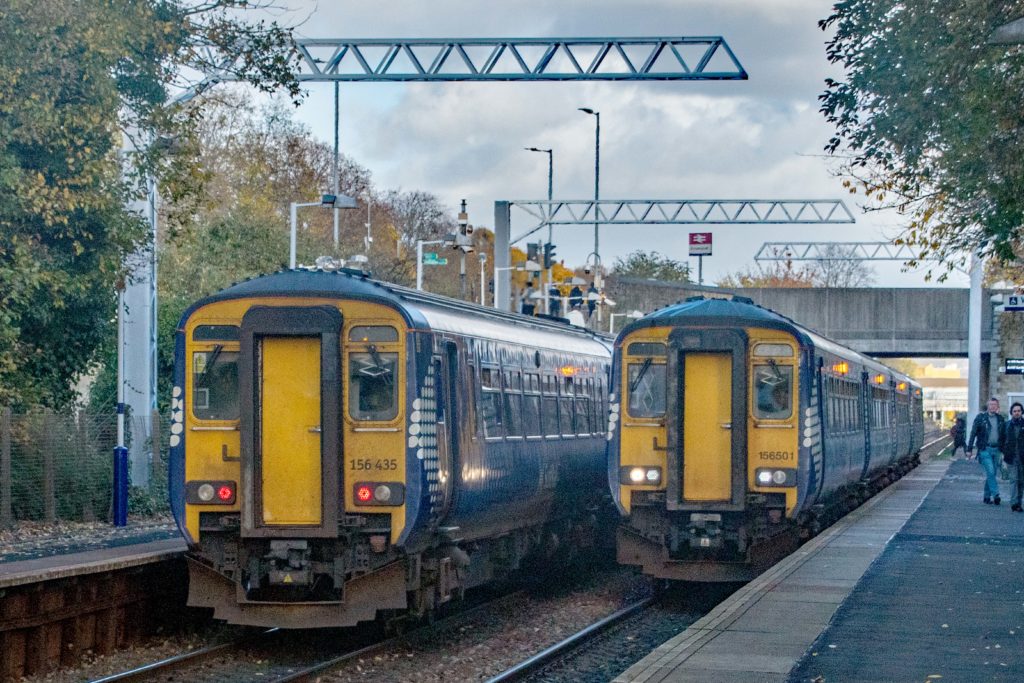 If the rail network is to carry decarbonised freight traffic, electrification has to be continuous as there is no credible alternative traction for freight trains. To accommodate freight Scotland's electrification programme also includes freight enhancements, such as gauging and reviewing loop turn out speeds as part of the electrification programme. Bill felt that "freight trains absolutely need the performance of electric traction."
Decarbonising rail freight
The Rail Freight Group's Assistant Policy Manager, Phil Smart was also clear that overhead line electrification is "the only game" in town if freight is decarbonised. He emphasised the need for short infill electrification schemes. For rail, and wider UK decarbonisation, the priority is rail capacity and faster rail freight for which electric traction is needed. Gauging and loop lengths also need to be addressed if rail freight traffic is to be increased.
He stressed that rail freight companies needed visibility of the electrification programme if they were to invest in the required electric locomotives. There also needs to be greater collaboration between road and rail freight, with rail being used for the long haul. Phil also mentioned future trends such as Stadler's class 93 tri-mode locomotive and repurposed passenger units being converted for parcels traffic for Orion's new logistics service.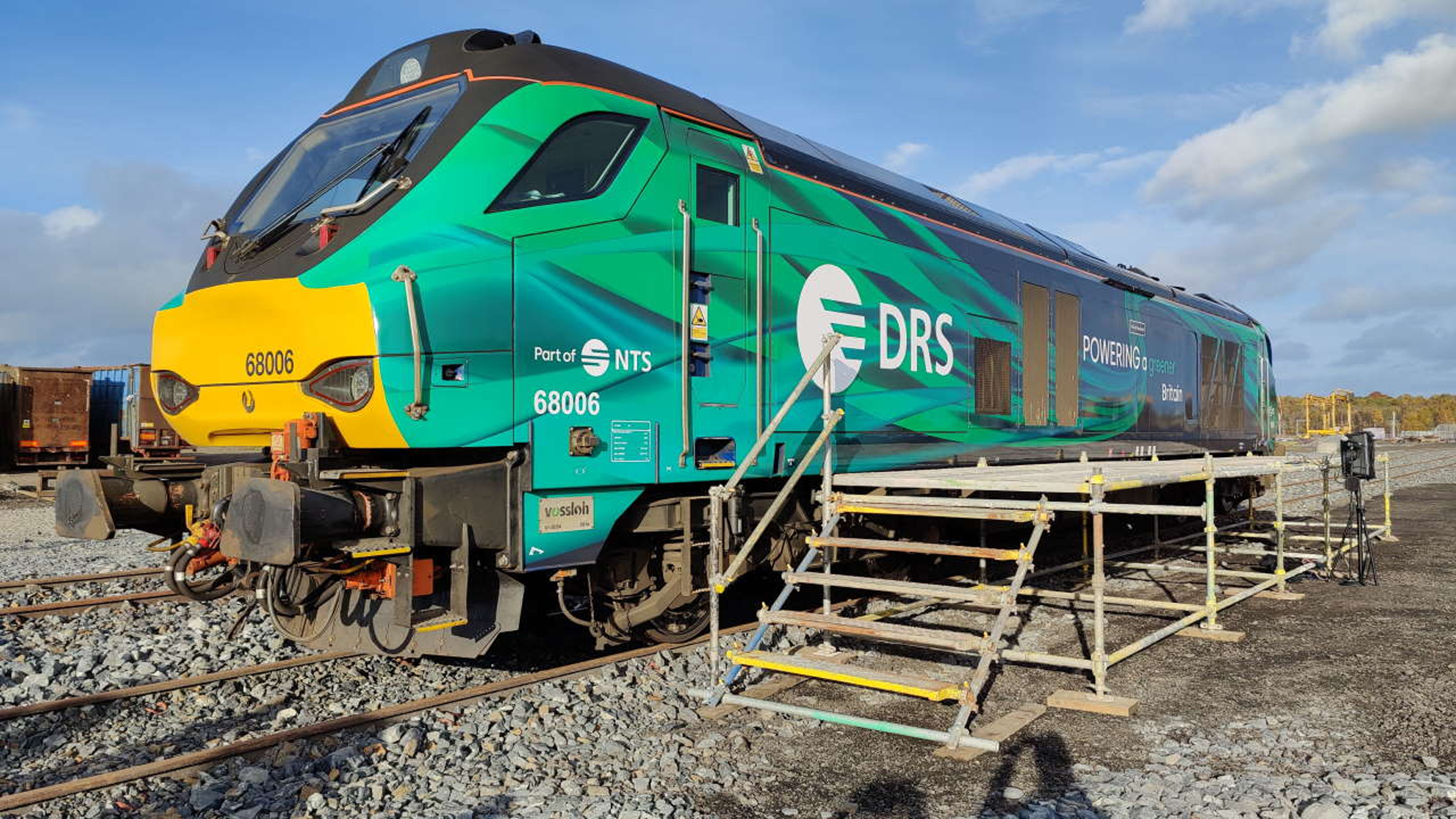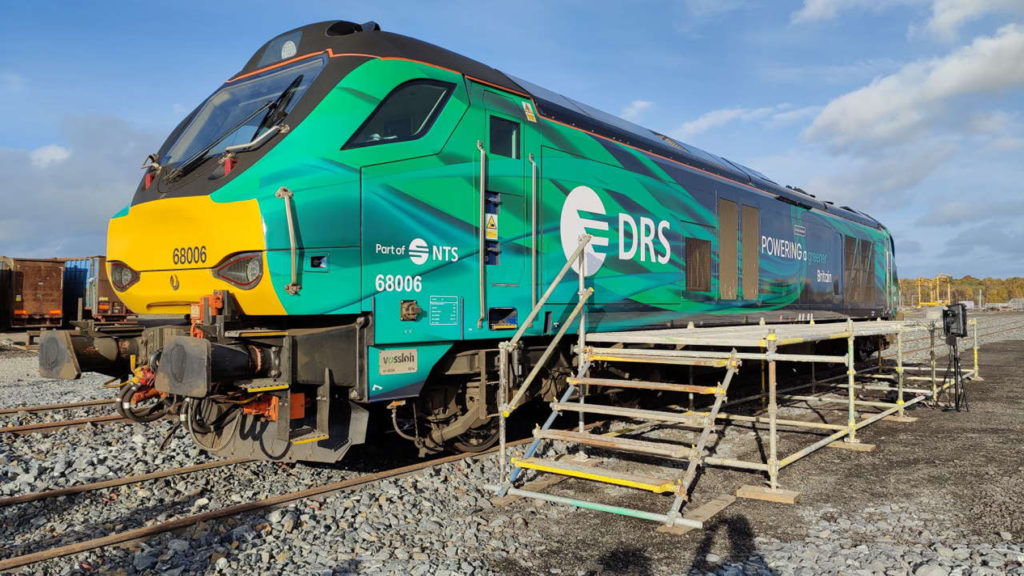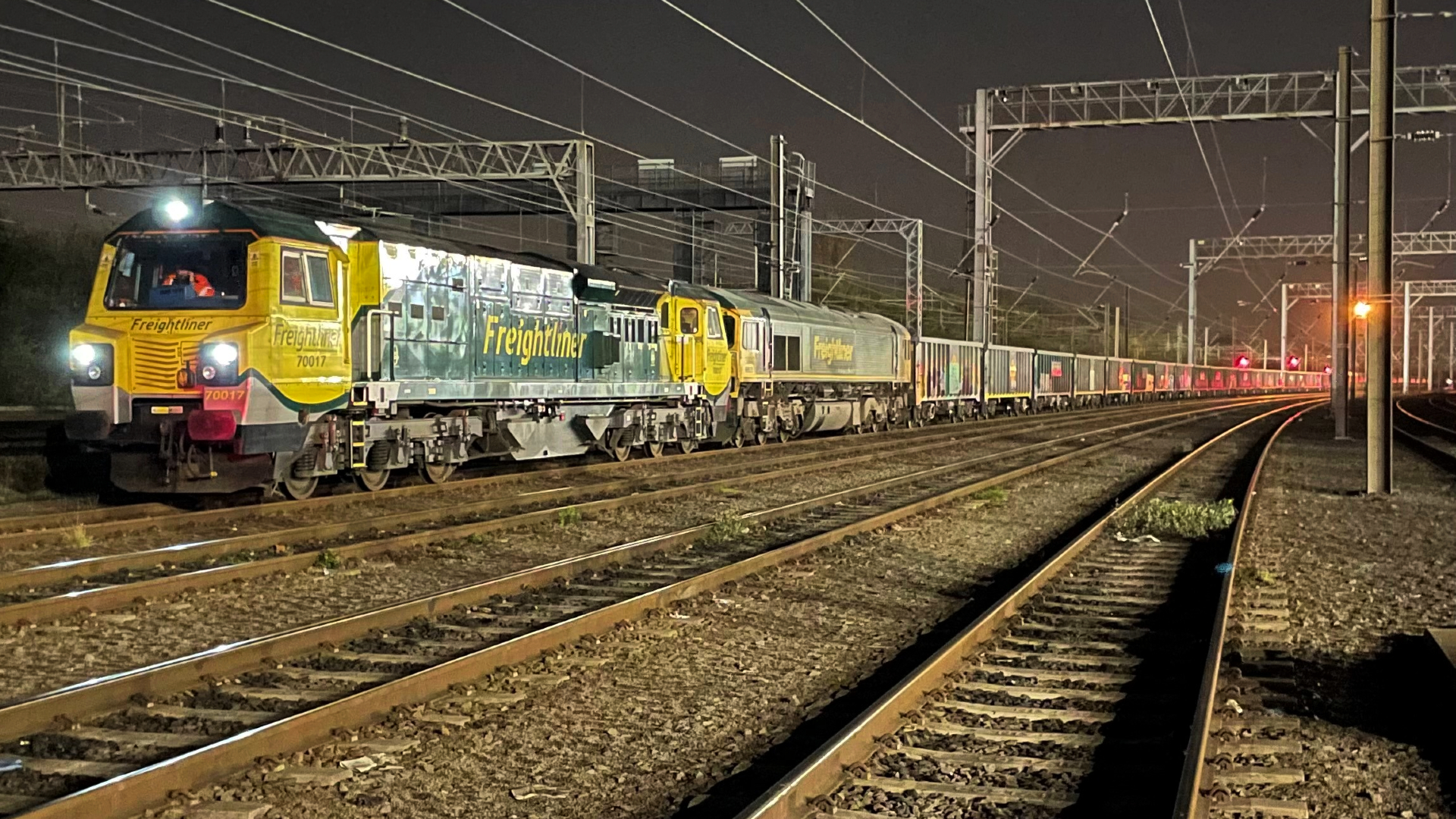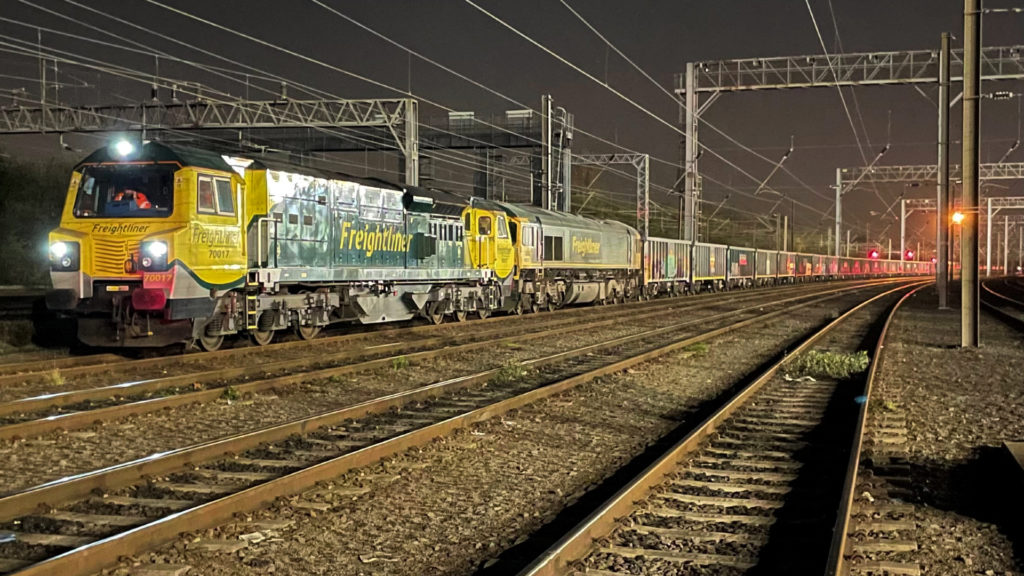 Tarmac operates 30 trains a day with an average load of 1,450 tonnes. The company's Head of Rail, Chris Swan, advised that rail freight was becoming increasingly important. He stressed the need for better operations such as standard 775-metre-long trains and reducing the time freight trains spent in loops. As a positive example he cited the operation of the company's 3,600 tonne, 'Jumbo' freight train of 48 stone hoppers from its Derbyshire Tunstead quarry to Wembley yard. They gave a 50% fuel saving and led to conversations which resulted in other longer trains. Also, the increase in stocking area at Tarmac's Battersea depot had enabled it to be a 100% rail operation.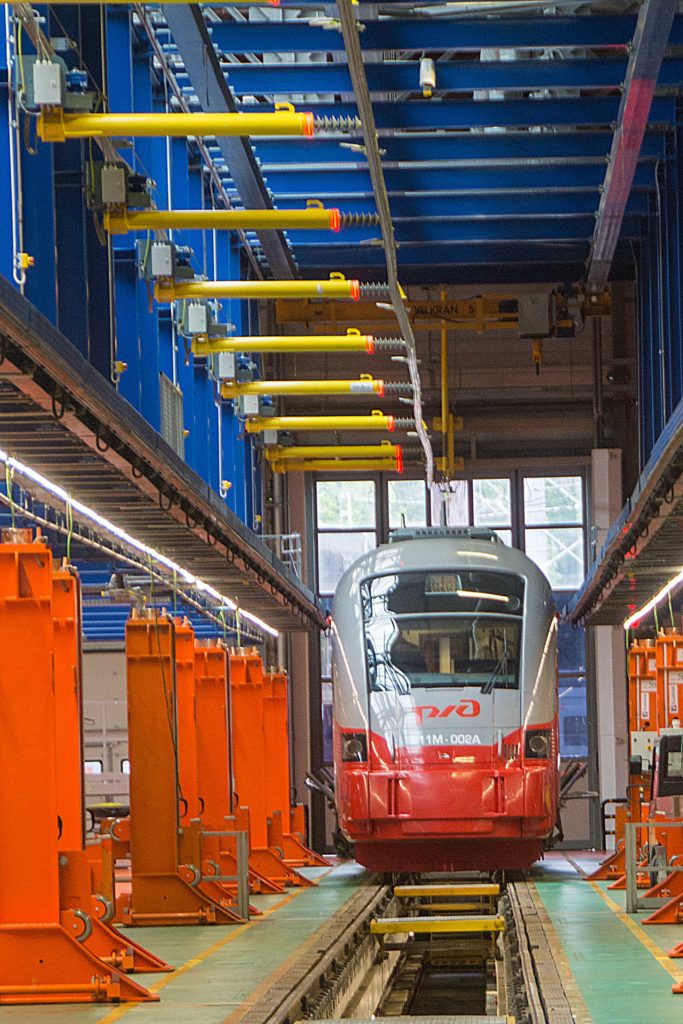 Chris advised that the company has also received 'First of a Kind' innovation grants for locomotives powered by hydrogenated vegetable oil (HVO), battery operated shunters, and electrification of a rail freight terminal. This last initiative involves installing a moveable conductor bar supplied by Furrer+Frey at Tarmac's Dunbar cement plant.
Carbon savings from better logistics was the subject of the presentation by Stephen Carr, Peel Port's Group Commercial Director. He advised that the Midlands accounted for 35% of the UK's warehousing and that this is the result of the conventional logistic model in which there are average HGV trips of 135 miles port-to-warehouse and warehouse-to-delivery of a further 135 miles. He explained how a port-centric model could reduce this average total 270 mile trip to 167 HGV miles and that if rail was used from port to distribution depots, this HGV mileage would be reduced to 72 miles. It was clear from his presentation that new logistic models offer significant savings of carbon and costs.
3,200 tonnes of CO2 will be saved when Highland Spring Group's new rail terminal at Blackford, between Stirling and Perth, opens next summer. This has two sidings accommodating 11 wagons which will make each train equivalent to 22 HGVs. Scotland's Railway's 2020 annual report notes that this is the result of a £19 million investment in signalling and track which includes a new south facing connection and is future proofed for electrification. The new facility will significantly reduce local HGVs movements by about 8,000 a year and has been sensitively designed to minimise the noise and visual impact on the village, for example continuous welded rail in the sidings will reduce noise and incorporation of community generated ideas such as a fruit orchard.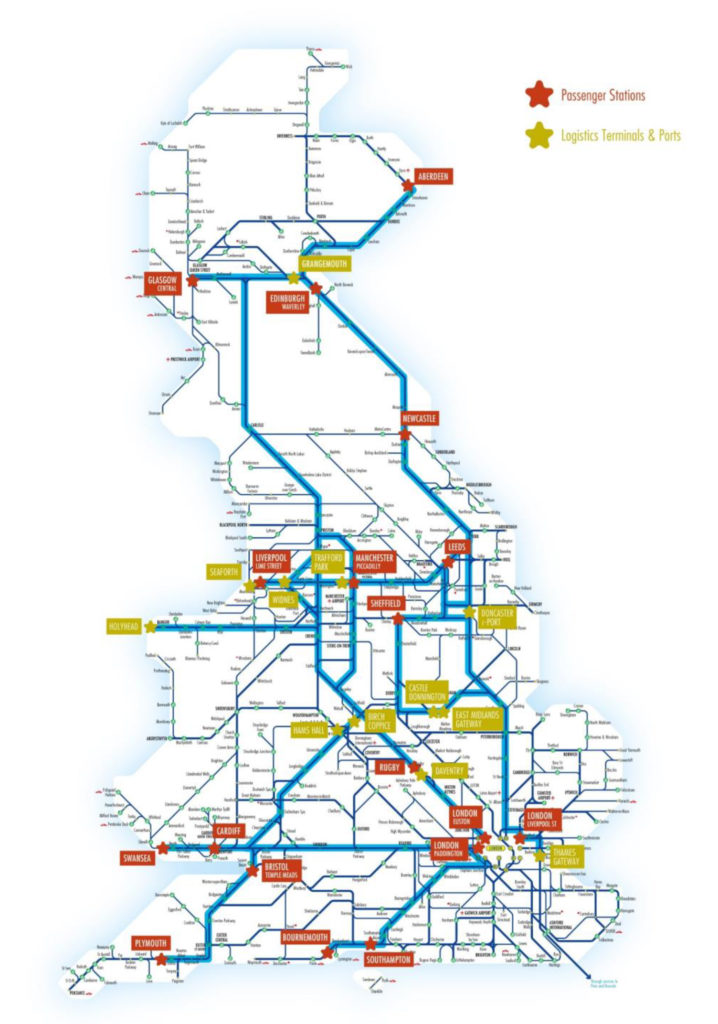 During the panel discussion that followed, it was felt that modal shift of freight from road to rail was now a realistic option and that rail freight was now competitive over shorter distances. However, everyone needs to think differently − for example, last mile solutions require mature collaboration between road and rail. More terminals are needed as their capacity is crucial to get material on a train at source. Although out of hours terminal operation in cities is problematic, this presents an opportunity for high-speed logistics operators such as Orion.
This is an example of the need for suitable terminals and facilities at stations to support the emerging high-speed parcels traffic for which there is great potential. However, it was noted that late internet shopping cut-off for next day deliveries favoured vans which could be despatched at a moment's notice.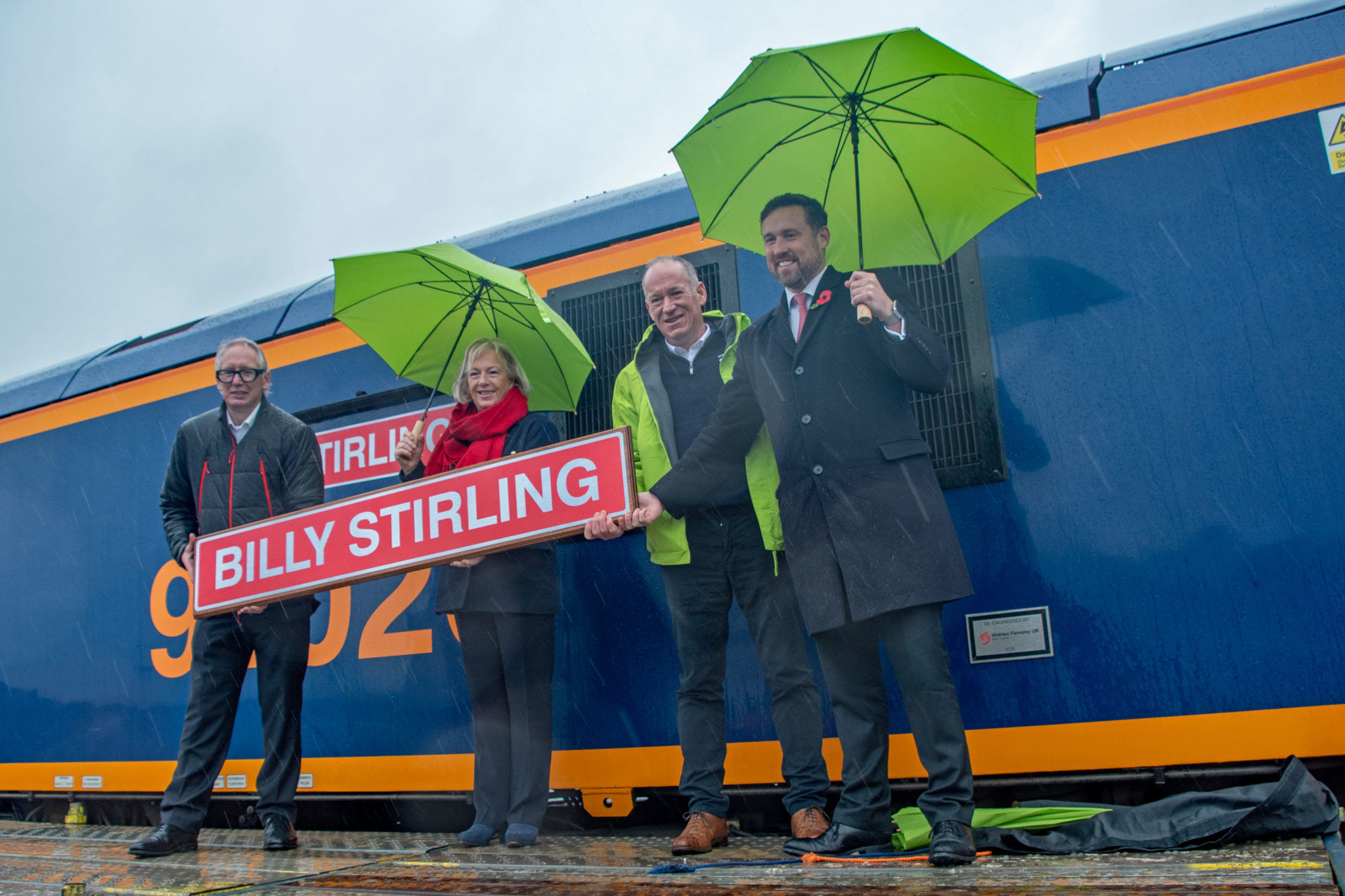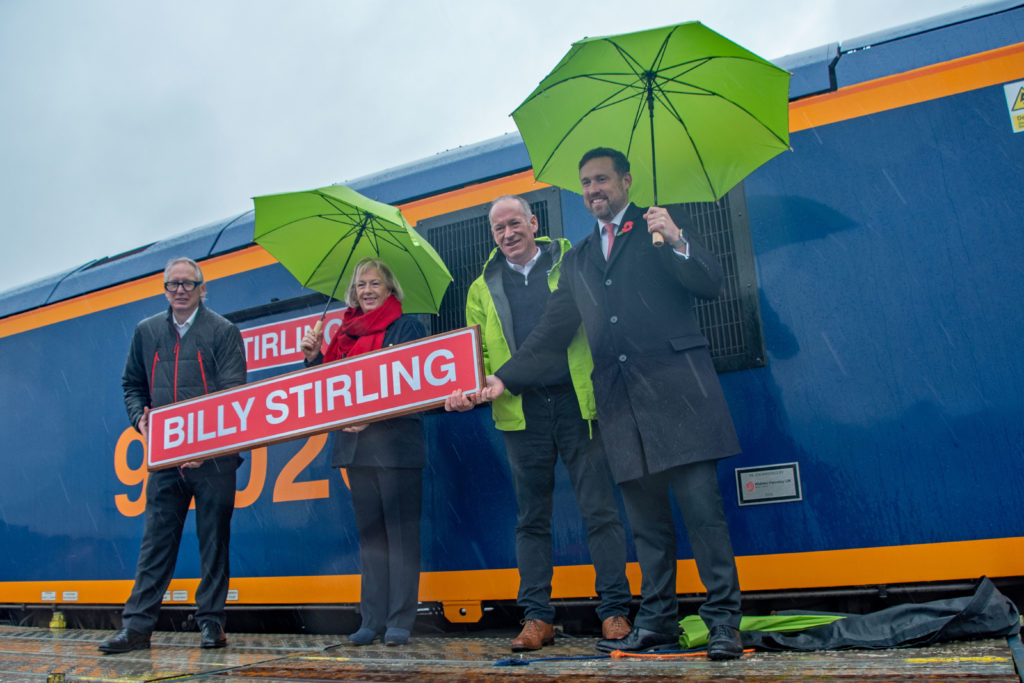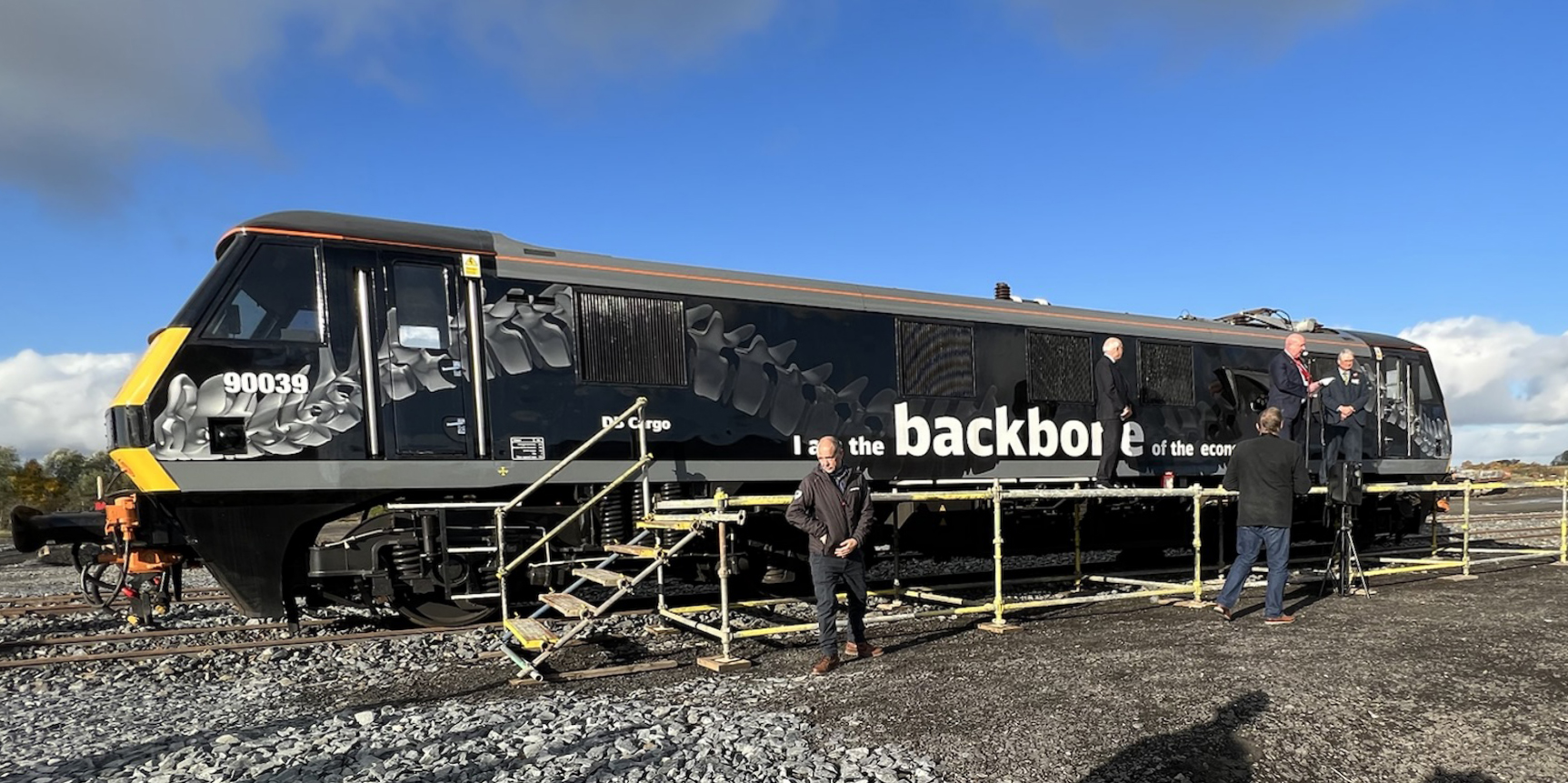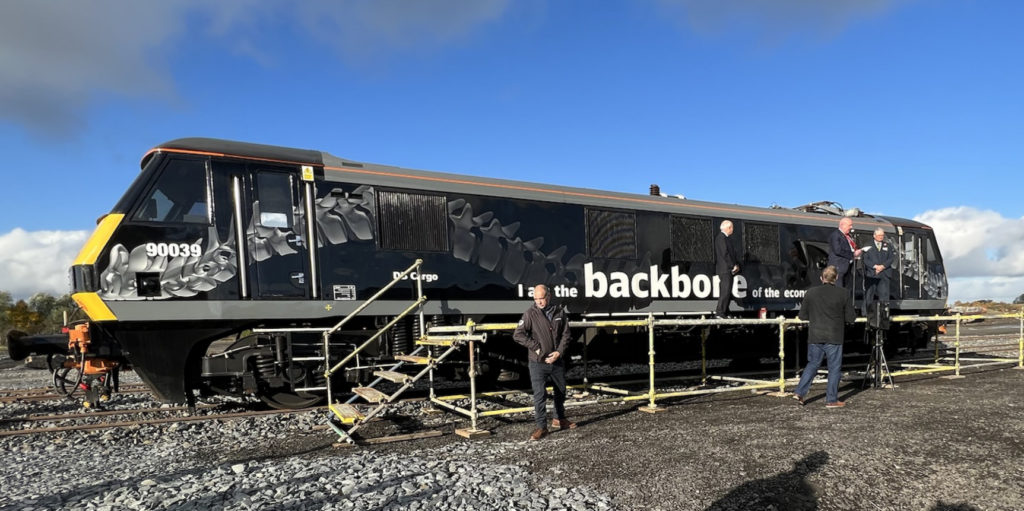 Driving diversity
Although the strategies and hardware for a vibrant rail freight sector are fascinating topics, equally important is the need to support the workforce and recruit a diverse workforce for the future. Three speakers specifically addressed these requirements.
ScotRail's Head of Strategic Workforce Planning, Neil Archibald, advised that only 22% of the company's workforce were female and that 42% were over 50 and due to retire in next 5-10 years. ScotRail has a five-year strategy to acquire talent acquisition which includes the need for engaging early careers experience to retain and attract talent.
He explained that only 3% of job applications were from women and so it was necessary to think differently to ensure future workforce diversity. ScotRail is developing various campaigns to ensure that, by 2036, its workforce reflects Scottish society. This includes engagement with the Primary Engineer and Scottish 'Young Person's Guarantee' initiatives.
Dr Susan Scurlock founded Primary Engineer in 2005. She explained how it aims to develop children through engagement with engineering, promote engineering careers, and support teachers to deliver these aims. Its Rail Project is supported by Network Rail and Hitachi Rail who are funding teachers and provide engineers on Primary Engineer Rail Project courses.
One percent of UK freight train drivers are women and Heather Waugh is one of them. She was a train driver with ScotRail when she applied for the job and, when she did so, was apprehensive of being the only woman in traditional male environment. Yet the reality was that her colleagues were welcoming, supportive, and encouraging. It was clear that she loves her job.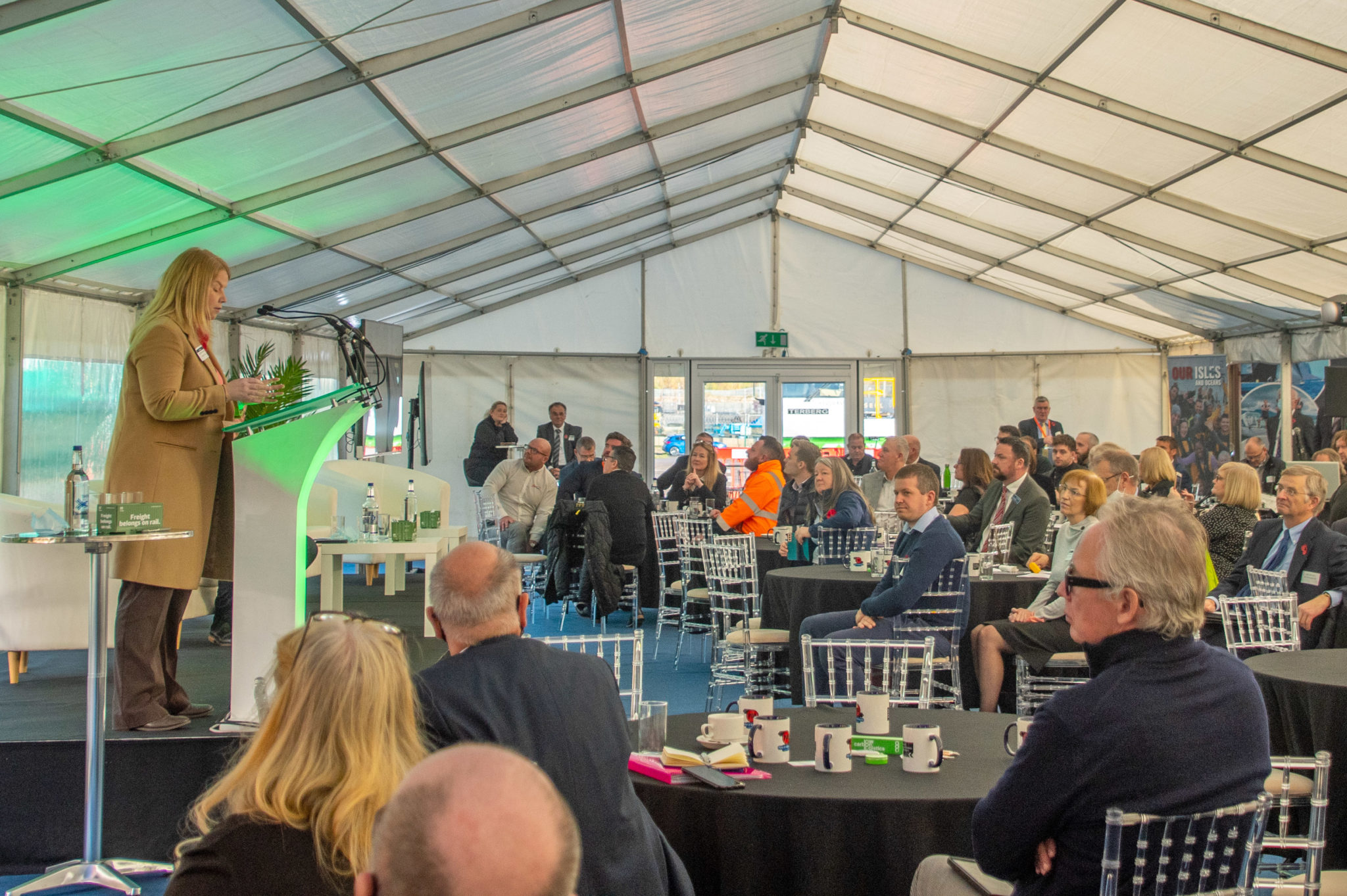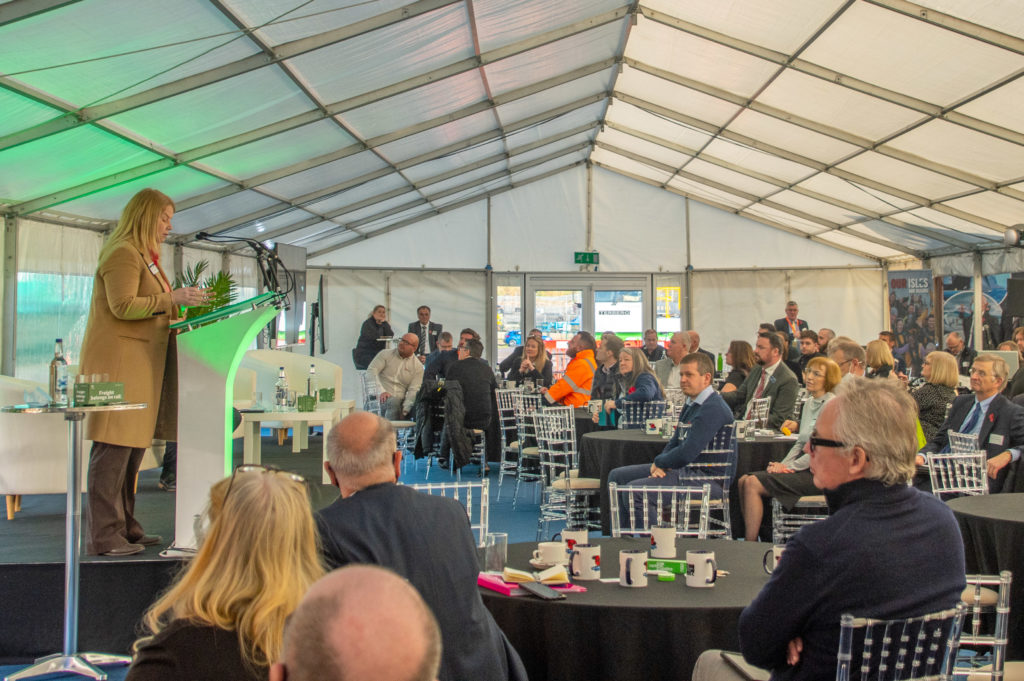 However, what she did experience was unconscious discrimination such as there being no suitable PPE for her and no female facilities in the depots. She felt that women in rail can give fresh insights. Her message was that the world has been made by men for men and that if an environment is created where women can excel, then everyone will excel. In other words, we should all be aware of the needs of those who are different from ourselves.
Involving SMEs
The Rail Cluster Builder is an 18-month project launched in August 2020 funded by Transport Scotland and Scottish Enterprise. Over 200 SMEs registered with the cluster which provides learning, support, connections, networking events, and market insight reports. Of these, 19 were subsequently connected to rail businesses in Scotland and five have been connected to the Hydrogen accelerator at St Andrews. The conference included presentations from the following SMEs:
Autonomous IoT who are based in North Lanarkshire and provide off-grid, always available external lighting, powered by wind and solar energy.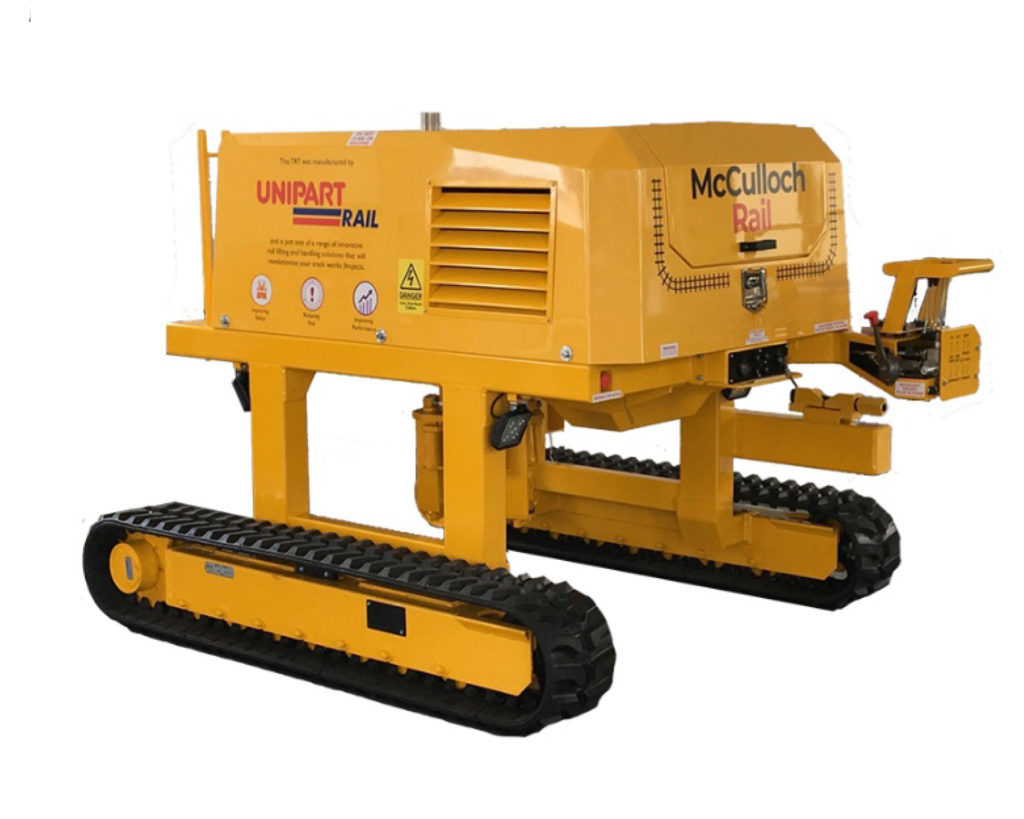 Genista Energy offer battery storage solutions to reduce grid dependency and optimise energy use.
Railway Support Services (RSS) whose RSS TP 60 shunting locomotives have twice the tractive effort of class 08 shunters and only consume seven litres per hour when idling, compared to the 08's 130 litres. RSS offer shunters with LNG/LPG engines or a battery hybrid version.
McCulloch Group who started their vegetation management business in 1992 and now offer rail track renewal and maintenance solutions across the UK, including their Trac Rail Transposer (TRT). The company produces a large range of rail machines at its Ayrshire plant and will soon offer a full zero-emissions track renewal system.
Findlay Irvine which offers a wide range of weather monitoring and condition monitoring equipment including wireless rail temperature sensors and earthworks tilt sensors, of which 150 systems, with a total of 6,000 sensors are in use on Network Rail's infrastructure.
3SC Ltd has, in partnership with Ultra MTS, been operating their Personal Rapid Transit (PRT) system at Heathrow Terminal 5 since 2011. Their automated battery powered pods run on a lightweight segregated guideway and present minimal, if any, waiting time. As such they offer last mile connectivity. A PRT system at Chengdu airport in China will open next year.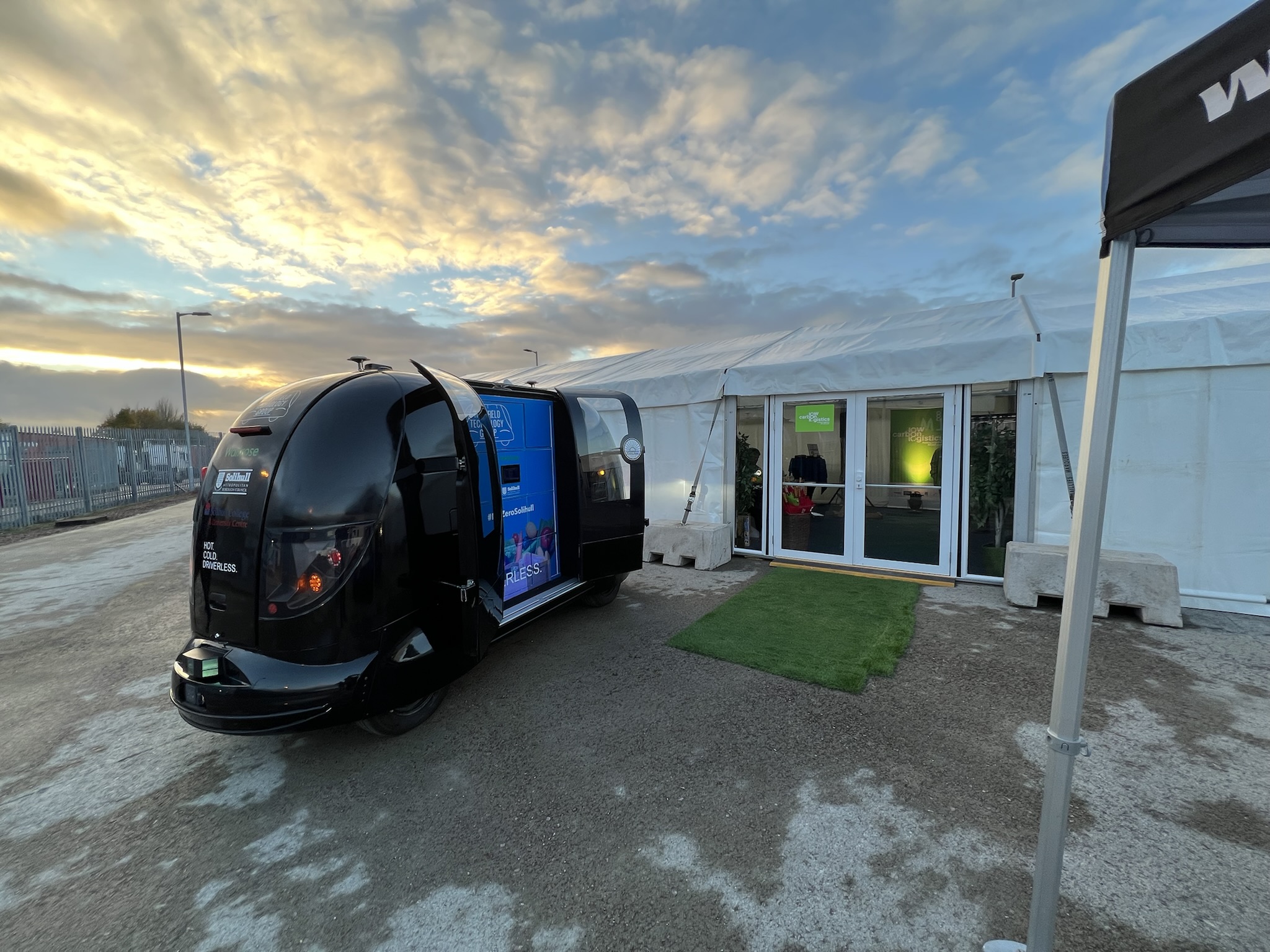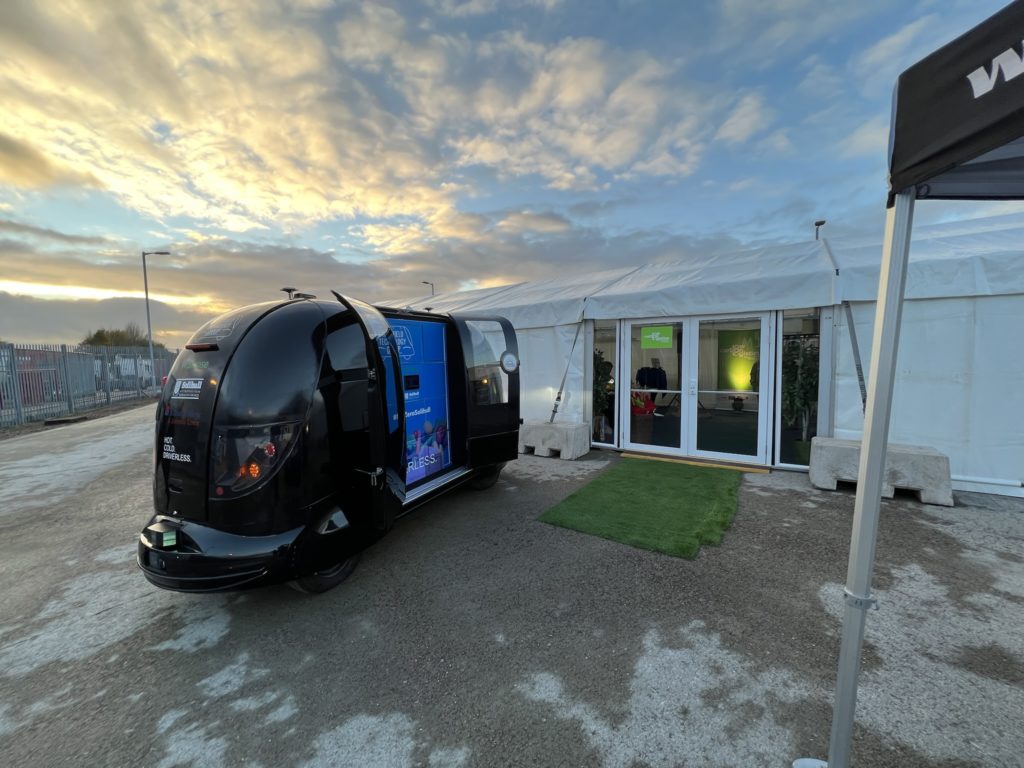 inDex which offers a cloud-based software platform and works collaboratively to automate the calculation of their carbon footprint.
Route Konnect, which uses video analytics that offer multi-camera movement insights without the need for controversial individual facial recognition to provide accurate headcounts and full journey analysis.
Sustainability
Sustainability is not just about decarbonisation and decarbonisation is not just about electrification. This was the message given by Wendi Wheeler and Keira McLuskey of Network Rail Scotland's Sustainability team.
They explained that their three priorities were: 1) a low emission railway; 2) a green and resilient railway and 3) a responsible railway.
This requires consideration issues such as embodied carbon, enhancing biodiversity, operating in a circular economy, and improving social value. Activities to support sustainability in Scotland's railway included construction of a beaver tunnel under the railway, reverse vending machines at major stations, and providing shelter and warm clothing for the homeless.
If the UK is to have a sustainable transport network, energy use needs to be minimised and emissions reduced to net zero. This requires as much freight as possible to be carried by rail, especially as there is not yet a net-zero solution for HGVs. It was good to see the Low Carbon Logistics conference highlighting various worthwhile initiatives to promote the required modal shift.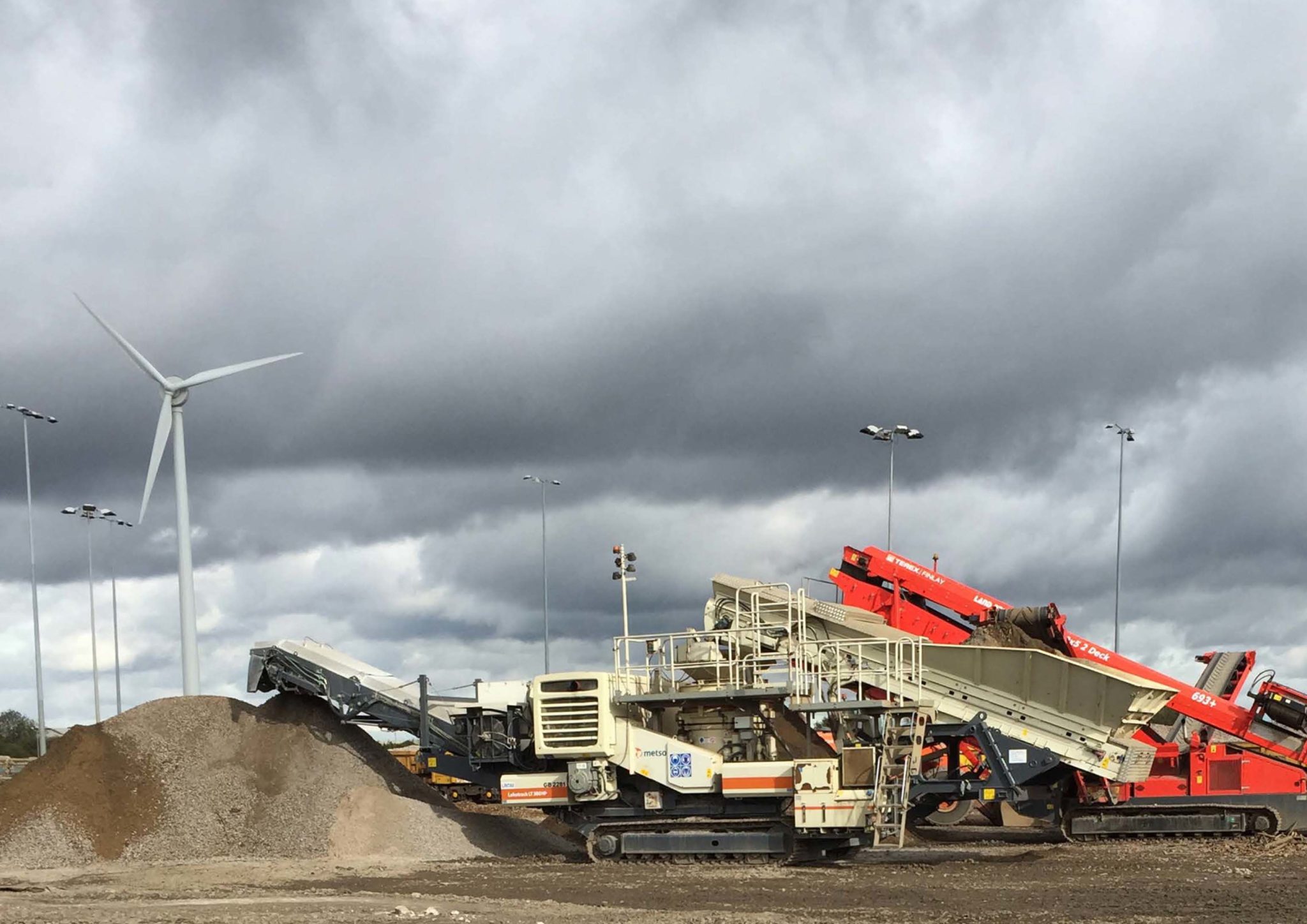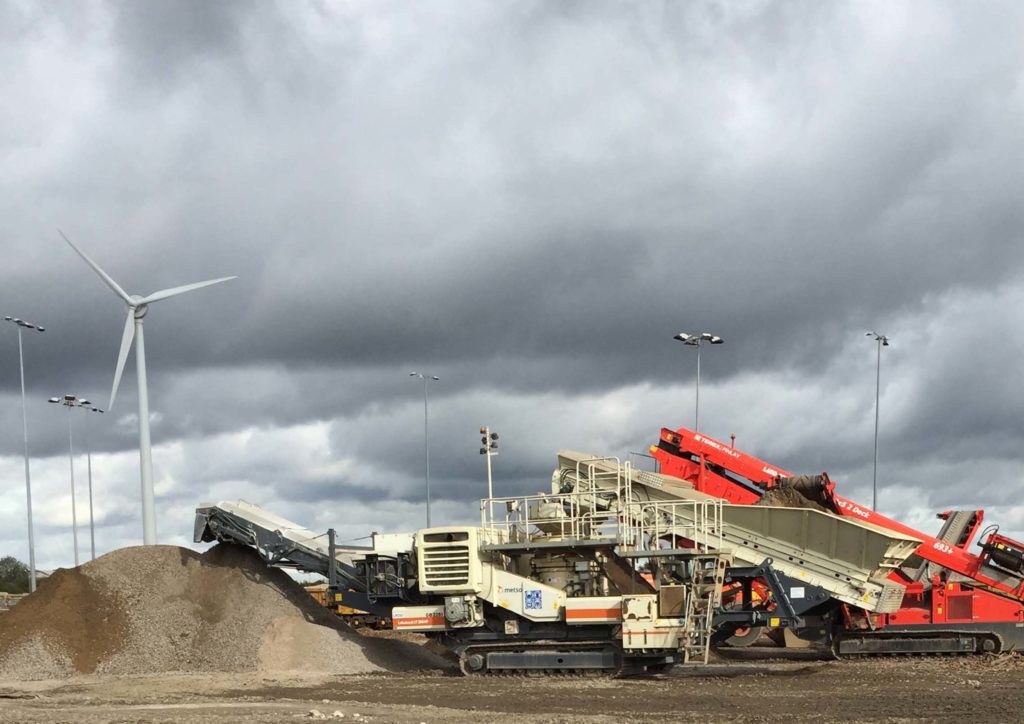 ---