It's an inescapable reality that life is unpredictable; generally, though, its ups and downs impact uniquely on each individual. Yes, recessions hit periodically and make their presence felt broadly, but it's many decades since an event caused the world to stop turning in the way coronavirus has, prompting a mass retreat into our homes.
I recently took my first train since lockdown – an evening peak service out of Leeds on the TransPennine main line. Conventionally, I'd have to jemmy myself into the vestibule and cower beneath the armpit of a stranger as far as Huddersfield. Not this time though. In a carriage offering 88 seats, there were seven of us. Second wave or not, one thing's for certain – uncertainty will be with us until an alternative normality can establish itself.
But how do you plan and resource? How do you remain efficient? How do you service the needs of a client who doesn't know what their needs might be? These are amongst the challenges that will face the rail supply chain as, and when, Covid-19 loosens its grip.
Into the unknown
There must have been a temptation for Total Rail Solutions (TRS) to just hunker down and wait for the storm to pass. The company is known, historically, as a road-rail plant provider, with upwards of a hundred machines; now, though, it's becoming increasingly visible for its contracting services and labour provision, with a workforce exceeding 300 in total.
TRS changed hands in 2018 and, under new management, has undergone a reprofiling from a successful 'family business' to something sitting very comfortably within the professionalised rail market. There's been a determined effort to heighten brand awareness and introduce systems that deliver management and operational improvements.
The hiatus of lockdown was used as an opportunity to relocate to new premises at Greenham, near Newbury, served by the M4 and located perfectly for works along the Great Western main line corridor. A few years ago, the route's electrification programme proved transformational for the company and it continues to build on the financial and reputational benefits that brought.
The main building accommodates core operations and administrative staff whilst a nearby yard and workshop is home to the engineering team. The site offers improved logistics over TRS' previous base at Basingstoke. "It's a really good showcase for the business," asserts Paul Bateman, the firm's chief executive officer. "We plan on hosting a number of client engagement events here when circumstances allow."
Spreading wings
Whilst the company is a national player with a go-anywhere attitude, any map showed it to have a presence only in southern England, with a satellite depot at Cwmbran. This had the potential to impact on perceptions. "So, it was a strategic move for us to put something in the North", says Paul, who I met at the firm's new office near Doncaster, where a business development manager is now located.
There's a workshop here, storage space for a handful of machines and room for growth. And other bases could be established elsewhere if a particular client or project warrants it. Responsiveness is the watchword.
The move reflects broadening horizons on the back of securing a framework contract with Network Rail which continues to gain traction within the local maintenance teams. "There's a positive message to send out from that," Paul suggests, despite the difficulties affecting the industry. "If you perform, work is there." Securing more of it will soon see the recruitment of a head of business development, whose role will involve being persistent!
Golden accolade
TRS is a service business, not just a provider of big, shiny plant. The Great Western Electrification Programme (GWEP) gave the company continuity of business and enabled it to grow the fleet. But now it wants to be the 'go to' supplier for a broader community of clients where there's an opportunity to collaborate – embedding staff within a project team from the outset to find solutions. "We've had a lot of work off the back of GWEP," reflects Paul, "because we were reliable and always said 'yes'. But we won't put salesmen into teams – these are operational guys who'll be out on the Saturday night doing the work."
Client expectations have evolved over the years. It's no longer just a case of delivering to a kit list; as a qualified POS (Plant Operations Scheme) provider, it generally now involves an assessment of the job requirements to ensure they can be met in the safest, most efficient and cost-effective way. "But the three key things are still reliability, delivery and attitudes on the night," says Paul.
The company's plant failure rate is particularly good – in part, a function of the fleet's low age profile – resulting in the recent award of Gold status on Network Rail's online plant reliability system, which was implemented to monitor performance of supply chain equipment. "It's great for us and a testament to Fitzgerald Plant Services who maintain our kit," Paul acknowledges. "The key for me, though, is to retain gold status."
Going forward, a strategic decision has been taken to bring some maintenance in-house to address risk to the business. Fitters have been recruited and an engineering team is being built up at Greenham to manage the fleet's servicing needs, although Fitzgerald will remain a crucial player to the business.
No going back
Everyone in the plant sector feels the pressure to innovate. Beyond the natural programme of fleet refreshment is the search for the next big thing that will bring commercial advantage. Network Rail actively encourages innovation in response to practical constraints encountered on site. Times are tough, though, and, with no guarantee of returns in the current climate, making sustainable investment decisions is acutely challenging.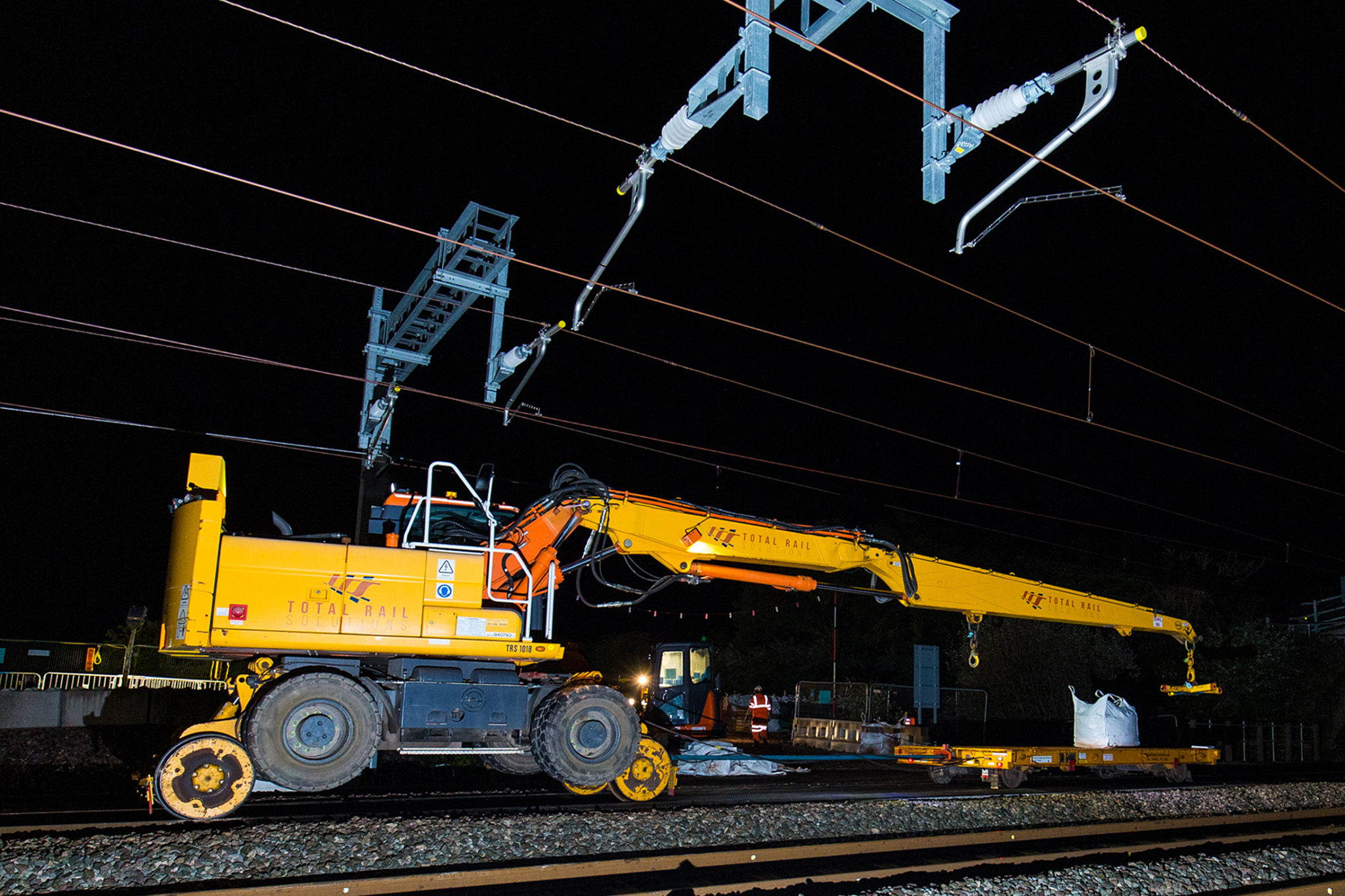 "You've got to trust your instincts," Paul believes. "Clearly, we've paused a few things with everything that's going on, but it would be a failure on our part if we weren't ready as and when the work comes back online. So, we're progressing several R&D projects behind-the-scenes which utilise existing equipment and, we believe, will generate interest in a specific area. You've got to look forward."
Growth spurt
Punching above its weight is one of TRS' longstanding attributes, a function of persistent successful delivery, effective relationship building and the right level of kit. Whilst there'll be no compromise in those areas, Paul's keen to achieve more coverage across the UK and to become operationally slicker.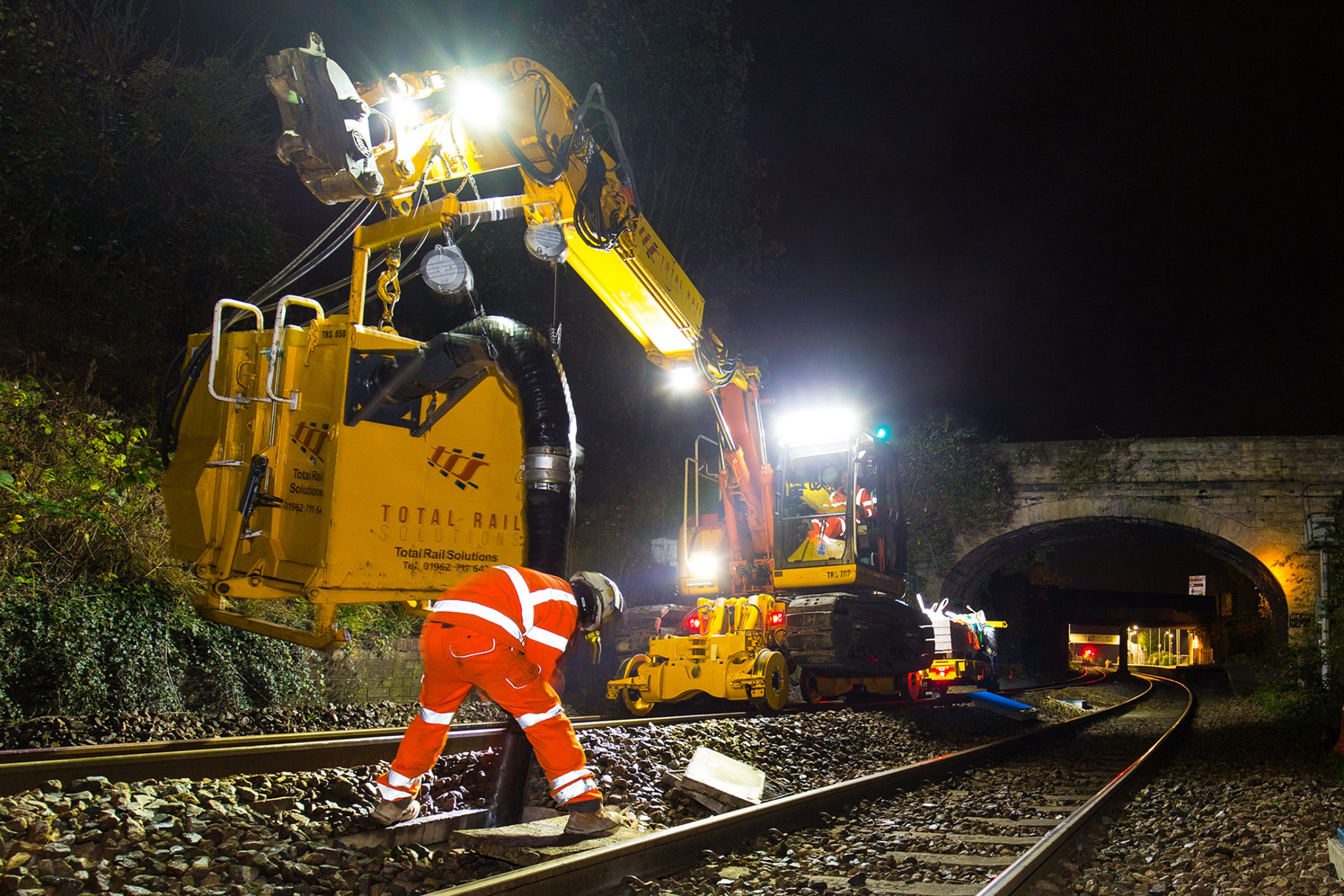 The firm has recently launched a new platform, TRS Digital, to allow POS packs, method statements and risk assessments to be retrieved and returned via smart devices, whilst a US developer is currently creating a system to integrate all aspects of running the business on a day-to-day basis, from resourcing and fatigue management to transport and accounts. That should be in place for the next financial year.
A big push, though, will see more prominence of TRS' contracting division through which it is able to deliver labour, plant, materials and supervision for delivery of complete civil engineering projects, such as earthworks, platform extensions, drainage schemes and car parks. From nothing, this has established a new revenue stream – and client base – around the company's core strengths in people, plant and process.
"It complements what the main business does," says Paul, "and over the past few months – during the pandemic – things have really taken off. We'd like to think this will help to get where we want to be."
Facing the future
The emerging picture for the railway contrasts a rather gloomy foreground against a positive backdrop. There's no escaping the short-term challenges presented by Covid and signs of revenue recovery are – if my personal experience is anything to go by – difficult to spot. But society cannot remain fundamentally distanced forever; we'll have to find a way to move beyond this.
Logic dictates that there will be opportunities for the railway's supply chain, and lots of them. The issue testing many companies is how best to handle the prevailing constraints whilst waiting for that work to land.
For Total Rail Solutions, an enforced period of consolidation has not halted its continued evolution into a smart, ambitious and responsive provider, not just of reliable plant but – perhaps more valuably – of effective solutions.