On 8 August the Scottish Cabinet Secretary for Transport, Michael Matheson, announced the go-ahead for detailed design work to support the proposed reopening of the 9·5km railway serving Levenmouth, in Fife, at an estimated cost of £70 million.
The mothballed-single track line was closed to passengers in 1969 but remained open for freight up to 2001. It is owned by Network Rail, though out of use under Short Term Network Change (STNC) provisions. Thus, the line has no blockages. It has four river bridges but no major structures and connects with the main line from Edinburgh to Perth and Dundee at Thornton North Junction, which is still operational but secured out of use.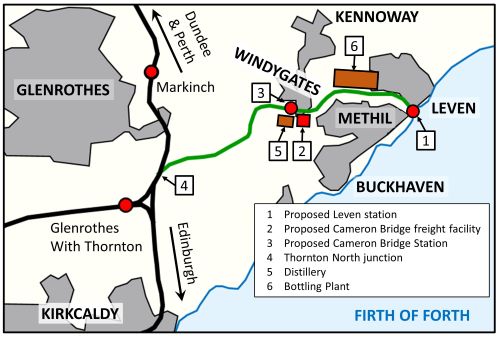 The re-opened line will have stations at Leven and Cameron Bridge. Levenmouth is the largest settlement in Scotland without a rail service and the new line would provide a rail head for East Fife and its tourist attractions. Furthermore, as Europe's largest grain distillery, owned by Diageo, is at Cameron Bridge, there is significant potential for freight traffic.
In his announcement, Matheson noted that: "The detailed appraisal work that has been carried out suggests that improved transport links, which give Leven a direct rail link to Edinburgh, will lead to an enhanced local economy, bringing better access to employment and education and the potential for new investment. Easier and more sustainable travel options will make it easier for people to reach hospitals, schools and visit other areas of the country as well as giving better access to Levenmouth."
Matheson also committed an additional £5 million to a Levenmouth Blueprint fund available to partners to maximise the benefits of the Scottish Government investment in the area.
His announcement is the culmination of the long-running Levenmouth Rail Campaign's work to persuade the Scottish government of the need to reopen the line. It is expected that, when it opens in a few years' time, trains to Edinburgh will take 70-75 minutes.
---
This article first appeared in Issue 177 of Rail Engineer, Aug/Sep 2019.