The UK Government heralded its recently published Integrated Rail Plan (IRP) as the biggest ever public investment in Britain's rail network that will deliver faster, more frequent and more reliable trains in the North and Midlands. However, as explained below most of these claims are fictitious.
Transport for the North (TfN), the statutory body set up to plan the region's long-term infrastructure investment saw its proposed Northern Powerhouse Rail (NPR) cut back. It considered IRP to be "woefully inadequate." The Railway Industry Association described it as "a piecemeal approach to national strategic railway infrastructure development." It was also criticised by various Conservative backbench MPs including Transport Select Committee Chair, Huw Merriman who noted that "the Prime Minister promised that HS2 and NPR was not an either/or option and those in Leeds and Bradford may be forgiven for viewing it today as neither."
However, Merriman also observed that IRP has "some fantastic projects that will better connect our great northern cities." For example, IRP includes around 180 route miles of electrification, primarily the Midland Main Line to Sheffield and the entire Trans-Pennine Route Upgrade, which have longer sections of three and four tracking plus freight gauge-clearance. There is also a commitment to build a mass transit system for Leeds and West Yorkshire.
Although IRP's £96 billion is a substantial amount, it is to be spent over 25 years and compares with a recent National Infrastructure Commission report which considered between £86 billion and £129 billion was needed. Furthermore, transport spend per head in London is 2.4 times that in the North of England.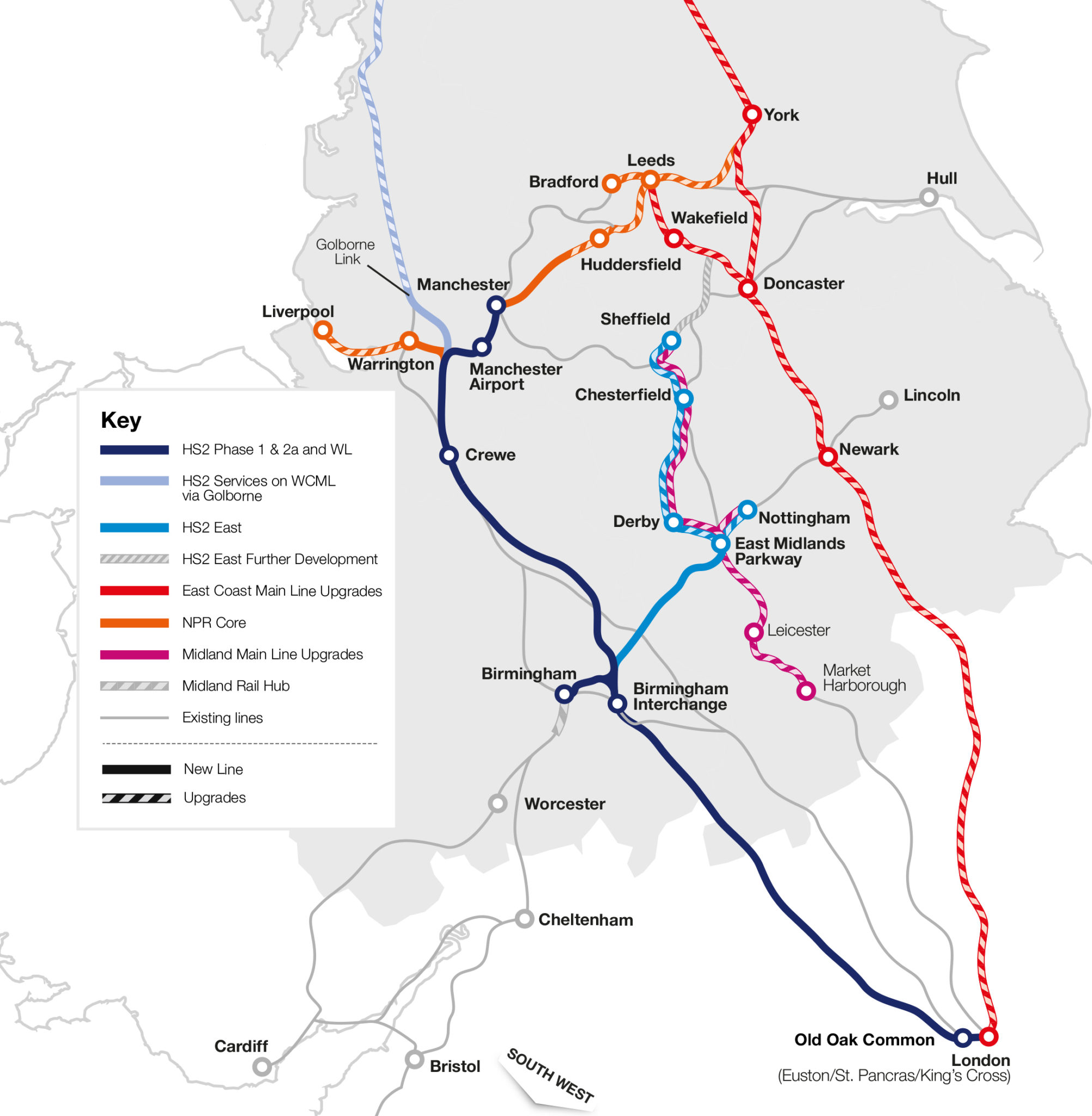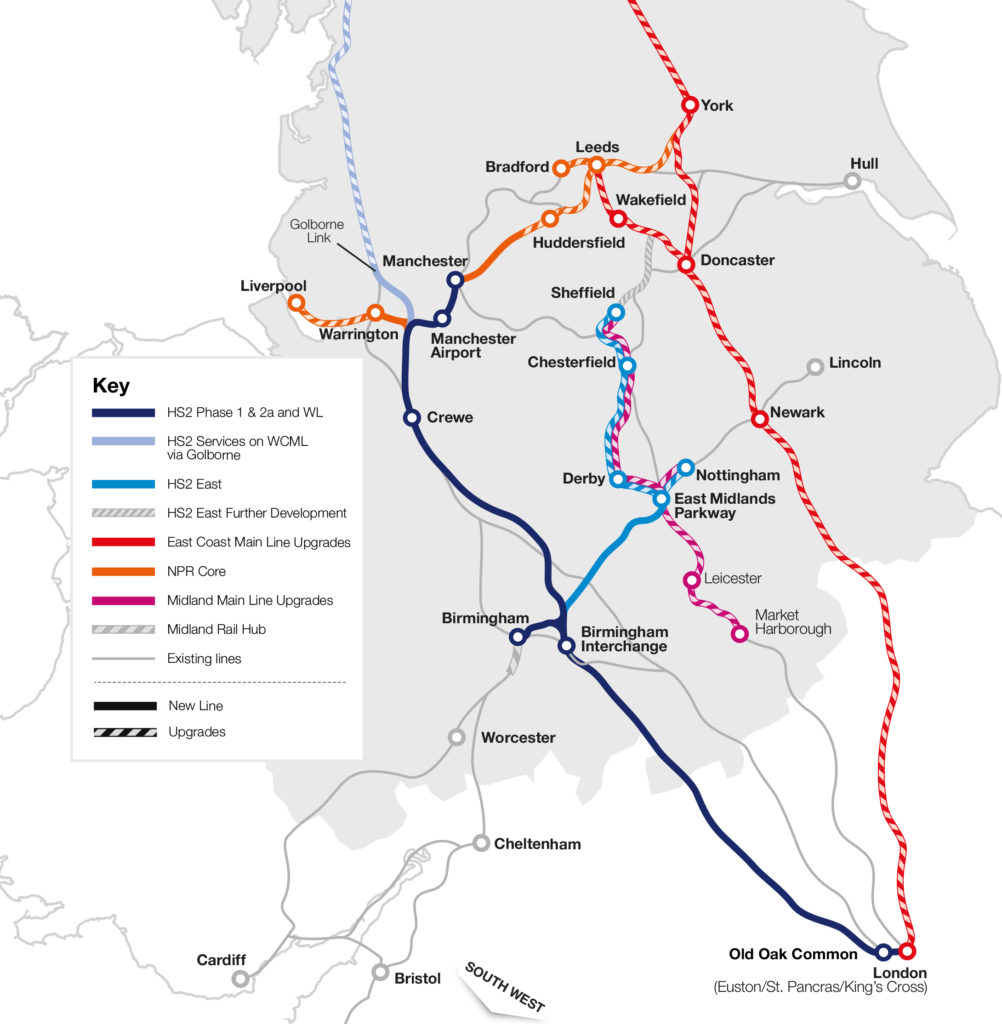 The future of HS2
HS2 is to provide a dedicated high-speed line with far greater capacity than a mixed traffic railway. Its Y-network from London to Manchester and Leeds was also estimated to provide capacity relief on the West Coast, Midland, and East Coast main lines of 67%, 33%, and 50%, respectively. Constructing such new lines also has minimal impact on the existing railway. Network Rail's Andrew Haines has previously noted that HS2's opponents understate the "absurd" rail passenger disruption from work to upgrade the existing network to HS2's capacity.
IRP proposes that HS2's Western Leg to Manchester should proceed but that its Eastern Leg should be curtailed to now terminate at East Midlands Parkway to enable HS2 trains to run direct to Derby and Nottingham. Instead of building 60 miles of HS2 to Leeds, IRP earmarks £100 million to look at the most effective way to run HS2 trains to the city and proposes ambitious upgrades of the East Coast Main Line (ECML) to deliver comparable benefits earlier by running, for example, 140mph trains.
IRP claims that ECML upgrades would reduce the London to Leeds journey by 20 minutes. However, 125 mph running is currently only possible on 111 miles of this 186-mile route. If the heroic assumption is made that this could all be upgraded to 140mph this would save less than five minutes. Furthermore, running trains at this speed on a mixed traffic railway will increase capacity.
IRP also claims that its proposal will cause less disruption than HS2 by overstating the disruption from building its bridges over the motorway network and HS2's small number of interfaces with the rail network. It barely mentions the huge disruption from large-scale main line upgrades. A 2013 DfT report on HS2 alternatives concluded that these would require around 1,500 weekend disruptive possessions. This is equivalent to almost 10 years of continuous weekend ECML disruptive possessions which is clearly unacceptable.
Curtailing HS2's Eastern leg reduces its effectiveness as a whole as it fails to make the best use of the core route into London. It also significantly increases the number of HS2 services that will run on the conventional network which means it may not now be feasible to achieve the planned 18 trains an hour from Euston. This also significantly reduces the number of dedicated HS2 trains that can take full advantage of HS2's European GC loading gauge as double-decker high-speed trains do on the continent.
NPR cut back
Manchester's Castlefield corridor is amongst Network Rail's most congested infrastructure. Yet IRP offers no solution for it until Liverpool to Leeds services can use the completed HS2 Western leg in 20 years' time. However, this will create a problem of these services crossing the throat of the new HS2 Piccadilly station as they turn back there. IRP does not recognise the capacity issues associated with turning back trains at Manchester Piccadilly's dead-end station and considers that a through station only offers a three to four-minute faster service.
For a future Liverpool to Leeds service IRP proposes electrifying the line between Liverpool and Warrington where Bank Quay low level station will be reinstated. A nine-mile high-speed line from there to HS2 will then enable a high-speed service to be provided between Liverpool and Manchester Piccadilly, where trains will turn back before continuing to Leeds.
The Trans-Pennine upgrade will provide improved services by around 2030. By the early 2040s, a new 12-mile high-speed line between Manchester and Standedge tunnel will both speed up and increase services between Manchester and Leeds, although IRP does not state how capacity will be increased through the tunnel. This new line is significantly less than the NPR proposal for a new 40-mile line connecting Manchester and Leeds via Bradford.
Other proposed NPR enhancements are Leeds to York electrification with some sections four-tracked, with upgrades and electrification of the nine-mile Leeds to Bradford Line via New Pudsey to reduce journey time between the two cities from 20 to 12 minutes.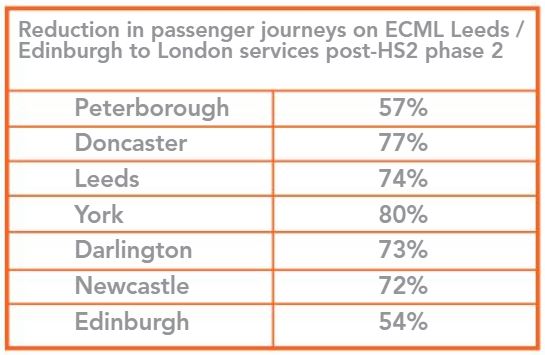 Lost capacity
The IRP report considers that the Covid pandemic has weakened the case for long term rail investment and shows that an adaptive approach to respond to trends that we can see is needed. Thus, the preference is for piecemeal upgrades rather than large schemes. This approach takes no account of the experience of the past 20 years in which growth outstripped the required enhancements which take years to develop and deliver. Nor does it take account of the need for rail capacity if there is to be significant modal shift of freight and passengers to rail.
The IRP seems to dismiss this requirement by suggesting that, post-Covid, the need to release space for more commuter trains no longer applies without considering the need to accommodate increasing freight demand. It also claims that previous proposals were inflexible to future changes in demand. Yet the Eastern leg of HS2 would have released 50% of the ECML's capacity south of York which could have been used for whatever mix of freight/regional or commuter trains might be required in 20 years' time.
The IRP report generally focuses on journey times rather than capacity. Its significant capacity increases are mainly associated with the HS2 proposals it retains. The only significant new additional capacity is that between Liverpool and Leeds though this is constrained by the turn back at Manchester Piccadilly, especially if Birmingham to Leeds high-speed services are also to turn back there.
While the Trans-Pennine Upgrade and other electrification work will provide benefits by the 2030s, the new lines that will provide significant benefit will not be completed until the 2040s. Thus, IRP's claim that its proposals will deliver benefits earlier than delivering HS2 in full is over-exaggerated.
Between London and Leeds, IRP offers half the rail capacity that would have been available from HS2 and does nothing for the slow congested Sheffield to Leeds corridor. A parliamentary statement advised that construction of the full HS2 Eastern leg has not been ruled out, though the suggestion that an alternative to the HS2 route to Leeds should be considered can only add to its cost and delay.
Broken pledges
For all of these reasons IRP has been subject to universal criticism by the industry, specialist rail media, and those affected by it, especially as there had been many recent pledges to build HS2 in full.
IRP's biggest loser is Leeds which, Network Rail's ECML route study notes, is the biggest city region outside the South East and, with 120,000 businesses, is responsible for 5% of England's economic output. This study also considers that HS2 provides a once in a generation opportunity to see a step-change in the provision of rail services to free up significant capacity so that the ECML route can be used to drive better connections and more journey opportunities as shown in the table.
This is one of various studies that took strategic direction from HS2 which resulted in the development of various proposals such as those by Midlands Connect. HS2 itself has been developed since 2009 with cross party support which includes recent commitments by the Prime Minister to deliver both HS2 and NPR in full.
Transport for the North has written to Grant Shapps expressing its collective disappointment and dismay at the IRP's inadequacy, asking for sight of the technical work that underpins it.
Nevertheless, TfN wishes to work with government to explore ways of realising its ambitions for Northern England. Hopefully, something will come of this, though, unfortunately, this is not likely given the government's robust defence of its patently flawed IRP.
Photo credit: iStockphoto.com (smartboy10)