When promoting its range of events, Rail Media often stresses the importance of networking. This can have many fruitful results – suppliers can meet new customers, contractors find new suppliers, and companies discover collaboration partners.
In addition, everyone can hear just what is going on in the industry. A good example of this came at last year's Rail Exec Club Gala Dinner, held in Derby in December. In discussions at the start of the evening, Network Rail's Roy Hickman met one of Rail Engineer's writers and announced that he had a story that the magazine must cover. This is that story, about an award-winning project.
4D modelling
About two years ago, Network Rail was having too many over-runs on major projects that involved complex sites. The issue appeared to be the inability to schedule such projects sufficiently accurately and in enough detail to avoid problems, such as clashes in space or time, when the actual works took place.
The S&C South Alliance was one of the teams that was seeking a solution to this difficulty. The project team wished to find a different way of working, using better modelling of schemes, and they were investigating the possibility of using proprietary BIM software from well-known providers.
However, Andy Bibby of AECOM, one of the team, became aware of the work being done at the University of Salford, where the THINKlab team in the School of the Built Environment was doing interesting things in the same area of project modeling and simulation.
As a result, Roy Hickman, Ameet Masania and Steve Naybour from the alliance collaborated with THINKlab director Professor Terrence Fernando and his team. Together, they developed a modelling and simulation system for track renewal programmes, in four dimensions (3-D space plus time), based upon a GIS system, track information and a library of plant and equipment.
For each project, the GIS data is assembled using modern technologies, such as laser scanners, combined with a CAD model of the tracks to create a 3D virtual site. Once this is available, it is then possible to create a 4D simulation of the track renewal activities in time and space that represents any given stage in the planned project.
Working from the initial condition of the site, and using library information about the capabilities of the available plant, the progress of the project may be modelled. This modelling of the construction sequence is potentially invaluable.
Different options may be explored so as to optimise the project to best deliver the required outcomes. For example, there might be decisions to be made about sequencing different activities, or about which plant to employ. The effects of the different possible options can be modelled, and this may reveal that certain choices are impractical, or that some are more effective than others.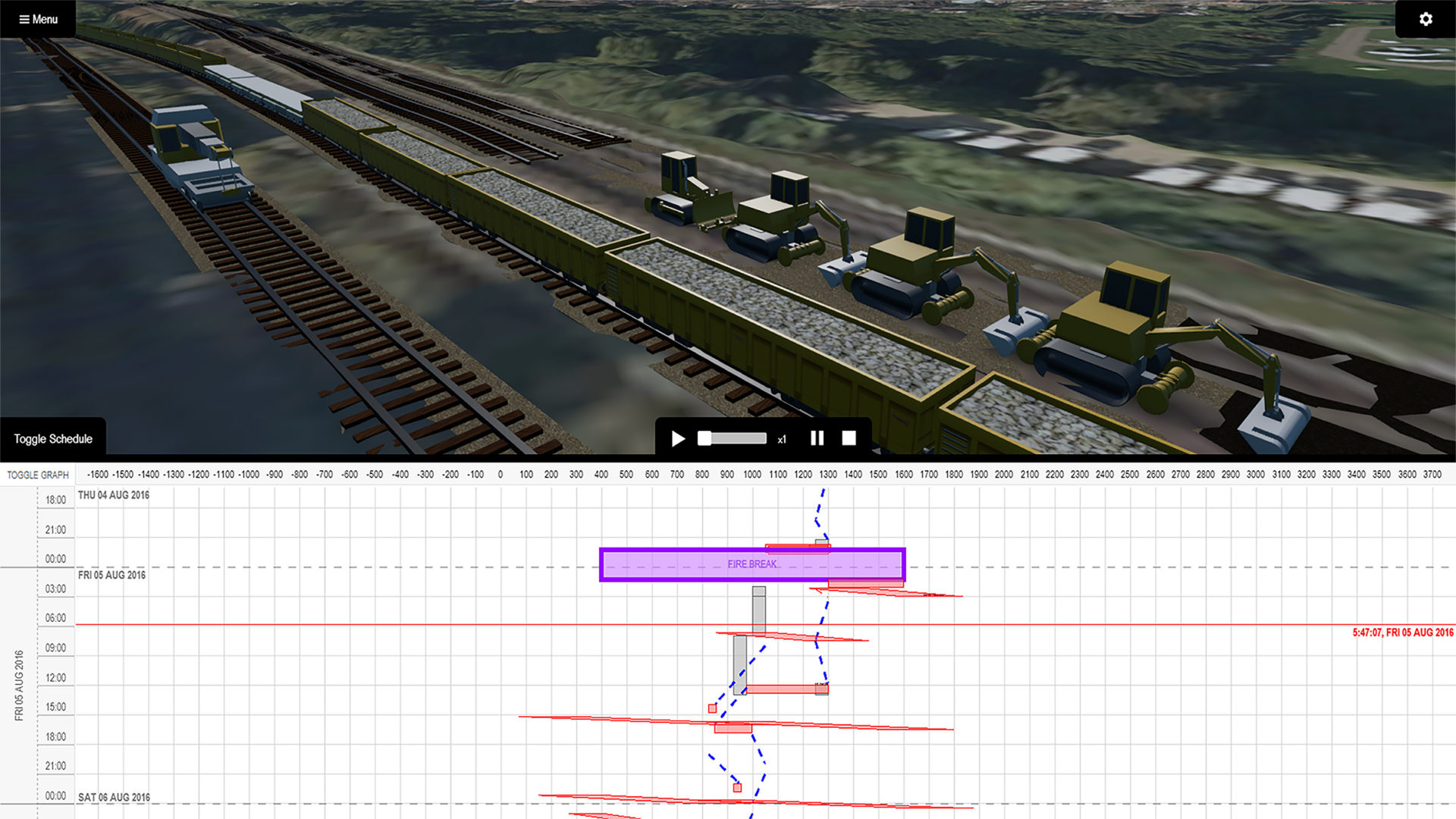 Balancing time and cost
As the library information includes costing details as well as production rates, the simulation can give a realistic indication of both the costs and time for any proposed option.
Thus, the best option can be chosen to deliver the optimal balance of time and cost. In addition, it has been quite common in the past to hire in expertise in order to construct 4D animated visualisations of projects. These are useful for a number of reasons, particularly in showing the project to stakeholders in an easily understood manner. Since it is a 4D plan, not just a 4D model, the THINKlab output serves this purpose directly without the need for any further work. What is more, when changes are made to the plant timings, sequence or resources, these are directly input to the plan as an integral part of the planning process. The construction sequence model therefore reflects such changes automatically and the consequences can instantly be visually demonstrated to the project
stakeholders.
Terrence Fernando told Rail Engineer that the success of the system is such that, in a recent trial, it took two new engineers only half an hour to understand how to use it, and only about four hours to model a project which would previously have taken about a week.
Ten Network Rail track renewals sites are now using the THINKlab modelling system: Hinksey, New Cross, Euston, Connonburys, Thirsk Green Lane, Kelvedon Parkway Stage 2, High Dyke and Peckfield. Network Rail recently signed a new contract with the University of Salford to roll it out across the network.
Other engineering disciplines, such as signalling, are very interested in applying this to their works, and eventually it is likely that multidisciplinary models will be common.
Steve Naybour, head of transformation at S&C South Alliance, said: "This is a 4D planning package for now that will take us into the future of delivering more."
The project was successful at the National Construction Excellence Awards recently, winning the award for "the Most Outstanding BIM Project of the Year".