South Western Railway train operator FirstGroup and Blu Wireless have announced a project that will significantly boost the quality of connectivity on trains, pioneering the use of 5G technology on the railway.
Several recent articles in Rail Engineer have looked at 5G for rail telecommunications purposes. Usually, these revolve around a replacement for the railway's own GSM-R network, which handles voice communications, text messaging and support for digital signalling using 2G technology.
However, the first use of 5G will come in normal, public telephone systems where it will enable reliable streaming, rapid browsing and connectivity to cloud-based applications, so keeping pace with the requirements of devices that many customers take for granted.
Train passengers are, of course, members of the public and they will expect this new connectivity when they are on board. They are heavy users of Wi-Fi and mobile data, not only for catching up on social media and watching movies but also for planning their onward journey, checking and replying to emails and running through meeting plans.
Achieving this level of availability has been a constant battle for train operators – the metal walls of the carriage, combined with the metallised (tinted) windows, make great Faraday cages and so prevent phone signals coming in from outside. Distributing a dedicated signal within the train has its own problems, with external aerials, cell coverage along the route, train speed and bandwidth limitations all causing problems.
Now, Blu Wireless, First Group and other strategic partners, including Network Rail, the Department for Transport and the Department for Culture Media and Sport, have developed an economically viable, end-to-end 5G solution that they claim will transform customers' journeys. The new technology can process volumes of data 100 times greater than currently possible with 4G technology, meaning it will be much easier for customers to enjoy consistent and fast Wi-Fi connectivity on their train.
The partnership will also be a market first for the UK, with FirstGroup's Rail Division becoming the exclusive supplier of Blu Wireless's new 5G rail system for customers and rail infrastructure providers. FirstGroup and Blu Wireless will work to roll out the technology, initially on the South Western Railway franchise. It will also work with Network Rail to harness 5G to improve railway infrastructure.
FirstGroup's head of digital communication Simon Holmes explained: "We have worked hard over the last two-and-a-half years to reach this point, which will enable us to deploy 5G technology for the benefit of customers and railway infrastructure. Our partnership with Blu Wireless marks a step change for connectivity on customer trains and we look forward to working with them and our other partners to ensure the success of this project."
Blu Wireless chief marketing officer Mark Barrett added: "This partnership will revolutionise commuter connectivity in an innovative and economical way.
"The system is based on Blu Wireless's unique 'mmWave' communication technology, which does not require the hugely complex and expensive infrastructure of cellular systems. We believe that the combination of gigabit grade data rate with cost-effective and low power operation will be instrumental in delivering FirstGroup's customers with best in class on train Wi-Fi services."
Blu Wireless's rail 5G radio system is designed for high-speed transport applications such as railways. Electronic beamforming on transmit and receive antennas can create a moving point-to-point connection of greater than 1Gbps per antenna. Having up to three on-train antennas 'in-beam' at any one moment gives a combined multi-gigabit capability.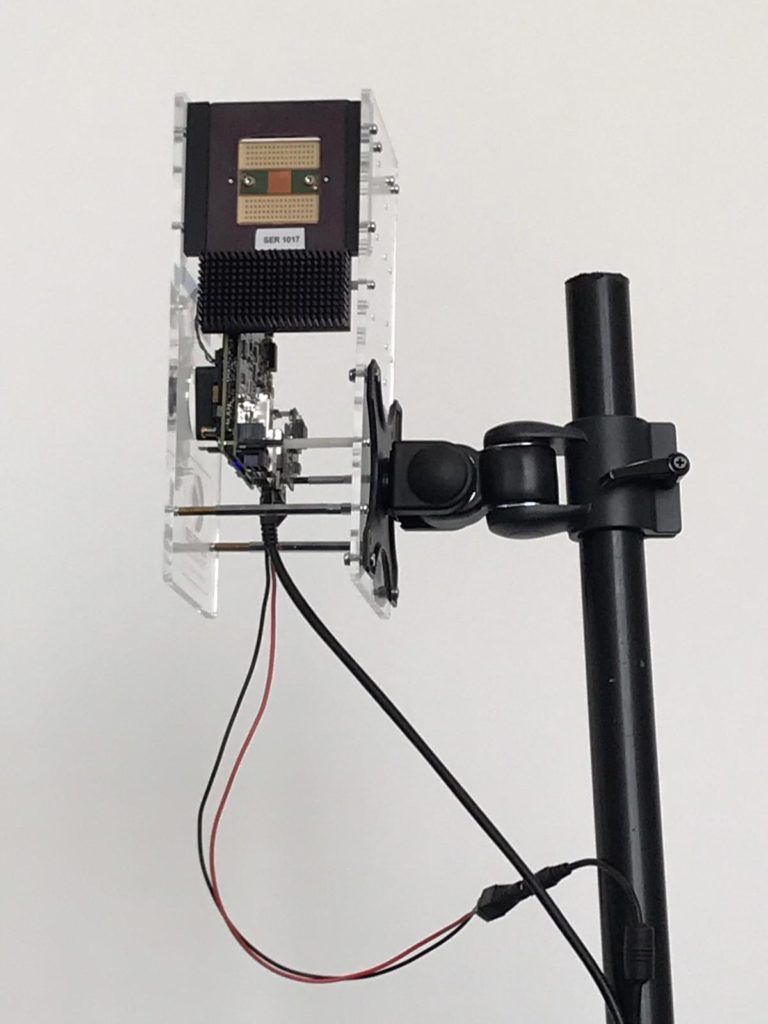 However, this new on-board distribution system needs to be paired with the appropriate lineside infrastructure. Blu Wireless' trackside radio unit is designed to be exceptionally small, making it simple to deploy in a variety of locations, whether on simple short trackside poles, on a gantry, a stanchion or even a platform lighting pole.
The millimetre-wave radio operates at exceptionally low power (approximately one per cent of the power of a typical 4G base station) and, as communications regulator Ofcom has recently concluded, this is the only realistic spectrum with sufficient bandwidth to satisfy the multi-gigabit rail requirement.
Blu Wireless' unique 5G radio system, combined with trackside networking, new deployment methods and specialist poles and mounts (trackside and on train), all go towards making a viable rail communications solution that can be deployed at speed almost anywhere in the world.
First Group plans to deploy the new technology for the first time on South Western Railway, which will become the UK's first 5G railway.