The National Exhibition Centre at Birmingham welcomed back the rail industry at a combined Railtex/Infrarail exhibition between 7 and 9 September. For many, it was the first opportunity to meet contacts, friends and colleagues since the first Covid lockdown 18 months ago. Yet Covid is still with us, as was apparent by the need for vaccine checks or Covid tests on entry. The show was also noticeably quieter than previous years. Nevertheless, there was still much to see.
Five thousand visitors came to the 232 stands which included 31 from Europe, though none from further abroad. The exhibition took place in the 15,000 square metres of the NEC's halls 11 and 12 and showcased the huge variety of products and services needed to run a railway. Visitors also had the opportunity to attend the comprehensive programme of 50 events organised by the Railway Industry Association (RIA) at their Future Focus and Unlocking Innovation conferences as well as other technical seminars.
As this was the first rail industry trade show since 2019, Mack-Brooks Exhibitions took the decision to combine the Railtex and Infrarail events and defer the exhibition until September. The two shows are also to be combined next year when they will be held in Olympia from 10 to 12 May.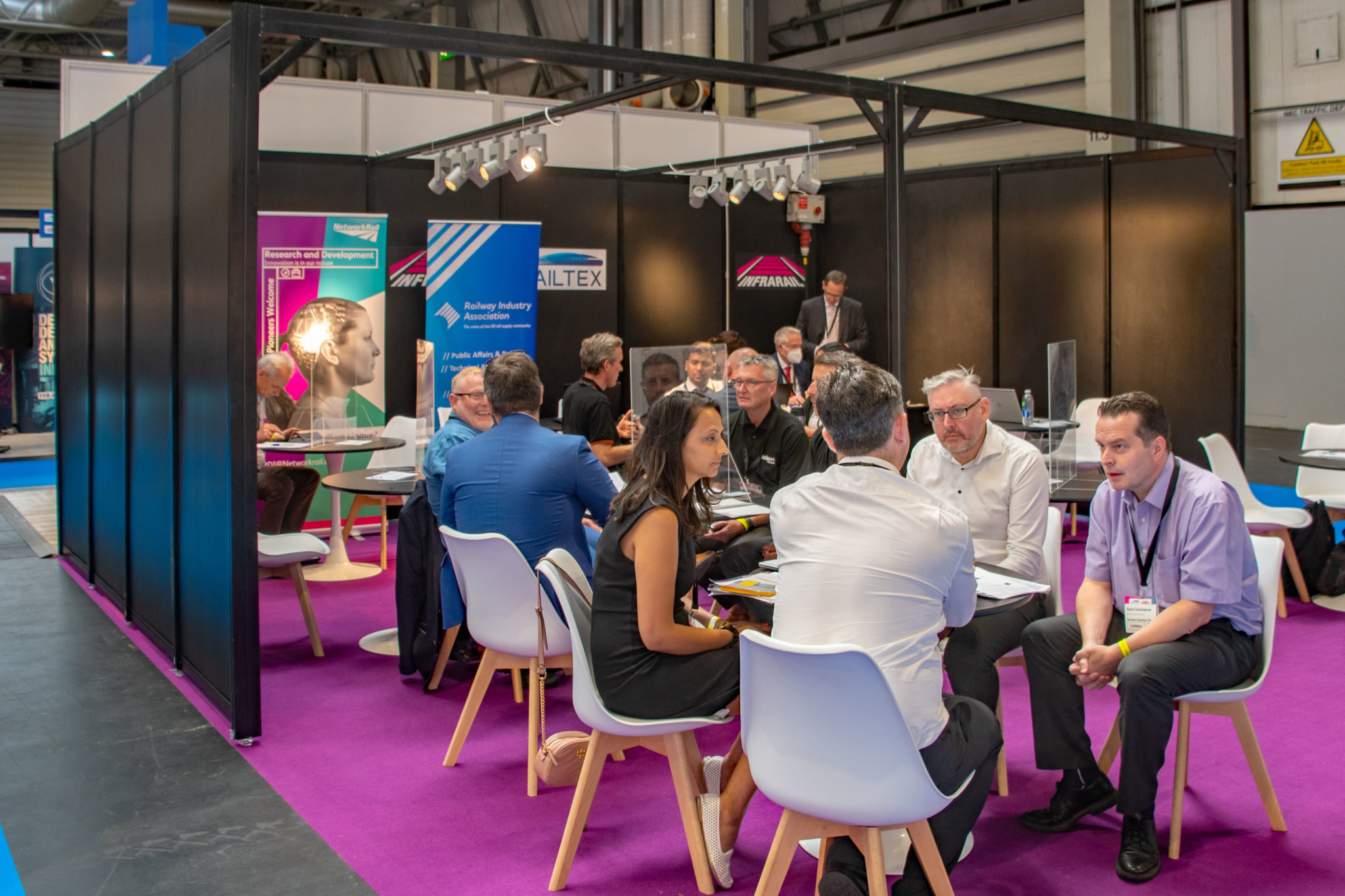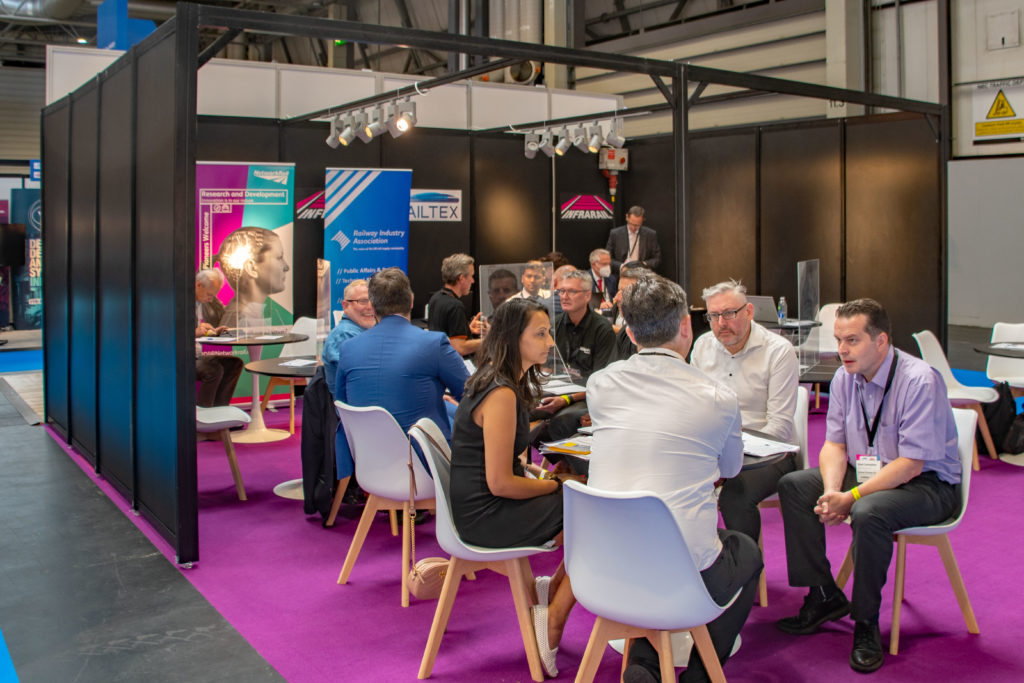 With so many stands, the opportunity to chat with friends and colleagues and attend various presentations, a day at the exhibition soon passes. The result is a full bag of promotional material and freebies, much learnt and sore feet. What follows is a description of the stands that caught your editor's eye. It's an unashamedly arbitrary selection of exhibitors, to illustrate what I learnt and give a flavour of the show.
The Railway Industry Association supports the industry in so many ways, so its seminar theatres and stand were not to be missed. On its stand, RIA held a 'Meet the Buyer' programme which provided businesses with the opportunity to meet rail buyers, Commercial Officers based overseas and Network Rail's R&D team to learn about different markets and how they can get their products and services onto the rail network, both at home and abroad.
Train-related stands
Alstom and Stadler were the only rolling stock manufacturers with large stands at the show. Whilst they were not likely to sell any trains at the show, their representatives on the stand advised that the show provided a useful opportunity to meet potential suppliers as well as showcasing their products generally. Another train manufacturer at the show was Vivarail which produces the UK's only battery and battery hybrid trains. One of these trains was shipped to the US in April and started operating in Baltimore in July. Another is to operate a daily service out of Glasgow for delegates to November's COP26 climate change conference.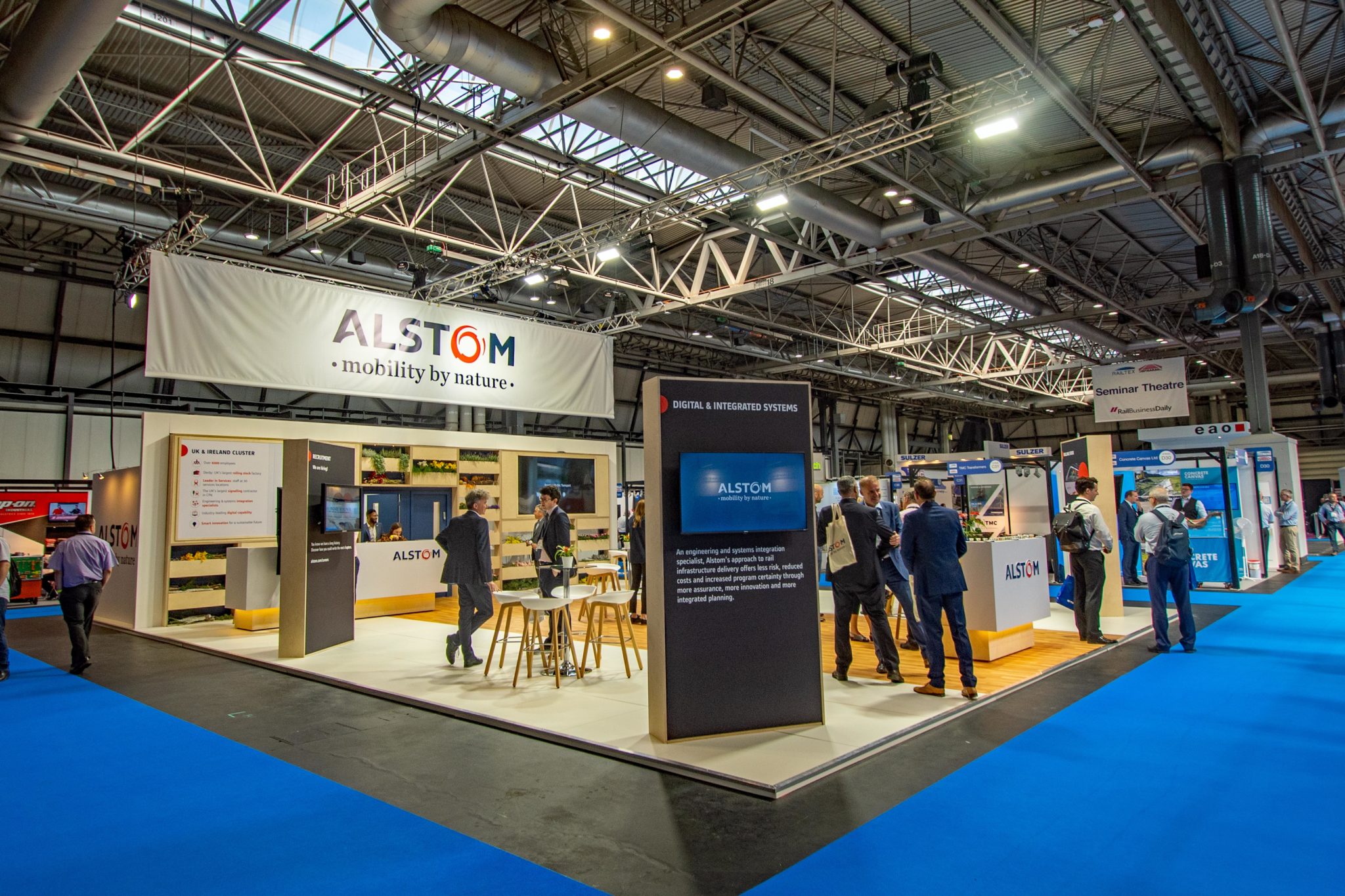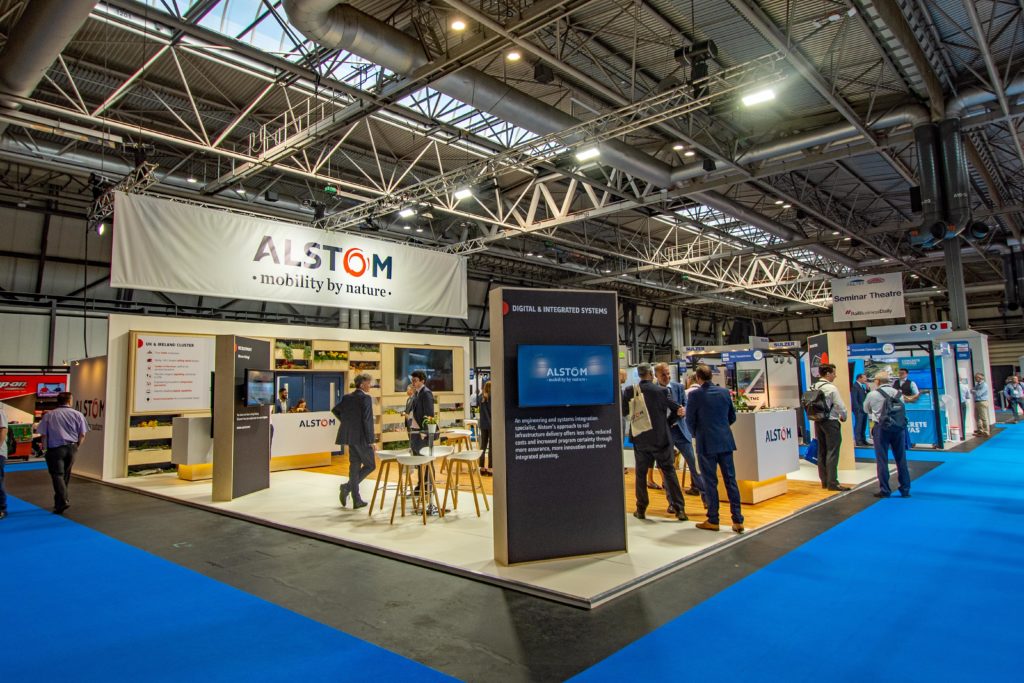 Other train-related stands visited included Axminster Carpets whose woollen carpets have a Wilton weave that provides more yarn on the back of the carpet. They also reduce noise due to their acoustic absorption properties. Their customers include Northern, TransPennine Express and South West Trains. Ogab is a new company specialising in aerodynamics, thermodynamics and sustainable technology R&D. The patented Active Flow Control technology claims to offer a 10% fuel saving by reducing a train's drag coefficient. It does this by ejecting high temperature air forward into the oncoming airflow. TrainFX specialises in on-train passenger information solutions. One of its particularly helpful products is a seat occupation system that advises the seat reservation system that a seat is taken once someone sits in it, so that it cannot then be reserved enroute. Its sensor is sufficiently sensitive to distinguish between bag and bum.
Although various companies have developed hydrogen trains, to date only one has developed a hydrogen-powered rail re-profiling train. Featured on the Linsinger stand was the company's MG11 rail milling train for use on light rail systems which can be customised for gauges between 1,000 and 1,668 mm. This 150-kW hydrogen fuel-cell powered machine can mill a millimetre off the rail surface at up to 600 metres per hour.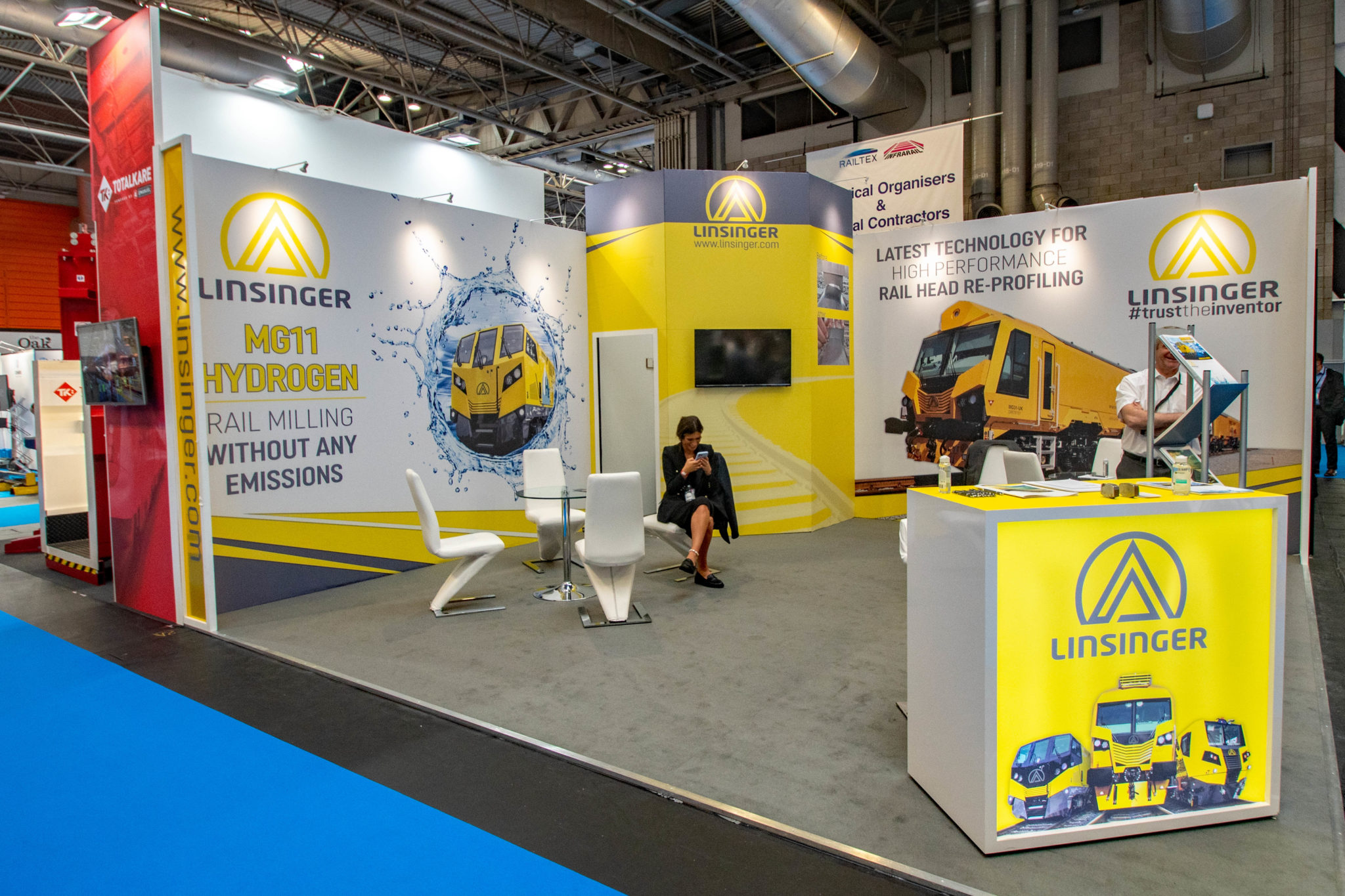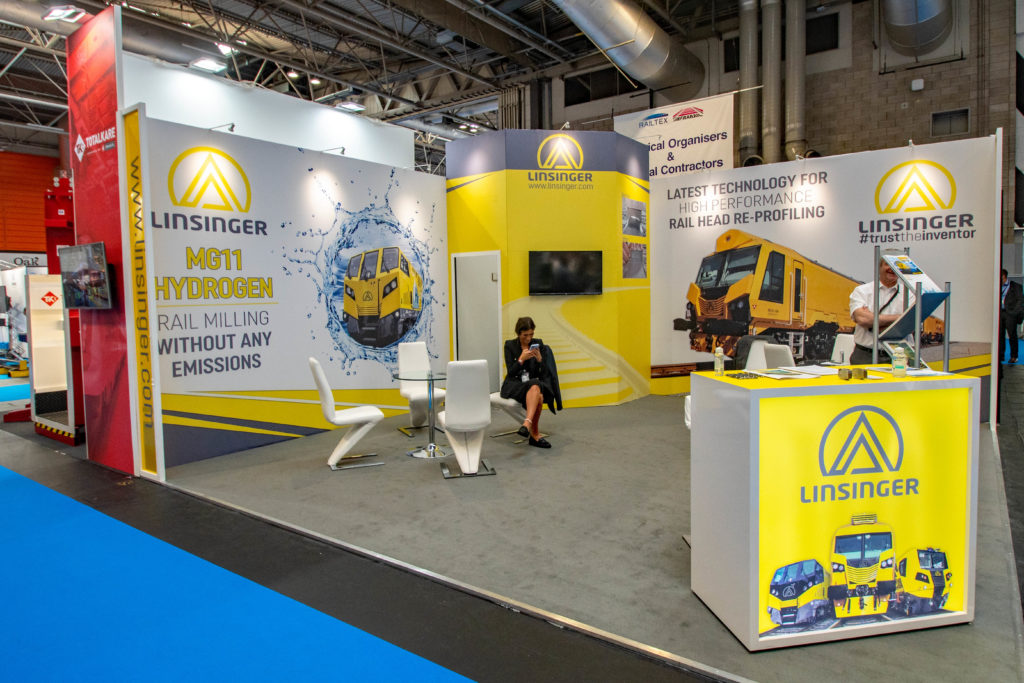 Providing protection
Zonegreen has provided its depot protection systems to about 60 depots in the UK and had their Depot Personnel Protection System (DPPS) on display. This is designed to provide the safest and most efficient method of controlling depot train movements. A recent innovation is the use of RFID cards which provide a fast and reliable method of logging onto the system before starting work. Used with the DPPS system is the company's Depot Manager software which ensures safety systems are used as required and offers traceability of depot operations.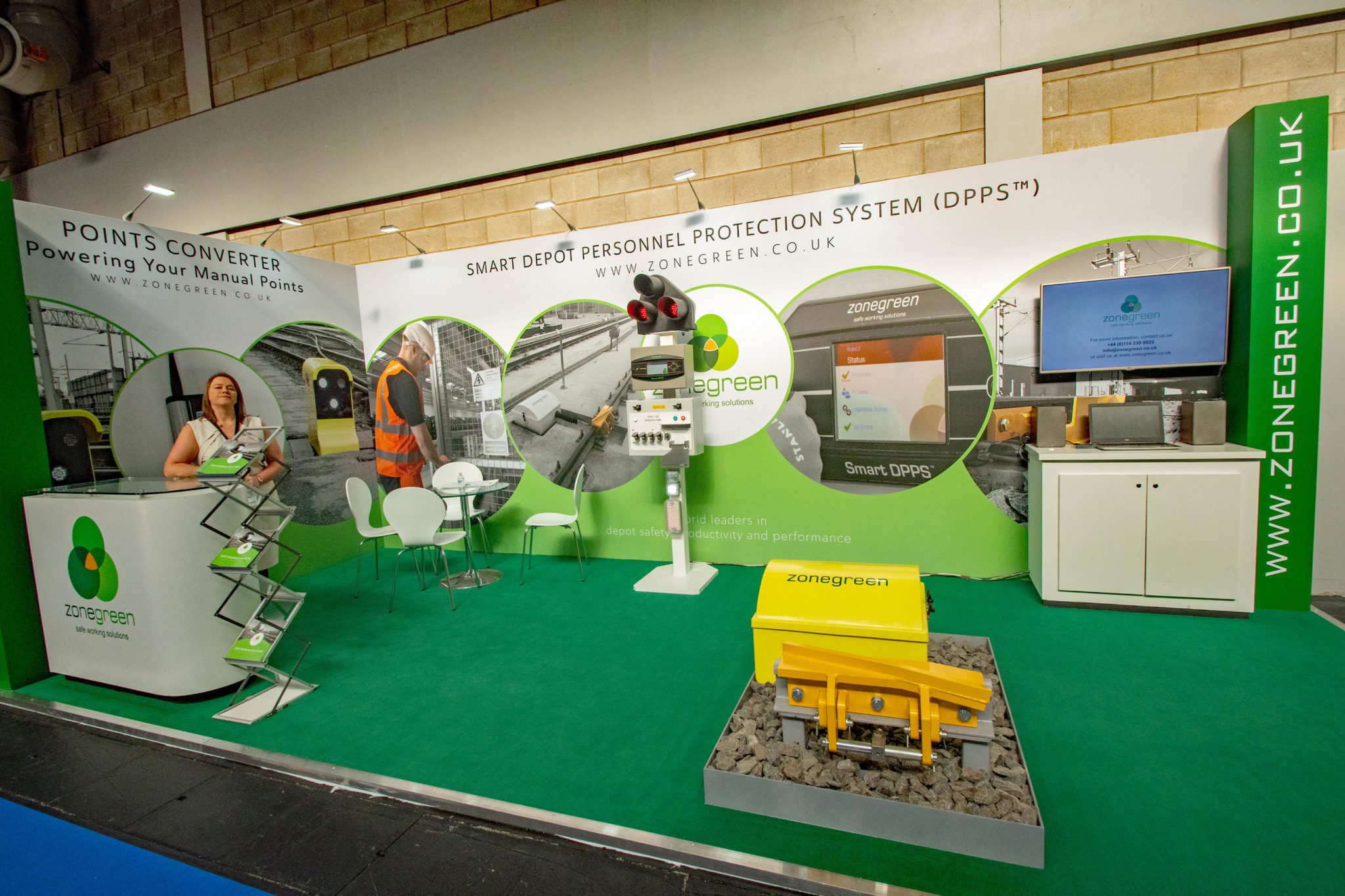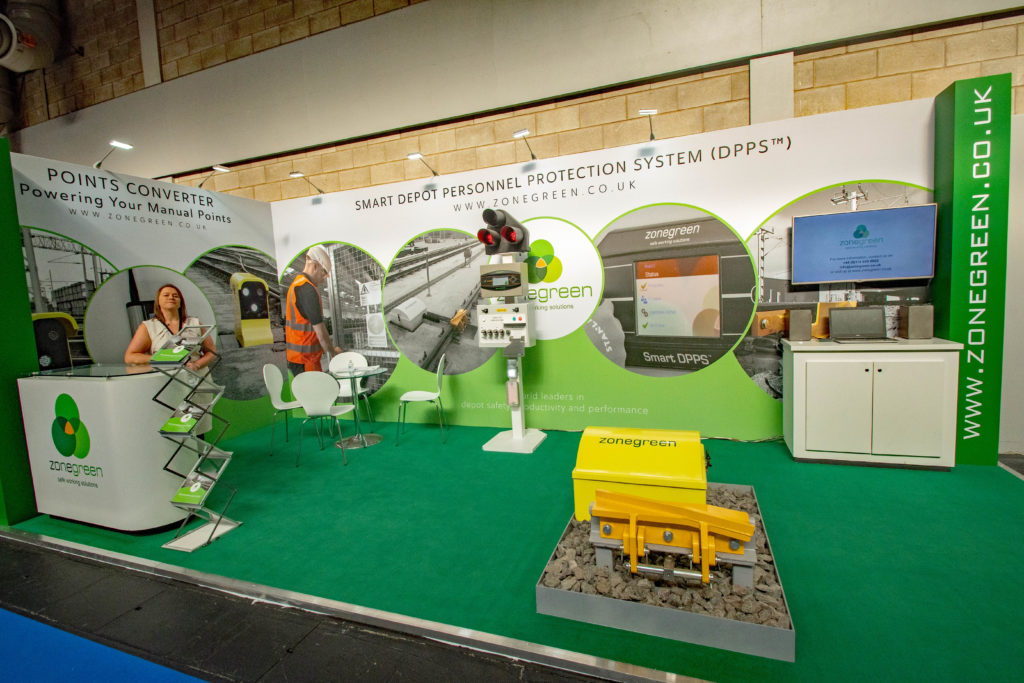 Zöllner UK and Schweizer Electronic had their track safety systems on display. Both companies have also developed level crossing systems. Schweizer's Flex Miniature Stop Light system was recently granted a Certificate of Acceptance for use on Network Rail's infrastructure.
Signs at level crossings and on Network Rail's infrastructure are produced by Royal British Legion Industries. This Kent-based social enterprise produces around 150,000 signs per year and is Network Rail's only approved supplier of trackside signage. It also provides great employment opportunities for people with disabilities and injured ex-service personnel who make up 70% of its workforce.
Video analytics
The French company CIBEST provides image processing solutions which include video surveillance, passenger counting and video analytics. Its stand was displaying OLE anomaly detection and rail infrastructure video analytical software which recognises assets and can detect those that are missing.
SMART Railway Training Simulators are produced by the Lithuanian Neokon Baltija Group in the EU and by PCMS and InterRealityLabs in the UK. These three companies shared a stand which displayed a class 390 Pendolino driving simulator. Also on display was their mixed reality hardware which offers augmented reality that can significantly improve the productivity and/or information provided by a single individual. It was explained that this equipment has proved particularly useful during the Covid emergency when individuals have not been allowed to work in close proximity.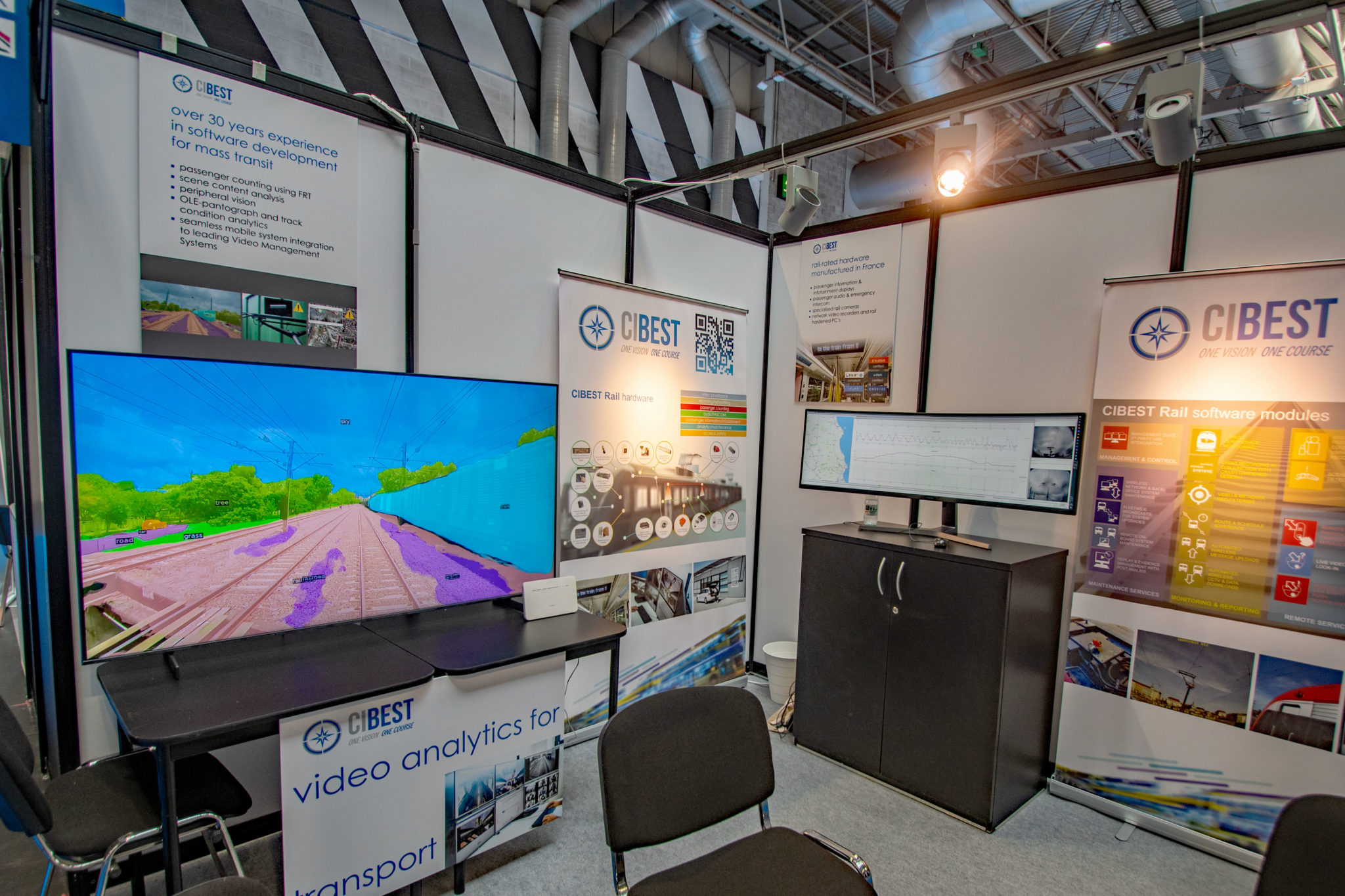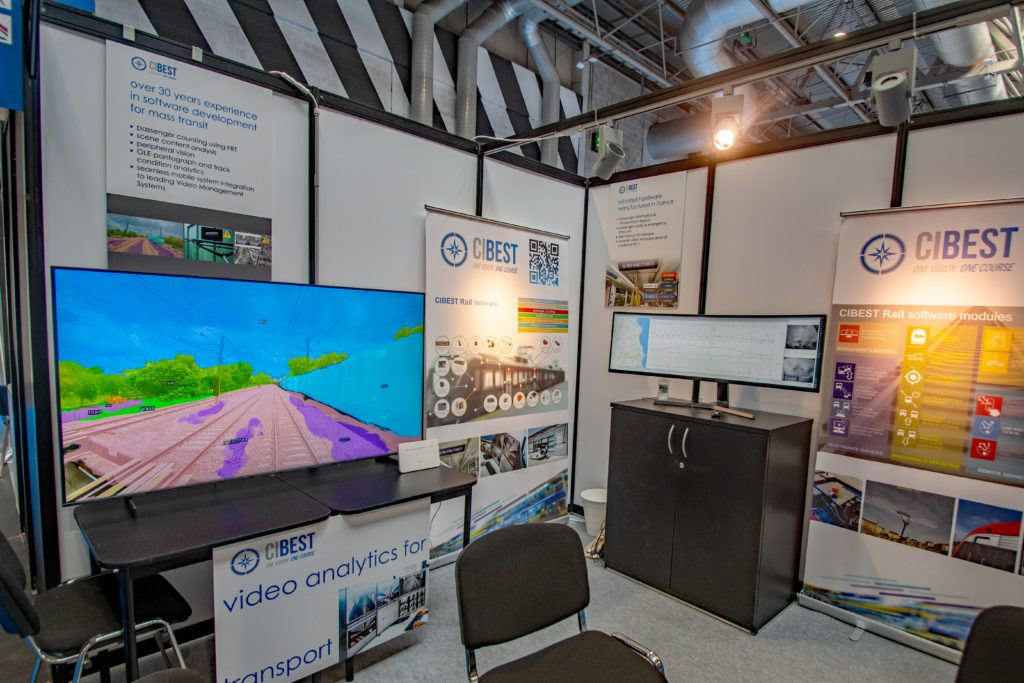 Steel and structures
The orange sleepered track next to the British Steel stand couldn't fail to catch the eye. The rails produced by the company include HP335 for use in curved track prone to rolling contact fatigue and Zinoco® coated rail which offers corrosion protection in aggressive environments such as coastal areas. The company also offers weathering steel that defends itself from corrosion by forming a protective oxide patina which eliminates the need for protective coatings. It offers a lifespan of up to 120 years.
The Kloeckner Metals stand showed how the company can supply, process and fabricate a wide range of metals for both rolling stock and rail infrastructure projects. For rolling stock, its trade marked products include Alucore, composite panels with an aluminium honeycomb, and RailClad which are explosion welded transition joints between steel and aluminium. Asset International Structures also provides steel as part of its infrastructure solutions which include retained earth systems and Fibre Reinforced Polymer (FRP). This is 80% lighter than reinforced concrete, highly corrosion resistant and resistant to mildew, mold and other conditions that timber can't resist. It was explained that FRP can be moulded or produced as extrusions to build structures that are almost maintenance free. The company offer rail platforms and light bridges produced from FRP.
Corrosion prevention is also offered by Blocksil which was showcasing its high-performance corrosion resistant coating which it has applied to trackside buildings with a 25-year warranty. The Graphene Enhanced Top Coat MT, with a typical dry film coating thickness of 200 microns, will give 10,000 hours of QUV testing. A typical uPVC as a comparison may achieve 500 hours and epoxy paint some 250 to 300 hours.
A dented fence and part of a small truck that was driven into it demonstrated the effectiveness of the StronGuard RCS fencing produced by Barkers Fencing. This standalone palisade fence does not require large foundations and is the only such fence accredited by PAS68 to stop a 7.5 tonne vehicle at 30 mph. PAS 68 is the specification for impact testing of hostile vehicles.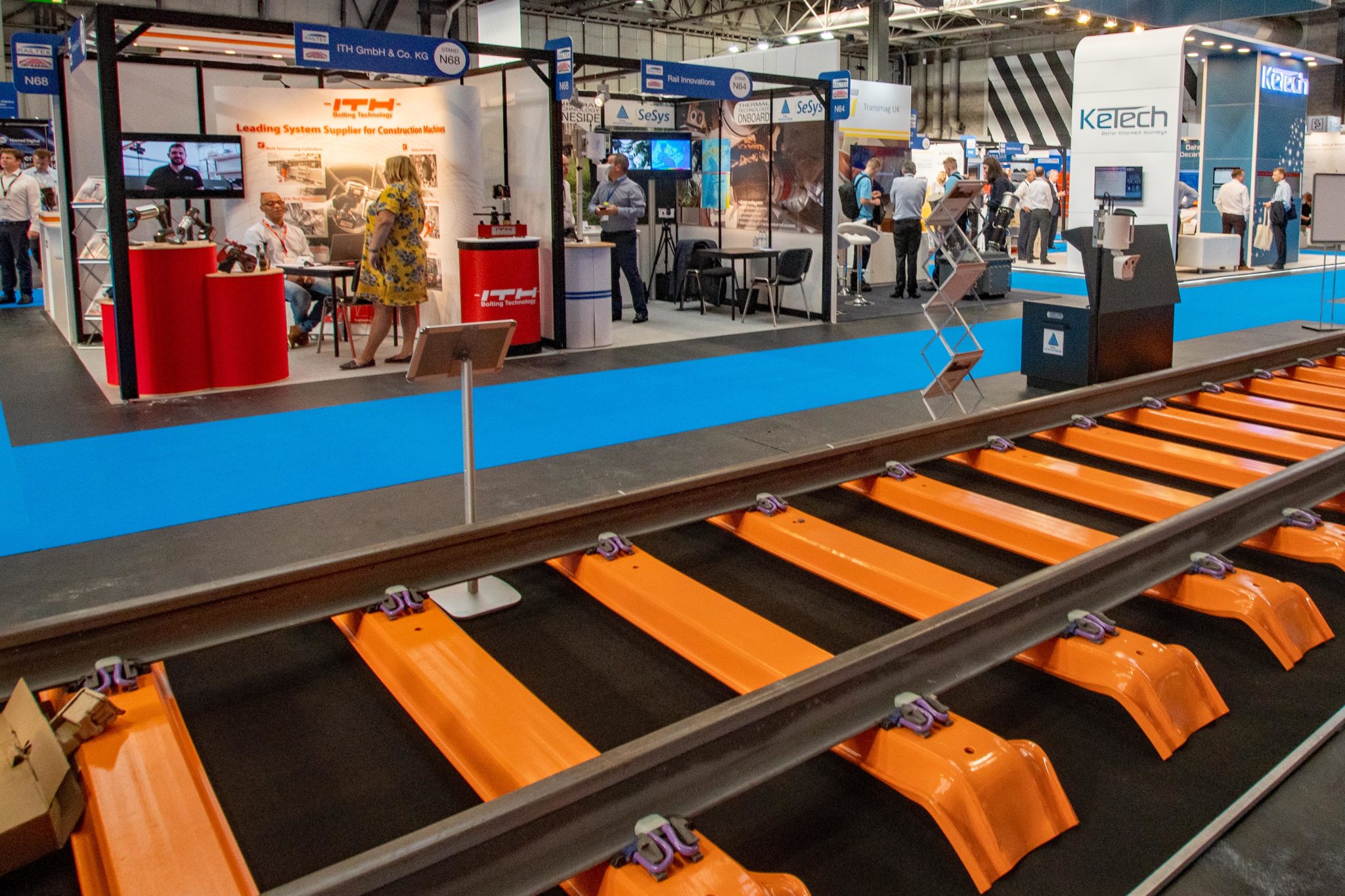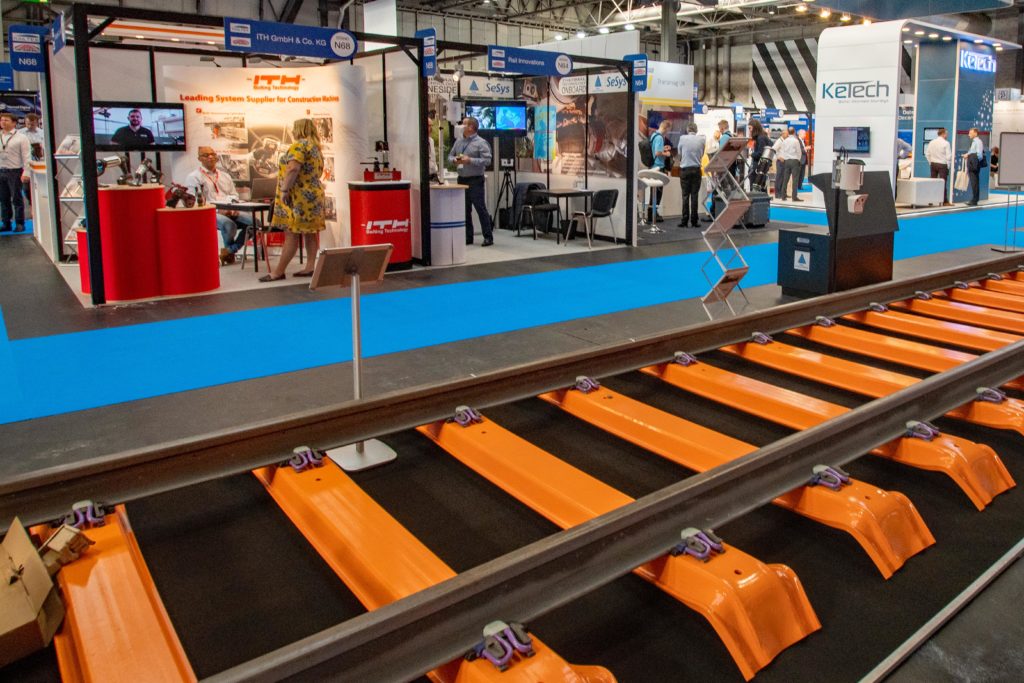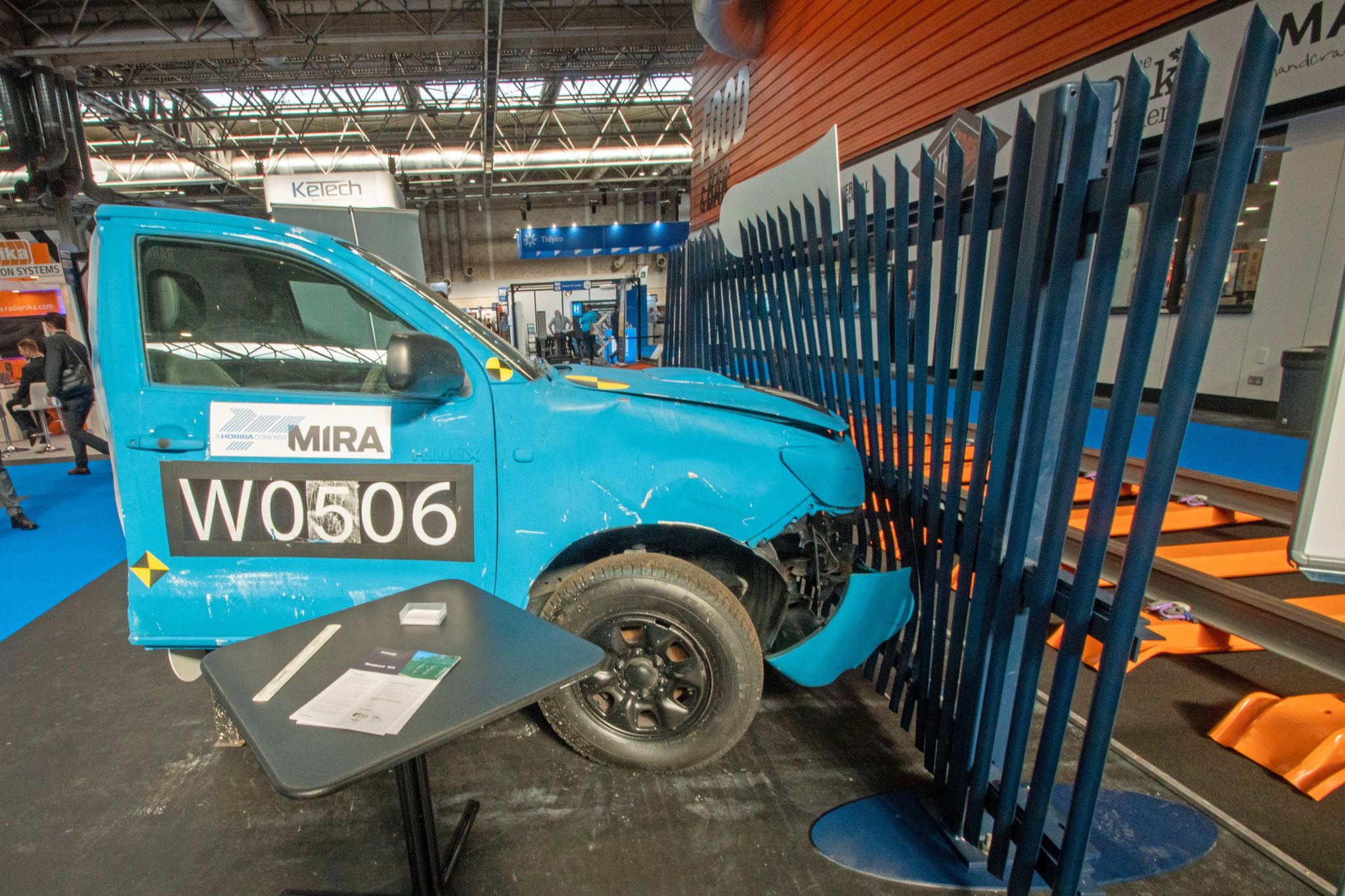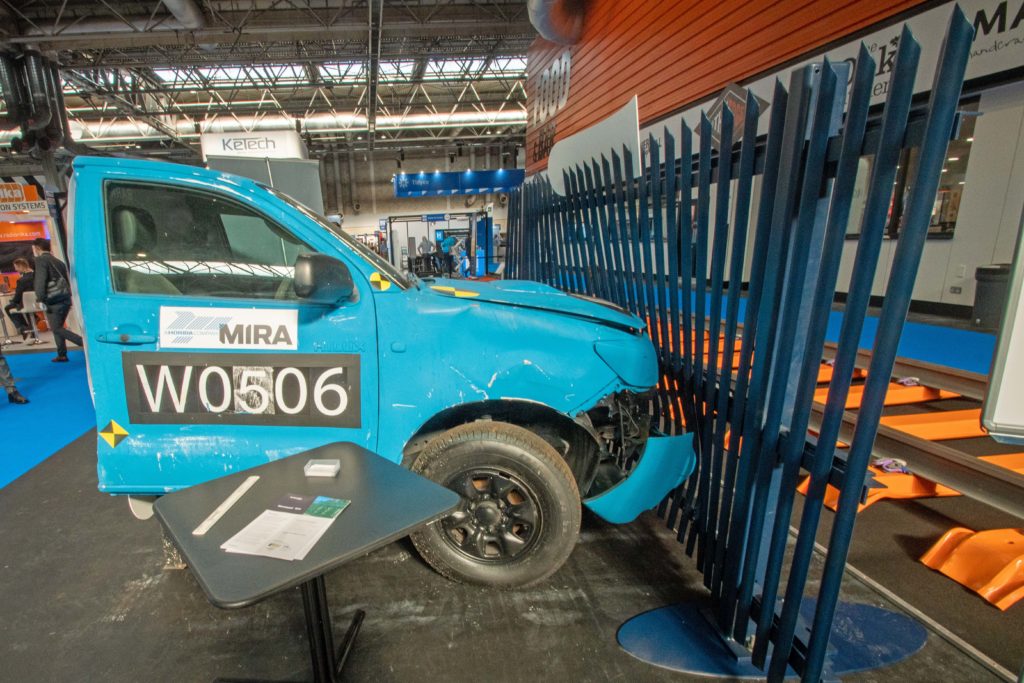 Cables and earthworks
Tratos is an Anglo-Italian electrical cable manufacturer. Regular visitors to Infrarail will be familiar with the Italian food and wine on offer at its stand which is always a strong contender for the exhibition's best cuisine. At previous exhibitions this food has been prepared by chefs from Naples. As this was not a practical option this year, the food was prepared by an Italian restaurant close to the company's UK plant in Liverpool. Having been fed and watered, I learnt that Network Rail had awarded the company with a five-year cable supply framework contract and of the importance of using DC feeder cables that are both insulated and sheafed to avoid the current frequent renewal in damp environments.
The bottle-balancing competition on the Tensar stand was perhaps the exhibition's most imaginative product demonstration. This required the entrant to make a sandcastle incorporating Tensar's TriAx geogrid. A tower comprising layers of boards and water bottles was then made on top of the sandcastle. The winning entrant managed to create a tower of 30 bottles before it fell over. Not only was this an impressive feat but it showed how the geogrid reinforced the sand to take such weight. Moreover, in addition to this novel competition the company was also offering traditional ice cream.
On its stand, Findlay Irvine had information about its condition monitoring systems for power, track and earthworks assets as well as weather monitoring systems. The company has been supplying Network Rail for 20 years. Its earthworks monitoring system is an array of wireless tilt sensors with a day/night camera to capture site images once an alarm has been triggered. First-time exhibitor Senceive, whose remote condition monitoring systems are used in 35 countries, was also offering earthworks tilt sensor arrays, one of which gave advance warning of an earthworks failure at Barnehurst in 2019.
Although tilt sensor arrays are highly effective, they are not cheap. An alternative solution was on offer from the Irish company, Aldolex. This comprises of a metal grid pinned into the ground that measures stresses induced by any earthworks movement to an accuracy of 1mm per 10 metres. The company also offer weather monitoring stations with rainfall intensity measured by radar that detects rain drop size, intensity and velocity. The company's systems are widely used on Irish railways.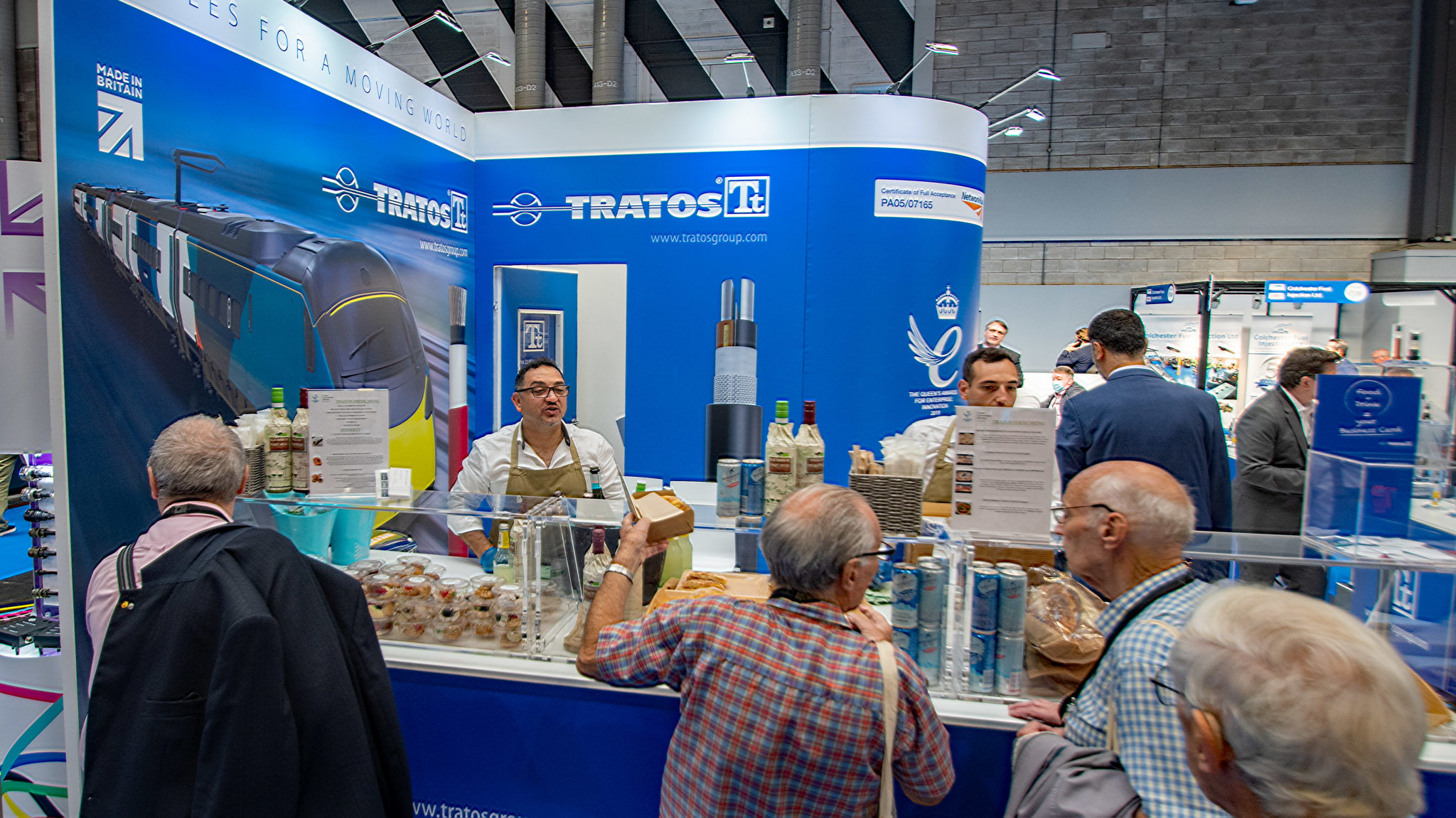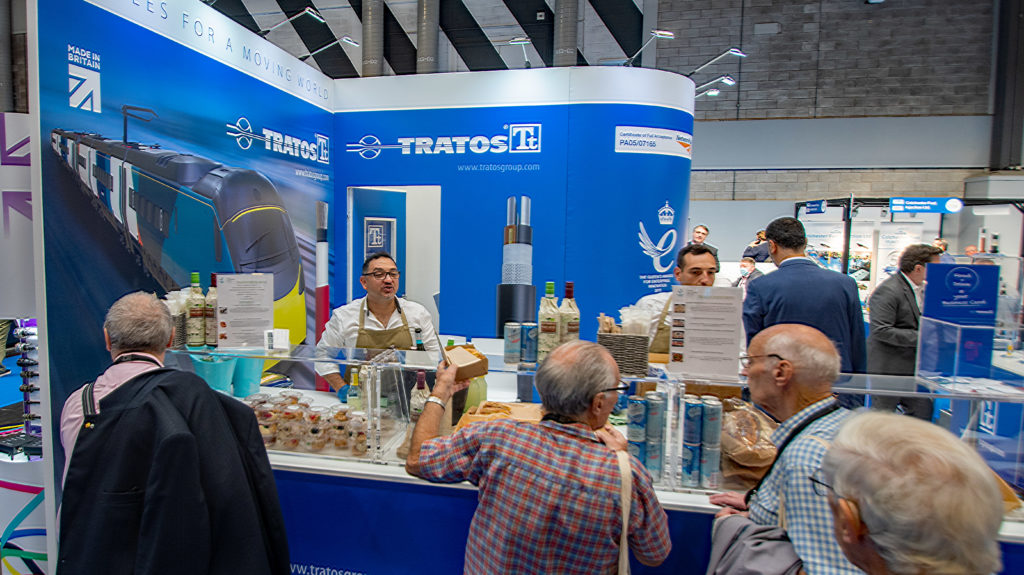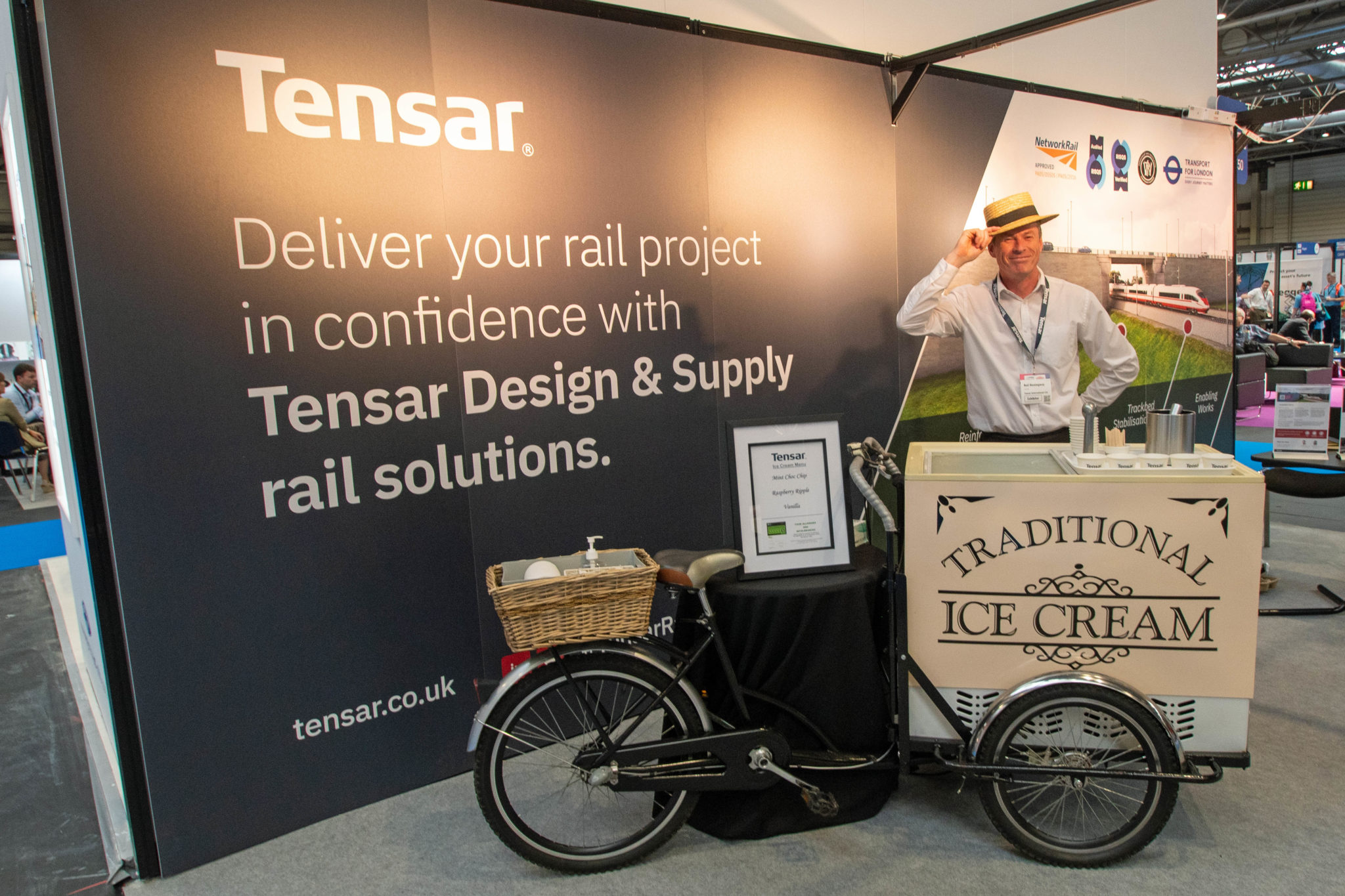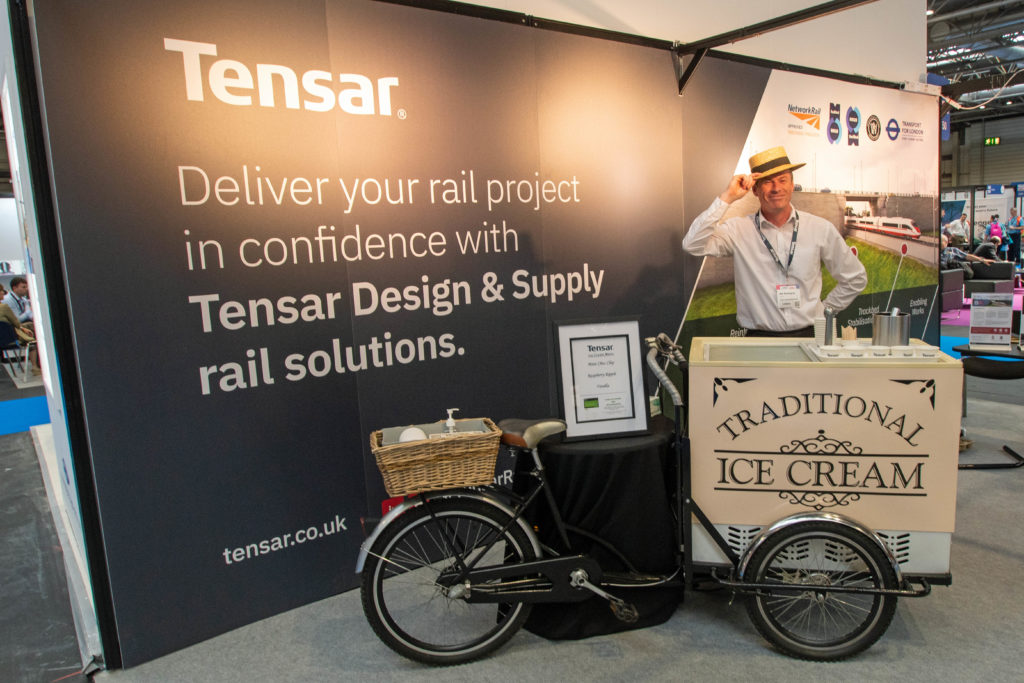 Showcasing the industry
During the show, I naturally saw much of the Rail Media stand to rest my feet, have a coffee and chat to my colleagues who giving out Rail Engineer magazines. We like to think that this supports the industry by highlighting the good work done, informing rail engineers of developments in other disciplines and providing features about current developments.
The combined Railtex/Infrarail exhibition also provided a valuable service by showcasing products and services, and providing an opportunity for people from throughout the industry to meet face to face, make connections and do business. This year's show was, not surprisingly, a slightly muted affair, as Covid is still with us. Credit is due to Mack-Brooks Exhibitions and those who exhibited, especially those from outside the UK, for making the show happen in such uncertain times.
Of necessity, this perspective of the show is only a small part of it and omits many other worthwhile products and services. If you feel your company's stand should have been included, or have a story about an innovative product that we missed at the show, please do get in touch.
The next combined Railtex/Infrarail event will take place at the Olympia Exhibition Centre from 10 to 12 May 2022. Rail Engineer looks forward to seeing you there.