When Abellio secured the ScotRail franchise in 2015, it soon commenced an exciting transformation programme to improve passenger services across Scotland's network. Plans included a £475 million investment in new and better trains on routes between Scotland's seven cities. These faster and more-spacious trains, with more carriages and new onboard facilities, will speed up journeys across the network, increasing capacity and enabling revised timetables that improve connections between services.
To support its new fleet, Abellio ScotRail is delivering a programme of enhancements throughout its depot facilities, including at the high-speed train (HST) depot in Inverness. This site required increased siding capacity to accommodate the longer, five-car HST fleet and a range of enhancements to improve safety and accessibility for drivers and maintenance teams.
Longer trains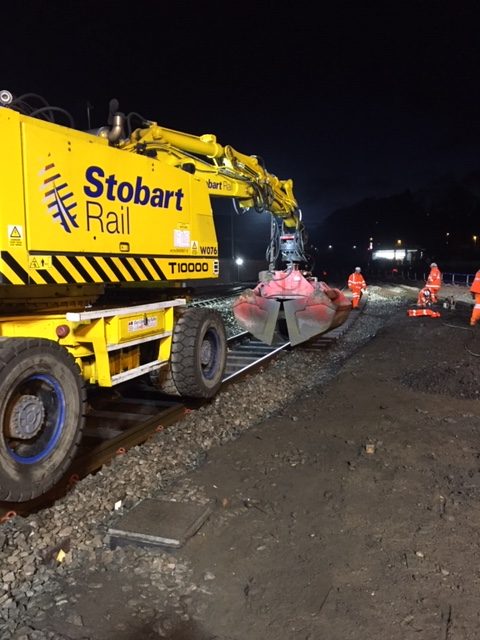 Abellio ScotRail appointed Stobart Rail and Civils to construct the £1.5 million Inverness depot HST upgrade, ready for the arrival of their new fleet. Stobart's regional manager for Scotland, Keith Robertson, said: "ScotRail's investment in new trains will deliver great benefits for Scotland, so we're proud that Stobart can play a key part in creating these vital depot facilities that will ensure each train performs at its best. We have just finished an £11 million programme delivering track maintenance across 300 route miles in Scotland, so this was an ideal opportunity to further contribute to great passenger experience."
Track works at Inverness included the complete renewal of three sidings to a new layout and longer length, together with installing two new S&C units – one BV8 and one CV9.25 – that join the sidings and connect them back to the main line.
Unusually, the project's track design used vertical rails throughout the plain line in the sidings rather than standard inclined rails. This posed a unique challenge for Stobart's procurement teams who quickly realised there were no vertical baseplates available anywhere in the UK.
Using some impressive detective work, the team discovered several projects in Germany that used vertical rails and they even found the baseplate manufacturer who had supplied these schemes. Unfortunately, they had no baseplates in stock and no plans to cast any new ones. Undaunted, Stobart negotiated to acquire the baseplate moulds and bring them back to the UK, then worked with a local supplier to cast the nearly two thousand new baseplates that the sidings needed. They also produced a healthy supply of spares to future-proof any maintenance needs.
The sidings' alterations involved removing the existing and relaying roads 6, 7 and 8 together with installing the two new turnouts. This provided the ideal opportunity for Stobart to deploy its specialist road rail fleet that includes laser dozers to grade the bottom ballast, Colmar heavy lifters to position the S&C components and the new road-deliverable S&C tamper to deliver a perfect track alignment. With the track reconfigured and buffers installed, Stobart completed the extensive signalling modifications needed to suit the new layout.
Within a depot environment, the major challenge is invariably delivering the works programme alongside normal depot operations without causing disruption that might affect vital maintenance work. At Inverness, this was a particular challenge owing to the depot's 24-hour operations, with the depot servicing and maintaining the Highland Sleeper train through the day and the standard fleet overnight.
Keith Robertson said: "Ensuring normal depot operations continued unhindered was one of our key project objectives. We operate logistics sites with a rail interface throughout the UK, so we understand how important it is to minimise disruption.
"We worked together with the depot team to plan our works and ensure we segregated our activities from the depot's operations. Daily coordination meetings then ensured that all stakeholders remained fully informed of upcoming works. This was a very successful approach, particularly when the depot's maintenance programme often changed owing to emerging needs."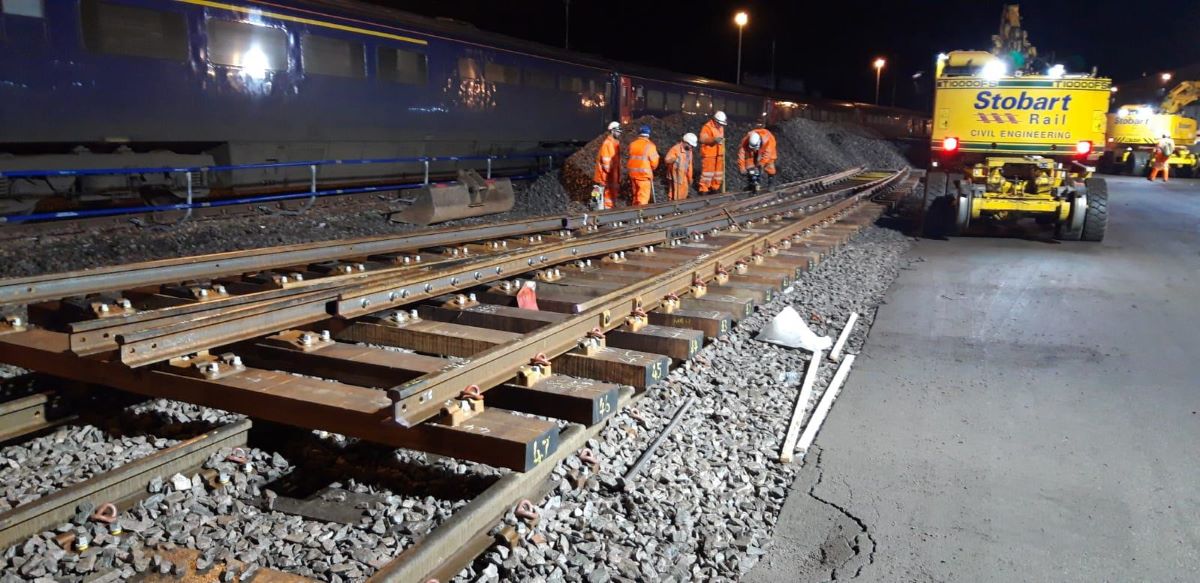 Enhanced facilities
To improve access to the sidings for the drivers and maintenance staff, Stobart delivered an extensive civils upgrade that included new concrete driver-walkways alongside each siding. A new tarmac-surfaced depot access road and pedestrian crossings over the tracks ensured that the maintenance teams could safely access the new sidings.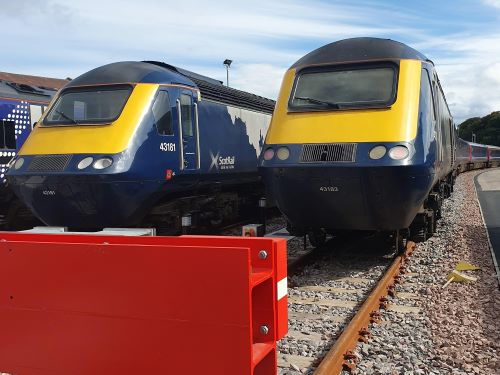 Mechanical and electrical installations included shore supplies positioned next to the buffer stops on each siding, along with nearly 150 low-level bollard lights to illuminate the siding walkways that would otherwise be in shadow once a train is stabled next to them. These were all served using a network of multi-way ducts that safely protect the cables below ground and provide ample cable capacity for any future development needs.
Finally, an existing portal-framed shed spanned the existing road 5 within the depot to protect the maintenance teams from the weather. To enable safe maintenance of the HSTs in this shed, Stobart installed a new exhaust ventilation system that positioned a series of extraction hoods directly above the HST's engine exhausts.
The successful completion of Abellio ScotRail's HST depot earlier this year marks an important milestone in its investment programme and is another example of Stobart's team in Scotland making a positive contribution to the ongoing improvement of Scotland's railway.