The Great British Railways organisation to be created under the Williams-Shapps plan will run the rail network, manage its infrastructure, procure passenger services and produce timetables. Thus, the whole railway will be under a single national leadership, providing a whole-system view to eliminate perverse incentives and do what is best for passengers and freight customers.
Not surprisingly, most of the plan's press coverage concerned its new deal for passengers which includes simplified fares and new flexible season tickets. Yet, for railway engineers, the section on 'accelerating innovation and modernisation' is perhaps of greatest interest. This notes that no organisation currently has the overall authority to implement programmes across the wheel/rail interface such as digital signalling. It also commits to publishing a long-term strategy next year to set out the whole rail network's key strategic priorities for the next 30 years.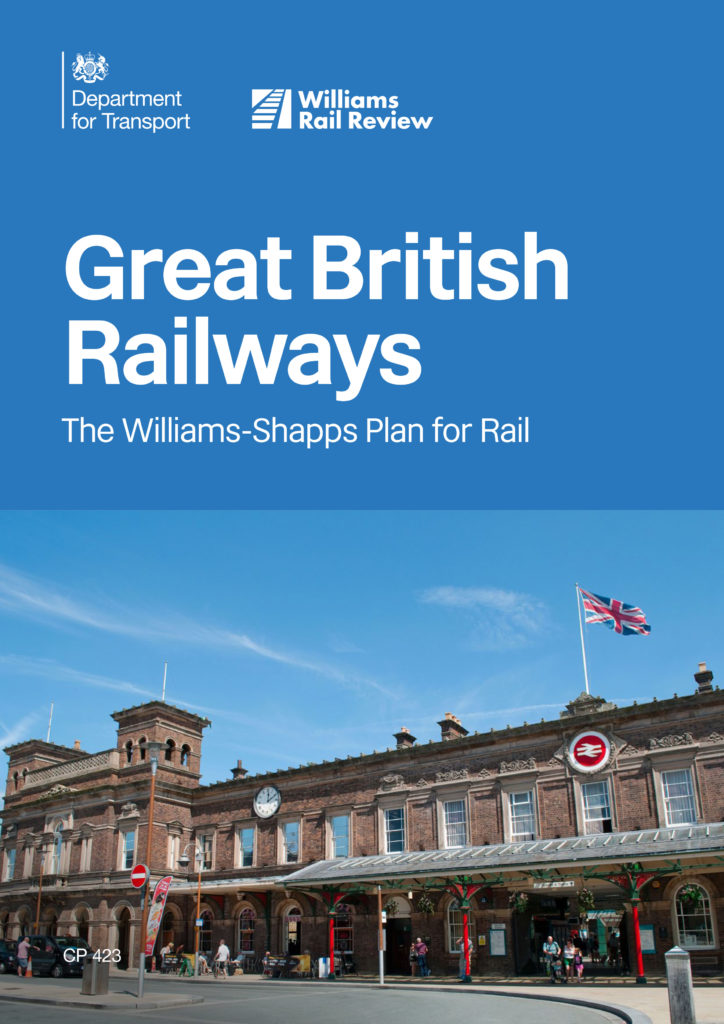 Williams-Shapps has much to commend it. However, it does not address the requirement for an informed client organisation to advise Ministers and provide strategic direction to ensure that Britain can get the best from its rail network. The need for such a body is indicated by erroneous UK Government pronouncements on rail decarbonisation. For example, Network Rail's Traction Decarbonisation Network Strategy concluded that rail decarbonisation requires electrification of 85% of the unelectrified network. Yet the Williams-Shapps plan states that "electrification is likely to be the main way of decarbonising the majority of the network" and falsely attributes this comment to TDNS.
Acting as an informed client, Transport Scotland has persuaded Scottish Ministers that large-scale electrification is essential for both rail decarbonisation and the long-term sustainability of the rail business. As well as being cheaper to buy and run, electric trains drive the required modal shift to rail as they attract more passengers and enable longer freight trains to run at higher speeds, resulting in more trains on existing infrastructure.
Our feature on decarbonising Scotland's railway describes how Transport Scotland, Network Rail and ScotRail are now delivering a programme to make the Scottish rail network net-zero carbon by 2035. To do so, there is an integrated long-term infrastructure, rolling stock and timetable strategy which will provide a steady programme of work for the supply chain. As well as electrification, this infrastructure work includes freight gauging and capacity enhancements.
Thus, the way 'Team Scotland' has developed its strategic plan – and is working together to deliver it – is a foretaste of the new way of working that the Williams-Shapps review intends to promote.
The need for urgent action on the climate emergency was tragically underscored by the Carmont accident. This was caused by a severe storm overwhelming a drain installed just ten years ago. Whilst the final RAIB report will consider the design and construction of this drain, much has already been learnt. As we describe, the comprehensive reports produced by the earthworks and weather task forces established by Network Rail after this accident offer clear lessons to reduce risk from earthworks failures.
Grahame Taylor describes how state-of-the-art monitoring systems are one way of reducing this risk whilst Paul Darlington's feature on earthworks asset management highlights the importance of good drainage. Both these features consider how most railway earthworks were built in the 1800s when there was little understanding of the science of soil mechanics.
At Dawlish, the climate threat is from the sea. Mark Phillips describes how a new sea wall is designed to give 100 years resilience and is being constructed between the tides. Another problematic legacy of historic infrastructure is hidden tunnel shafts. Bob Wright investigates how those in Shugborough Tunnel were identified and stabilised. In contrast, he also explains how HS2 is to use the latest construction techniques to build Britain's longest railway viaduct over the Colne Valley, west of London.
With its long history, the permanent way has benefited from years of experience, research and development to provide the most efficient form of transport in respect of capacity and low rolling resistance of steel wheel on steel rail. However, with the resultant tiny contact area comes the challenge of rail adhesion. Our feature on an RSSB ADHERE 2021 webinar reports progress on adopting recently developed solutions.
When designing their new 'Inspiro' trains for London Underground, Siemens had the challenge of designing more spacious walk-through trains for the Piccadilly Line's 3.66m diameter tubes. Malcolm Dobell explains why the solution involved there being no wheels on four cars of these nine-car units. Limited tunnel space was also a problem for the pilot project to trial the use of 4G radio on the Jubilee Line. Clive Kessell describes its challenges and potential benefits.
The Railway Industry Association's innovation conference showcased many worthwhile innovations and the research capabilities that the UK Rail Research and Innovation Network has to offer. This included initiatives to reduce electrification cost, such as the surge arrestors described in Peter Stanton's article. Despite this being a virtual event, the information and insights were in no way diminished.
Williams-Shapps, strategic decarbonisation delivery and managing earthworks are amongst the big-picture issues we cover this month. Yet let's not forget that infrastructure repair and enhancement work is done on a 24/7 basis in all weathers. Our round up of the £196 million worth of engineering work at 7,500 worksites over Easter and the May bank holiday weekend is typical of what that involves.