Plantworx & Railworx a success despite the summer weather
Every two years, the Construction Equipment Association organises a big plant show – Plantworx. And it is big – the likes of Caterpillar, JCB, Doosan, Volvo and Komatsu spend weeks building their stands, to show their equipment in the best possible light and, above all, to show it working.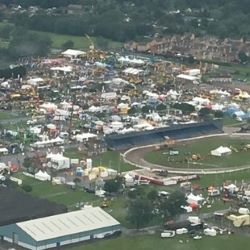 For 2019, two things were new. One was the location – the show moved to the East of England Arena at Peterborough for the first time.
Secondly, due to the amount of rail construction that has been going on recently, and with more to come in the shape of HS2 and Crossrail 2, to name just a couple of projects, the decision was taken to add a Railworx section to the show. Here, rail suppliers would be able to show off both plant and equipment.
So, Rail Media was tasked with arranging for the key players in rail to come along and join in the show. Some 50 exhibitors, from all areas of the industry, accepted the challenge and came to Peterborough.
First among equals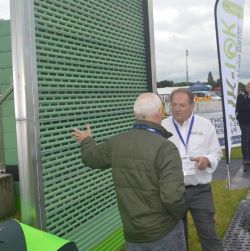 Chief among them was Network Rail itself. The Signalling Innovation Group took a stand to show off some of its latest ideas, and Hitachi Information Control Systems Europe took the stand next door.
In contrast, Genwork chose Railworx to launch its brand new Klik-Lok range of purpose-designed environmental noise barrier solutions, specifically aimed at infrastructure projects involving road and rail where noise reduction is of critical importance.
A series of panels lock together in a vertical frame, with the frame giving good vertical stability and the locking action reducing the assembly time and removing the need for heavy plant.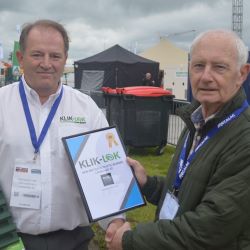 On its stand, Genwork was displaying a pair of three-metre-high barriers, which business development director Roger Kemp explained was the minimum height for effective sound reduction. Made in the UK, the panels, which were a fetching shade of green at Railworx, can be manufactured in any colour to suit a contractor's needs.
With an estimated life of 40 years, the Klik-Lok noise barrier system can be used for both permanent and temporary installations. The show organisers were so impressed that they presented Genwork with a New Product Launch award on the middle day of the show.
Soggy Tuesday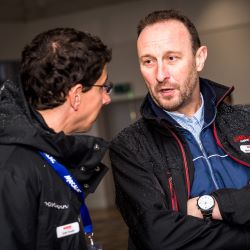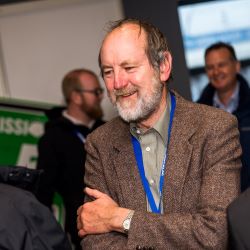 The award was presented on the middle day because, however much one plans for an outdoor show, there is one thing that can't be predicted – the British weather. On the first day, Tuesday 11 June, the heavens opened. Literally. It rained ALL day.
To avoid the weather, the depleted crowd of visitors stayed in the indoor section of the show, which they had to walk through anyway as it was straight after the visitor entrance.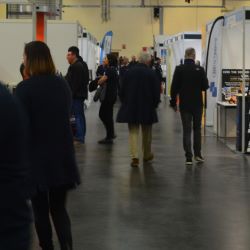 This was where staging the show at a permanent facility really paid off, tarmac walkways and hard standing parking saved the day. From there it was a short walk to the show entrance, a quick scan of the pre-printed badge, and then into the show.
Through the door into the main hall, and there was plenty to see.
Peli Products had a stand that required no lighting – they had brought enough of their own! LED lights, protective cases (the well-known 'Peli Cases') and even covers for iPads – all were attracting interest. One of the appeals of Plantworx is its cross-industry spread of visitors, and Peli confirmed they had been visited by a number of utility contractors, and at a very high level. They were certainly pleased with the level of interest.
Oilaway occupied a double-size stand and also seemed to be doing business with visitors from a range of sectors. Protective clothing specialists Portwest Clothing and Safeaid were glad they were indoors so their racks of clothing weren't soaking up the rain like a sponge, and Role Recruitment was talking to anyone who walked past about – recruitment.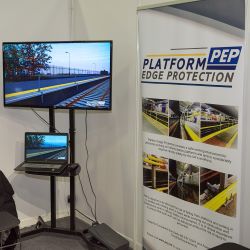 Platform Edge Protection had started off outdoors. When part of their stand blew away, one of three that did, organisers found them a space indoors.
At a corner of the hall, Rail Media colleagues Railway People were also talking to visitors and sheltering exhibitors alike. The charity Mind and JW's CV-writing service were in the same area.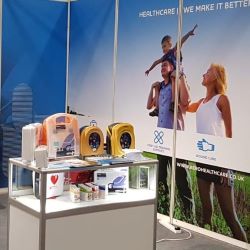 When contractors are on site, safety is naturally a priority. Minor injuries outnumber major accidents, so on-site treatment of wounds, abrasions and sprains is important. Aero Healthcare supplies everything from first-aid kits to AEDs (automated external defibrillators), even the lightweight stretchers used for medical evacuations, and used Railworx to showcase its first-aid solutions for the rail industry.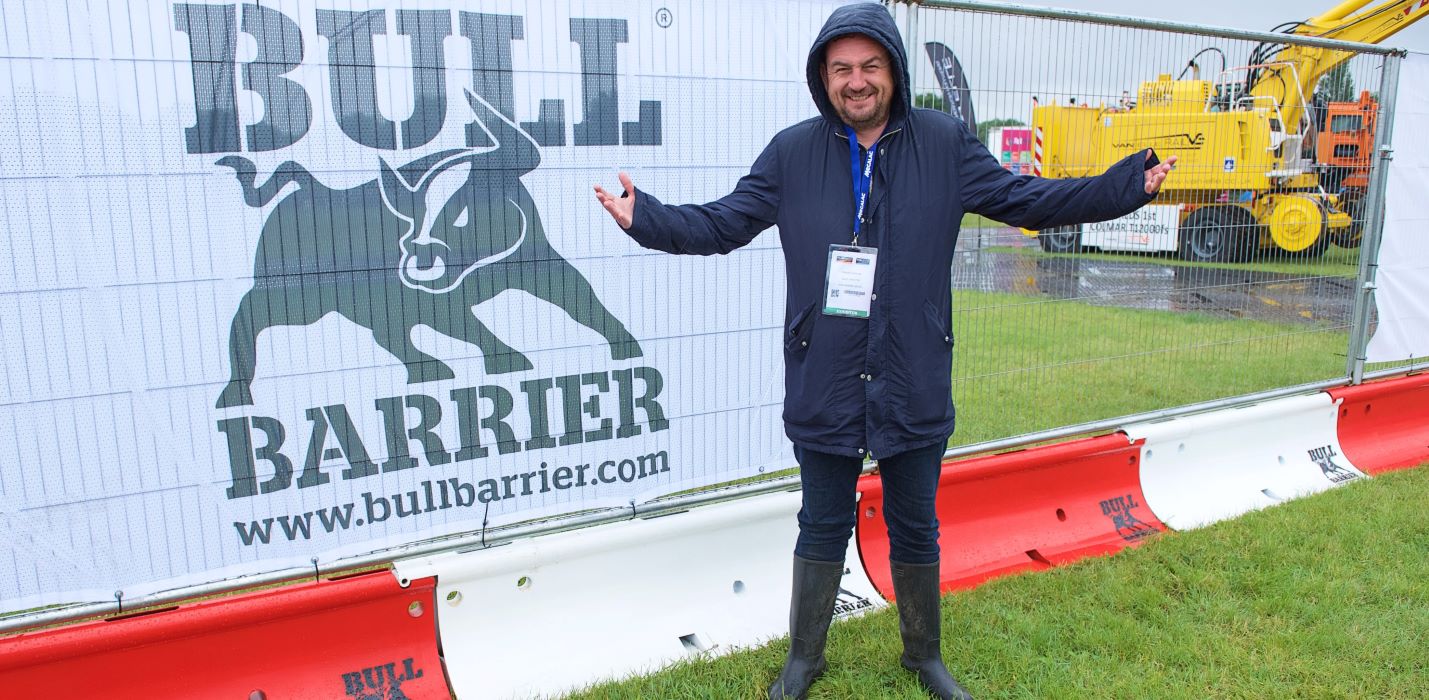 Into the rain
Outdoors, it really was soggy. Those exhibitors who had trailers or cabins were sheltering visitors, like Dual Inventive, whose trailer displayed their workforce safety and railway sensing technology.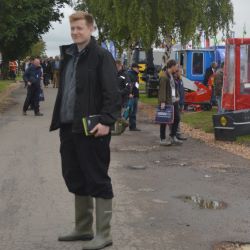 James Fisher Prolec had a Quattro road-rail excavator siting on a length of track outside the (crowded) hospitality cabin. The reason it was there was to show off PMX. Combining two well-established technologies – excavator hazard mitigation and geolocation – PMX helps prevent plant equipment from striking pre-defined hazards and increases machine efficiency by up to 30 per cent when compared with existing systems, so the manufacturer claims.
Suited for a wide range of high-risk sectors, including civil construction, highways and rail, PMX is the first system of its kind to receive accreditation from Network Rail for Any Line Open (ALO) projects.
Also on show, and combining rated capacity limiter (RCL) and movement limiting devices (MLD) technology into a robust, safety-critical solution, was James Fisher Prolec's TrackPilot™ – a next-generation hazard mitigation solution for ALO on-track operations that has been specifically designed for excavator rail-road vehicles (RRVs) and, apparently, can achieve ten times faster processing and functionality speeds than any other solution on the market.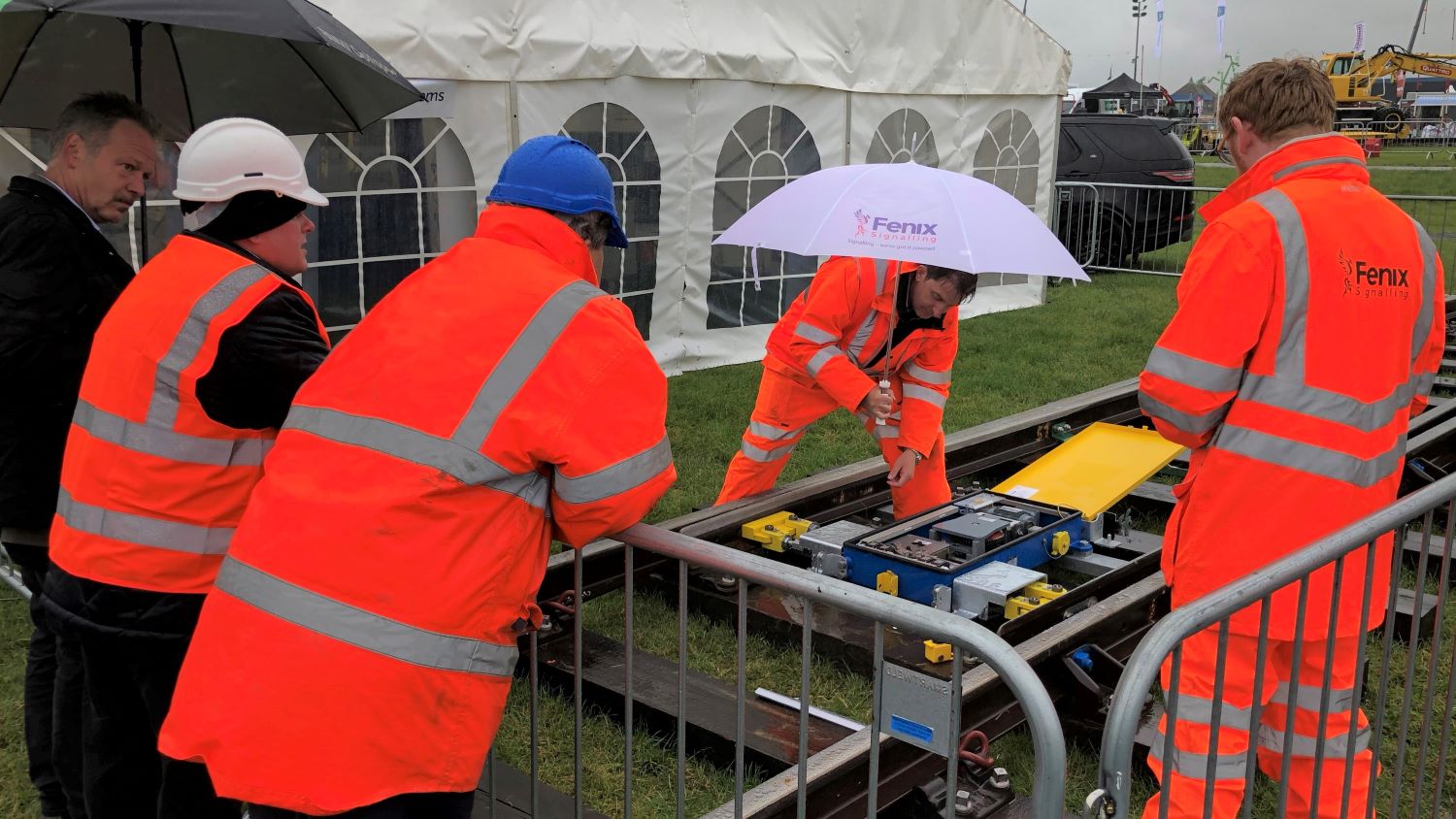 Fenix Signalling was making a noble effort, demonstrating its latest Pintsch Tiefenbach points machine, on a working set of points, under an umbrella. Well done, Sir! After all, points have to work in all weathers, don't they?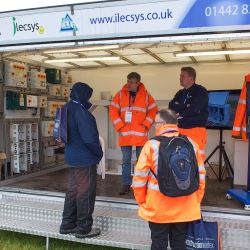 Ilecsys, manufacturer of GRP location cases and walkways – and anything else you care to order – had a trailer, and Peter Dickson and the team kept snug in that.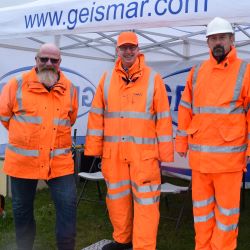 Geismar weren't so lucky, except their open-fronted tent was right opposite the Rail Media trailer, where hot coffee and pork pie was available. Network Rail track director Steve Featherstone visited as well, so Richard Cradock was a happy man despite it all. He also commented that Railworx was the place to be going forward, so hopefully he'll be back for the next one.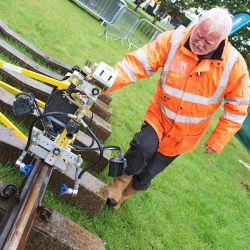 Gramm Barrier Systems was demonstrating how to apply its SilentRail coating, which it claims reduces rail noise and helps prenvent buckling.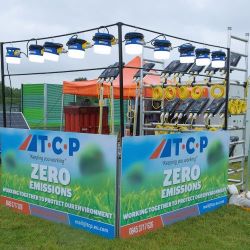 Taylor Construction Plant (TCP) powers its lighting towers by hydrogen using fuel cells. So its all green, with zero emissions.
It was also the best-lit stand on an otherwise gloomy day!
Better Wednesday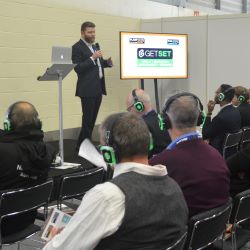 Sheltering in cabins was not so necessary on day two, as the pouring rain gave way to a light drizzle. Some, however, chose to sit indoors for part of the day and attend the Get Set conference, which looked at skills and skill shortages. Joe Guy, group HR director for integrated talent solutions at Network Rail; Trudy Layden-Freeman, lead HR business partner for rail at Costain; Clair Mowbray, chief executive of the National College for High Speed Rail; Mohanad Ismail, senior systems consultant, Young Rail Professionals and Neil Franklin, head of skills intelligence at the National Skills Academy for Rail (NSAR), spoke on this important topic.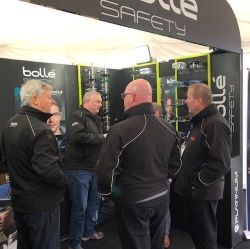 Outside, things were looking up.
Network Rail was open for business while Bollé, manufacturer of safety glasses, had opened its doors and looked inviting. The company had run a competition before Railworx, giving 20 pairs of Tryon Tryoflash safety glasses to registered visitors to the show.
Well done, Bollé!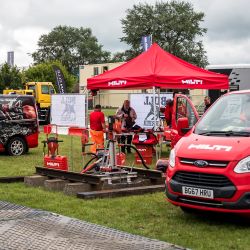 Colin Burnikell's team at Hilti emerged into the (weak) sunlight and demonstrated their powerful tools and specialist drilling equipment, the distinctive red equipment being put through its paces.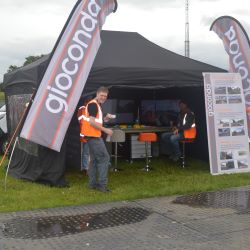 Gioconda were managing to keep their electronics dry and were in good spirits.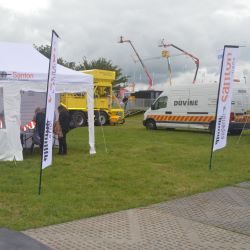 Santon Switchgear, which both supplies new circuit breakers and also upgrades old ones to give them a new lease of life, and Duvine/DMS Technologies, which "has a long experience working with Network Rail engineers designing and manufacturing rugged battery systems for trackside installations, operating in all weathers", displayed their wares.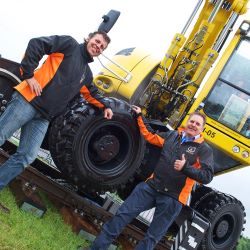 The team from Marshalls CPM displayed their Redi-Rock modular walling system, which is ideal for protecting the rail line against erosion, landslips and rock falls.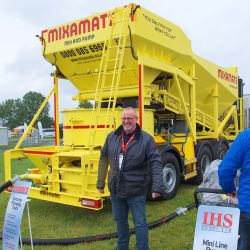 Mixamate's giant concrete mix-and-pump trucks and Van Elle's piling rigs were immune to the troublesome weather, though their operators were not, and Van Elle was another company to report real commercial results from the Railworx show.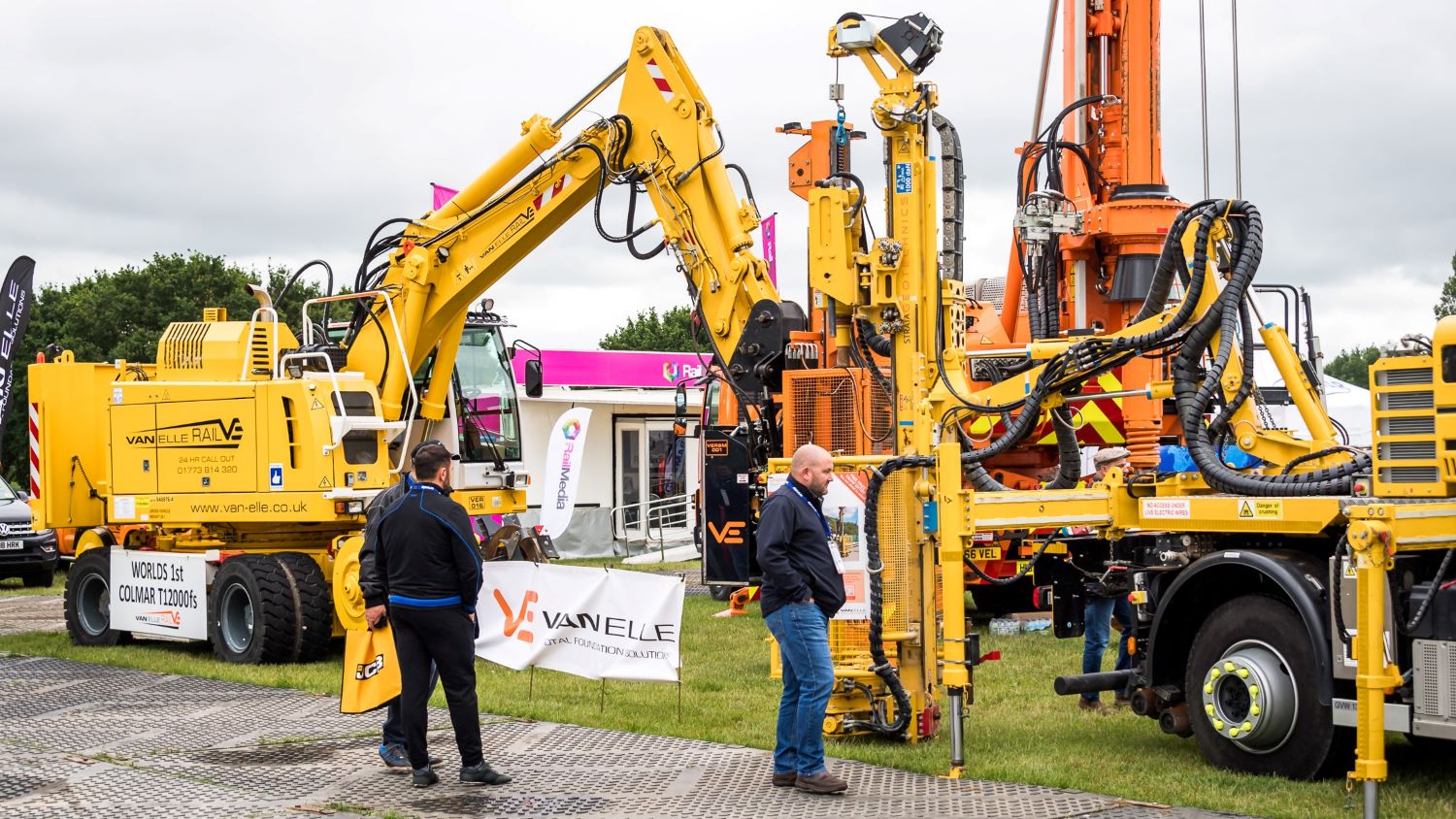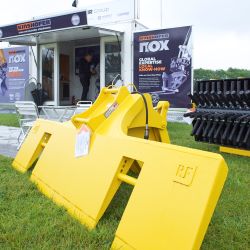 Exhibitors around the event reported solid interest, Kinshofer received lots of interest in their tiltrotator, ballast tamper and sleeper changer attachments, whilst Nijhuis Engineering, from the Netherlands, reported overwhelming interest in their BE-AR rail system.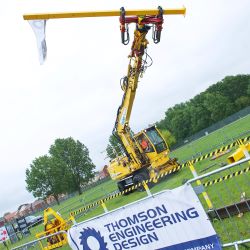 Thomson Engineering Design also had some big kit, a TXM road-rail excavator fitted with a manipulator which waved a large pole – it looked like an OLE structure or a signal post – around the sky throughout the show.
And there's more
Tools and equipment hire specialist A-Plant was in amongst the construction exhibitors. So too was Wacker Neuson, whose compactors are used extensively in track renewals to flatten and compact the trackbed before track is laid.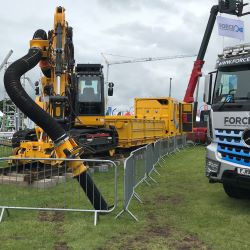 Force One, which specialises in the vacuum excavation of aggregates and earth – and ballast around track and S&C – has developed a three unit 'train' to work on track. The front unit is a road-rail excavator fitted with the suction head and hose. It's coupled to a storage trailer, that can hold up to 15 tonnes of spoil, and that in turn is connected to the vacuum fan unit which provides the suck. It's still under development, with a conveyor unloader system planned for the spoil truck, but should be working out on the rail network next year.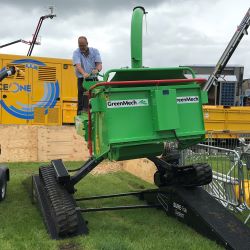 GreenMech, which Rail Engineer visited years ago, was also at Plantworx. The latest Sure-Trak self-propelled chipper now can cope with uneven ground as well as steep slopes. An interesting demonstration had the machine climbing over unequal ramps – a good simulation of conditions out on a railway cutting face or embankment. Apparently, Network Rail has recently placed an order.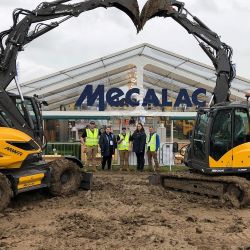 Mecalac, a sponsor of the show, won the award for best live demonstration. The way its compact equipment moved around the muddy compound was fascinating to watch, and must have taken lots of planning.
Further features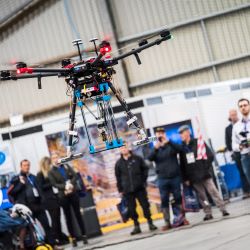 Throughout the three days of the show, one large indoor area was converted into the Drone Zone. Here, around a dozen suppliers had small stands, showing off unmanned aerial vehicles (drones) and what can be done with them for surveying and photography, while the bulk of the area, behind a safety net, was used for flying demonstrations.
In a flat, enclosed space, even one as large as 2,300 square metres, it was difficult to show what drones can do in terms of surveying the underside of viaduct arches and pinpointing track layouts, but the skill of the pilots was certainly on show as they landed their buzzing devices on predetermined targets.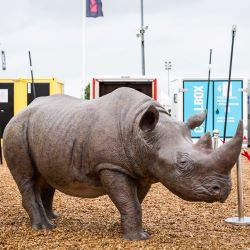 COMIT (Construction Opportunities for Mobile IT), the organisation that aims to improve understanding between the construction and technology industries and speed up the adoption of mobile IT within the construction sector, had helped stage the Drone Zone.
Tony Shooter, COMIT's chair for drone technology, commented: "What better way to showcase today's drone technology in the construction sector, than at Plantworx, where there is a strong focus on innovation and leading technologies. This event is probably one of the most important developments in advancing drones in the construction sector."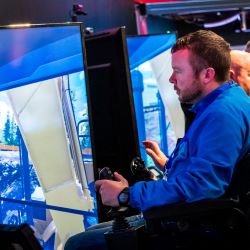 Joanna Oliver, CEA's director of global programmes, agreed: "Drones are already changing the way the construction industry operates and is growing at a rapid rate. Plantworx is delighted to showcase this advanced drone technology to our visitors."
Plantforce sponsored the Simulation Zone, located at one end of the indoor exhibition. Here, six state-of the-art simulators replicated a 'real working construction site' – but in a virtual world. Each of the simulators was linked and represented an individual construction machine – an excavator, wheel loader, tower crane, dozer or an articulated dump truck – as examples. Visitors to the zone were invited to work together on the simulators in the virtual world to complete tasks on a construction site. Spectators were also offered oculus rift headsets, allowing them to join the virtual world as bystanders and offer encouragement and support to the participants!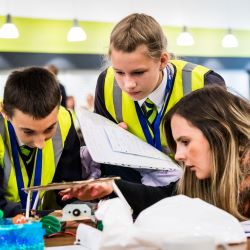 In another Plantworx initiative, students from schools in the Peterborough area came to the show on the third day. They looked around the exhibits and also took part in specially organised activities, aimed at encouraging them to see construction and engineering as good career options for the future.
Particularly popular amongst the students was Diggerland. The theme park, part of HE Services, "world leaders in digger hire", which was exhibiting at the show, brought some of its equipment for young people to try. There were mini-versions of excavators that the students could use to dig holes, others with converted arms that could play ten-pin bowling or 'hook a duck', and even small dumpers to drive around an oval track. Great fun, and at least one Rail Engineer staff member was spotted hooking ducks!
So, was Plantworx/Railworx wet?
It certainly was.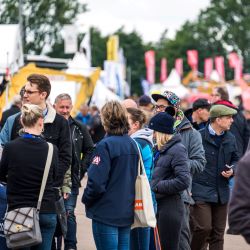 But was it a washout? No way! With almost 500 exhibitors' displays spread out over 140,000 square metres of the East of England Arena, there was something for everyone, and too much to see in a day.
One Railworx exhibitor, for example, commented that, although the rain had held some visitors back, he had six really worthwhile meetings over the three days, which he said made it all worthwhile.
And there will be even more to look at and discuss in 2021! Hopefully the weather will be better but, in any case, it will be an event not to be missed.
See you there!